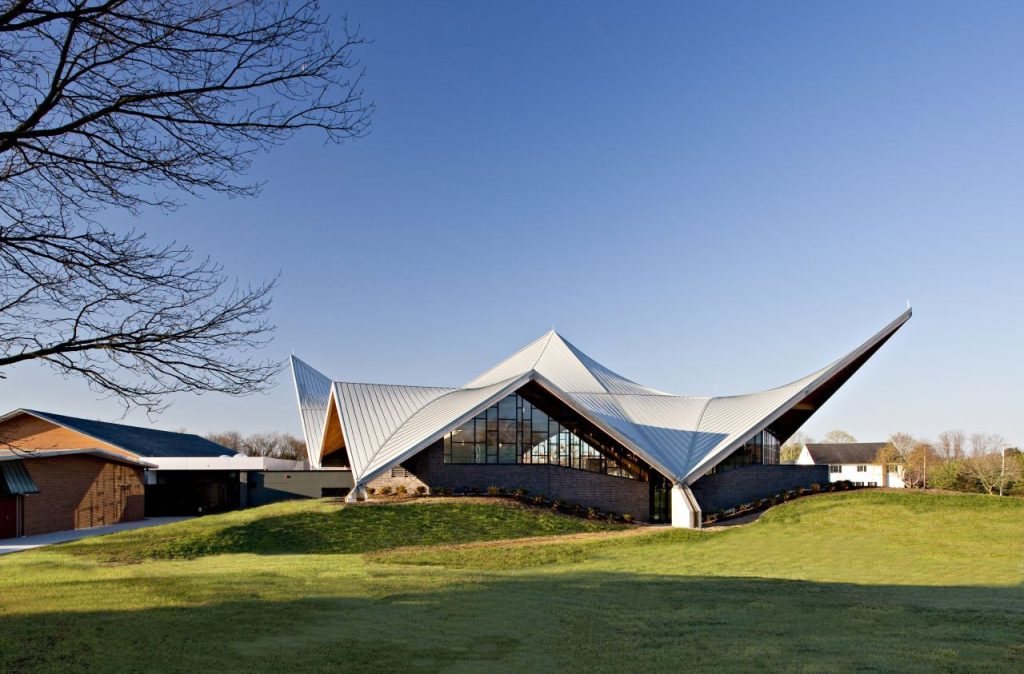 Erdy McHenry Architecture designed the Church of Saint Aloysius in 2009. The building's architecture tells the story of what it's for. The design for this church came from two big ideas: "re-pitching the tent," which is shown by the delicately soaring roof lines that evoke the idea of simple worship, and the Four Devotions of Saint Aloysius, which are the Blessed Sacrament, the Passion of Our Lord, the Love of Our Lady, and the Choir of Angels. These are located inside the church next to the big concrete buttresses that hold the roof in place.
The entry sequence takes advantage of the social effects of worshiping together. The parking situation requires a single approach through a number of spaces that get smaller and smaller, getting people ready for worship in the community with their fellow parishioners. As people return to the altar and repeat their baptismal vows by anointing themselves with holy water from the same baptismal font used for Christian initiation rites, they become one with each other.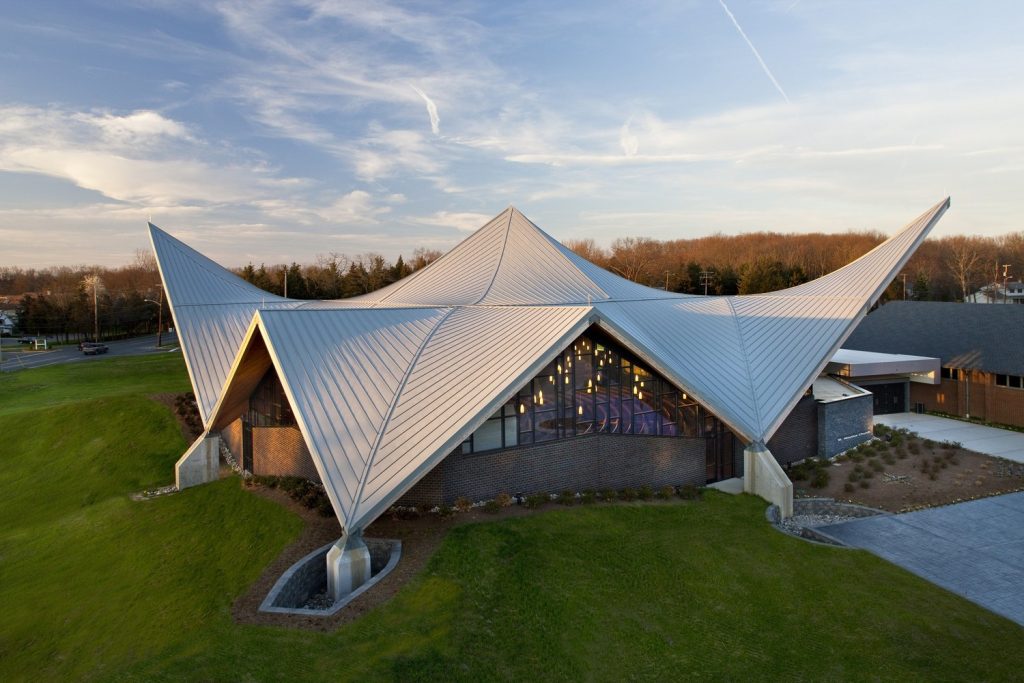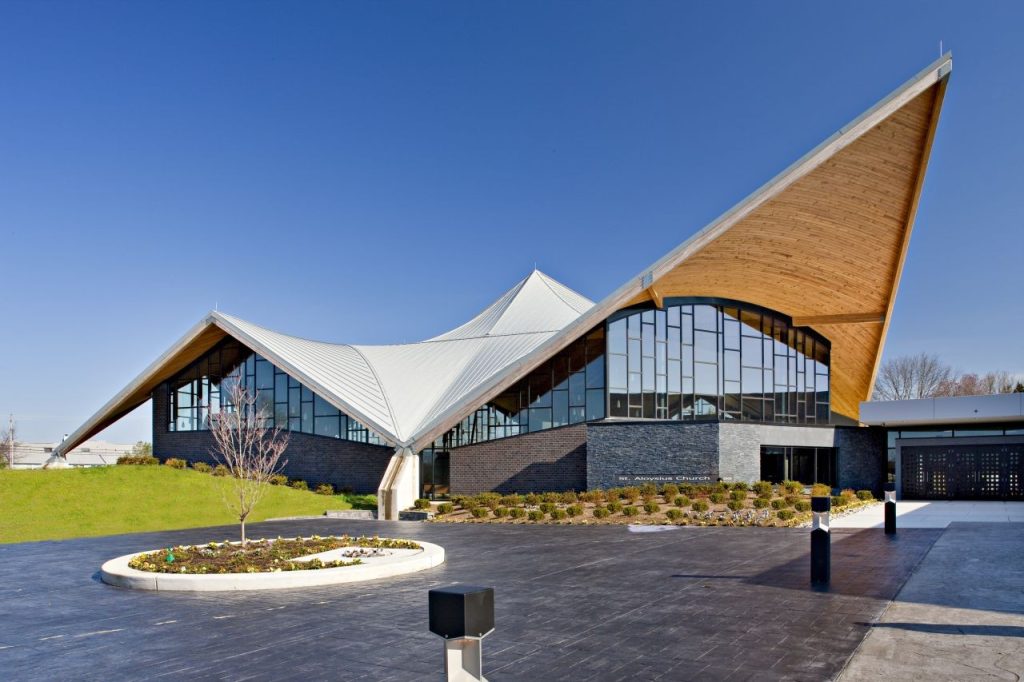 Putting the church at the front of the site makes it an easier-to-recognize landmark in the neighborhood. It also connects to the existing rectory and makes a space for people to meet between the church and the rectory.
The hyperbolic paraboloid roof is often used as a cheap way to meet the needs of long-span roofs. Because of this, it is used for practical things like sports arenas and athletic buildings. The Owner and the project team both loved how beautiful it looked and how the lines were smooth, like those on a fabric tent. Standing seam metal pieces are used to make the tent for St. Aloysius Church.
The rituals and how they fit with each other were carefully thought out. It was also thought about how the altar and daily church would face the baptismal font at the entrance to the Sanctuary. The four devotions, which serve as the basis for both the building and this faithful congregation, are like the four corners of a floating roof.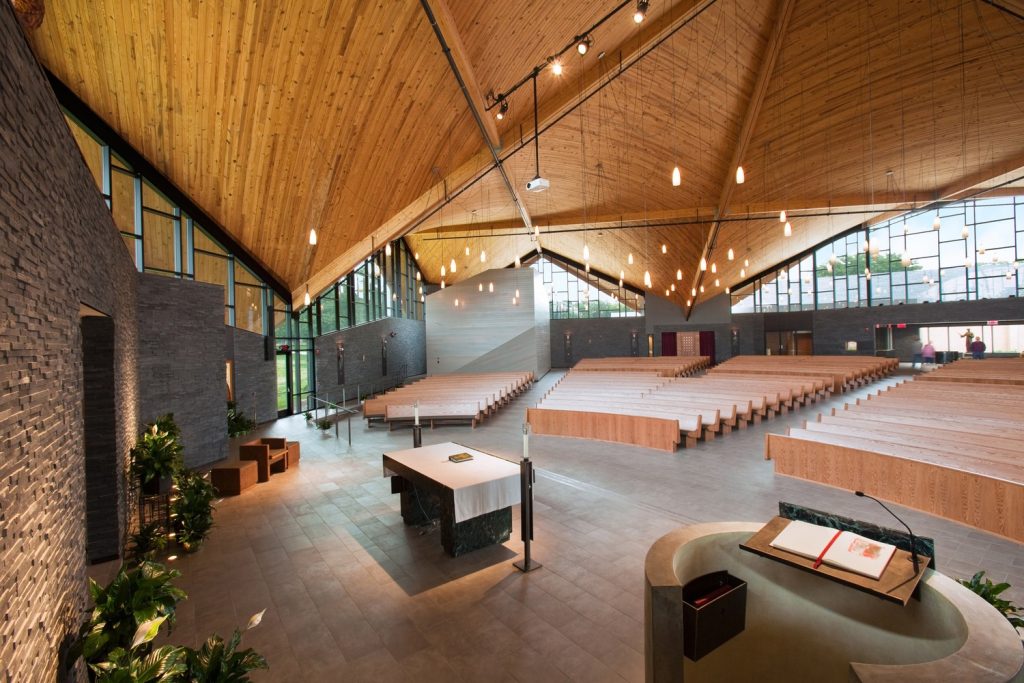 Project Info
Architects: Erdy McHenry Architecture
Year: 2009
Location: Jackson, US
Manufacturers: Bega, Daltile, Englert Inc., Perth Amboy, NJ, New Holland Church Furniture, Stonecleft, Unadilla, Unalam
Construction Manager: Woodward Construction
Structural Engineering: Bala Consulting Engineers Inc.
Civil Engineering: LGA Engineering
Mechanical Engineering: Van Praet and Weisgerber
Electrical: Van Praet and Weisgerber
Design Team: March, Scott Erdy, David McHenry, Mark Miller, David Niemiec, Kristy Balliet
Landscape Architect: LGA Engineering
Photographs: Alan Schindler, Pixelcraft