Differentiated Geometry by ArchEvolution/ rat[LAB]Education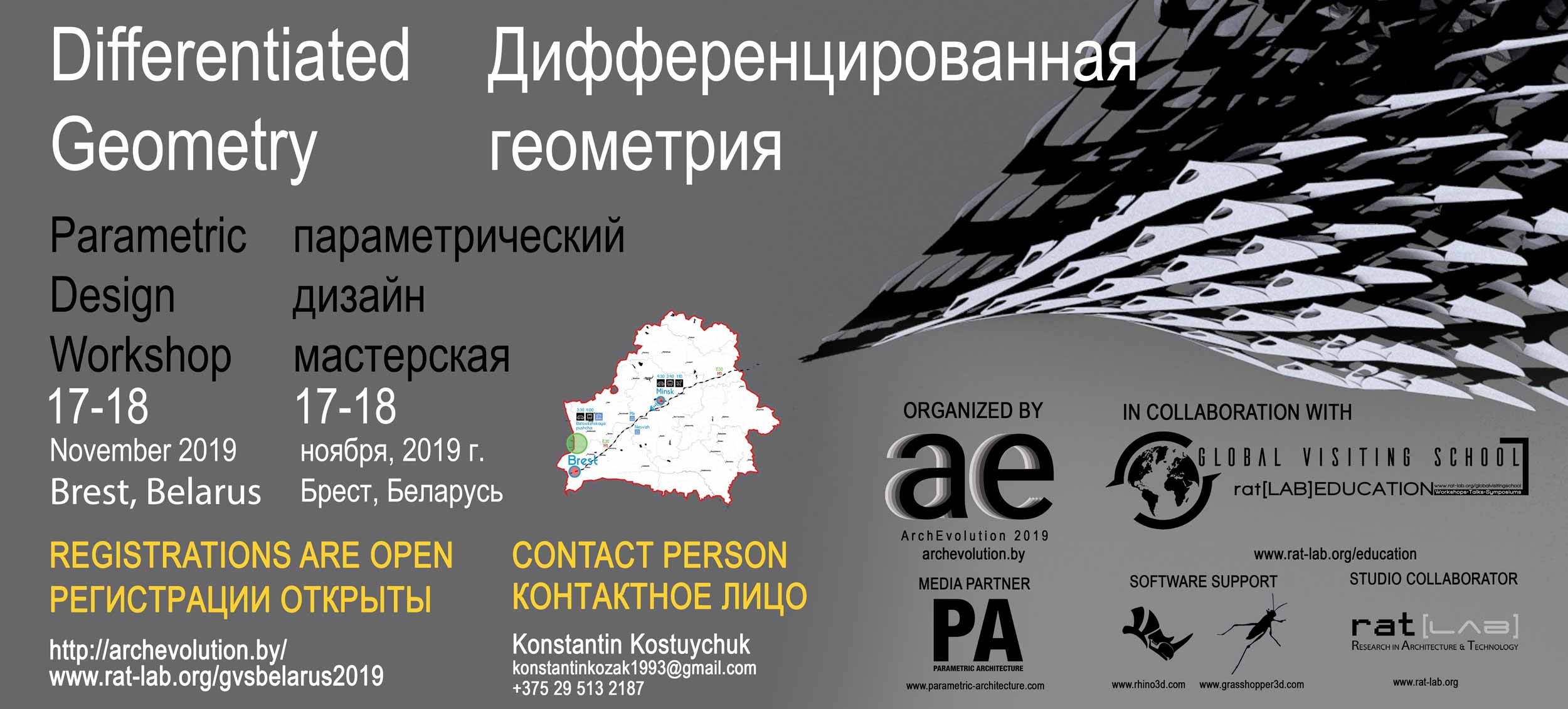 Time: Sunday & Monday, 17th & 18th November, 2019
Country: Belarus
City/Town: Brest
Website: http://archevolution.by/ & www.rat-lab.org/gvsbelarus2019
Workshop Type: Parametric Design Workshop
Organized By: ArchEvolution – rat[LAB]EDUCATION
Registration Fee: Total workshop fee € 165
Registration Deadline: 14th November, 2019
---
Agenda
Parametric Design, in the history of architecture, has defined many rules for current designers and for future practitioners to follow. One of the strongest aspects that are prominent from this style is 'geometry'. Arguably, there is nothing new about geometry and aesthetics forming the most prominent aspect of any style or era. The language of any style, in the long history of architecture, is visually defined by geometry or shape, beyond the principles that define the core of the style. In the distinguishable style of parametric architecture, geometry has played, and is continuing to play an integral role. And with this fairly young style, there are many strings of myths and false notions associated.
The workshop aims to provide a detailed insight to 'parametric design' and embedded logics behind it through a series of design explorations using Rhinoceros & Grasshopper platforms, along with understanding of data-driven design strategies. An insight to Computational Design and its subsets of Parametric Design, Algorithmic Design, Generative Design and Evolutionary Design will be provided through presentations, technical sessions & studio work. Studio work will be focusing on differentiation of geometry and iterative form using Parametric Design methods that will lead to explorations of spatial geometries that can be articulated as architectural constructs or abstract artistic interventions.
Level
Basic & Intermediate (Previous parametric design knowledge not obligatory).
Methodology
Workshop has been structured to teach participants the use of Grasshopper® (Generative modelling plug-in for Rhinoceros 3D) as a generative tool, and ways to integrate it with architectural design process. There will be a focus on parametric modulation of geometry that can lead to a design process that utilizes data to inform geometry and space through use of Grasshopper3D and its associated plug-ins that would be introduced during the 2-day programme.
The 2-day studio / workshop shall focus on inculcating the following aspects as a part of syllabus:
Computational Design Techniques & Parametric Design
Data, Mathematics & Geometry
Geometry Rationalization
Iterative Form Development
Digital simulation of forces
Environmental Analysis (Basics)
Documentation and Presentation
Schedule
DAY 01 [SKILL BUILDING]
Presentations / Lectures on Parametric Design & Computational Thinking
Talk/Presentation on use of Computational Design in architecture.
Introduction to Rhinoceros 3D – GUI & Basic Use
Grasshopper GUI & Basic Functionality
Points, Lines, Surfaces.
Parameters, Inputs, Numbers.
Simple & Referenced Geometry, Locally Defined Geometry, Baking, etc.
Lists & Data Tree Management
Data Manipulation & Visualization
Surface Tessellations
DAY 02 [IDEATION, SKETCH, COMPUTE]
Patterns & Geometric Explorations
Release of pre-designed tools (Grasshopper scripts) to all participants
Functionality of tools for design explorations
Design development (Team work)
Discussions on submission panels & output
Documentation
Note:
Timings for each day would be 9:30 AM to 6:30 PM.
There will be talks on each day by guest tutors on subjects related to computational design.
Each day would be followed by an optional informal session with tutors & organizers. (Not obligatory to attend).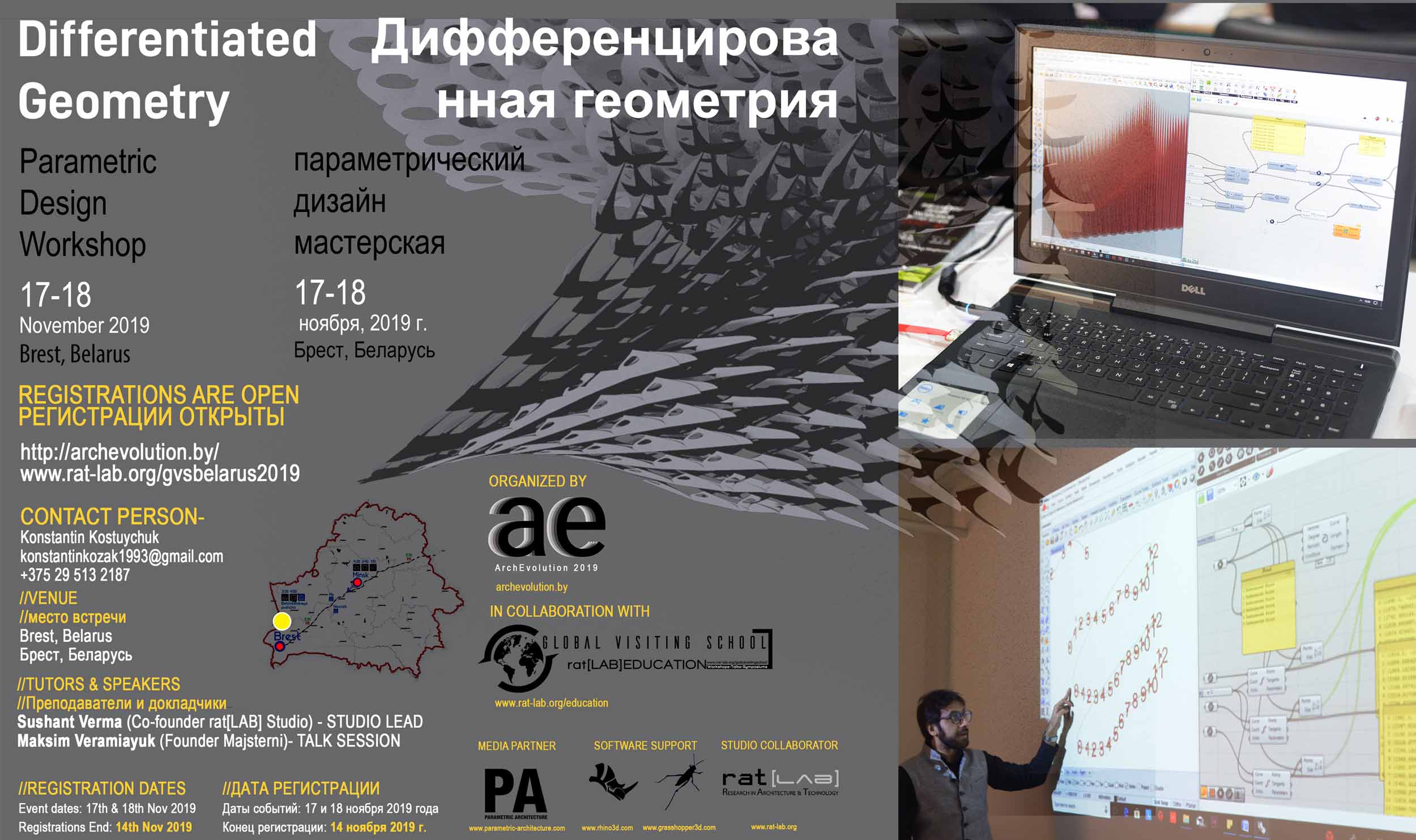 Tutors & Speakers
The 2-day workshop would be taught by rat[LAB] Co-Founder Sushant Verma (Architect, Computational Designers, Educator).
Induction on 'Innovation in Architecture' would be given by Maksim Veramiayuk (Founder, Majsterni).
Software & skills
Basic 3D modelling skills in any software are preferred (Previous knowledge of Rhino3D is not obligatory).
Participants should bring their own laptop with pre-installed software.
NOTE: Grasshopper does not fully function on Rhino for MAC. A windows-enabled laptop is necessary.
Level
Basic & Intermediate (Previous parametric design knowledge not obligatory).
The workshop will cover basics and intermediate level of Parametric Design through use of Grasshopper3D. Some of the advanced aspects such as Environmental Design using Ladybug & Honeybee, physics simulation using Kangaroo, etc would also be introduced towards the end of the workshop as a demonstration.
Workshop Overview
Studio is structured to teach participants the use of computational techniques through Grasshopper® (Generative modeling plug-in for Rhino®) and ways to integrate it with architectural and spatial design.
No previous knowledge of Grasshopper & Rhinoceros is required for the workshop as basic technical knowledge will be provided on Day 1.
Pre-designed customizable tools will be provided on Day 2 for design explorations & experimentations, pertaining to applications for architectural projects as per studio brief.
The studio is flexible to basic, intermediate & advanced users of computation.
The workshop is curated in the form of a design studio with collective learning than mere software sessions.
Eligibility & Visa Rules
Workshop is open to architecture and design students, academicians and professionals from all parts of EU.
Having an educational background of architecture or similar spatial design stream is a requisite. Basic knowledge of 3D modelling is important for quick learning.
All international participants must check visa eligibility rules as per their local embassies and request for necessary documents. Organizers will provide invite letter on request.
Travel and Accommodation costs (if applicable) are to be borne by each participant themselves.
About Organizers
In the beginning, ArchEvolution Forum emerged as an educational platform.This experience became such a successful thing in architectural and educational environment, so it was decided to change the format and expand the forum.
The second forum was held in 2010, in the format of architectural workshops -a collecvtive week-long brainstorming on the topic "DNA of a city ". Troughout the forum , teams workshops alternated with lectures ,wich were delivered by specialists from Belarus, Poland, Ukraine and Russia. Among the invited architects was the leading architect of Belarus — Boris Shkolnikov.
In 2013 the third forum was the largest and most resonant: it was held on the territory of Brest Fortress. It touched on the most pressing issues of development of the citadel territory. ArchEvolution brought together an international team of eminent tutors and a large team of students from various cities and countries. The participants took an active position in the public discussion on the development of the fortress, and many of the proposed ideas compete for their viability until now.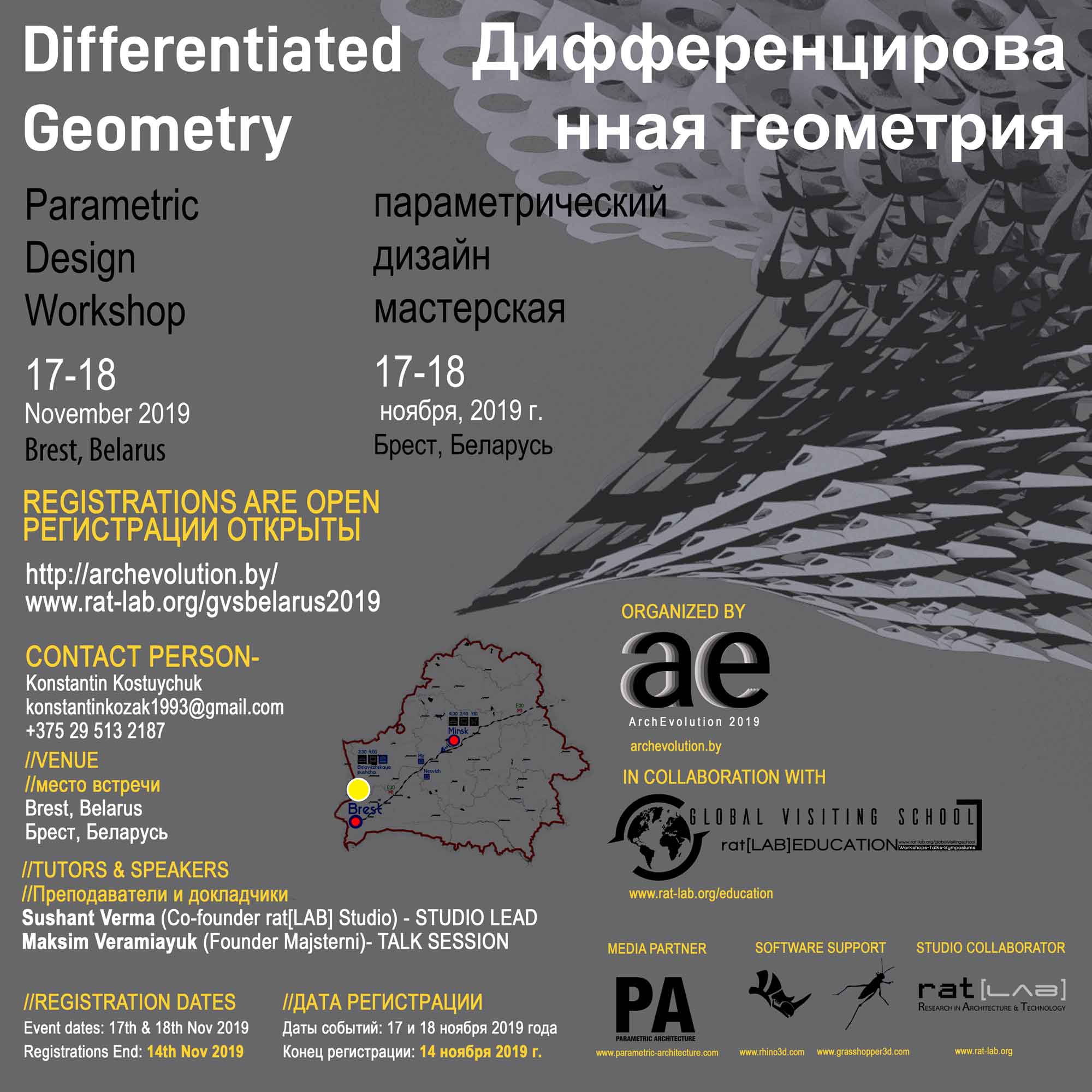 About collaborators & Studio Tutor
GLOBAL VISITING SCHOOL is an offshoot of rat[LAB]EDUCATION that delves into a global dialogue on Design Technology, Parametric Design & Computational Design applied in domains of architecture, art, fashion and material sciences through curation of workshops, training programmes, talks and symposiums across various geographical territories. GVS (Global Visiting School) collaborates with independent organizations, domain experts, universities and visionary institutions to engage in a dialogue on Design Technology through various mediums. Having a vast global footprint in countries such as UK, USA, Italy, Taiwan, Japan, Egypt, Philippines, Ukraine, Belarus and India, GVS continues to expand through independently organized workshops and lecture series in various cities across the globe to create a singular network of researchers, computational designers and technology experts that directly and indirectly contribute to the evolving parent organization rat[LAB]. rat[LAB]EDUCATION is headquartered in New Delhi and has successfully organized 60+ national-level workshops in India with over 1500+ students and professionals of architecture and design as its core participants through Summer-Winter School programmes. It also co-heads Smart Labs, a 6-month part-time programme on Computational Design in India which has 100+ students spread across 3 batches. GVS aims to inculcate a collaborative and open-learning culture by evolving an open-source knowledge base for all and democratising design technology education.
Sushant Jai-Amita Verma is a Design Entrepreneur, Architect, Computational Designer & Educator, currently leading rat[LAB] Studio (Research in Architecture and Technology) (www.rat-lab.org) that investigates intersections of design, art & technology through architecture, interior design and art installations. He holds a Masters Degree in Emergent Technologies & Design from Architectural Association, London and is a former architect at Zaha Hadid Architects, London & a Sr. Editor at Arch2O. He is the founder of rat[LAB] EDUCATION, which is an initiative to spread the idea of computation in design through independently-organized design workshops for profession and academia. Recipient of MAK Schindler Award from Vienna / Los Angeles and a finalist for AIA Emerging Leaders Fellowship from Chicago, his work is widely published and exhibited in London, Los Angeles, New York, Tokyo, San Francisco, Taipei, New Delhi, Mumbai among other places. He has been shortlisted in New Delhi among 5 architects for '20 under 35' Exhibition at Alliance Francaise de Delhi, featured as iGen 2017 Top 50 Gen-Next Designers in India, tagged as 'Rising Star' by Surfaces Reporter India, among other features. Sushant joined the elite list of TEDx Speakers by speaking at TEDxGurugram on 'Smart Cities need Smarter Design Education'. His second TEDxTalk was recently given at the prestigious IIT KGP where he inspired the young professionals to pursue their passions in Design & Technology. He was recently selected to be a MentorOfChange for Atal Innovation Mission (AIM) by NITI Aayog (National Institute for Transforming India), a policy think tank by Government of India where he shares his knowledge of design technologies to school students pursuing high school education to inculcate a culture of innovation and R&D in India. He also started and currently heads Smart Labs – India's first 6 month hybrid programme on Computational Design that blends studio learning and e-learning using a technology-oriented approach. His third TEDxTalk was delivered at IIT Bhubaneswar on Diffusion of Technology in Architecture recently.
About Media Partners: Parametric Architecture
PA (Parametric-Architecture) Magazine is the official Media Partner for Differentiated Geometry : Global Visiting School BELARUS 2019. Selected works of participants developed in the workshop will be showcased on PA's media channels after the workshop.
More Details About Workshops:
www.rat-lab.org/gvsbelarus2019
Queries:
Konstantin Kostuychuk
konstantinkozak1993@gmail.com
+375 29 513 2187
rat[LAB]EDUCATION: education@rat-lab.org
*Kindly use "DIFFERENTIATED GEOMETRY BELARUS" in Subject Line, for any queries.
Register online by following the link or contact organizer to pay in cash.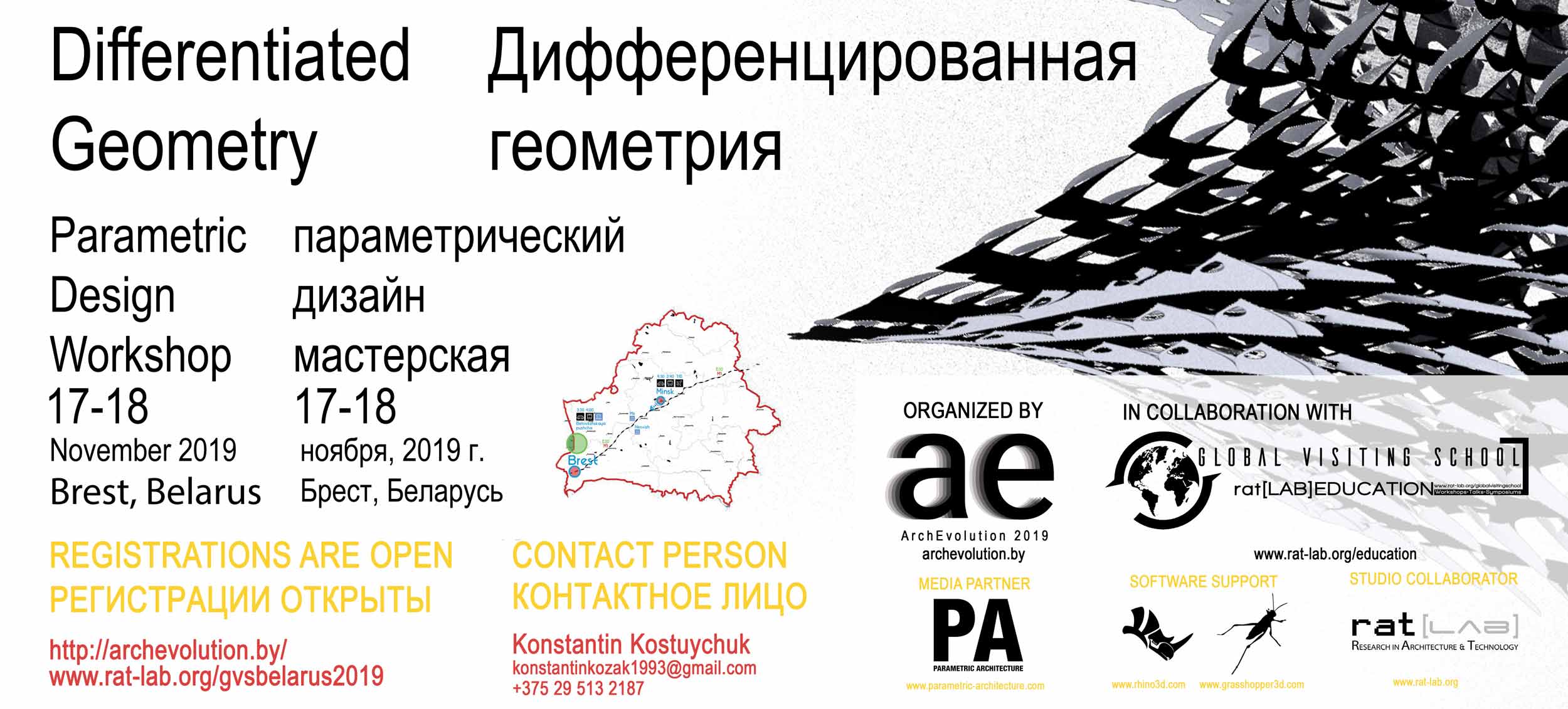 Time: Sunday & Monday, 17th & 18th November, 2019
Country: Belarus
City/Town: Brest
Website: http://archevolution.by/ & www.rat-lab.org/gvsbelarus2019
Workshop Type: Parametric Design Workshop
Organized By: ArchEvolution – rat[LAB]EDUCATION
Registration Fee: Total workshop fee € 165
Registration Deadline: 14th November, 2019