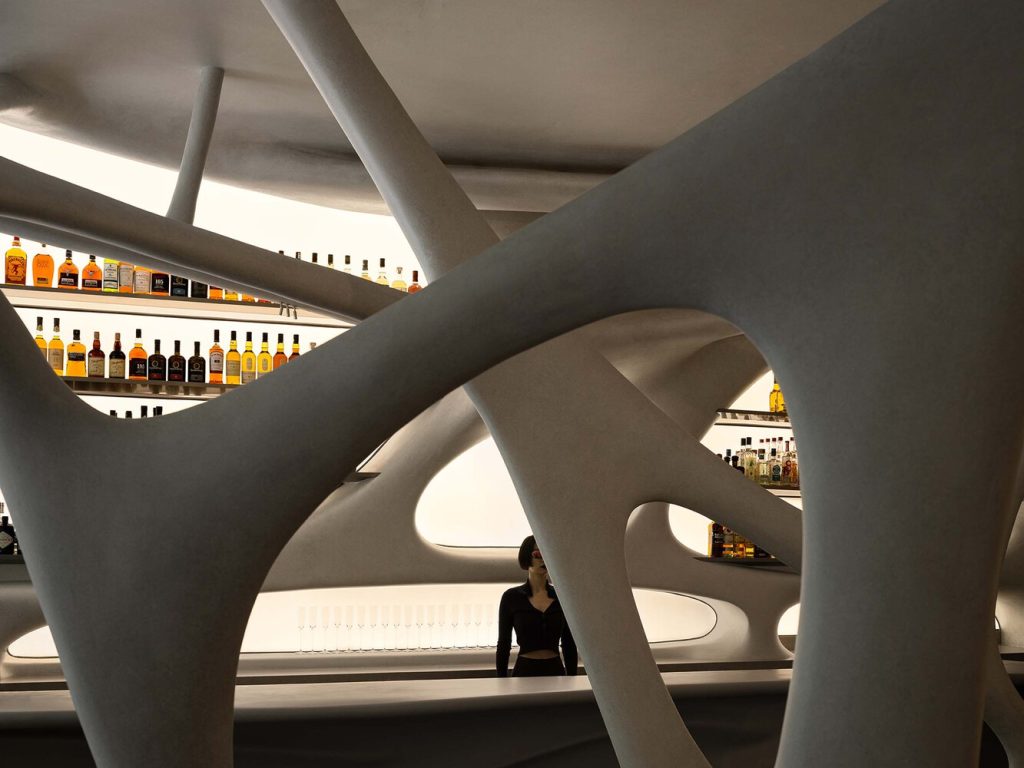 Designed by Chinese practice AD ARCHITECTURE, Tan90° Bar is in Shenzhen's OCT-Loft Creative Creative Park. Shenzhen is a city full of potential, and the Creative Cultural Park brings together people who produce creative work. The Park is surrounded by a cultural and artistic ambiance, with numerous rebuilt factories, rich grass, and historic trees. All of this prompted the design team to consider how to make an impression on the bar, attract customers, and empower its commercial operation.
AD ARCHITECTURE aimed to instill a fresh sense of tension in the artistic side, to accomplish a new breakthrough by thinking in the other direction, and to highlight the uniqueness of the space with a "radical" approach.
AD ARCHITECTURE strives to offer opportunities for serendipity and the unknown in order to achieve breakthroughs. AD ARCHITECTURE has always pushed itself to take risks, defy the rules, and produce a perceptible and never-before-seen design in space. This time, the design team used an unconventional approach while being grounded in market and business rationale. This must be about making something distinctive in the city. This type of fun and exploration of the city serves as a catalyst for making breakthroughs and discovering uniqueness.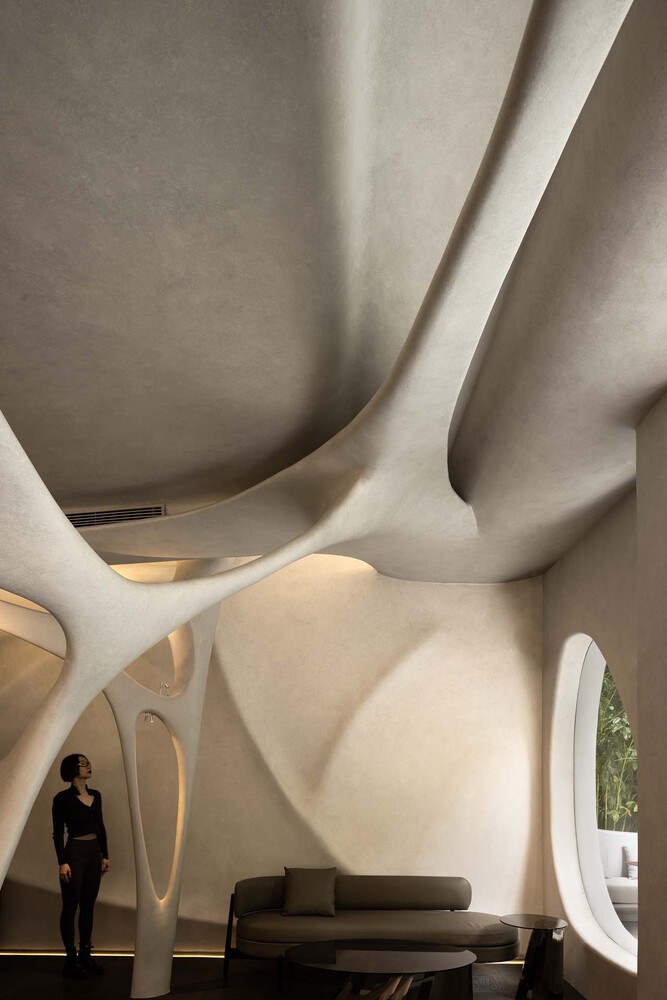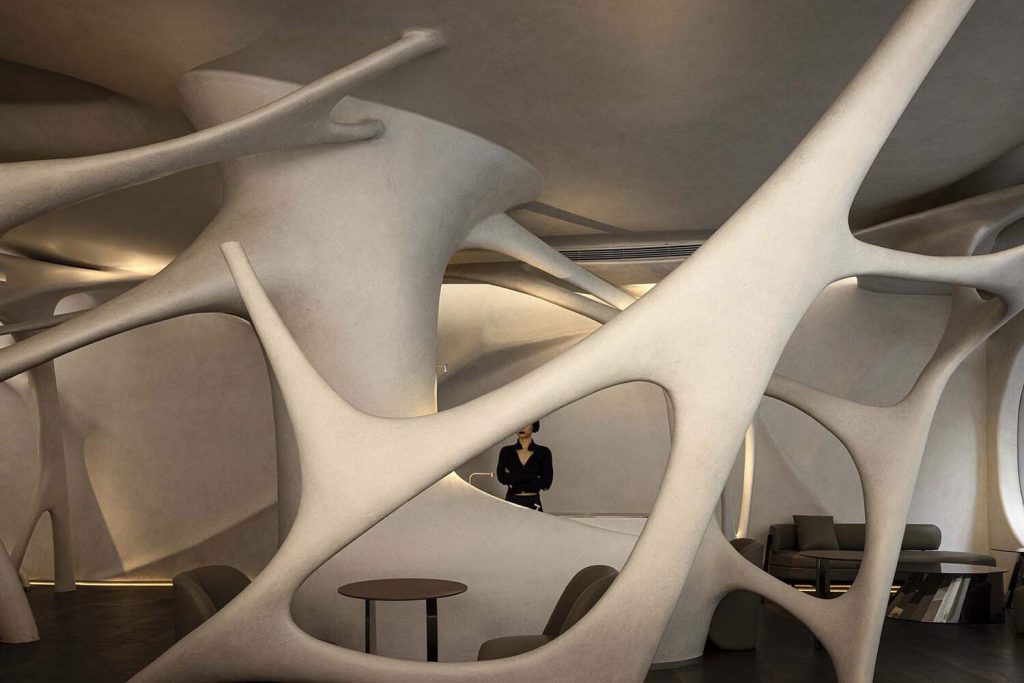 AD ARCHITECTURE built a complex spatial universe rich in visual diversity by expanding existing shapes. This is the team's first experience presenting space in such an unconventional manner. While being confident throughout the design process, the team was nevertheless worried about venturing into unknown terrain. The pure design approach links complicated design aspects, resulting in a surrealistic vibe in a realistic environment.
The entire space is internally free and can be used in a variety of circumstances. The sense of mobility in the room encourages interaction and creates a dynamic scene. The shape of the Tan90° Bar is open to interpretation: it may be a cave, a space capsule, or a neuron. It may easily transition from the leisure of a cafe during the day to the excitement of a whiskey bar at night.
"The twisted space is like exploring the logic of the law in freedom, which becomes a means of connecting the space to business, all with the purpose of gaining new energy, which is the meaning of an 'unknown script'." AD ARCHITECTURE explained.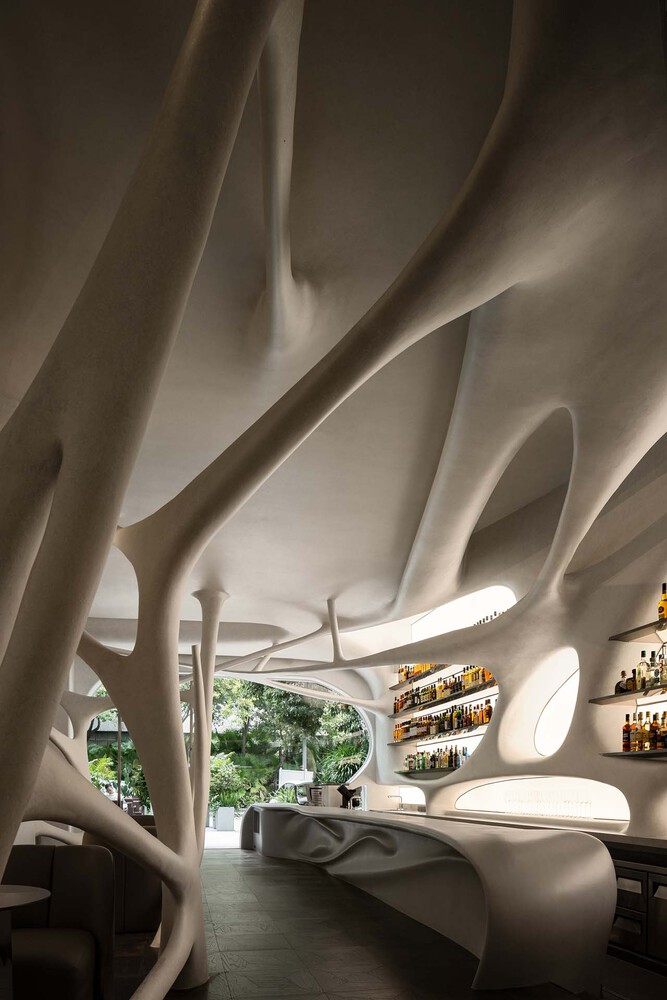 Project Info
Architects: AD ARCHITECTURE
Area: 200 m²
Year: 2023
Photographs: Ouyang Yun