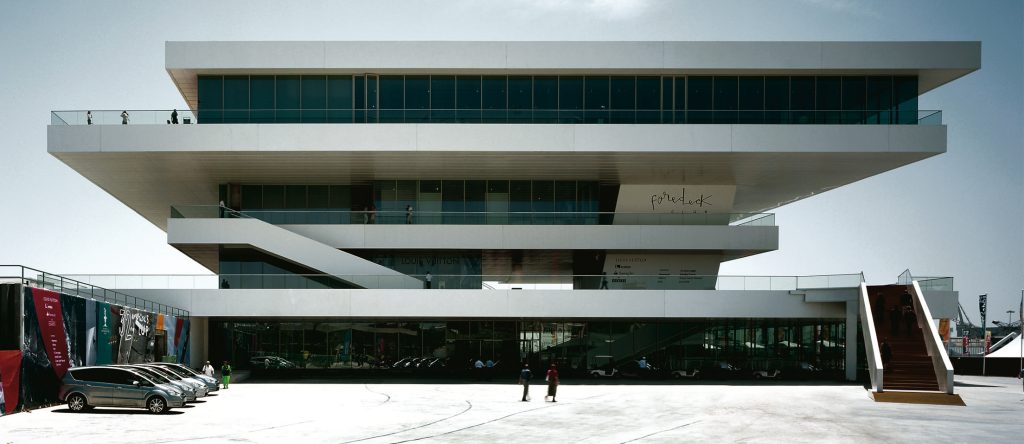 British Civic architect, urban planner, and activist Sir David Alan Chipperfield CH received the 2023 Pritzker Architecture Prize! And he is the 52nd Laureate of the Pritzker Architecture Prize.
This May, the 2023 Pritzker Prize ceremony will be held in Athens, Greece.
Chipperfield's work is noted for its subtle but revolutionary civic presence and concentration on public places, spanning four decades. Chipperfield has designed over a hundred buildings in Asia, Europe, and North America, including civic, cultural, and academic structures, houses, and urban master plans. He has also worked on various restoration and rehabilitation projects, focusing on conserving the building's original design and structure.
David Alan Chipperfield was born in 1953 in London and graduated from Kingston School of Art in 1976. He studied architecture at the Architectural Association (AA) in London, where he received his diploma in 1977. In 1985, he established David Chipperfield Architects in London. His first completed projects in London were the botany gallery and entrance hall for the Natural History Museum (1993), as well as the restaurant Wagamama.
"I am so overwhelmed to receive this extraordinary honor and to be associated with the previous recipients who have all given so much inspiration to the profession. I take this award as an encouragement to continue to direct my attention not only to the substance of architecture and its meaning but also to the contribution that we can make as architects to address the existential challenges of climate change and societal inequality. We know that, as architects, we can have a more prominent and engaged role in creating not only a more beautiful world but a fairer and more sustainable one too. We must rise to this challenge and help inspire the next generation to embrace this responsibility with vision and courage."

David Alan Chipperfield, 2023 Pritzker Architecture Prize Winner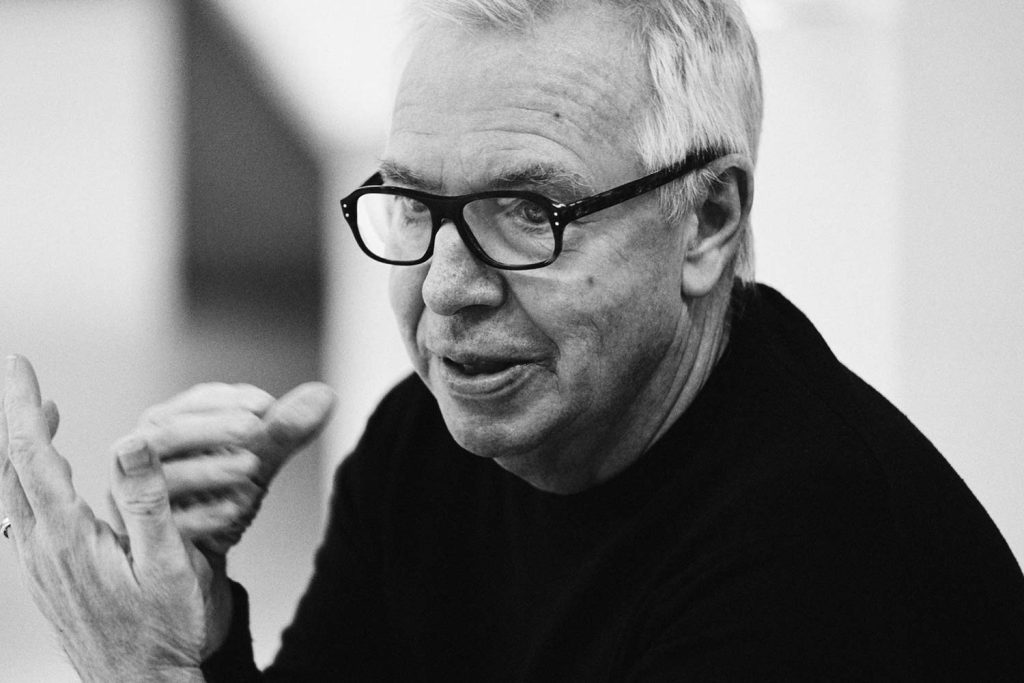 The 2023 Jury Citation of the Laureate, states, "This commitment to an architecture of understated but transformative civic presence and the definition—even through private commissions—of the public realm, is always done with austerity, avoiding unnecessary moves and steering clear of trends and fashions, all of which is a most relevant message to our contemporary society. Such a capacity to distill and perform meditated design operations is a dimension of sustainability that has not been obvious in recent years: sustainability as pertinence, not only eliminates the extra but is also the first step to creating structures able to last, physically and culturally."
Alejandro Aravena, Jury Chair, and 2016 Pritzker Prize Laureate, elaborates, "In a world where many architects view a commission as an opportunity to add to their portfolio, he responds to each project with specific tools that he has selected with preciseness and great care. Sometimes it requires a strong and monumental gesture, while other times, it requires him to almost disappear. But his buildings will always stand the test of time because the ultimate goal of his operation is to serve the greater good. The avoidance of what's fashionable has allowed him to remain permanent."
River and Rowing Museum, Henley-on-Thames, UK (1989–1997)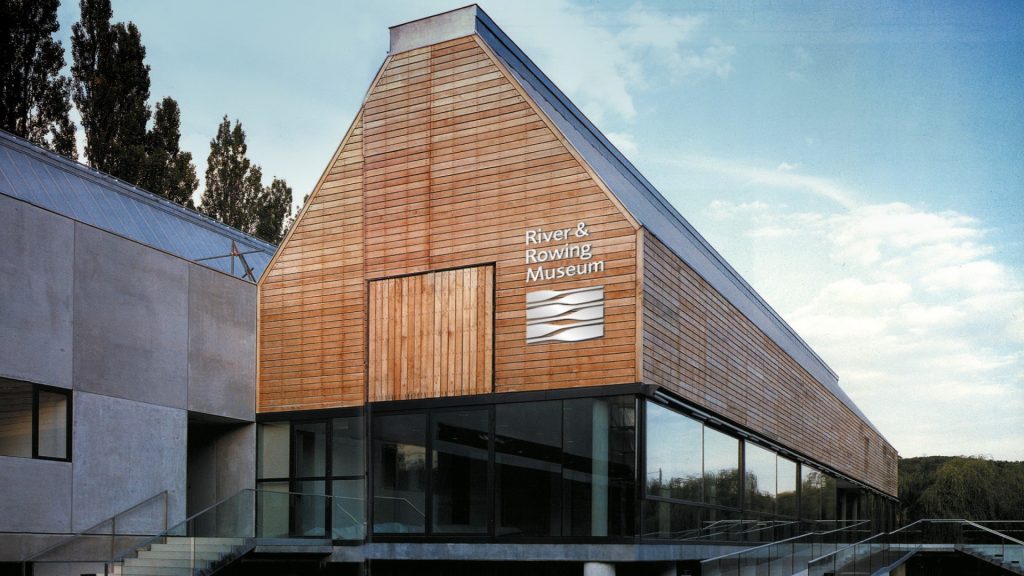 The River and Rowing Museum in Henley-on-Thames concentrate on rowing, an important part of the town's history because it hosted the Annual Royal Regatta Olympic boating competitions in 1908 and 1948. The structure's architecture combined modernist and traditional elements and was influenced by boat shelters and barns seen in Oxfordshire.
The 2,300 square metre building is elevated above the ground on concrete pillars to prevent flooding. Non-treated wood planks wrap the outside and parts of the interior, complementing the surrounding rural architecture. Stainless steel is also used for roofing and sunscreens. The entrance has glass walls that allow guests to see the surroundings clearly.
Des Moines Public Library, Des Moines, Iowa (2002–2006)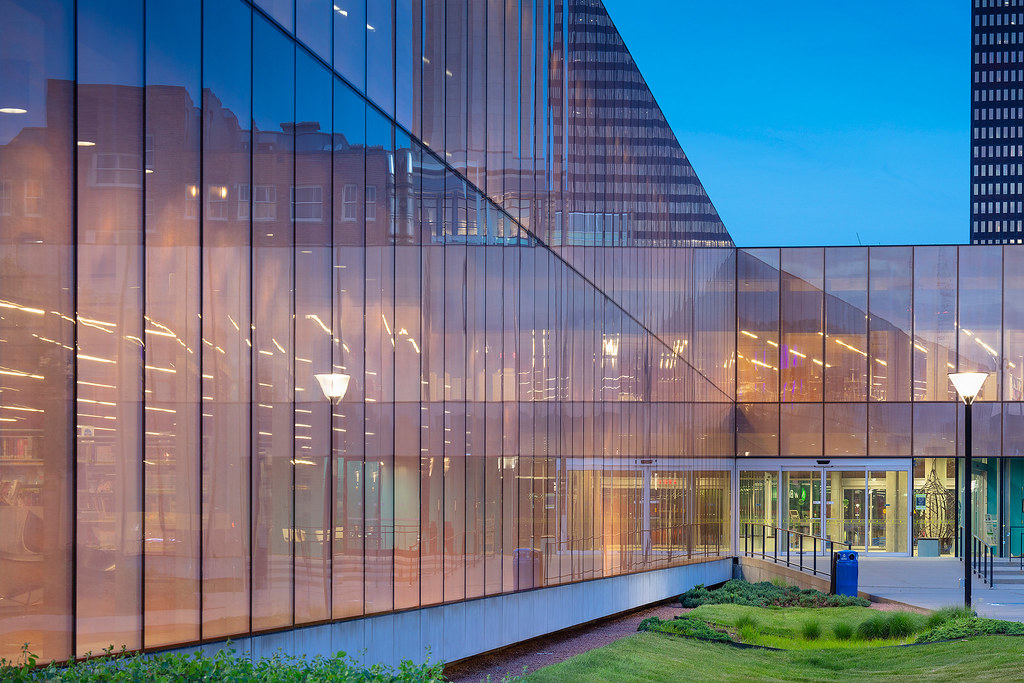 The Des Moines Public Library, located in Des Moines, Iowa, is 110,000 square feet in size and costs 32.3 million dollars to build. The two-story structure is unusual in that it lacks a traditional front and rear; instead, it has three wings stretching out from a central point. A glass tunnel allows visitors to walk through the library.
The facade of the building is notable for its use of glass panels with copper mesh placed between them. This mesh filters 80% of the sunlight while still allowing library visitors to enjoy the park surrounding the library. According to David Chipperfield, the architect responsible for the design, "The architecture is neutral and amorphous; almost no architecture at all, and the copper mesh is an attempt to veil the building as much as possible while allowing the outside in."
America's Cup Building, Valencia, Spain (2005–06)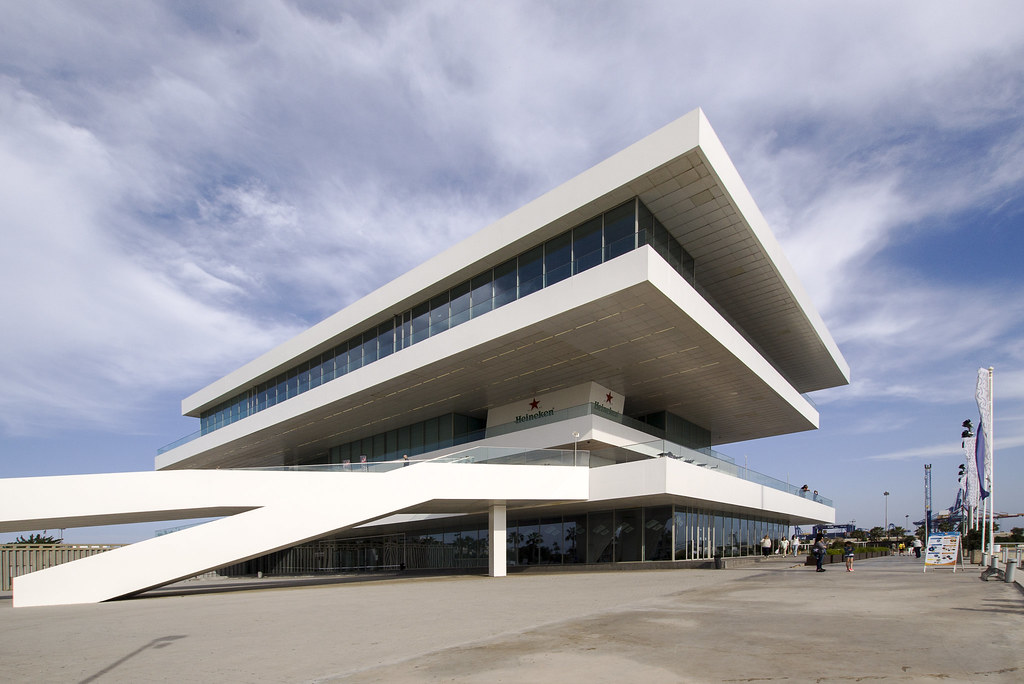 In 2005, David Alan Chipperfield won a competition to design a new America's Cup headquarters in the outskirts of Valencia, Spain and completed the project in under eleven months. The 10,000-square-metre structure has three horizontal levels that project up to fifteen meters over the terrace below, providing shade and an unobstructed view of the sea. The external trim is white-painted stainless steel, with white metal panels on the ceilings, white resin floors, and white-painted stainless steel on the exterior trim. Wooden planks provide external accents.
The Neues Museum, Berlin, Germany (1997–2009)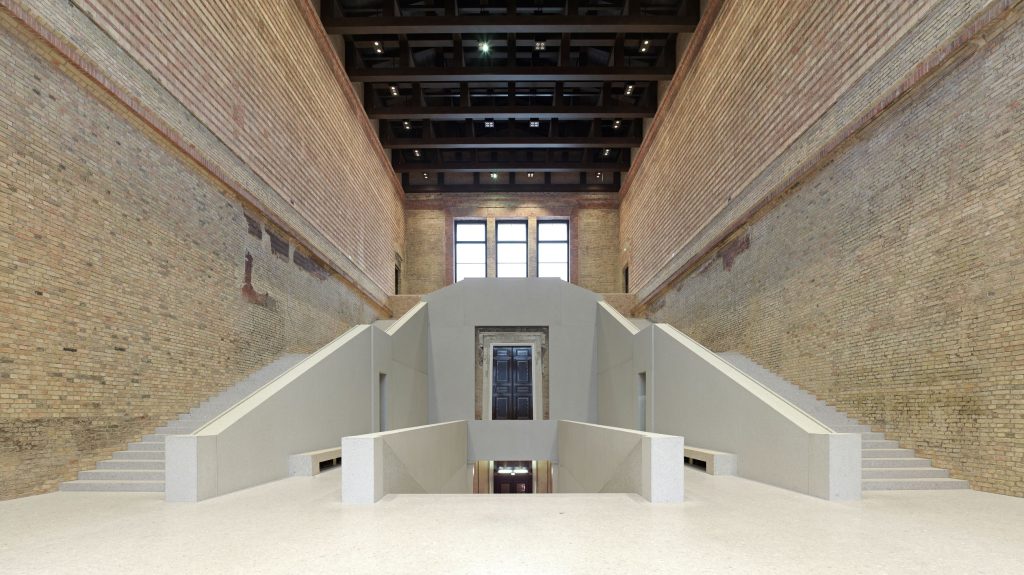 David Chipperfield, in partnership with Julian Harrap, won a competition in 1997 to rebuild Berlin's Neues Museum, which had been severely damaged during WWII. The commission aimed to reproduce the museum's full volume by restoring original spaces and adding new ones while respecting the building's historic structure.
Reinforced concrete was utilized for new galleries and the new central staircase, while recycled bricks were employed in other parts, particularly the north wing and south dome. Furthermore, the combat wounds on the building's walls were kept as an important part of its history. According to Chipperfield, the architects used these materials so that "the new would reflect that which was lost, without imitating it." In 2011, the Neues Museum was awarded the European Union Prize for Contemporary Architecture in recognition of its successful reconstruction, which blended the original and the new harmoniously.
James-Simon-Galerie, Berlin (2018)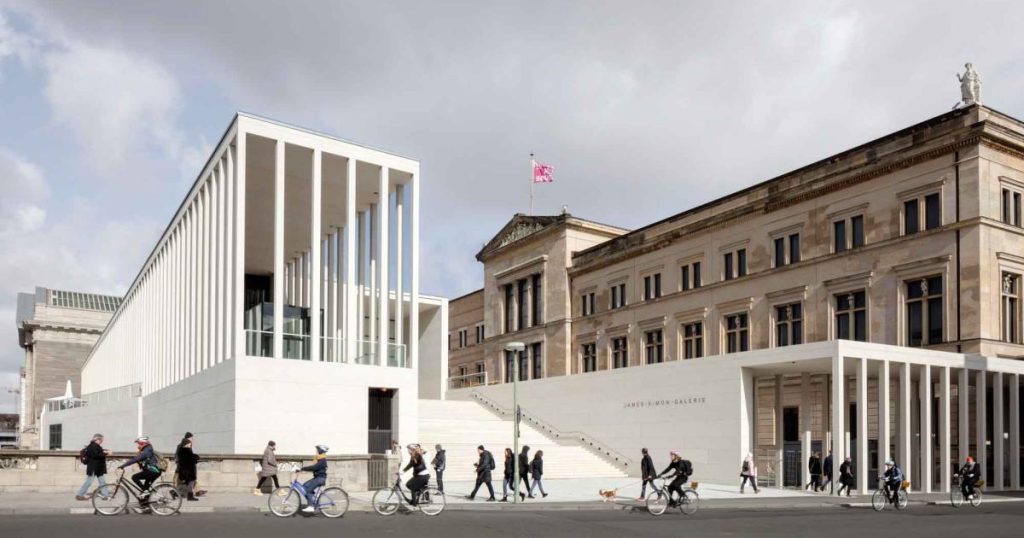 The James Simon Gallery, located on Museum Island in Berlin, serves as a visitor center and art gallery. It was designed by architect David Alan Chipperfield and named after the philanthropist Henri James Simon. The island's rich history inspired the gallery's design and sits on the former site of the Packhof. The building features a stone basement framed by modern colonnades and a line of 70 concrete columns that lead to an elevated plateau. It includes a 300-seat auditorium, a media center, a temporary exhibition space, a bookstore, shops, and restaurants. Despite costing 134 million Euros, almost twice the planned budget, the gallery has been a popular destination for visitors since its opening in 2019.