The Forest Shelter by Studiolada Architectes and Yoann Saehr Architect in Bertrichamp, France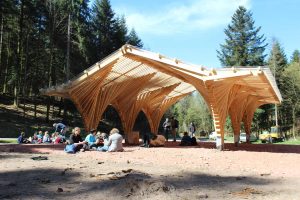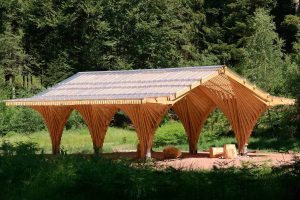 Text description provided by the architects. Distinctive features of the operation: The peat bog shelter is a participative building site in which no companies were involved, executed using the means at hand. It was built by a team composed of municipal workers and volunteers from the village. It will provide accommodation for the walkers and the "Classe verte" school trip children who come every week to discover the treasures of the last peat bog in the Meurthe-et-Moselle region. The small covered yard raises the question of small wood sections and the theme of density in architecture.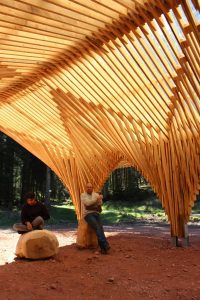 The wavelike frame, massive yet airy, sits in the clearing like an insect. It offers a new and intriguing use of the "good old plank of wood". Everyone can make up their own interpretation of the building according to their imagination — the framework, bathed in light, appears to us like a cloud.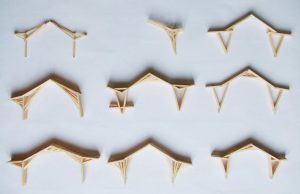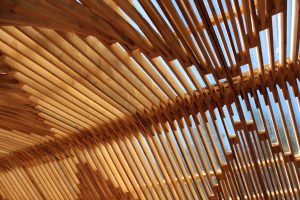 The structure is composed uniquely of old planks, screwed together to form a dense web which allows an even distribution of the tensions in the frame. The rafters and the posts are regular and aligned but the position of the collar beams is progressively shifted — to sustain the various stresses: triangulation or cantilever beam. This particular disposition also creates arches and crosses, which serve as bracing for the three main plans of the construction: lateral, longitudinal and roofing. No crossbucks or bracing panels are required. Lateral dilatation is permitted (up to 20 centimeters of longitudinal expansion between summer and winter) because there is nothing to restrain it: the purlins are crossed to allow movement and the corrugated plexiglass is extensible like an accordion.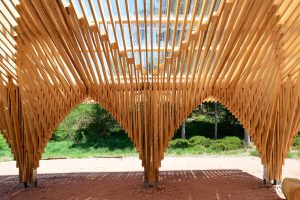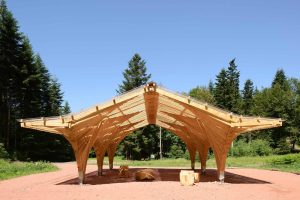 Architects : Studiolada Architectes, Yoann Saehr Architect
Location : Bertrichamps, France
Area : 81.0 sqm
Project Year : 2014
Photographs : Christophe Aubertin, Nicolas Waltefaugle, Thomas Lecorguillé
> Via Archdaily