The Dalí Museum by HOK in United States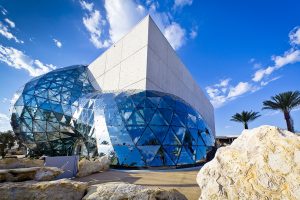 Named one of AOL Travel's "Buildings You Have to See Before You Die," this new museum houses the world's most comprehensive collection of Salvador Dalí's art outside of Spain.
The American Institute of Architects placed the building on its distinguished "Florida Architecture of the Last 100 Years" list and Flavorwire ranked it among the "20 Most Beautiful Museums in the World." The Michelin Guide rates it as the top museum in the American South.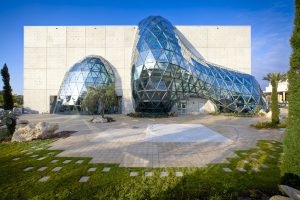 The design challenge was to create an affordable, iconic building symbolic of the Spanish painter's work. The team ensured technical feasibility and design excellence while avoiding "kitsch."
The three-story museum is on a beautiful bayside site along St. Petersburg's downtown waterfront. The dramatic envelope balances the exhibition and protection of the priceless masterpieces within a simple, powerful aesthetic. A "treasure box" shelters the 2,000-piece collection from potential Category 5 hurricane winds and storm surges.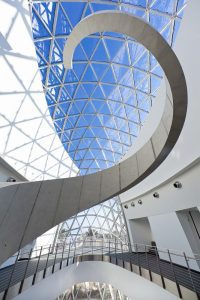 The design opens up the 18-inch-thick concrete walls with a free-form glass geodesic structure that intrigues visitors while bringing daylight and bay views into public spaces. The 75-foot-tall geodesic glass "Enigma" and 45-foot-tall "Igloo" are formed by 1,062 undulating faceted glass panes, with no two exactly alike.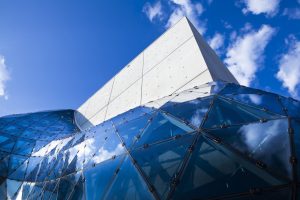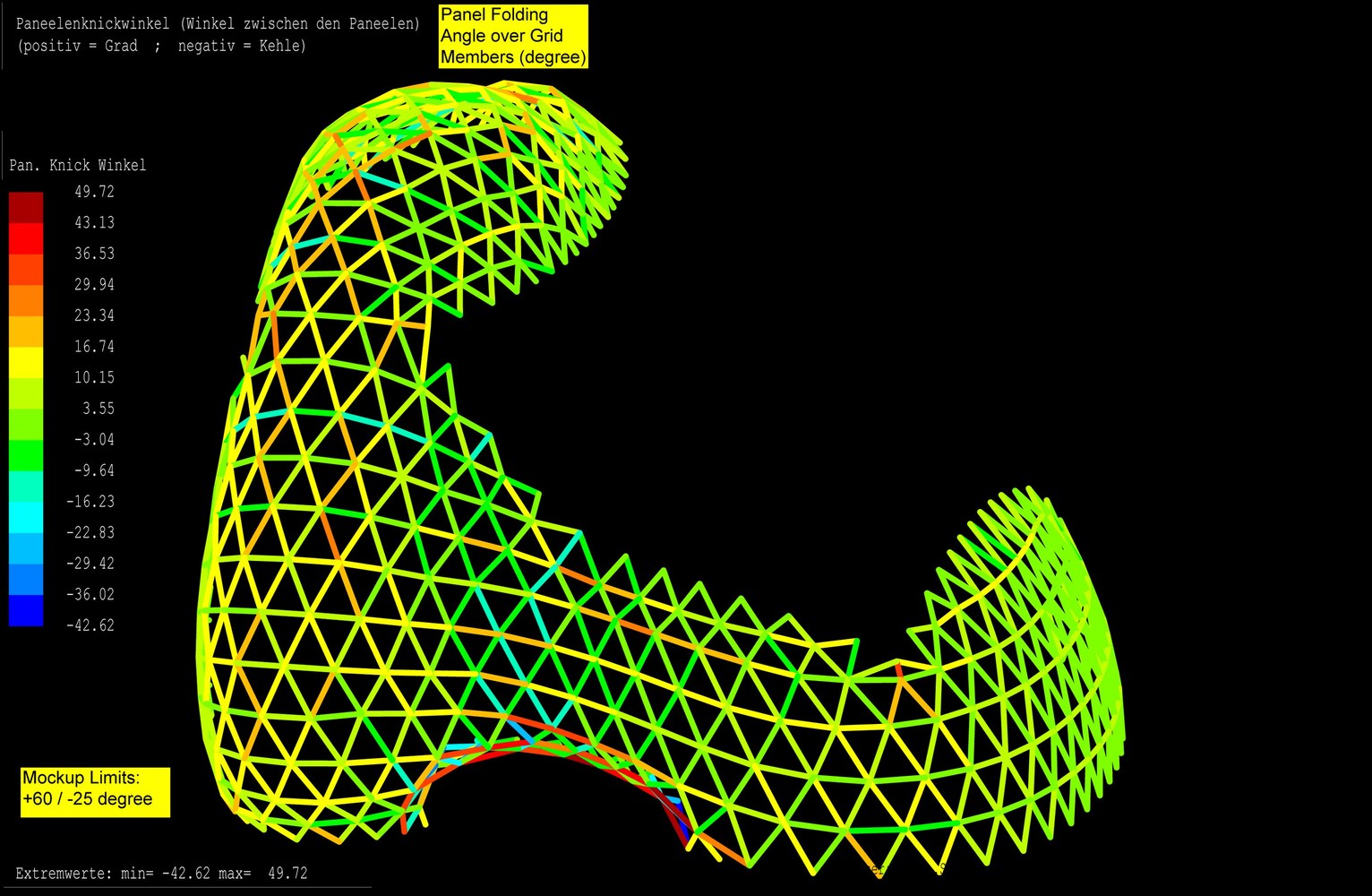 A poured-in-place, sculptural concrete spiral staircase beckons visitors to the galleries above. In the Permanent Gallery, black plaster light cannons focus natural light on seven large "Masterworks," illuminating the paintings with UV-filtered daylight within curatorial standards.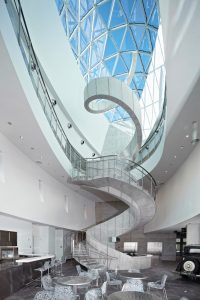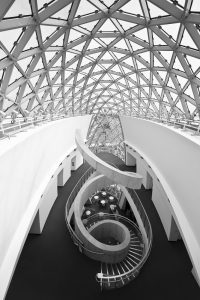 "We constantly consider the visitor experience when we design a museum. A large number of people visiting a museum will be there for the first time. The architecture must be extremely easy to understand. It can be quite adventurous and stimulating, but the circulation pathways should be clear from the moment visitors arrive at the building."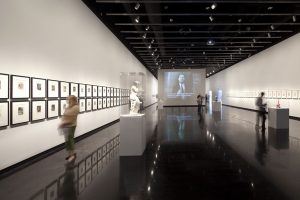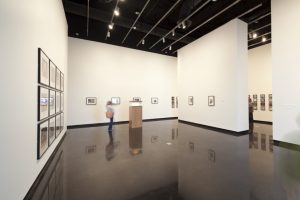 "We deliberately exposed the unfinished faces of the concrete to reduce maintenance and to allow it to be a tough, natural foil to the more refined precision of the glass Enigma. This contrast between the rational world of the conscious and the more intuitive, surprising natural world is a constant theme in Dalí's work."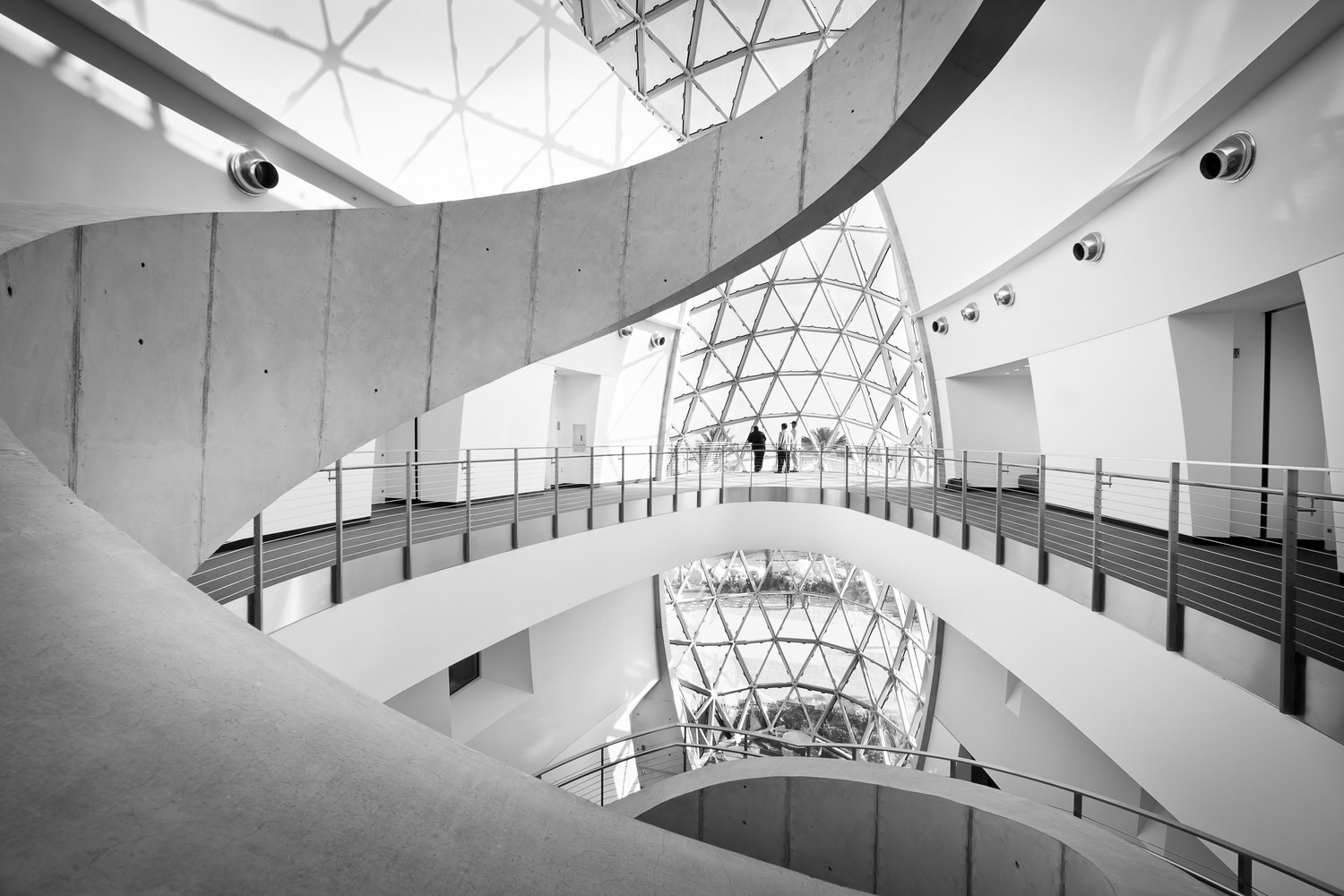 "The flowing, free-form use of geodesic triangulation is a recent innovation enabled by modern computer analysis and digitally controlled fabrication that allows each component to be unique. No glass panel, structural node or strut is precisely the same. This permitted us to create a family of shapes that, while structurally robust, more closely resembles the flow of liquids in nature." —Yann Wymouth, design director for HOK Florida.
Architects : HOK
Location : 1 Dali Blvd, St. Petersburg, FL 33701, United States
Design Team : Duncan Broyd, Eva Busato, David Chason, Jenny Collins Miers, Susan Dame, Carly Debacker, Gary Erickson, Ralph Evans, Miranda Hensley, Will Hollingsworth, Scott Hughes, Laura Matson, Foard Meriwether, Eddie Pabon, Van Phrasavath, Lynn Puckett, Mary Sabel, Oliver Schwarz, Tommy Sinclair, Nicole Stearley, Izzy Torres, Anna Vasquez, Yann Weymouth, Sean Williams
Area : 68000.0 ft2
Project Year : 2011
Photographs : Moris Moreno, Beck & Mike Rixon
Video : TheCoolist
Manufacturers : Novum Structures, Penetron
> Via HOK