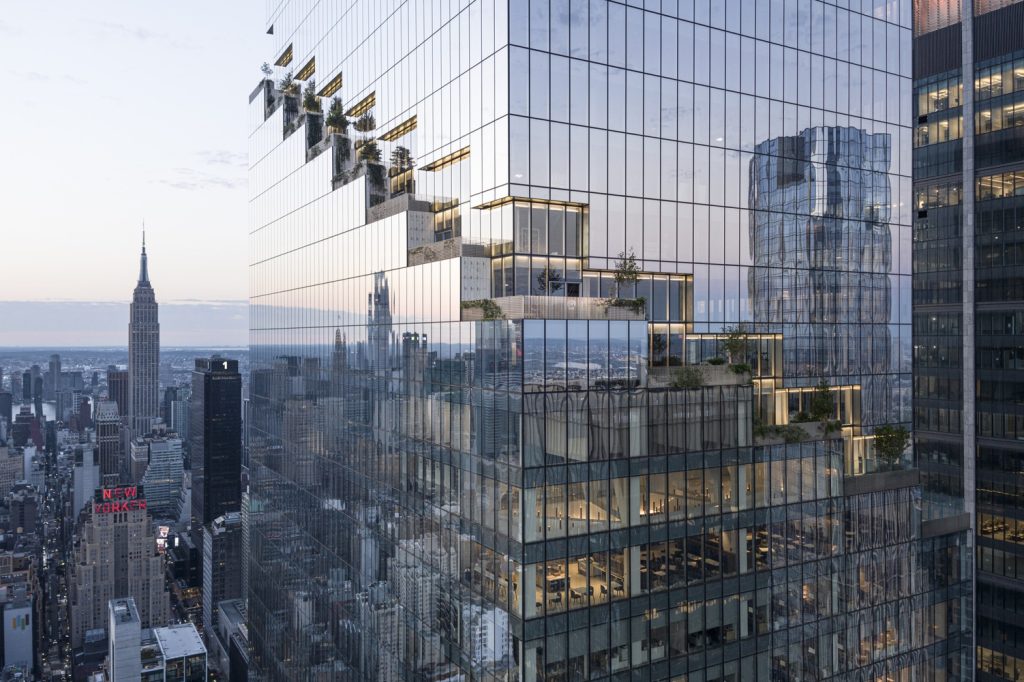 The 314-meter-tall The Spiral, designed by Bjarke Ingels Group in collaboration with Adamson Associate, is situated along the High Line and features a distinctive "ziggurat silhouette." The project is intended to create a sustainable and human-centered work environment. The cascading landscaped terraces and hanging gardens create a continuous green ribbon that wraps around the building's exterior. This is BIG's first completed supertall and New York's first completed commercial high-rise.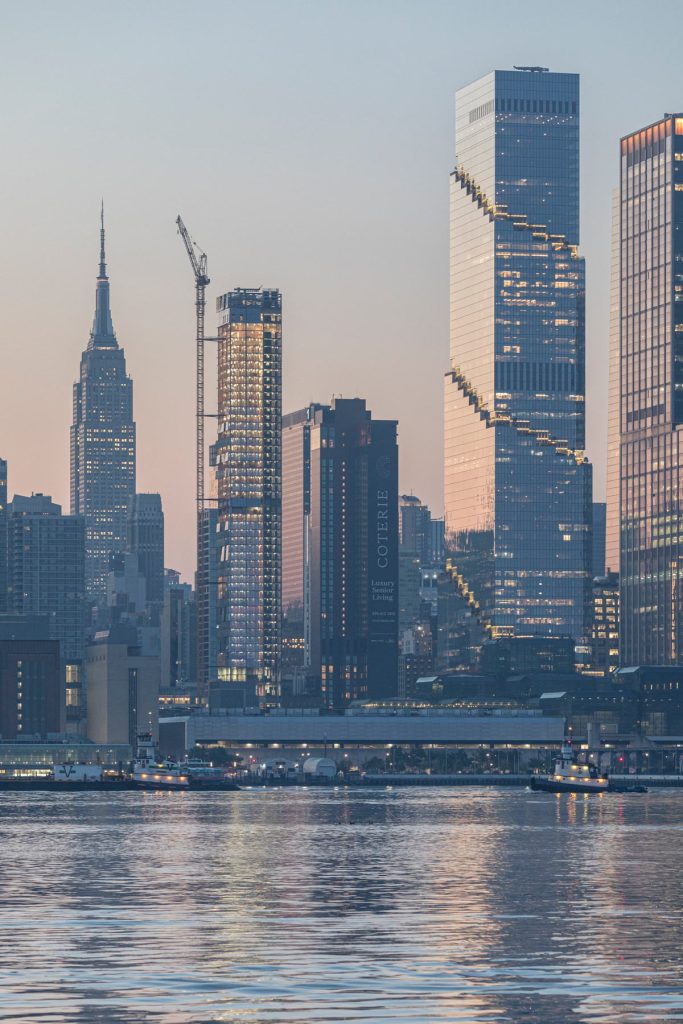 The Spiral is located on West 34th Street between Hudson Boulevard and 10th Avenue, adjacent to Manhattan's elevated High Line and Bella Abzug Park. BIG designed the 66-story, 2,8 million-square-foot, 1,031.5-foot-tall commercial skyscraper in collaboration with Adamson Associates and structural engineer WSP Cantor Seinuk. Also, The Council on Tall Buildings and Urban Habitat named it the world's best tall building in its category at the organization's annual conference last week.
From street level, the tower draws attention to the High Line's greenery ribbon that extends beyond West 34th Street and into the Manhattan skyline. The tower's glass panel facade, reminiscent of a conservatory, provides passersby with a view into the lobby, which features artwork by Dutch studio DRIFT.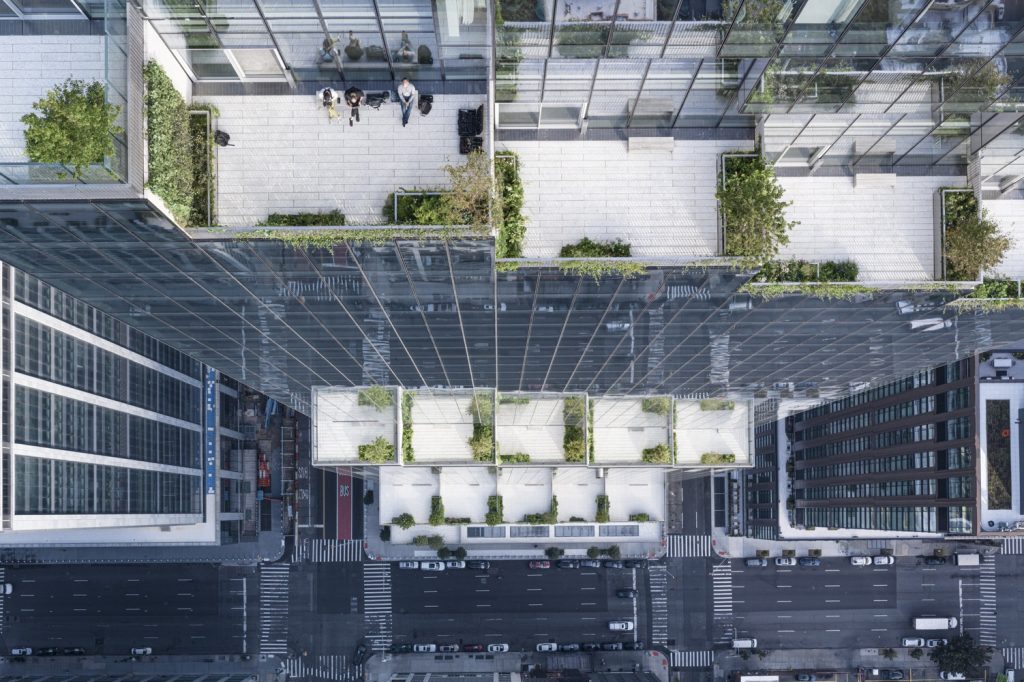 With approximately 13,000 square feet of outdoor space, a landscape of The Spiral's dimensions has never been installed in New York City at or above 300 feet in elevation. The majority of the ground cover's plant species are native to the American prairie, making them resistant to strong winds and droughts.
As The Spiral ascends, the accessible terraces on each floor provide breathtaking views of Manhattan, the Hudson River, and New Jersey. Certain floors feature a double-height amenity space and the option to connect adjacent floors via a grand staircase, suggesting an alternative to elevators and fostering interaction between coworkers. On the 66th floor, The Spiral features its very own ZO Clubhouse, reserved exclusively for gathering, networking, and recharging in the private lounge and outdoor terrace.
Architects: Bjarke Ingels Group in collaboration with Adamson Associates
Partners In Charge: Bjarke Ingels, Daniel Sundlin
Technical Director: Douglass Alligood
Project Leader: Dominyka Voelkle
Project Team: Adrien Mans, Agla Egilsdottir, Ali Chen, Alvaro Velosa, Andreas Buettner, Andrew Lee, Anton Bashkaev, Armen Menendian, Beat Schenk, Benjamin Caldwell, Bernardo Schuhmacher, Cadence Bayley, Carolien Schippers, Cheyenne Vandevoorde, Christopher David White, Christopher Tron, David Brown, Davide Maggio, Deborah Campbell, Denys Kozak, Dong-Joo Kim, Erin Yook, Florencia Kratsman, Francesca Portesine, Gabriel Jewell-Vitale, Gabriella Den Elzen, Gaurav Sardana, Giulia Frittoli, Haochen Yu, Hung-Kai Liao, Ibrahim Salman, Jack Lipson, Jan Casimir, Jan Leenknegt, Janice Rim, Janie Louise Green, Jennifer Wood, Joshua Burns, Josiah Poland, Juan David Ramirez, Julie Kaufman, Kurt Nieminen, Lisbet Fritze Trentemøller, Lucio Santos, Luke Lu, Mackenzie Keith, Margaret Tyrpa, Maria Eugenia Dominguez, Martynas Norvila, Mateusz Rek, Maureen Rahman, Megan Van Artsdalen, Michael Zhang, Nicholas Potts, Otilia Pupezeanu, Phawin Siripong, Rachel Coulomb, Ruo Wang, Ryan Duval, Sang Ha Jung, Seo Young Shin, Simon Lee, Terrence Chew, Thea Gasseholm, Thomas Christoffersen, Tracy Sodder, Veronica Acosta. Veronica Moretti, Wells Barber, Will Fu, Yaziel Juarbe, Yenhsi Tung, Zoltan David Kalaszi
Big Landscape: Emily Chen, Giulia Frittoli, Joseph Kuhn, Kathleen Cella, Kelly Neill, Lou Arencibia, Manon Otto, Marcus Wilford, Matteo Gawlak, Matthew Lau, Morgan Mangelsen, Simon David, Tony-Saba Shiber, Varat Limwibul
Client: Tishman Speyer
Collaborators: Adamson Associates, Turner Construction, WSP Cantor Seinuk, Cosentini, Langan, Edgett Williams Consulting Group, Thornton Tomasetti, Heintges, Vidaris, Entek Engineering, FMS, Pandiscio, Doyle Partners, Squint Opera, Siteworks, Northern Design, Space Copenhagen, Michaelis Boyd, Studio Drift, Banker Steel, Roger & Sons, Permasteelisa, CMI, Vitrocsa, W+ W, Top Shelf Electric, Otis, National, Bamco, Garcia, Jacobson & Company, Cooper Plastering, Sponzilli, JBB, BIG Landscape, BIG Ideas
Photographs: Laurian Ghinitoiu