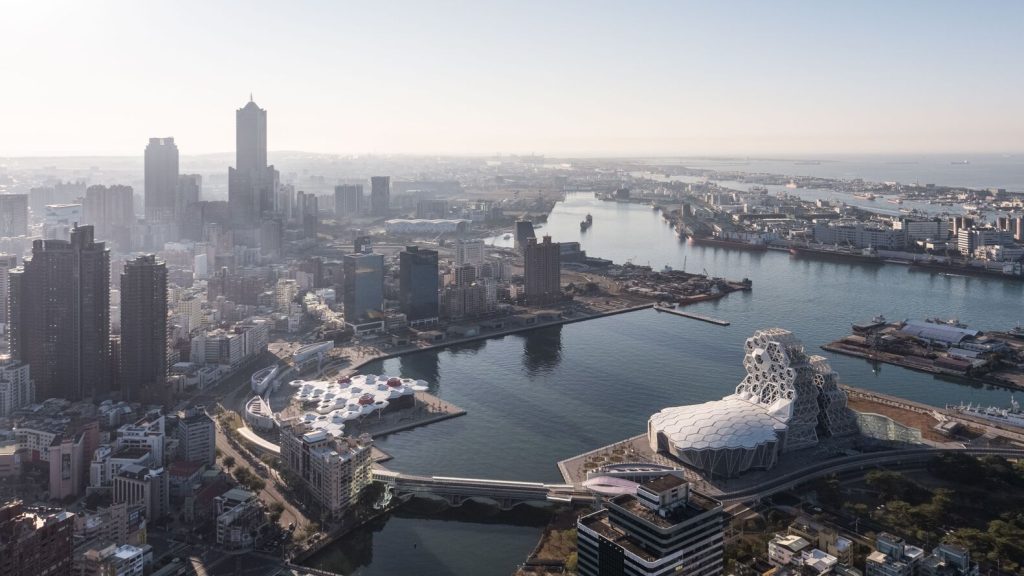 Designed by Manuel A. Monteserín Lahoz, the Kaohsiung Pop Music Center consists of an outdoor auditorium for 12,000 people, a concert hall for 3,500 people, six live houses, five restaurants connected by a walkway, two towers with an office program, a museum and rehearsal rooms, a center of exhibitions and a series of parks and walks that connect the entire intervention.
The Kaohsiung Pop Music Center envisions a landscape made up of geometries salvaged from the seafloor. Foams, corals, seaweed, waves, and aquatic animals are arranged on the surface and specialized for specific uses so that each piece has its own personality and a formal challenge while also being integrated into a shared ecosystem.
The City Council, the Ministry of Culture, and the Central Government of Taiwan collaborated to give the Kaohsiung port area a new cultural dimension, which culminated in the pop music center. In this part of Asia, the pop music industry has a strong identity.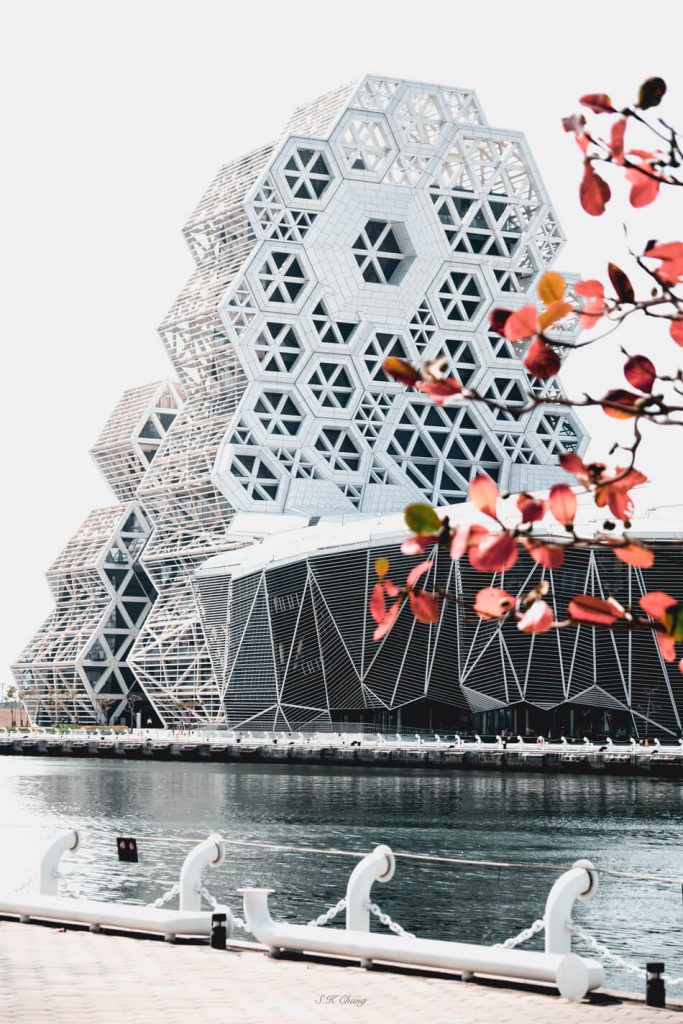 During the design process of the project, the designers gave names to each of these architectures: whales, dolphins, etc. This has leaked out to the citizens of Kaohsiung and it is exciting to see how they are now referred to by the same names.​
Something that designers have managed to build and that is already in the competition phase was very important for them is the creation of new public spaces that function regardless of whether or not there are concerts and that is part of the daily life of the inhabitants of the city.​
In the exhibition center, designers managed to leave a large open area free under the hexagonal umbrellas so that activities of all kinds (markets, dance, theatres, etc.) arise spontaneously and in the shade.​ They have planted over a thousand trees creating a large park at the mouth of the Love River. I am confident that with the humid tropical Taiwanese climate, in a few years, the area will be lush with vegetation.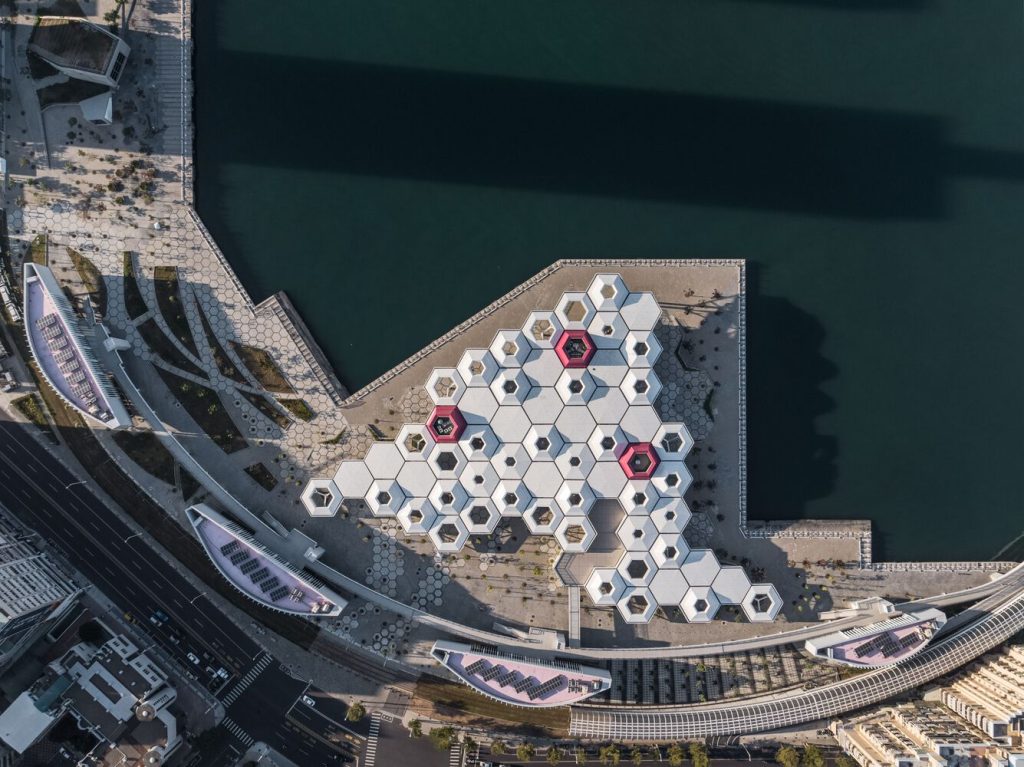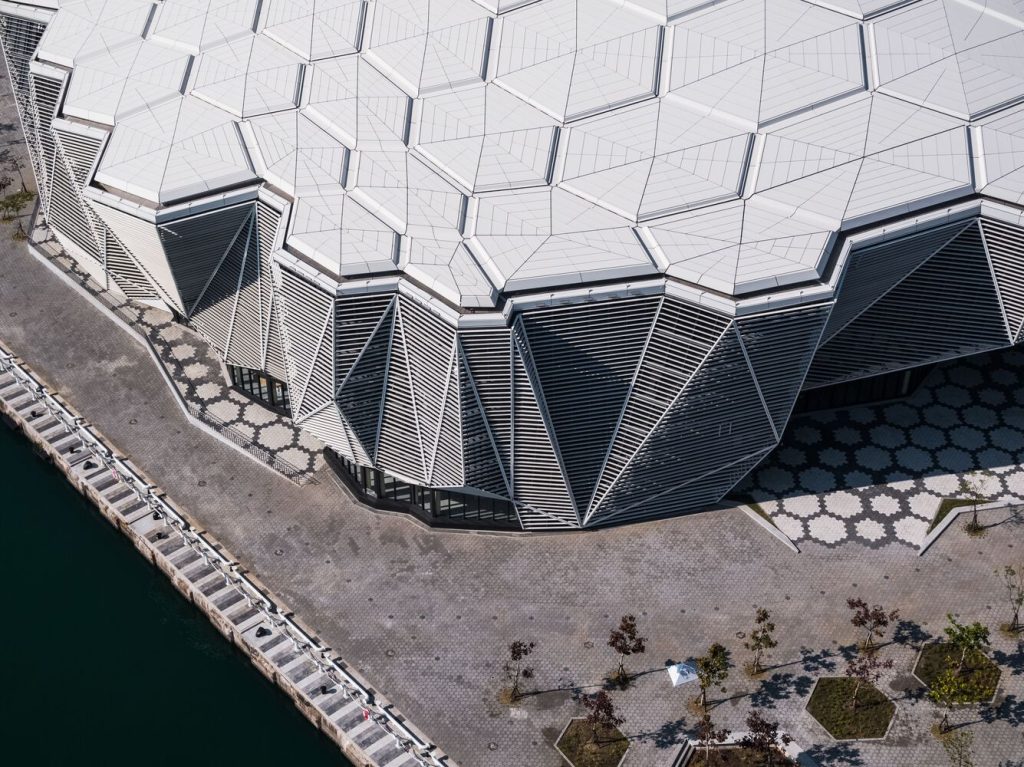 Project Info
Architect/Architect Team Leader: Manuel A. Monteserín Lahoz
Location: Kaohsiung, Taiwan
Year: 2020
Client: Kaohsiung City Government
Status: Work built
Constructed area: 88,000 m2
Architects/Arquitectos: Beatriz pachón Castrillo, Javier Simó de Pedro
Local Partner: Mark Ongg
Partner and project manager/partner and project management: EDDEA