Horizontal and vertical frames lace a farmhouse, a research center, and a display arena. Sanya Jinmao Farm Lab designed by CLOU Architects presents a striking structural composition of grids and guides in Sanya City, Hainan Island. Nanshan Co-life Pavilion and Nanfan Exhibition Hall in the Nanfan High-tech Park exposes two multifunctional spaces with 6,900 square meters of total construction.
Learn more about parametric and computational design from pioneers at the CD NEXT conference series:
Sanya Jinmao Farm Lab
The design of the farm lab focuses on combining the climate characteristics of Sanya, weaving the region's scientific and technological agricultural elements visualized as a multi-functional research compound and commercial exhibition space. The architects ensured the design philosophy from traditional straw-roofed houses to design the gridded wooden facade that encircles the agricultural education center on Hainan Island.
Covering an area of 4,000-square-metres of exhibition space, Sanya Farm Lab explores to provide a space to illustrate ecological research in action, accentuating educational and lifestyle facets of agricultural science. As the district thrives as a scientific research hub in tropical agriculture, the architects caricatured the building functions to explore issues relating to climate change, land and water scarcity, food production, and tourism.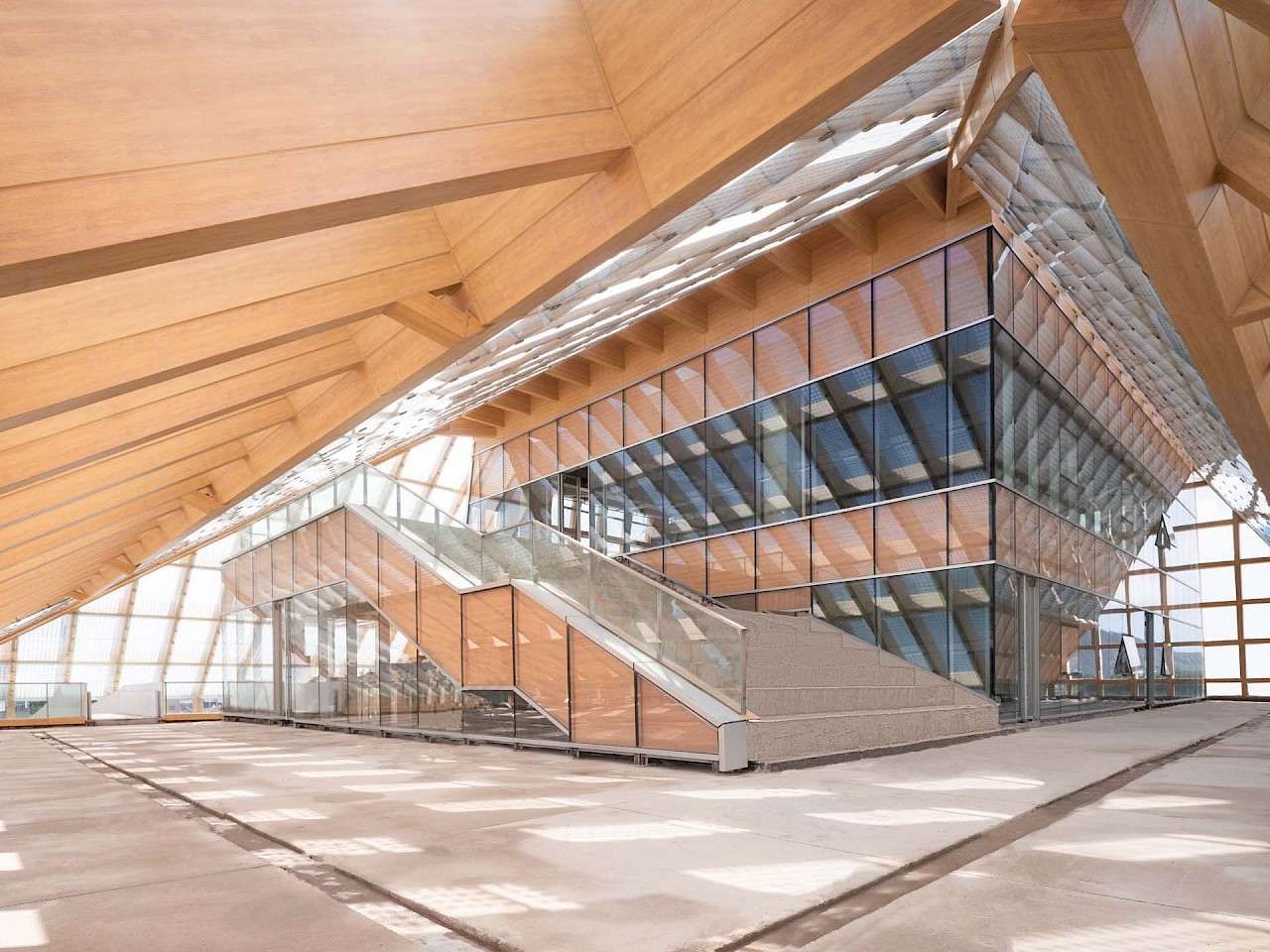 The contemporary perception on designing a farm lab, pulsed to compose modern organic agriculture display and uplift the evolution of lifestyles. The clinical design blurs the traditional boundaries between nature and the city, like boxes framing into the view, narrowing the distance between technology and life.
Sanya Jinmao Farm Lab ensemble high-tech exhibitions, strapping agricultural robotics, and vertical indoor farming. The lab enriches the experience of bringing "farm-to-table" opportunities. The design exposes advanced technologies to the public in real-time, with promising progress by which agricultural technologies stream into lifestyle and education terrain.
The architectural elements extemporize in three steps: first, setting the outdoor public expanse. The open-air arena flock clear scales and amusing levels, strategically trailing along with four-storied functional volumes. A cantilevering structural edifice bumps out from the second-floor weaving a semi-outdoor rain shelter for the first floor and a relaxing outdoor public platform for outdoor dining and the third-floor houses children's playing arena.
Second, the outdoor zones knit the exterior circulation in harmony. The abutting of a spiral stair and a huge stairway of the multi-functional theatre entangle the indoor and outdoor, embracing a sinuous motion for the visitors as they stroll.
Third, delineates the enhanced comfort level in the outdoor volumes. The 800-mm-deep roof grid structure absorbs the harsh sunlight by 70%, providing a shelter for the open-air platform, and warrants natural ventilation with wide-ranging vistas.
Sanya Jinmao Farm Lab truly defines an integral expression in the language of agriculture architecture. Inspired by traditions, the grid structure of the traditional Hainan Li house evolves and transcends to a marveling depiction of the timeless architectural milieu.
Project Details:
Project: Sanya Farm, 2021
Location: Sanya, Hainan Island, China
Client: Jinmao Sanya Nanfan Rongmao Real Estate Co., Ltd.
Architecture and Interior Design: CLOU architects
Design Team Leader: Jan Clostermann, Lin Li
Design Team: Na Zhao, Sebastian Loaiza, Julien Douillet, Yaxi Wang, Tianshu Liu, Tiago Tavares, Principia Wardhani, Javier Peláez, Yiqiao Zhao
Construction Drawings/MEP/Structure: Urban Architecture Design Co., Ltd
Facade Consultant: China Building Technique Group Co., Ltd.
Interior Design Construction Drawings: G-Aart design
Lighting Consultant: Fuzhou Bovs Lighting Design Co., Ltd.
Construction Area: 6,900 m2