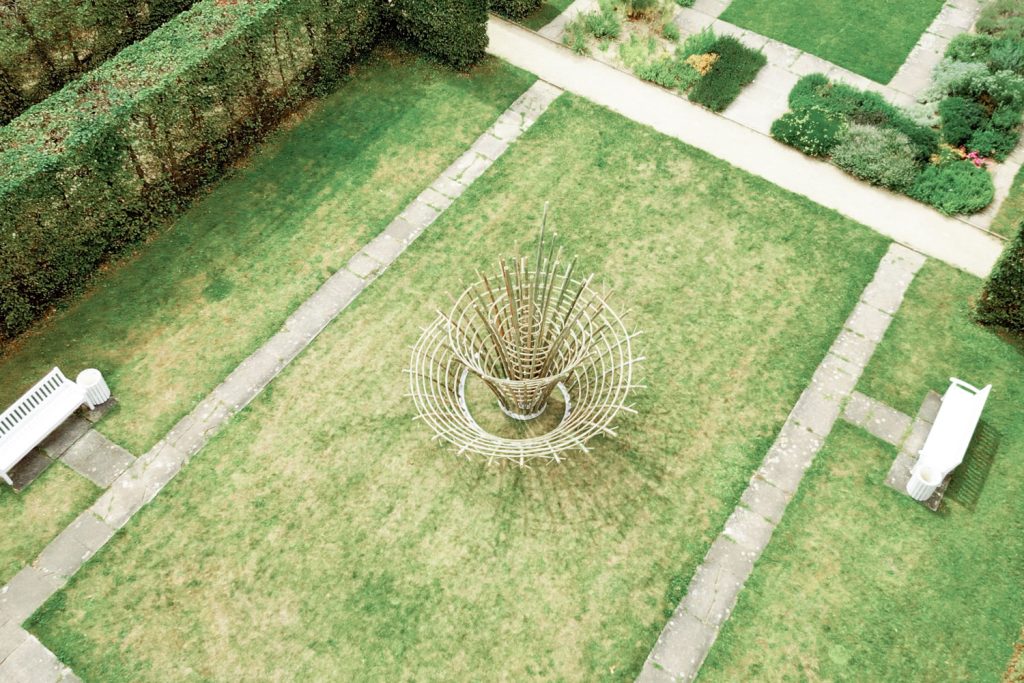 The temporary sculpture "La Fleur Mathematique" does more than just show how math is used in construction and architecture. Instead, it is a one-of-a-kind object that exists on the cusp of science and art while acknowledging the unique conditions of the Genius Loci. It materializes as a part of the so-called Dini surface, a surface with constant negative curvature and characteristic surface curves that is exemplary in terms of certain geometric properties useful for the economical production of efficient and lightweight load-bearing structures, in the historic Pillnitz Gardens near Dresden.
Despite this technical-mathematical foundation, the finished sculpture appears to be an oversized blossom hidden among hedges and herbs. The incomplete representation of the Dini surface, which actually extends into infinity, can thus be seen as a frozen phase of perpetual growth inserted into the gardens' cyclical becoming and passing.
"La Fleur Mathematique," made of bamboo, is also an ambassador for this rapidly regrowing material's ability to produce the most precise constructive forms possible. Because the poles were harvested in France, rather than Asia, just a few weeks before the assemblage on site, the sculpture draws attention to this relatively new material in Europe and, hopefully, paves the way for widespread and extensive use in upcoming construction and architectural projects.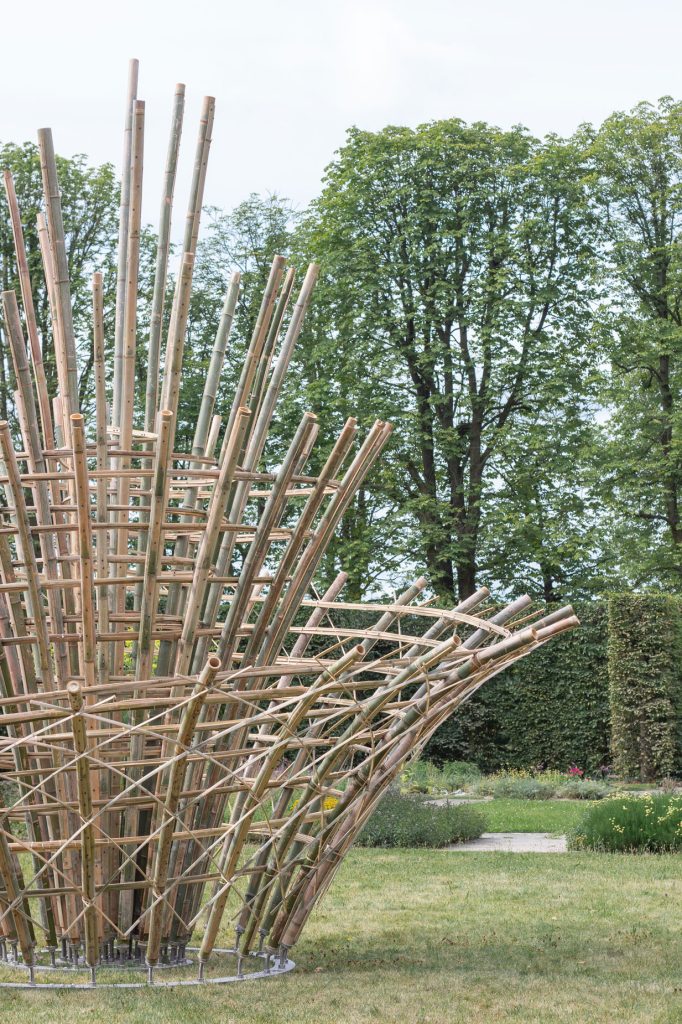 "La Fleur Mathematique" is the first contemporary sculpture ever allowed to be displayed amidst Pillnitz Park, whose origins date back to the 17th century. This unique opportunity arose through fortunate circumstances because the sculptures' concept, material, color, form, and location represent a thematic proximity to the most recent exhibition, "Plant Fever," taking place simultaneously in Pillnitz Palace & Park.
The design and planning of "La Fleur Mathematique" was developed in close cooperation with international scientists from the fields of mathematics, architecture, and civil engineering, from the GMV (Geometric Modeling and Visualization) of the TU Dresden, the GSA laboratory (Géométrie Structure Architecture) of the École Nationale Supérieure D'architecture Paris-Malaquais, CMAT (Centro de Matemàtica) of the Universidade do Minho, the CIAUD (Centro de Investigação em Arquitetura, Urbanismo e Design) of the University of Lisbon. It was realized during the international "Architectural Math for Bamboo Structures (AMBS)" summer school hosted by the GMV of the TU Dresden in July 2023 under the direction of Prof. Dr.-Ing. Daniel Lordick. It was realized in only seven working days with 20 highly motivated international participants that arrived from different fields, like Mathematics, Arts, Engineering, and Architecture.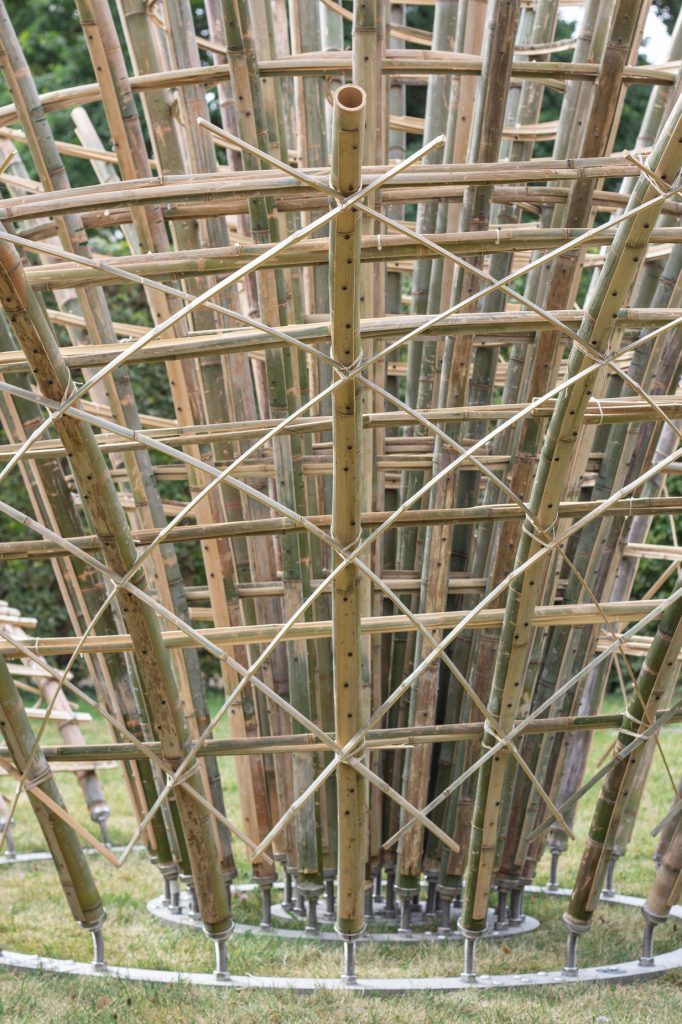 Project Info
Architectural Math for Bamboo Structures (AMBS) Summer School at Technische Universität Dresden
Development of the sculpture: Aly Abdelmagid, Martin Friedrich Eichenauer, Ahmed Elshafei, Daniel Lordick, Maximilian Schwall, Zlata Tošić, Marta Orszt
The staff team: Daniel Lordick (Director, GMV), Aly Abdelmagid (GSA), Daria Dordina (GMV), Ahmed Elshafei (CMAT, GMV), Larysa Ivanova (GMV), Zlata Tošić (GMV), Marta Orszt (CIAUD, GMV), Maximilian Schwall (GMV), Martin Friedrich Eichenauer (GMV), Zaqi Fathis (GMV), Alexander Melcher (GMV), Emilia Förster (GMV), Sabine Zimmermann-Törne (exhibition curator), Carsten Ress (video documentation)
The participants: Masayo Ave, Lennard Bähr, Marie Bartz, Christina Duffield, Emilia Förster, Daniel Gradwohl, William Holt, Maja Ilic, Xinye Lie, Tamara Miljkovic, Marina Mudri, Britta Nader, Dajana Papaz, Jelena Pepic, Dara Petrović, Kristijan Ristoski, Evgenia Spyridonos, Milan Varga, Eva Wohlleben, Luo Xiaoyu
Photography: Maximilian Schwall and Carsten Ress