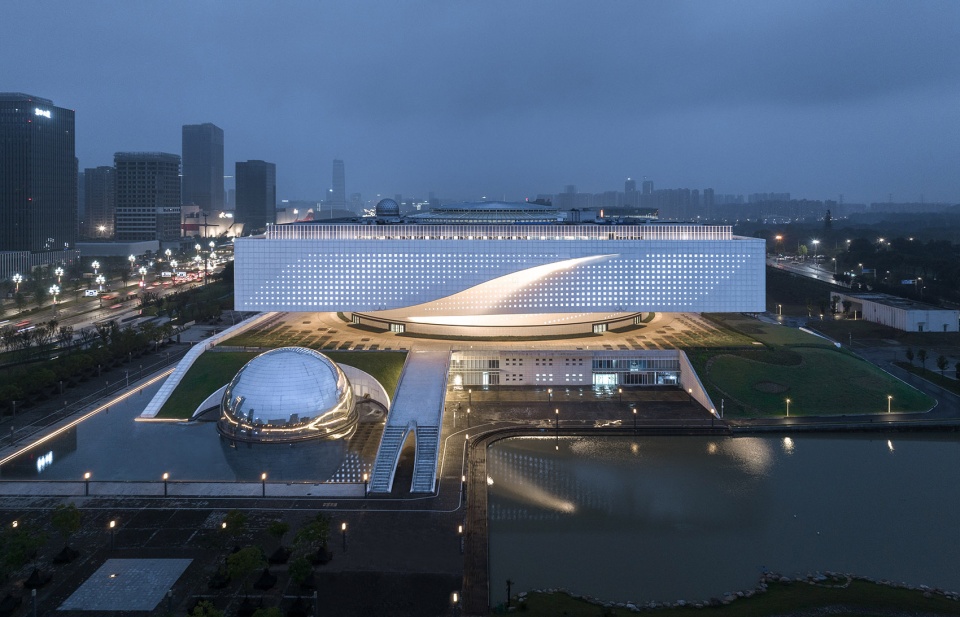 The Hubei Science and Technology Museum is located in the core area of ​​the East Lake National Independent Innovation Demonstration Zone in Wuhan, where Jiufengshan Forest Park and the Optics Valley Government Service Center of the East Lake High-tech Zone are gathered. It is a landmark urban public space in Wuhan's East Lake High-tech Zone. The venue integrates exhibition and interaction, visit and experience, learning and entertainment, and science and art, and it is currently the largest science and technology exhibition base in Central China.
Based on the two-dimensional thinking of urban space and base level, the scheme complies with the height difference of the site, concentrates the building volume, overhangs the west, introduces the mountain landscape into the city, and uses active external spaces such as the entrance square and overhangs. Language is an all-round display of the positive posture of mutual penetration and dialogue between the building and the main urban space nodes, forming a visual link between the high-density urban space and the large-scale natural landscape. The exhibition space "suspended" on the "natural terrain" has become the body of this urban exhibition building, which has scientific and technological beauty and a humanistic atmosphere.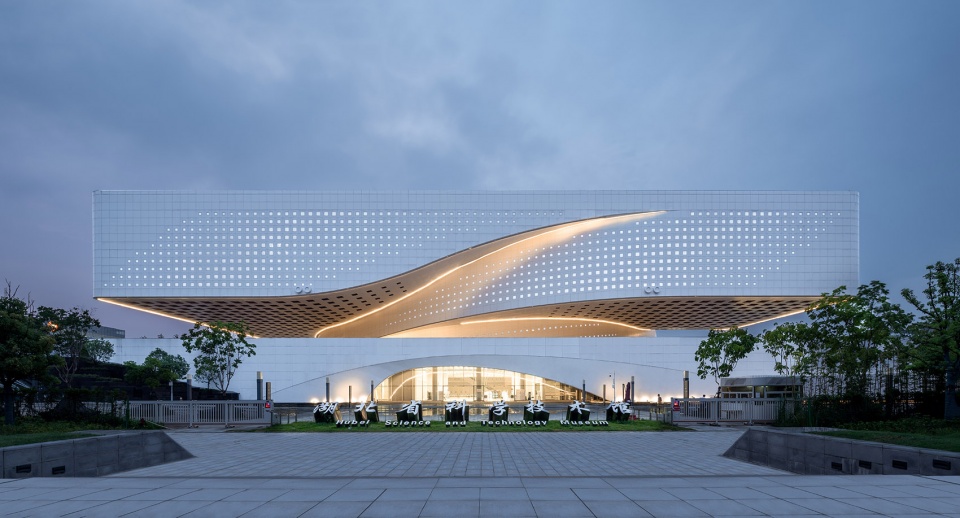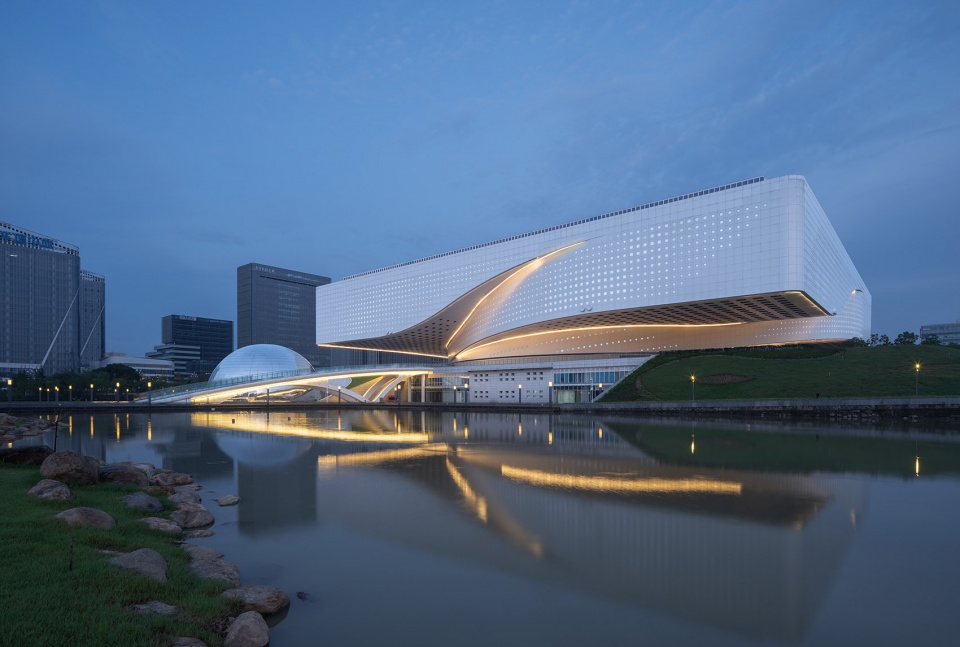 Facing the complex site environment, the architecture should remain unchanged to respond to all changes: diverging from the traditional Chinese philosophy of "the sky is round and the earth" concept, choose to use simple geometric shapes to deal with complex site conditions. Specific to the science and technology museum's connotation, the round sky and the spiral elements also metaphorize the continuous growth of life and cosmology. Rooted in the regional culture of Hubei, the design concept of "movable type printing" invented by Bi Sheng, a native of Hubei, is extracted from the design concept so that it runs through the shaping of the spatial form, creating a space that is different from the conventional exhibition space and public space in science and technology museums.
The design fully applies digital technology, multi-disciplinary deepening design based on Building Information Modeling (BIM), solves the problem of precise parameter control of the surface of the outer skin, full-professional coordination of the immersive theater, large-span column-free space design for the exhibition hall, and complex space utilization for analysis frames, etc. The design is difficult, and the building is optimized through the analysis of sunshine, wind environment, energy consumption, light environment, and acoustic environment, and has obtained a three-star green building design label certificate.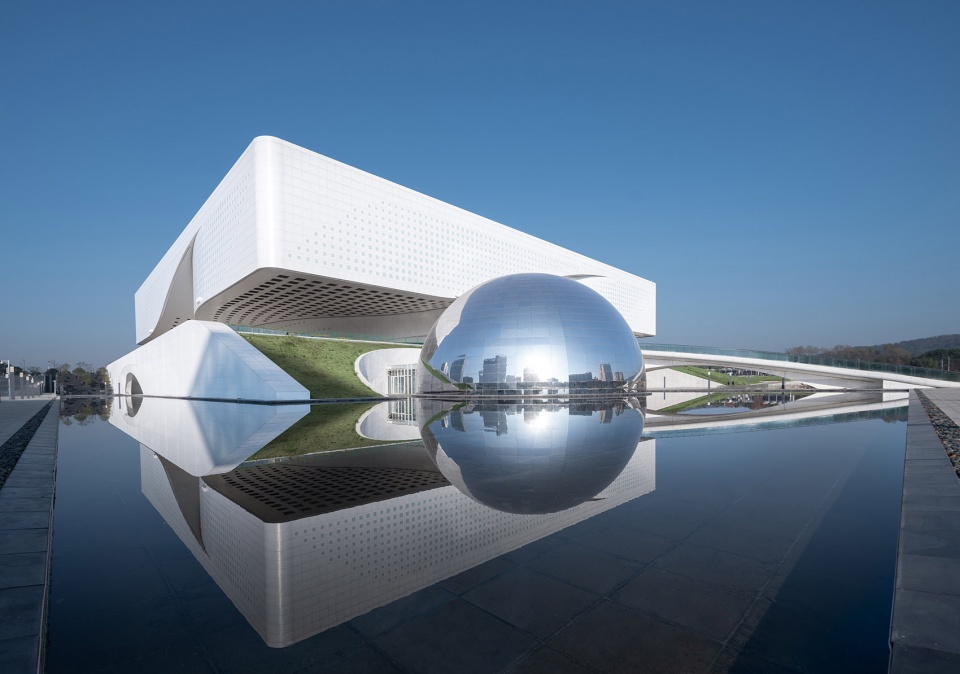 Project Info
Year: 2021
Design Team: Qiu Wenhang, Tang Peng, Bao Ruoyi, Yao Dajiang, Zeng Zhen, Tao Lanjie, Jiang Wei, Zhang Fei, Yang Zhenxian
Client: Hubei Science and Technology Museum
Structural Design: Li Ting, Xu Min, Xiong Sen, Liu Ming, Chen Yuankun, Song Feng, Yi Yong Feng
Landscape Design: Zhuang Wei, Liu Jing, Xiao Xufeng, Sun Meiting, Wang Pei, Duan Zhongmei Curtain
Photographer: Zhao Yilong