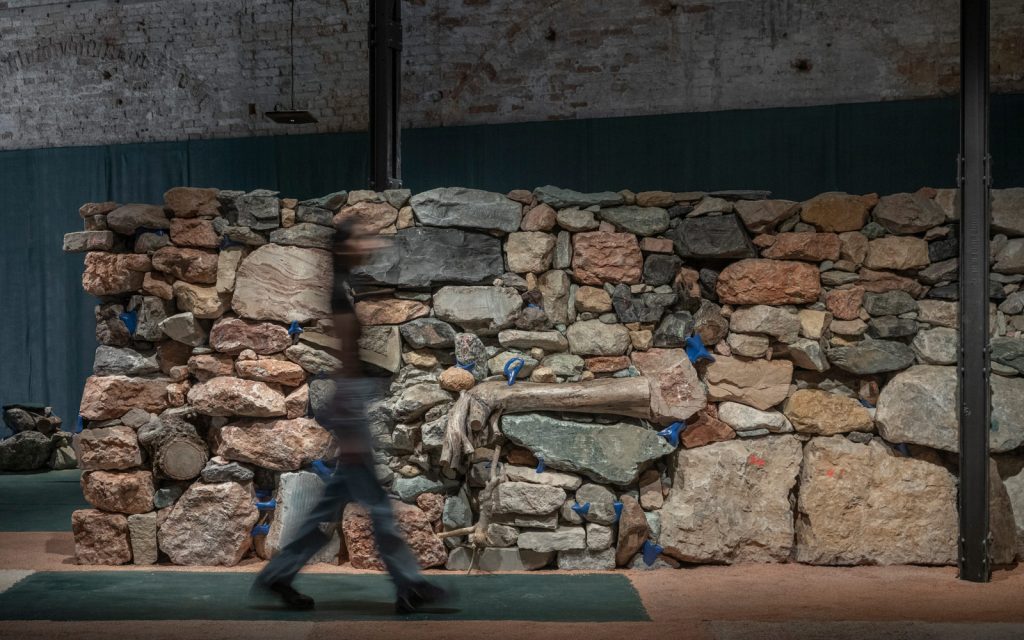 "Aridly Abundant," curated by Faysal Tabbarah, analyzes what architectural possibilities emerge when we reinvent arid environments as sanctuaries of wealth. Faysal Tabbarah is redefining the link between architecture and desert, or dry, settings in the UAE. This is investigated via the integration of land-based knowledge and modern technologies within the UAE's dry environments, with a particular emphasis on the desert plateau, wadis, and coastal plains in and around the Al Hajar Mountains. The National Pavilion UAE will be on view between 20 May – 26 November at Venice Architecture Biennale 2023's Arsenale – Sale d'Armi.
In the exhibition space, Aridly Abundant transforms the pavilion into an environment that showcases the spatial, material, and tactile qualities of arid landscapes. Stone assemblies are strategically inserted into the space, serving as devices to exhibit various assembly tactics identified in the Al Hajar region, such as dry stacking, tethering, and blurring. These stone assemblies represent the multitude of techniques used in arid regions.
The exhibition also features audio/visual vignettes created by commissioned artist Reem Falaknaz, providing an immersive experience of the Al Hajar environment. Falaknaz traveled through the mountains, capturing her own experiences and narrating them through photographs. These vignettes complement the stone assemblies and enhance the overall exhibition experience.
Here is a conversation between Faysal Tabbarah, the curator of National Pavilion UAE, and Serra Utkum Ikiz of PA!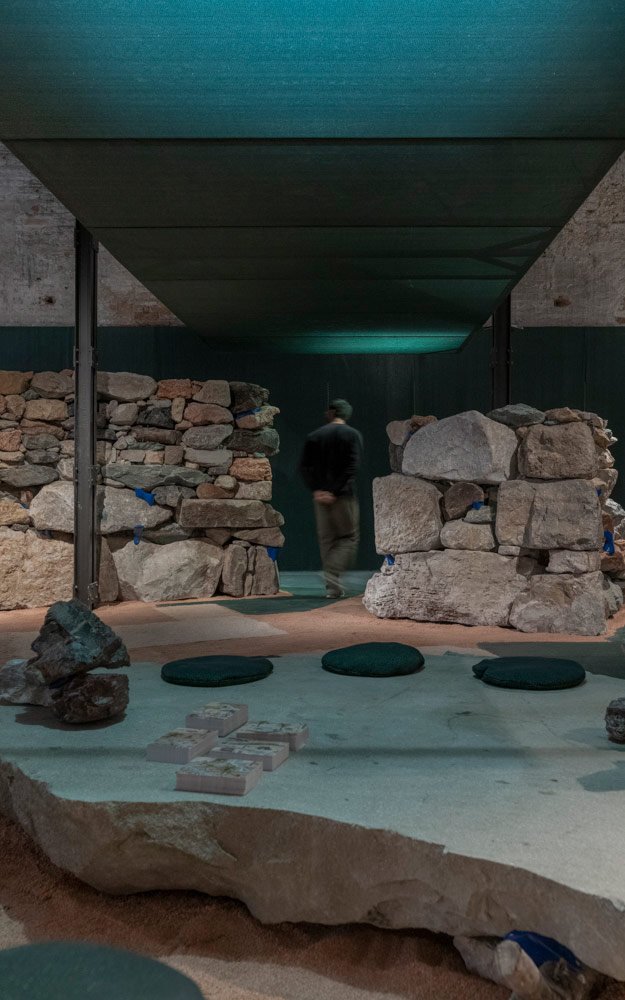 Serra Utkum Ikiz (PA): Can you discuss the process of developing the "Aridly Abundant" project for the National Pavilion UAE at the Venice Architecture Biennale 2023? What inspired you to focus on the theme of arid environments, and how did you approach this topic in a way that both reflects the unique perspective of the UAE and resonates with a global audience?
Faysal Tabbarah: With the 2023 exhibition, I explored how knowledge rooted in the UAE's cultural and material environments can help inform approaches and responses to the climate crisis. The UAE is seen as an arid landscape, which is an environment that many believe will be replicated globally due to the increasing risks of global warming.
For my research, I focused on documenting land-based architectural knowledge, especially in the desert plateau, wadis, and coastal plains in and around Al Hajar Mountains. I integrated my observations with contemporary technology to provoke an attitude towards construction that can be easily adapted by other countries to suit their specific environments.
As proof that this is a viable solution, we decided to demonstrate our findings during the exhibition by using materials sourced from within Veneto and integrating them with our assembly methods that rely heavily on technologies such as 3D scanning and 3D printing.
Serra (PA): What are the key themes and areas of exploration in the National Pavilion UAE's exhibition, "Aridly Abundant"? How does the exhibition challenge the perception of arid environments as spaces of scarcity and aim to provoke a future built-in, with, and for aridity? Additionally, how does the exhibition's focus on integrating land-based practices in architecture with contemporary technology have the potential to impact other countries facing similar impacts of climate change?
Faysal: Sustainability, architecture, and knowledge sharing are the tenets that guided me in my research. I wanted to bring the UAE's land-based knowledge to the forefront, something that has been overlooked in the past, and in doing so, provoke construction tactics that would put the least amount of strain on our natural resources.
By reimagining arid environments as abundant sources of knowledge and material, we can begin to discover the potential of stone construction as an adaptable and sustainable form of architecture for countries affected by climate change.
There have always been thriving ecosystems present in the UAE, which have been supported by land-based practices developed by inhabitants who understood and cherished the particularities of the land. These practices have successfully supported life in water-scarce environments, slowing the degradation of land. The exhibition shows how these tactics are sustainable not only in terms of conception and materials used but also in the long run as they work with the environment they are located in, supporting the local ecosystem.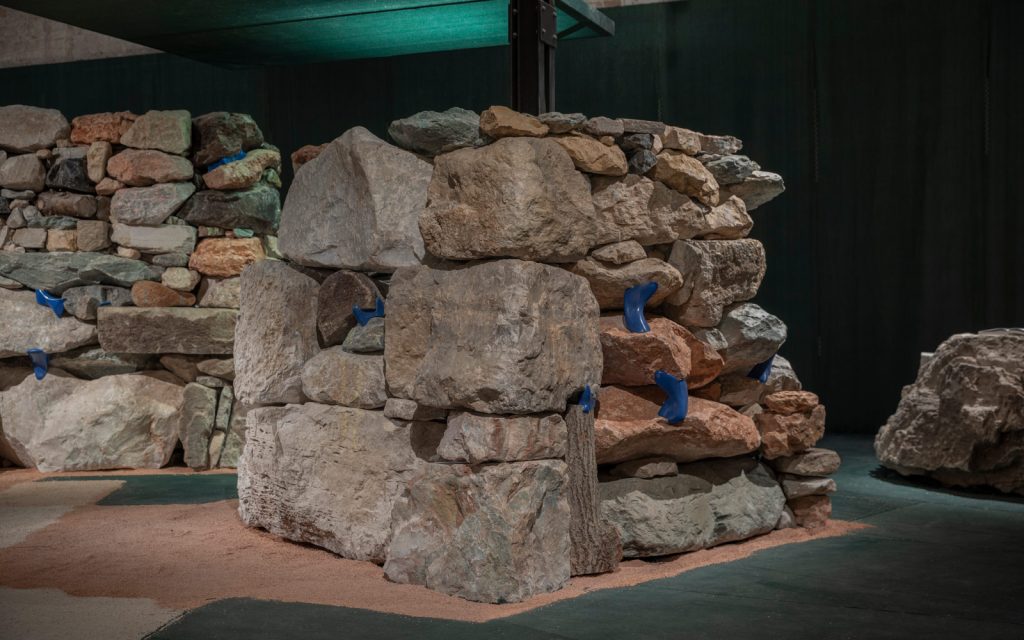 Serra (PA): As the curator of the National Pavilion UAE, what do you think the UAE's focus on showcasing environmental themes and policies, both in the pavilion at the biennale and in their broader national initiatives, says about their approach to sustainability and the role of architecture and design in addressing environmental challenges?
Faysal: Construction is a carbon-heavy sector, and I believe that by experimenting and innovating with architecture and design, we will be able to develop sustainable practices and solutions that will help build a better tomorrow. At present, the contemporary built environment renders aridity and its conditions, such as food and water scarcity, invisible, but through this exhibition, we attempt to actively address these challenges and highlight that earthen materials and practices have the potential to suggest an alternative future in which construction is not complicit in climate change.
The UAE has shown a laudable commitment to innovation and sustainability in recent years, with various initiatives to support solutions to the environmental crisis, and there has been a growing awareness of sustainable construction in the UAE. It was the first country in the MENA region to pledge its commitment to reach net zero emissions by 2050 by launching the Net Zero by 2050 Strategic Initiative. The country had also begun investing in nascent renewable technologies fifteen years ago through Masdar. The government has taken steps to ensure that all new public and private buildings adhere to stringent green building regulations and has emphasized the importance of sustainable development and reducing one's carbon footprint.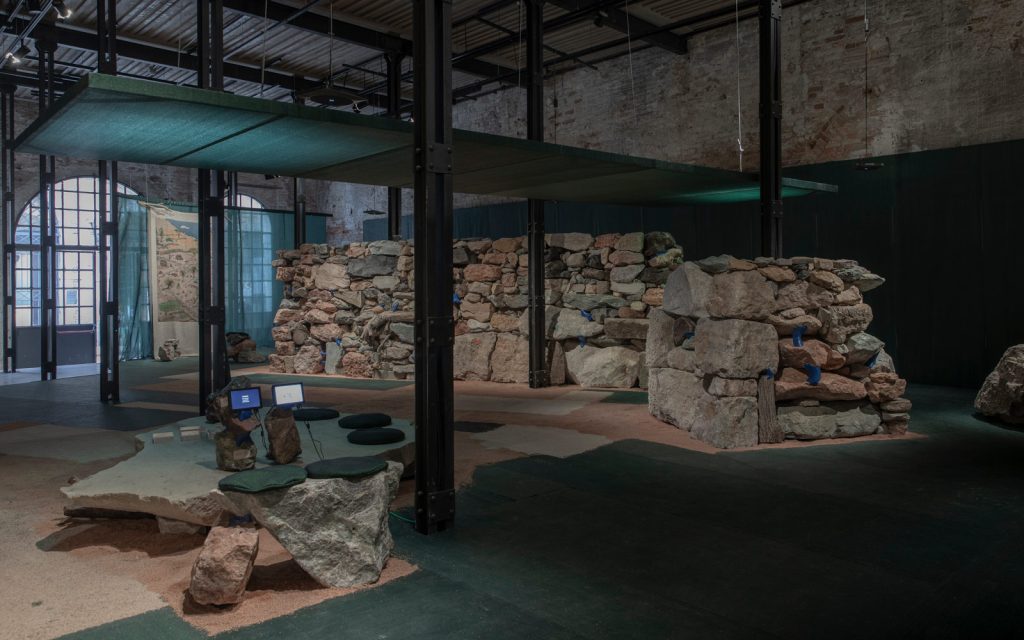 Serra (PA): Which advanced construction technologies are being utilized in the construction of the National Pavilion UAE, and how do they contribute to the sustainability and functionality of the structure?
Faysal: We have opted to focus on harnessing the benefits of 3D scanning and 3D printing given the versatility of these techniques in Aridly Abundant. We are using 3D scanning in the exhibition to scan stone fragments sourced locally from Veneto here in Italy, as we look to utilize materials available locally that would have otherwise been typically discarded.
Following the 3D scanning of the stone fragments, we then use 3D printing to create functional molds to cast aluminum elements which then act as an amplifier to stone that would otherwise be considered discarded material. Both these technologies essentially allowed us to sustainably reuse materials deemed as no longer useful whilst providing provocations that these tactics may be adapted elsewhere.
Serra (PA): What is your next plan? Do you hope to continue exploring the themes and ideas raised in the pavilion, or elements, planning to move on to other projects?
Faysal: I will definitely continue exploring the possibilities within the findings from my research and, hopefully, discover more elements to further improve the solutions presented in the exhibition. The pavilion was an incredible opportunity that allowed me to demonstrate that the work process could be applied at a testable scale to ensure that we have enough information to prove that this research can be continued.
Through this project, we learned a lot about the historical lineage of construction in the UAE and how it can be applied elsewhere in other contexts. I will continue to uncover more about land-based knowledge in the UAE and how we can integrate them with the latest technologies, expanding the possibilities offered within architectural practices and I look forward to seeing where my research takes me.
We encourage you to stay tuned to ParametricArchitecture for detailed updates on the Venice Architecture Biennale 2023.