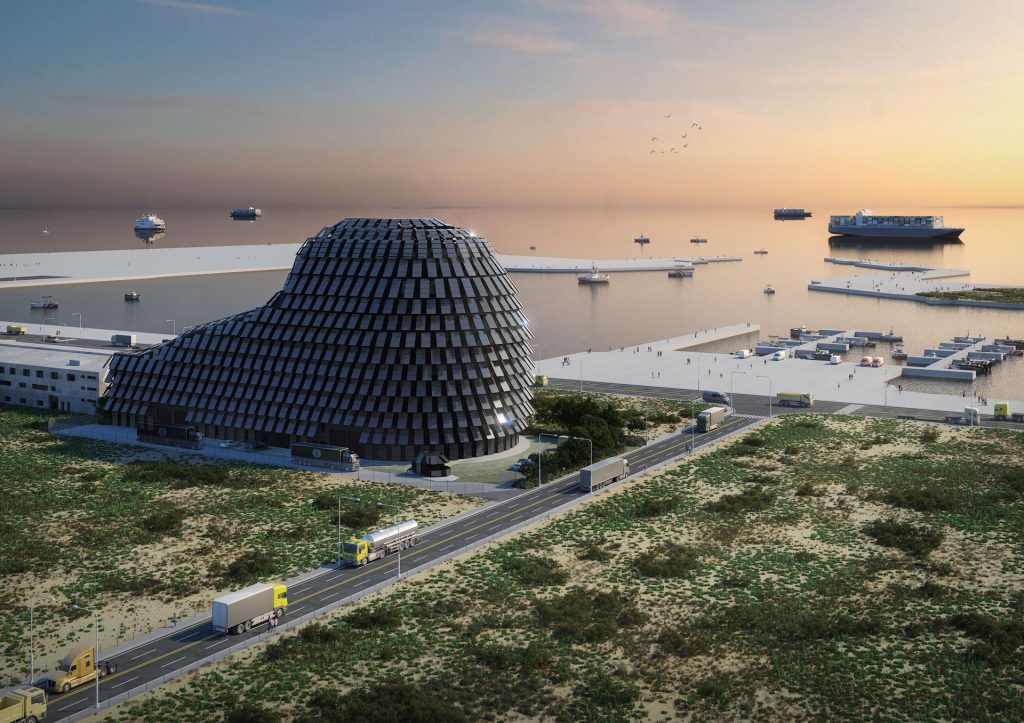 Construction of the MVRDV-designed operations center for Taipower, owned by Taiwan's government, officially began at Changhua Coastal Industrial Park on Sun Rock. The building is expected to be completed in 2024.
The building is situated at Changhua Coastal Industrial Park and serves as an industrial facility with additional features such as office spaces, a maintenance workshop, and storage facilities. The design of the building also provides for a public purpose, serving as a "manifesto in a building." Its solar panel facade generates all the energy required by the building, and a public viewing gallery allows visitors to learn about the company's work in sustainable energy.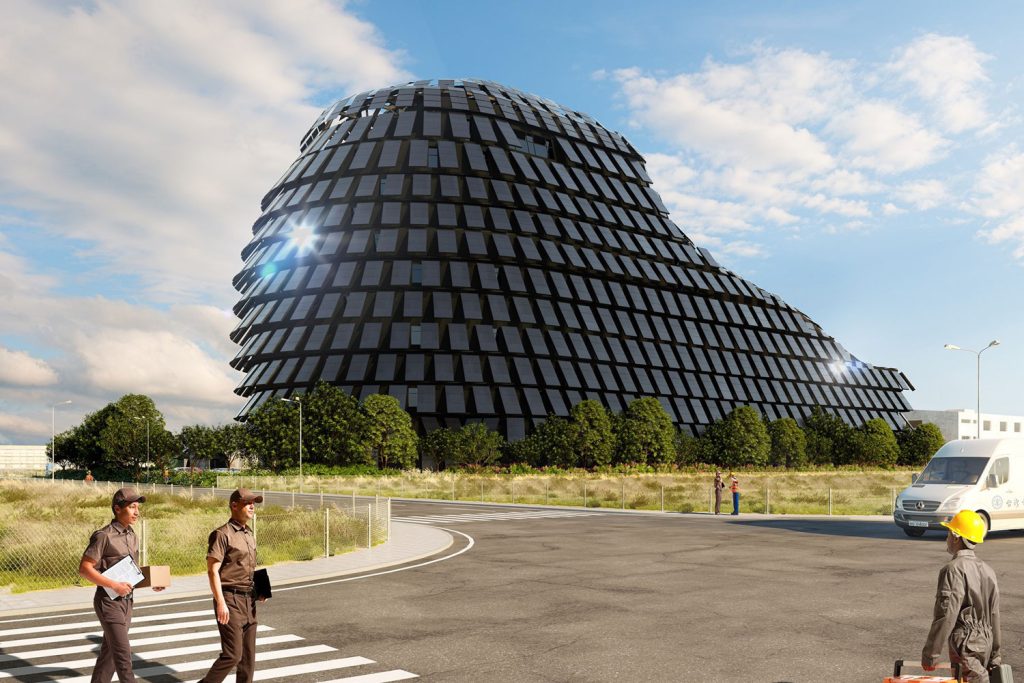 "Sun Rock is a functional and prosaic building, in a way – the main purpose is storage and maintenance", says MVRDV founding partner Winy Maas. "Yet it also has another important function: to communicate. When people see such a mass of solar panels, with every part of the façade oriented to catch the sun's rays, they will have no doubt about how the building gets its energy and the priorities of its owner. That sends a positive message about the future of Taipower, and indeed about the future of Taiwan."
The building's façade is designed to make the most of solar energy. It features a series of pleats that support both photovoltaic panels and windows where necessary. The angle of these pleats is adjusted throughout the façade to optimize energy generation from the solar panels. Thanks to these measures, the building can produce 1.2 million kilowatt-hours of clean energy annually. This is equivalent to burning over 100 tons of crude oil, and means the building is entirely self-sufficient.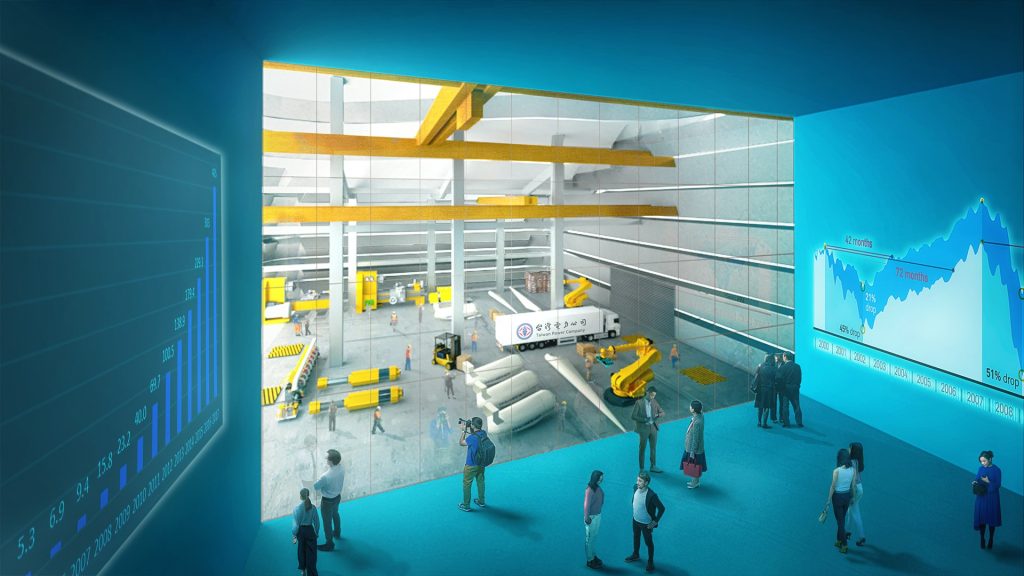 The Data Room serves as the central hub of the building, featuring a big atrium where visitors can view real-time data displays showcasing Taipower's operations and renewable energy generation. Additionally, the first floor features a gallery space that oversees the maintenance workshop, providing a unique opportunity for the public to observe the machines responsible for sustainable energy production, including solar panels and large wind turbine blades.
The Sun Rock building is more than just an operations and maintenance facility; it integrates functional spaces with galleries to showcase its sustainable energy-generating features.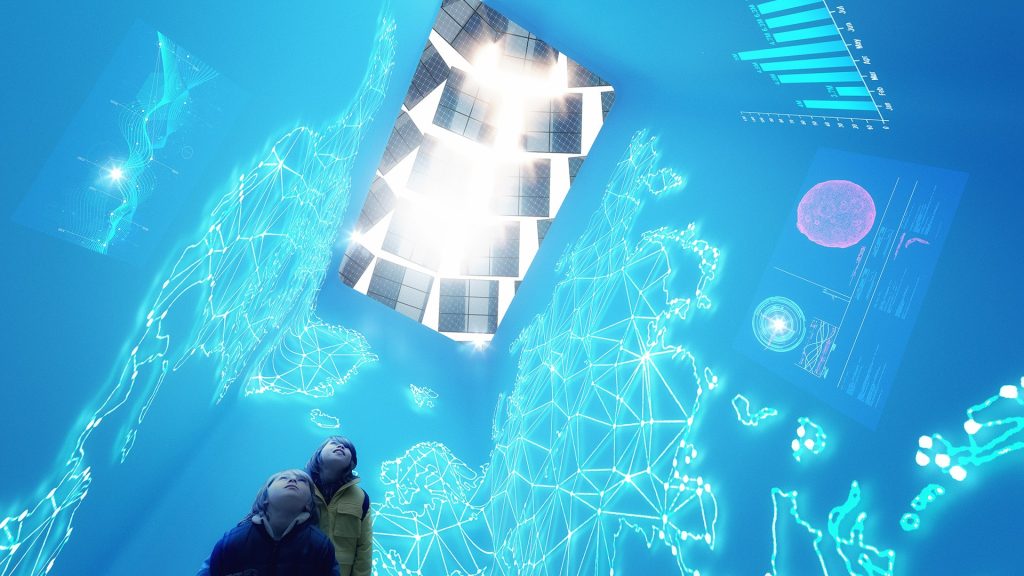 Project Info
Architect: MVRDV
Founding partner in charge: Winy Maas
Location: Taiwan
City: Changhua County
Year: 2021
Surface: 12900 m²
Client: Taipower Company
Status: On-site
Partner: Wenchian Shi
Design team (competition): Hui Hsin LiaoMirco FacchinelliTseng-Hsuan Wei
Design team (schematic design): Hui Hsin LiaoDaniel DiezMirco FacchinelliCarolina Martin PeñuelaChi Yi LiaoTseng-Hsuan Wei
MVRDV NEXT: Yayun Liu
Visualisations: Antonio CocoPavlos VentourisJaroslaw JedaEmanuele FortunatiGianlorenzo Petrini
Copyright: MVRDV Winy Maas, Jacob van Rijs, Nathalie de Vries
Co-architect: Y.C. Hsu Architect & Associates
Contractor: Reiju Construction Co., Ltd.
Structural engineer: Chih-Hung Kao Structural Engineer & Associates
MEP: Chia Feng Mechanical & Electrical Corp.