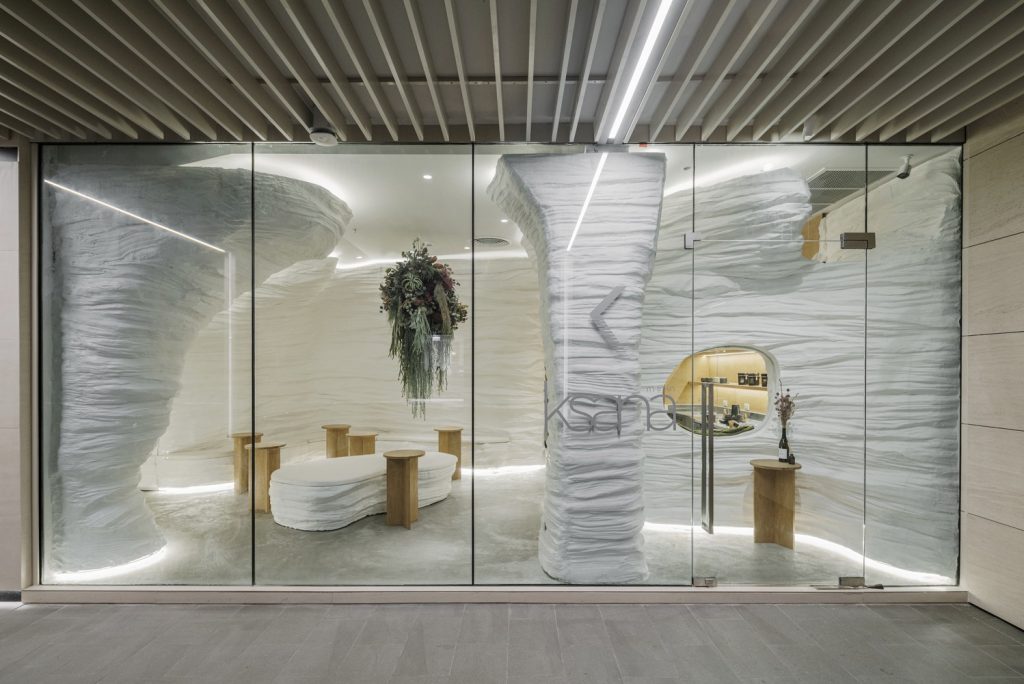 KSANA Tea House, built by JUTI Architects in Thailand, is an experience center that takes visitors on a trip to understand the essence of time, harmony, and escape from chaos. Visitors can find peace at KSANA Tea House in the bustling city of Bangkok. The Sanskrit word "Ksana," which means a brief interval or equilibrium, is used in this sentence. According to Juti architects, it is the origin of the Japanese word "刹那" (setsuna), which signifies time, and the Thai word "ขณะ" (ka-na), which means "moment" in that language.
In Asian civilizations, tea and tea houses have greater significance beyond simply serving as places or beverages. They represent peace among people, awareness, and a beloved custom of hospitality. Rooted in centuries-old customs, tea houses serve as gathering places where people of all ages can interact and build relationships. They serve as forums for philosophy, diplomacy, and blending many viewpoints.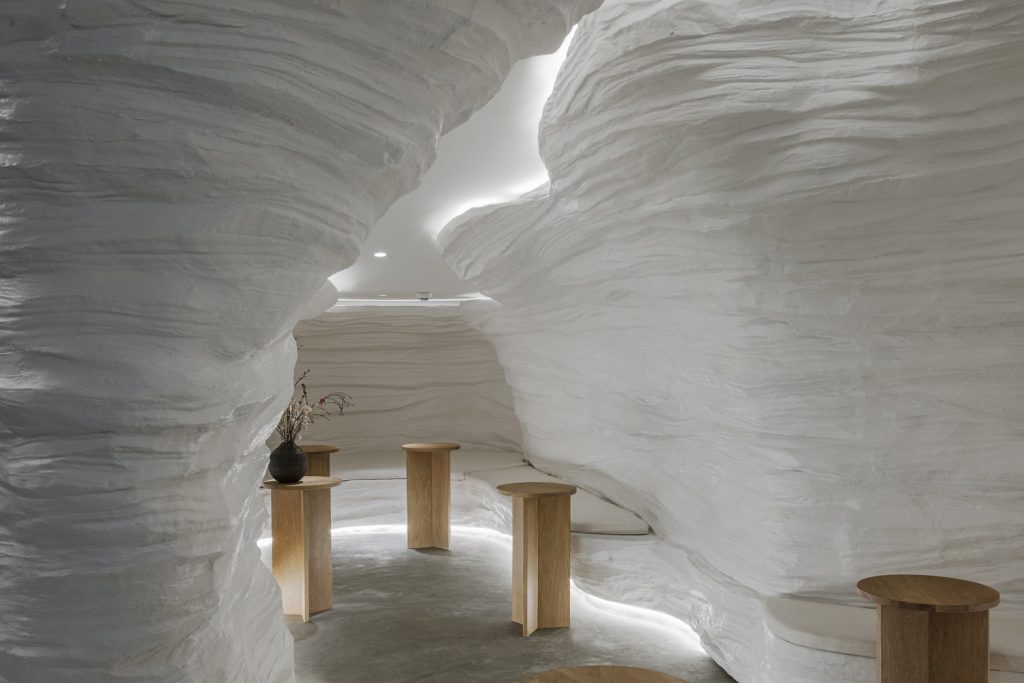 The KSANA Tea House story began when the design team experienced the exquisite flavor of the company's premium Matcha for the first time. They could fully enjoy the flavors and distinctive perfume of this great tea for a moment that appeared to escape all that was happening around them. According to Juti Klipbua, the founder and lead architect of JUTI Architects, the motivation for the tea house's design was to "create a surreal-minimalist environment for people to get away from the chaos of the city."
This flagship store is in a prominent office building, the OCC, next to a public plaza. It is intended to be a cave-like urban haven. Visitors are greeted into a low-sloped inner cave chamber, providing a haven of privacy, as they enter the teahouse. The bizarre, seemingly minimalist atmosphere that transcends colors, shapes, and materials welcomes them. To minimize noise and bustle, the area is neatly divided into two parts: one for takeout and delivery pickup and another for a sitting area.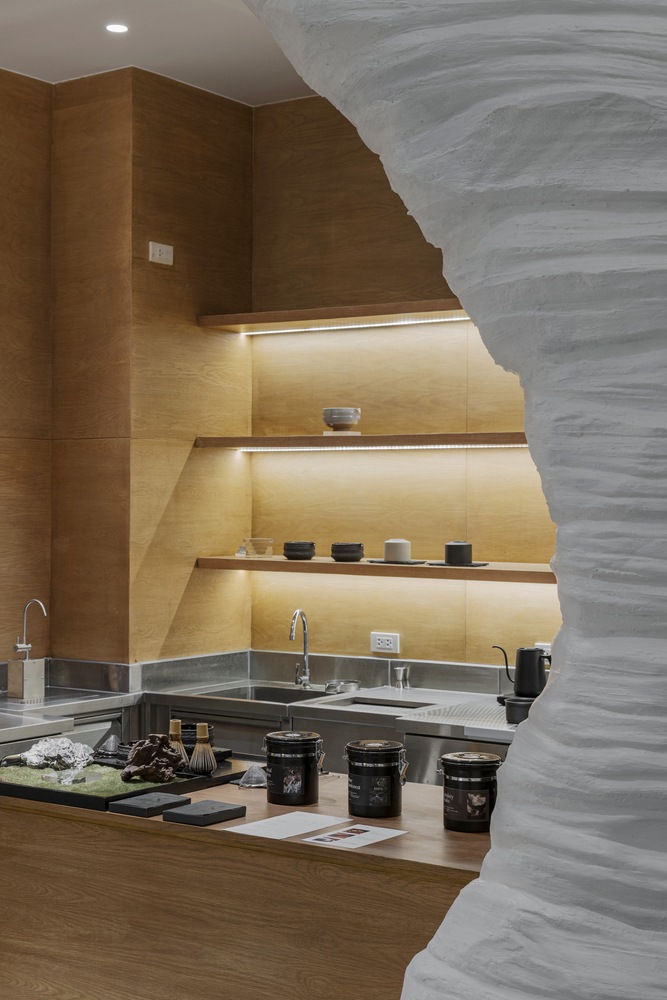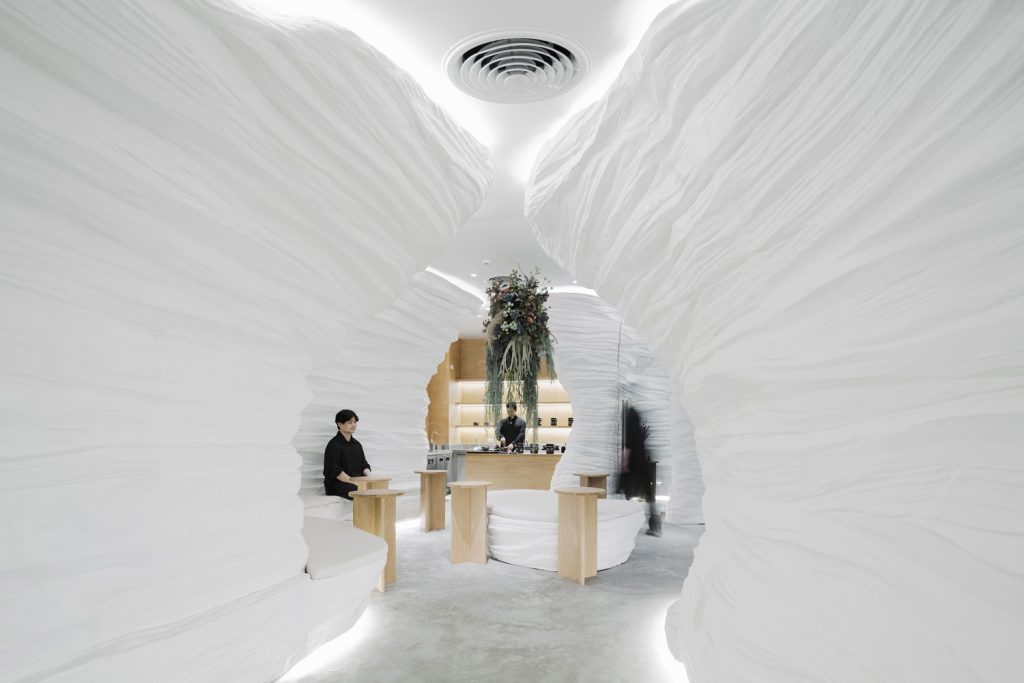 When the visitor enters the teahouse, they will come across a room effectively converted into an inner cave for people who like more privacy. It was cleverly carved into the site's steep slope. Passing via double glass doors provides access to this refuge; the first section is set aside for takeout and delivery pick-up to reduce sound, and the second section serves as the sit-and-drink area to promote a tranquil and immersive experience. The tea house's seating area was purposefully designed to resemble a cave. The sloping area beneath the staircase is how the architects created this cavernous atmosphere. The fiberglass-based cave-like walls were sculpted with a CNC foam machine, scraped, decorated by artists from Art of Tea, and complemented with oak-colored tables and worktops. The pleasant and relaxing atmosphere is completed with extra speakers embellished with fake flowers created by renowned Japanese artist Ganon Florist.
KSANA Tea House is much more than just a teahouse; it demonstrates the fundamental harmony that tea rituals embody in an environment where the ceremonial element of drinking tea is taken seriously. It's an escape intended for a split second when disorder disappears and calm reigns. Visitors are invited to absorb the essence of Ksana—a brief period that provides genuine balance to their souls—in this distinctive setting, carefully conceived and built, with every turn and texture serving as a tribute to the essence of tea.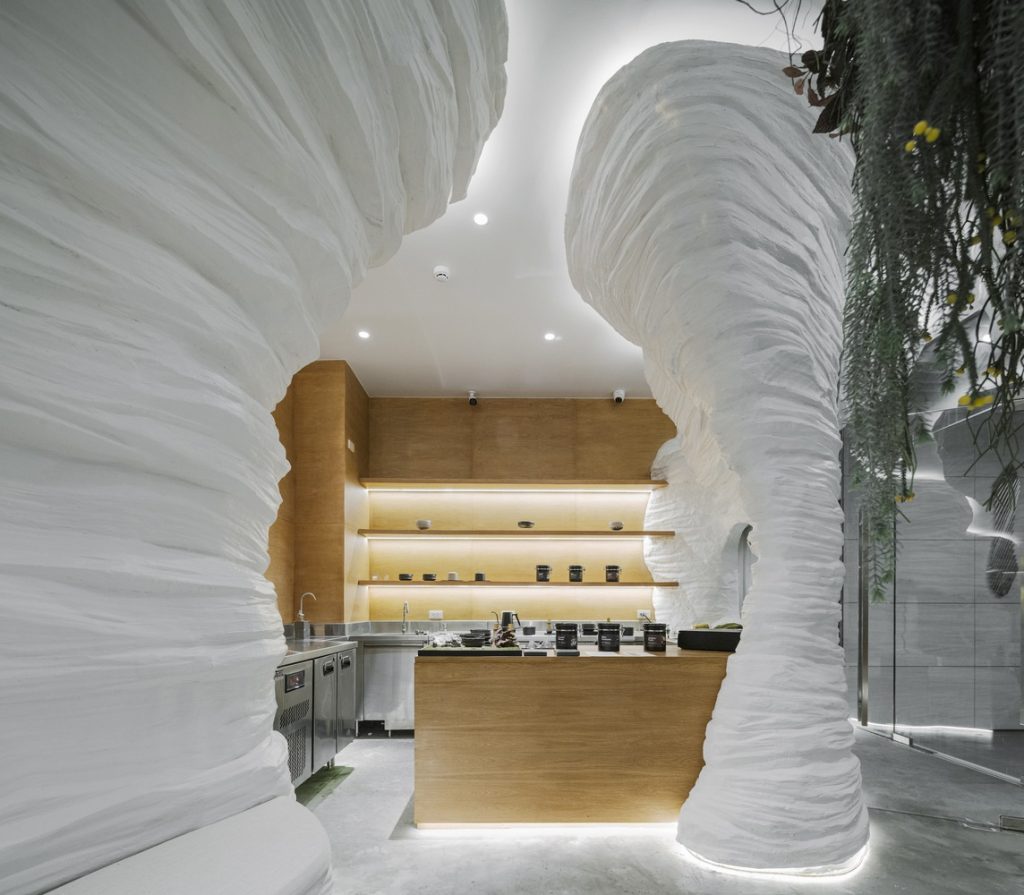 Project Info:
Architects: Juti Architects
Area: 51 sqm
Year: 2023
Photographs: Peerapat Wimolrungkarat
Manufacturers: Arco, Art of Tea, Lamptitude
Lead Architects: Juti Klipbua
Head Designer: Juti Klipbua
Interior Designer: Tipaya Peasena
3D Visualizer: Sarayuth Noitha
Junior Interior Designer: Supawan Puangthong
Program / Use / Building Function: Teahouse
Location: Bangkok, Thailand