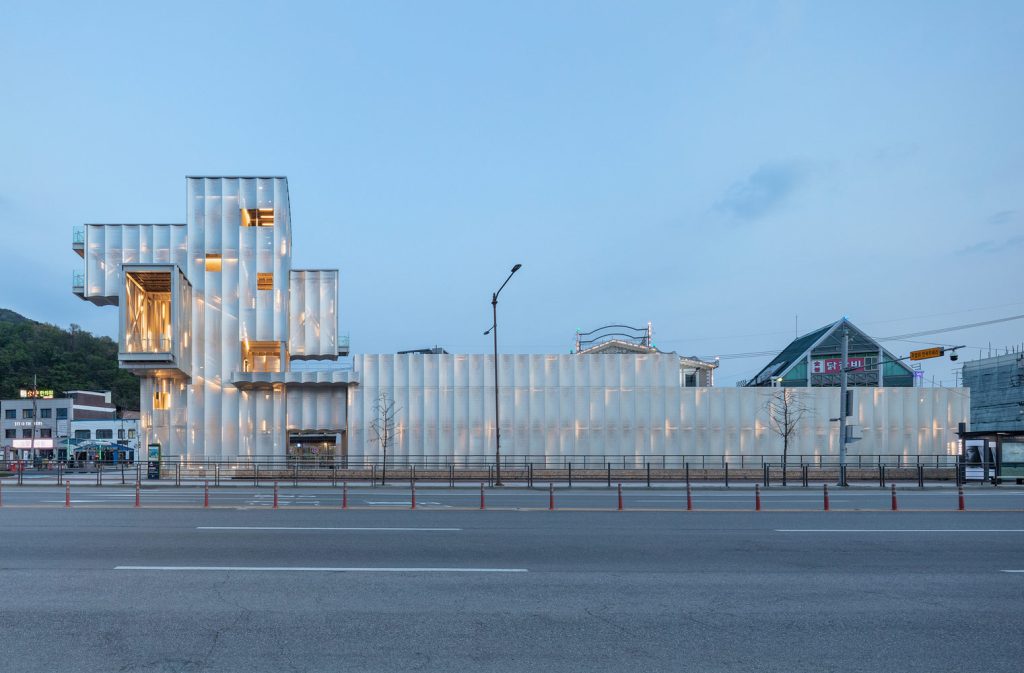 The 778 sqm, Thousand Plateaus Observatory was designed by Emer-sys Design Lab in 2022 and is located in Chuncheon-si, South Korea. The design of this observation deck turns the process of ascending the observation deck into a rich visual and physical experience. The sidewalks and open spaces surrounding the site are naturally focused on the viewing platform itself, extending the urban rhythm to the roof and the open platforms extending in different directions, allowing you to explore another aspect of Chuncheon Lake.
The winding stairs and cantilevered floors provide optimal views in all directions of Chuncheon Lake, while a clear open view can be obtained from the top of the observation station. Different from the perspective of the open platform, extending down gives people a sense of integration with the beautiful scenery in front of them. Enjoying the scenery around the lake from the small window on the stairs and the corridor in the viewing platform will make you feel as if you are in the Look at a painting in a museum.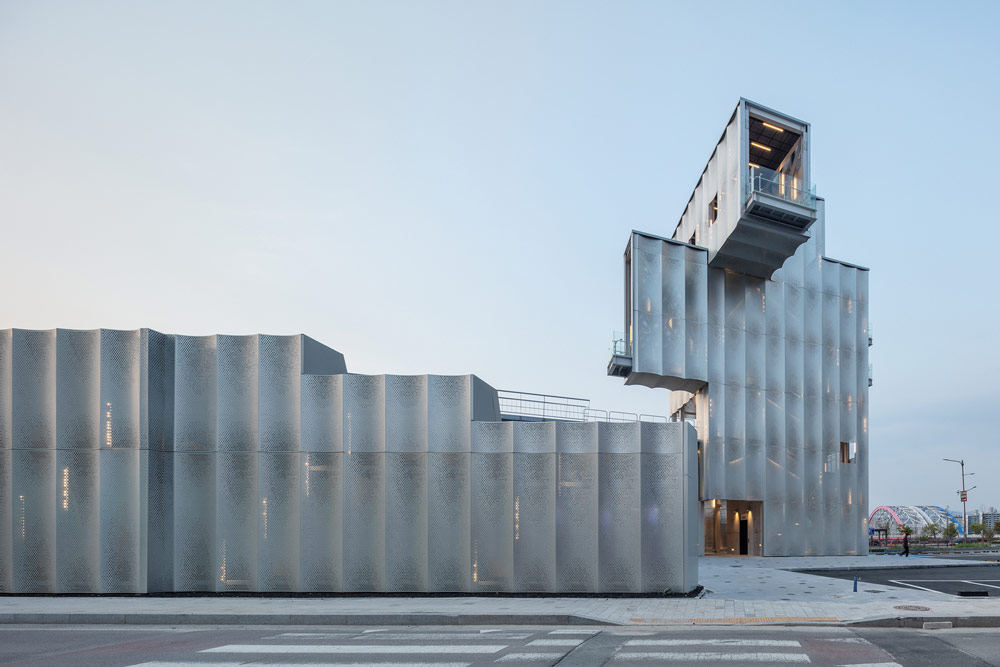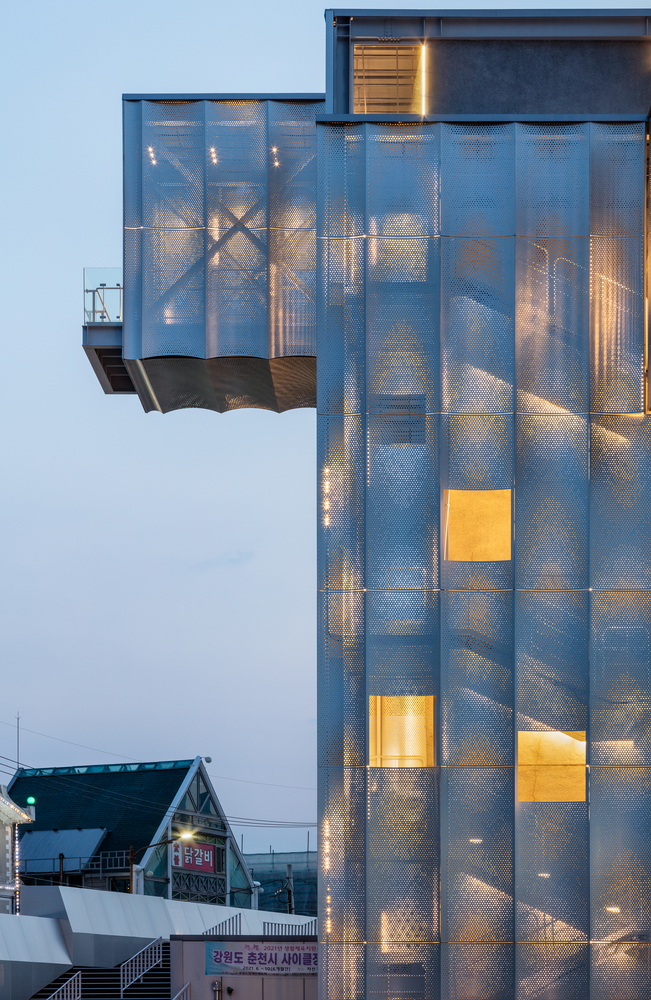 The curved aluminum panels that cover the observation deck embody rich presentation and experience. The holes on the perforated aluminum plate are shaped like thousands of drops of water, with diameters ranging from 0.5 cm to 3 cm, ensuring a 70% opening rate at eye level, and making it appear closed or open depending on the viewing angle. These perforations create an atmosphere of light beams slanting down inside and present a non-material sense of volume outside. In particular, the wavy shape of the perforated aluminum panels covering the facade symbolizes the iconic image of a gentle yet powerful landmark on the shore of Chuncheon Lake.
The inwardly bent perforated aluminum panels have their own structural rigidity, and the fixtures supporting the corridor floors are minimized. In addition, these curved surfaces elicit rich variations in light rays, such as reflections, passing, and overlapping, depending on the viewing angle. These variations, together with the massing of the interior's heavy concrete core, create a rich sense of depth at all times of the day.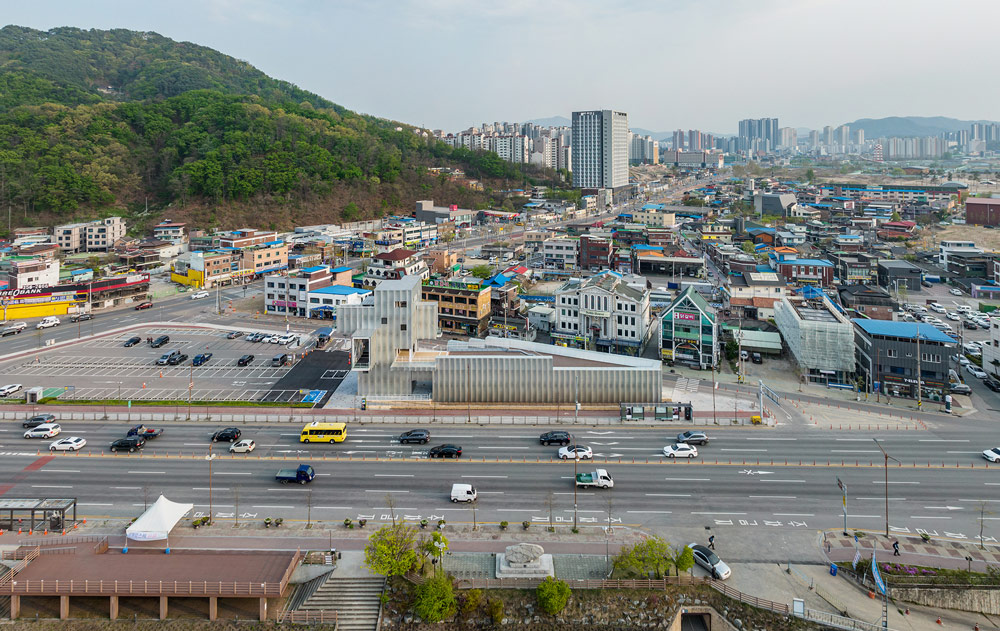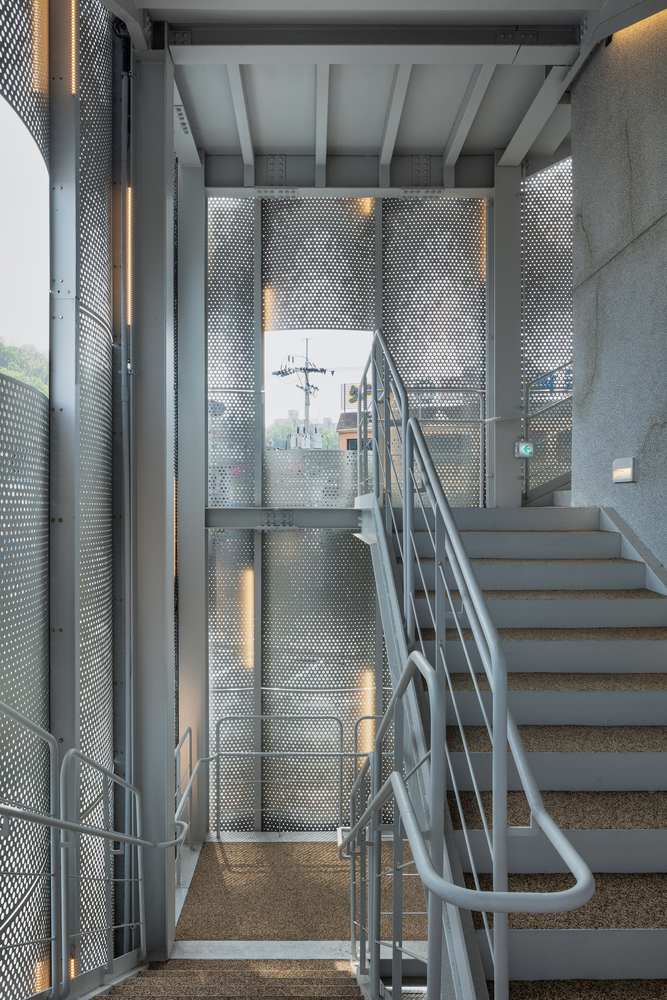 Project Info
Project: Thousand Plateaus Observatory
Architects: Emer-sys Design lab
Area: 778 sqm
Year: 2022
Lead Architect: Janghwan Cheon
Structural Engineers: SDM
Contractor: Youngjin Construction Co. LTD
Project Architect: Dongkyung Shin
Designer: Dawon Lee
Façade Consultants: VS-A. KR
City: Chuncheon-si
Country: South Korea
Photographs: Kyungsub Shin