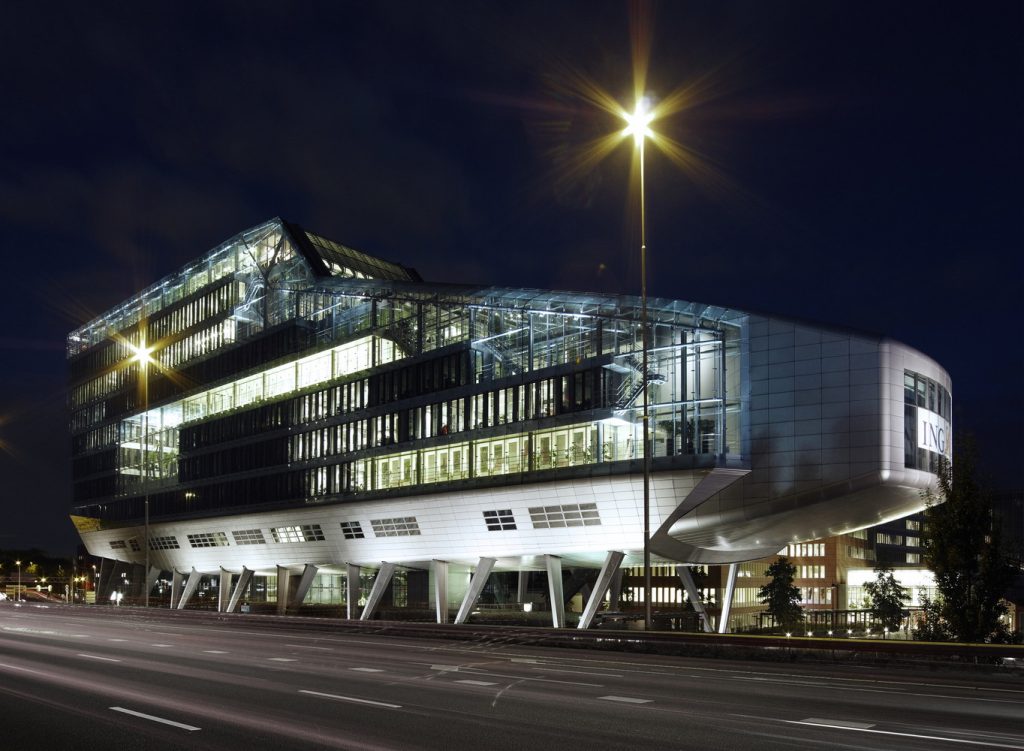 The headquarters of the Netherlands-based ING Group in Amsterdam was designed by MVSA Architects (Meyer and Van Schooten Architects). The building is not only ING's headquarters but also one of the most important symbols of an institution that has spread to dozens of countries worldwide.
ING House, placed horizontally on its narrow land, draws a high and ostentatious building profile with its city-facing façade while giving the impression of a lower-profile building with its lake-facing façade.
The building is supported by columns shaped like V, with heights ranging from 9 to 12 meters. This design offers a view of the green landscape from inside the building for highway users, while keeping office employees from working at the highway level. Raising the building from the ground also creates a spacious entrance area on the ground floor, which is surrounded by a green landscaped perimeter covered with glass. Additionally, there is a dedicated road for taxis, buses, and office vehicles that passes under the building. Underground parking and a bike park are also available.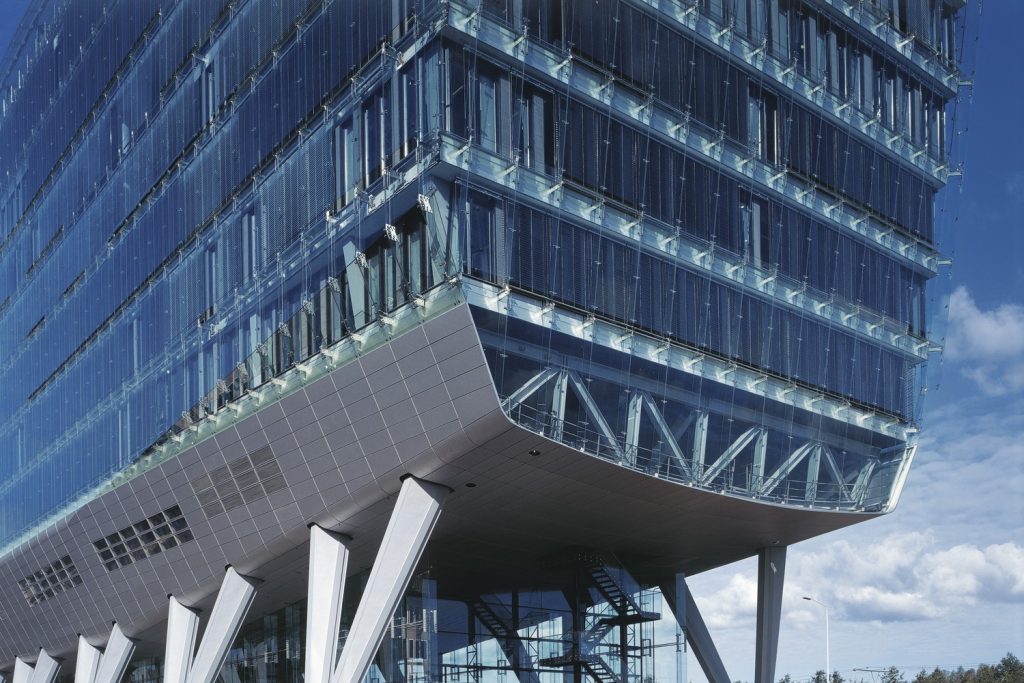 The auditorium and foyer area of ​​ING House are somewhat detached from the building. These two areas, which have separate entrances and elevators, can be used by all employees. Open and semi-open spaces create A very colorful atmosphere inside the office building. Thanks to the gallery spaces, gardens, and courtyards placed on different building floors, there is a single and long space character that creates various vistas in the interior.
Inside the building are places such as the restaurant, conference room, and auditorium that offer panoramic views and more closed and isolated work areas. Compared to an ordinary office building, ING House has many conference spaces.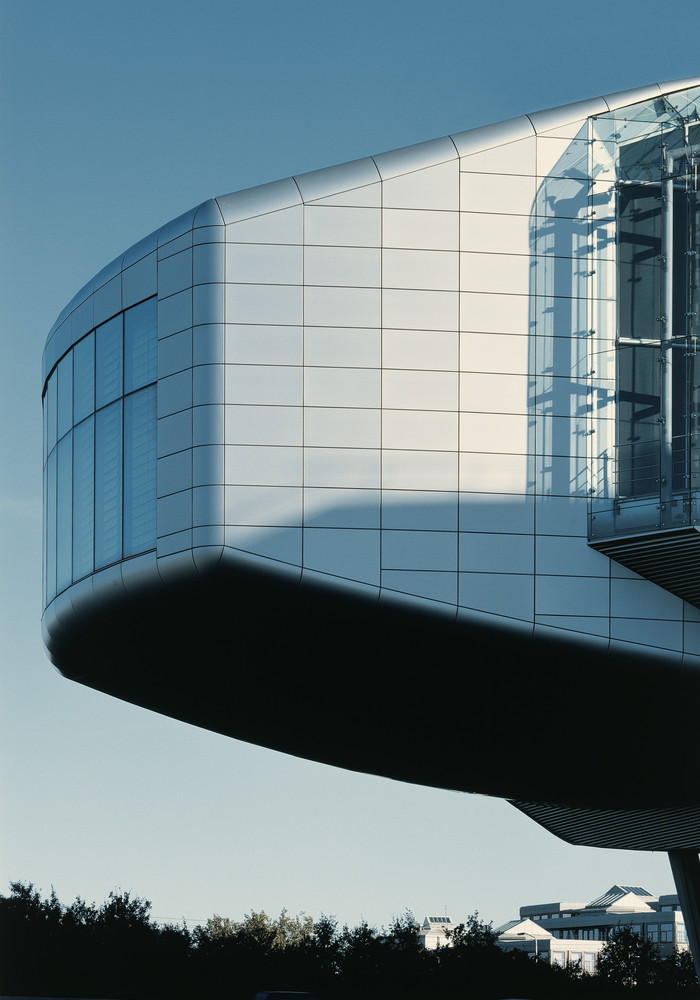 ING House is a building that has to deal with many problems due to the land on which it is located. There are problems such as high temperature and radiation on the south side, which receives direct sunlight, and noise and air pollution on the north side facing the highway. The façade of the building harmonizes the building with its surroundings, thanks to its rational design. The designed double-skinned facade keeps the indoor temperature at an optimum level while offering natural ventilation. The sunshade elements placed in the south façade serve as a chimney that throws the hot air out of the building on this façade. On the north façade, the glass-covered façade is completely closed, and fresh air circulation is provided throughout the façade.
Thanks to the designed metal roof system, the spaces inside the building can be ventilated naturally. For this system to work, wells that go down to 150-200 meters below the ground have been dug, and the structure supplies hot and cold water from underground wells. In this way, the ING House has assumed a sustainable identity that provides high energy conservation.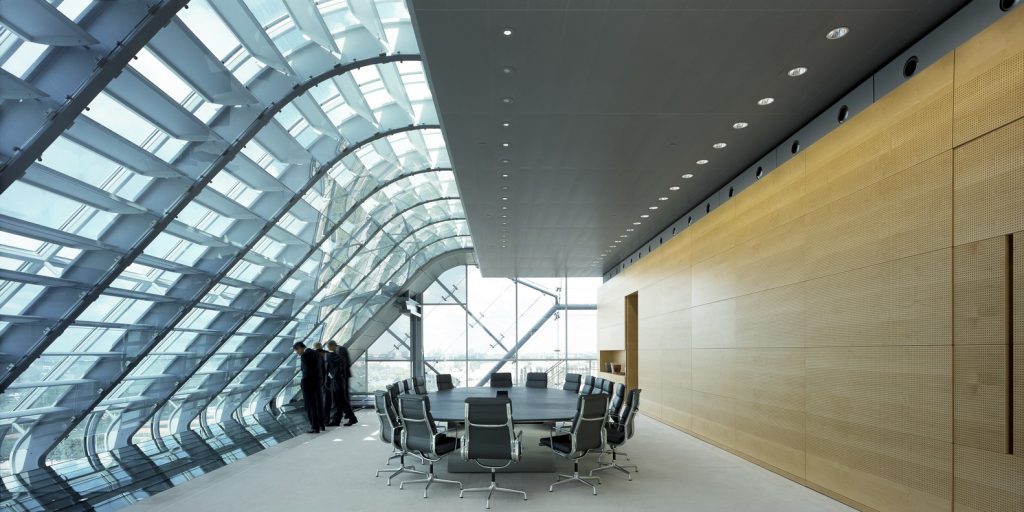 Project Info
Architects: MVSA Architects
Area: 20000 sqm
Year: 2002
Manufacturers: Alumet, B&C Projects, Twentinox
Interior Architect: MVSA Meyer, Van Schooten Architecten, OTH
Landscape Architect: Michael R. van Gessel