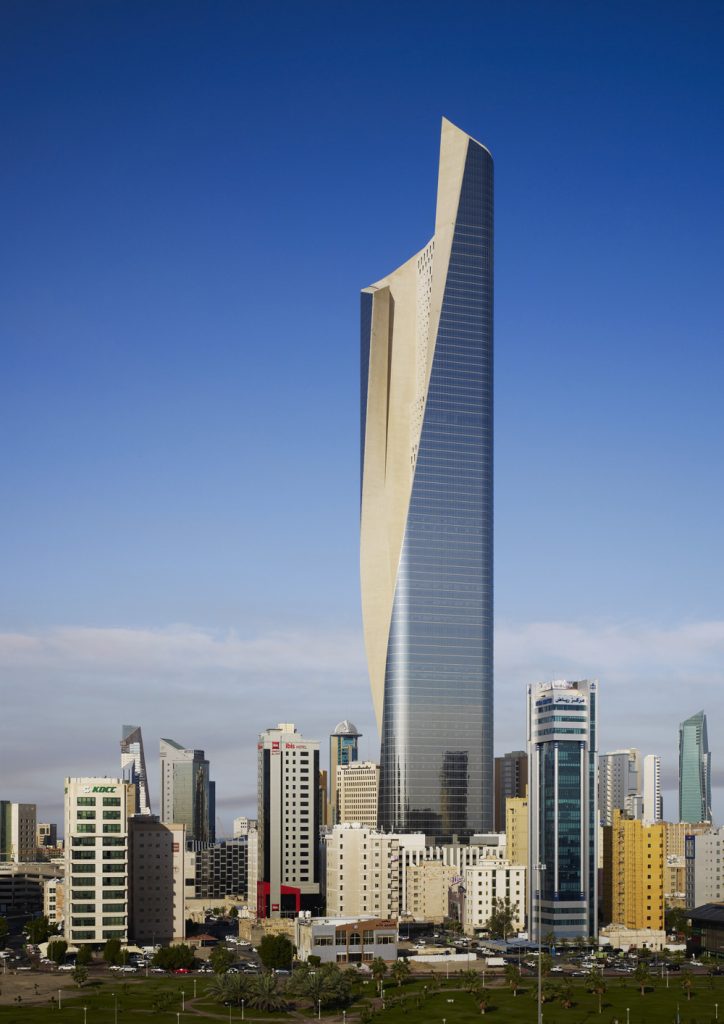 Al Hamra Tower, which rises 412 meters in the heart of Kuwait City, has been awarded one of The Times' finest inventions of 2011. This landmark tower, designed by Skidmore, Owings & Merrill (SOM), is the world's tallest curved concrete skyscraper and the 36th tallest building.
An iconic sculptural form, Al Hamra Tower offers impressive views of the Arabian Gulf. The building's asymmetrical form, which is inspired by the traditional Kuwaiti Bisht robes, maximizes waterfront views and minimizes solar heat gain. Distinguished by its simplicity of form, the tower is a timeless, elegant landmark in Kuwait City. Throughout the building's height, a quarter of each floor plate is chiseled from the south side. As a result, the south wall reveals a rich monolithic stone framed by a graceful, twisting "ribbon wall" that rises towards the sky.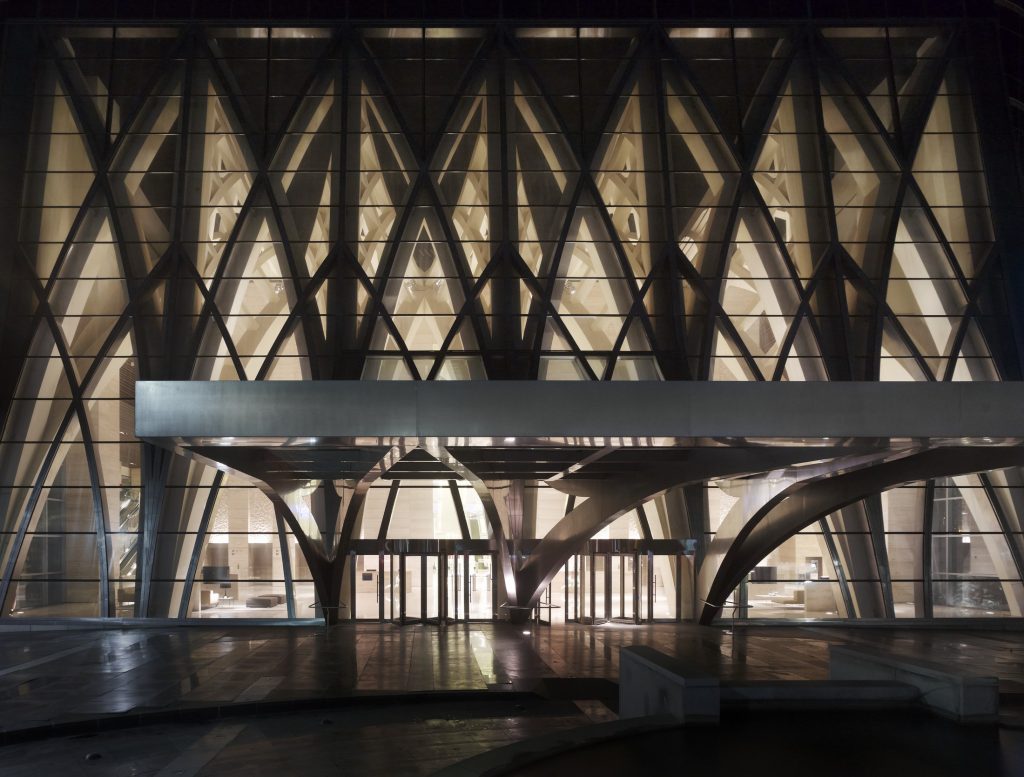 The structure resembles a subtle, exquisite modern sculpture or an enshrouded figure with its delicate glass veil mirroring the profile of the peninsula. Wrapped glass is used on the east, north, and west sides of the building for aesthetics and to limit the amount of reflected surface area on the south facade, which also contains brushed Jura limestone. The Jura limestone from Germany has only just begun to earn a substantial international reputation, owing mostly to some high-profile projects that have used this limestone.
The 24-meter-tall lobby is column-free, and flared walls that extend from the core's southwest and southeast corners span the whole tower. Each floor of the tower has a sky bridge connecting the two wings and providing dramatic views of the city, peninsula, and desert beyond, as well as deeply sculpted windows in the south wall that leave people in complete awe each time they enter the building.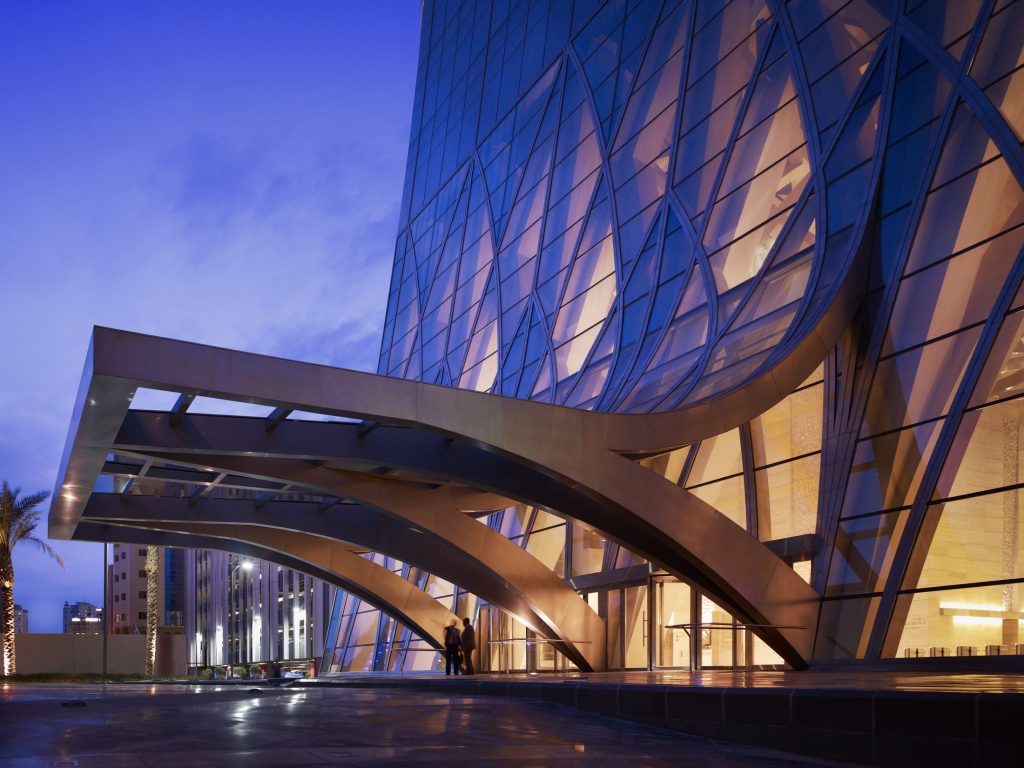 Upon entering, visitors will find themselves in a soaring 20-meter lobby with a highly articulated lamella structure, which supports the tower above and articulates the space below. The principles of lamella structures are used to produce the geometry of the lobby area. While being totally integrated with the structure, the structure works as a strengthening element and gives continuity from the building to its footing.
An 80-foot lobby runs the length of the north side of the tower's core to its perimeter frame, at the base of a mixed-use development (including offices and an upscale shopping mall). The street-level look of the tower is defined by columns along the perimeter that slope inward while physically sustaining the rest of the structure. An upward, geometric unraveling is produced by rotating each floor plate anticlockwise around the center. This gives a dynamic edge to the project.
In a 130-foot-high space, the tower's top hosts a restaurant and observation deck. Visitors are treated to beautiful, unobstructed views of the city thanks to a cantilevered truss system that supports the curtain wall and reduces the number of columns needed.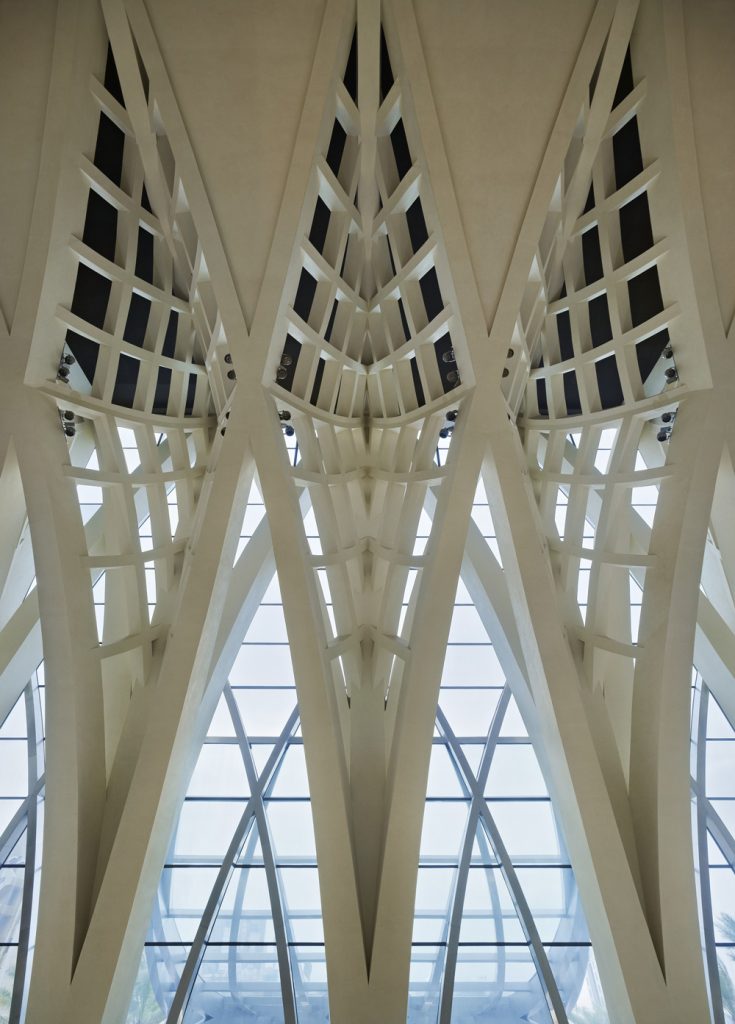 Project Details
Architect: Skidmore, Owings & Merrill
Client / Developer: Al Hamra Real Estate and Entertainment Co., Mr. Abdulaziz Alhumaidhi
Location: Kuwait City, Kuwait
Site Area: 10,000 m2
Size: 195,000 m2
Height: 412 m (74 stories)
Completion Year: 2011
Architect: Skidmore, Owings & Merrill LLP
Design Partner: Gary Haney
AIA Managing Partner: Peter Magill
AIA Technical Partner: Carl Galioto
FAIA Project Manager: Donald R. Williams
AIA Senior Designer: Aybars Asci
AIA Senior Technical Coordinator: Mark Igou
AIA Designer: Dean MacKenzie
Technical Coordinators: Samuel Ness, Eric Van Epps, James Mallory, Noppon Pisutharnon, Yasemin Kologlu, Souraya Daouk, Tobias Schwinn