STERLING PRESSER Architects+Engineers envisioned the new construction of the 'Sport Arena Wien' to create a new sustainable landmark with the theme of 'Green Architecture' for the city of Vienna in Austria. The project aims to find a high-quality architectural solution that presents the arena with the outdoor space in an overall ensemble.
Learn more about parametric and computational design from pioneers at the CD NEXT conference series:
The basic idea of the 'Sport Arena Wien' is to root architecture in symbiosis with its surroundings, including the riverside along the Danube. The new 'Sport Arena Wien' will be integrated into the landscape park. The public park will be created for the residents and visitors of Vienna. From the northwest side, the arena can only be seen through the curved wooden roofs integrated into the park landscape. Slowly the building unfolds and the south-westside shows the semi-circular façade, reminiscent of the Ferry Dusika Hall.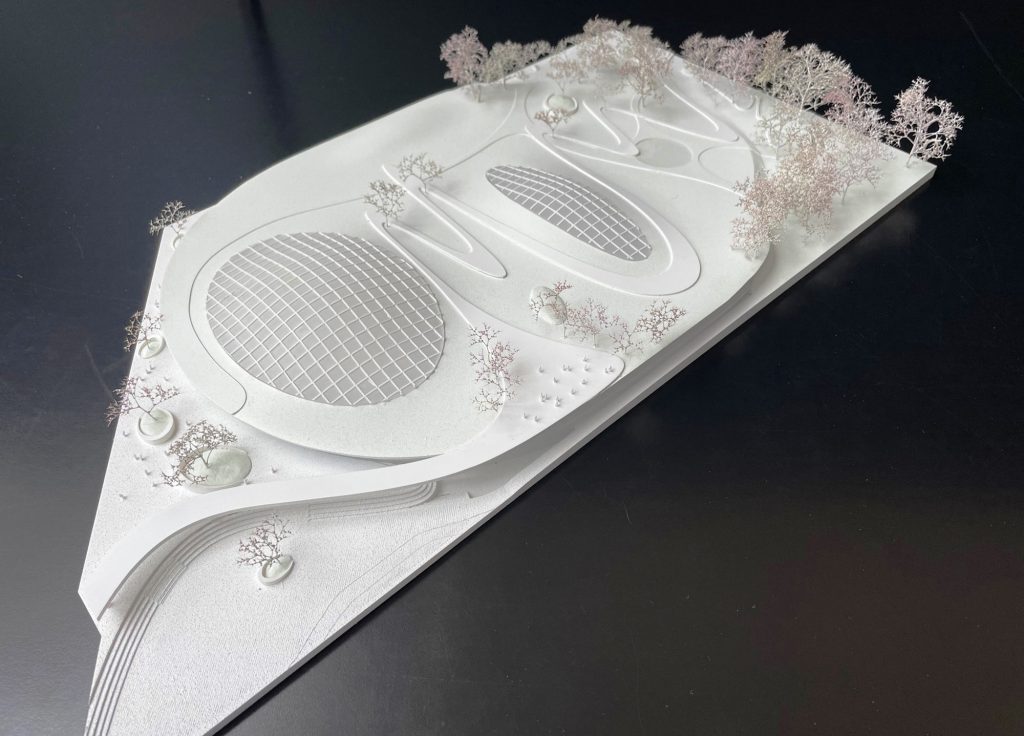 The main path above the building and through the landscape park creates a connection via a bridge to the new ramp of the bus terminal, which extends to the banks of the Danube.
The arena functions on all levels, it is efficient and flexible in terms of event programs, energy, sustainability and ensures a safe venue at a time when terror and pandemic issues need to be considered.
The project acts as an urban catalyst, it is a local icon integrated into the urban profile along the Danube by day and night. The dialogue between the arena and the public space creates a unique solution by creating a park landscape.
The timber roof spans the entire building envelope as a performant surface that extends across the program and main halls. The span defines the curvature of the diagrid shell in a symbiotic movement with the landscape.
Location: Vienna, Austria
Architects: STERLING PRESSER architects+engineers PartG mbB, Berlin
Architects: ALBERT WIMMER ZT GmbH, Vienna
Structural & Facade Engineer: Thornton Tomasetti
Building Physics: Thornton Tomasetti
Landscape: A24 Kräftner Landschaftsarchitektur
Energy Efficiency and Sustainability: Transsolar
MEP: Transsolar
Fire Engineer Kunz: Die Innovativen Brandschutzplanner Gmbh
Rendering: Sol
Client: Magistrat der Stadt Wien
Stage: Competition