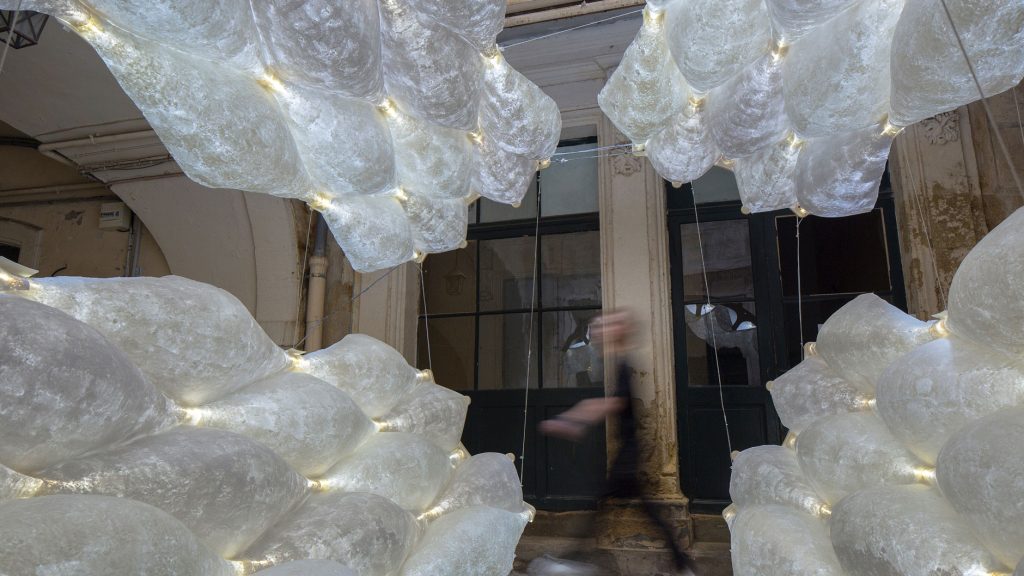 Washi Paper Pavilion is an architectural installation by YET Architecture that will be on display at the Vives Architecture Festival in Montpellier, France, in 2023. Paper, as a significant material, is not commonly used in architecture; thus, the project is the result of a material study centered on the use of this material. The Washi Paper Pavilion's skin is handcrafted from recycled paper.
The installation is a hybrid of digital fabrication and handcrafting. The general form, paper module form, and their connection were all digitally designed to stack together and form a shape that could not be replicated using regular sheets of paper. Unlike the papier mache technique, Washi paper produces a very thin and translucent material free of any binder such as glue, making it an entirely environmentally friendly material and approach. The Washi paper module and custom joints were 3D printed, and the mold was then used to craft the washi paper pieces. One piece took two hours per day to complete, and it took 24 hours to dry. As a result, it is a novel method of combining the digital and physical worlds, computation, and craftsmanship.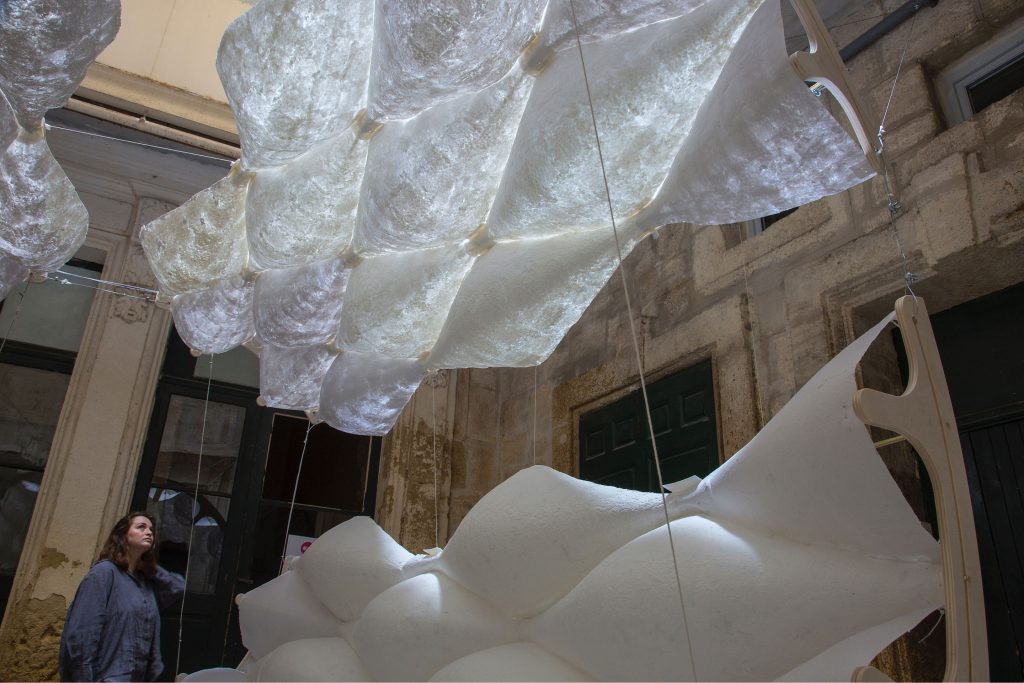 Sacredness
The festival's theme is "sacred," and their installation is intended to elicit a specific emotional response from visitors as they enter the Washi Paper Pavilion. The pavilion is elevated above the ground and suspended from the facades, allowing visitors to appreciate the paper's gentle shapes and translucent patterns. Looking up at the sky creates a one-of-a-kind atmosphere characterized by a sense of lightness and softness. It's as if they've been transported to a peaceful realm, surrounded by the gentle embrace of fluffy clouds, creating an atmosphere of calm and serenity.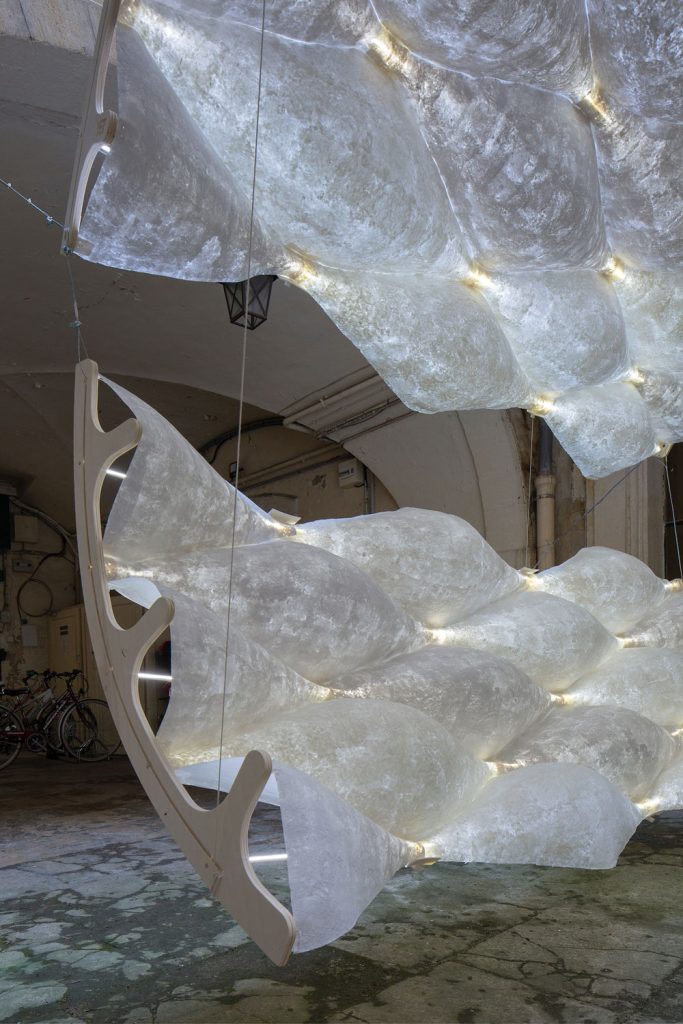 Materiality
Designers examined the wood at various stages of its life to achieve this goal. The final stage in wood processing is the production of paper, a disposable product. They want to go beyond this point by utilizing or re-utilizing recycled paper. Paper is a common disposable commodity that is rarely used as a sacred or spatial material for the creation of public spaces, particularly recycled ones. They see this as an opportunity to build a temporary structure out of recycled materials to commemorate the end of the wood lifecycle. The paper has several advantages.
The use of historic Washi paper processes has enabled the use of recycled paper. When structures are demolished, they frequently leave behind a significant amount of construction waste that has little chance of reused or recycled. A paper pavilion can be recycled after it has been disassembled, extending its lifespan while having no environmental impact.
The pavilion is made up of a plywood frame and a net of wooden dowels. The pavilion's skin is made up of 50 concave custom-fabricated concave paper modules 120cm in length. A module's form is predesigned and 3D printed in advance, then used as a mold for the paper to repeat. To keep the shape of the paper and add stiffness to the installation, custom-designed and 3D-printed joints connect wooden dowels and paper modules.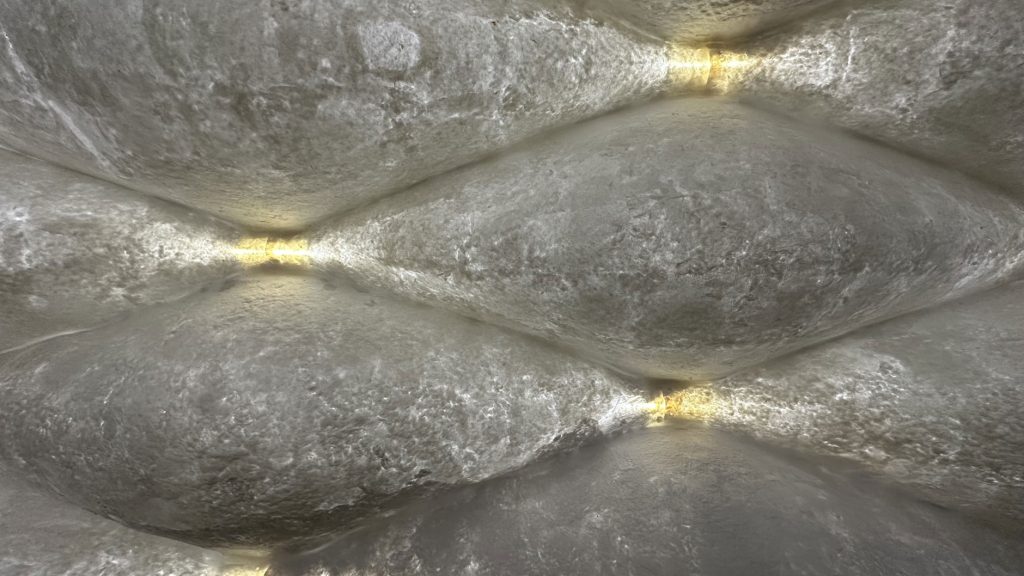 Project Info
Project Name: Washi Paper Pavilion
Location: Montpelier, France
Architecture Firm: YET Architecture
Architect: Ilya Katliarski, Anastasiya Katliarskaya
Project Year: 2023
Built / Unbuilt: Completed
Built Area: 6.5 sqm