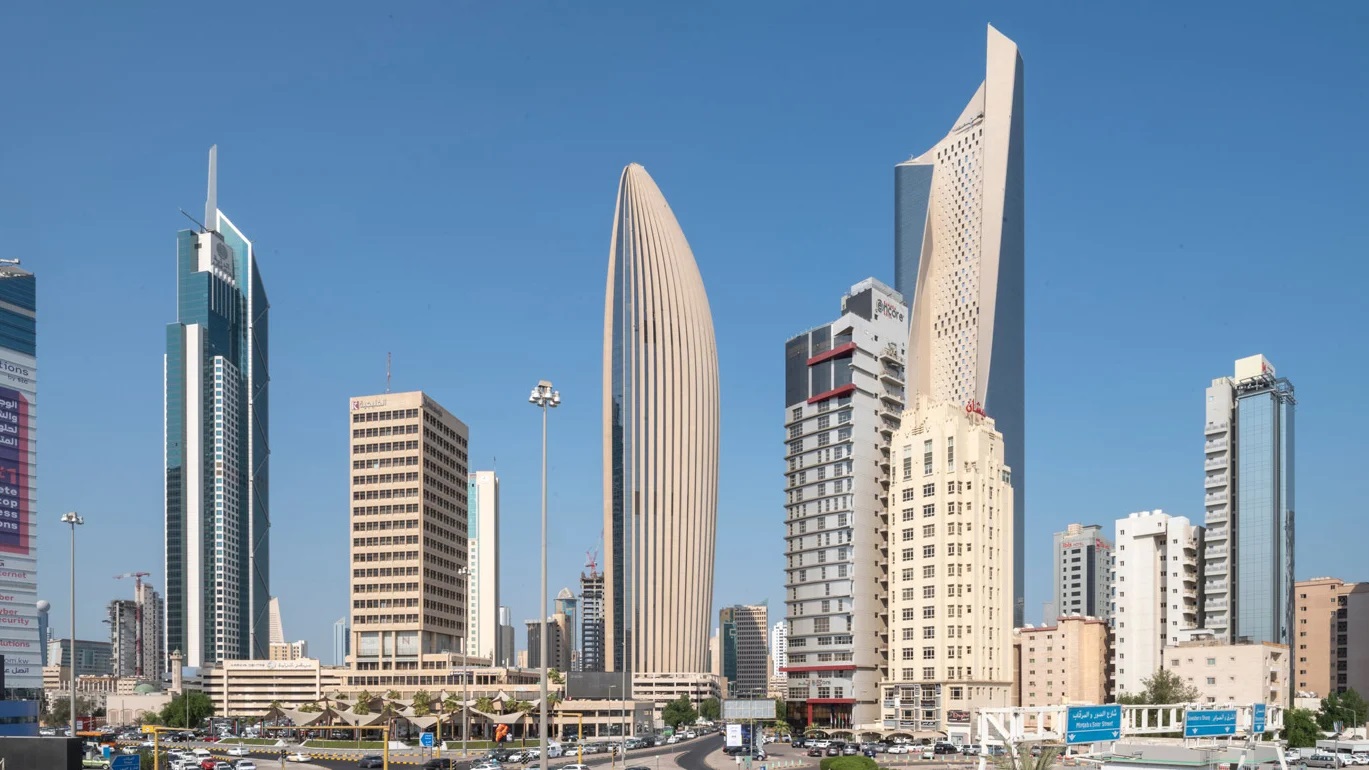 The National Bank of Kuwait Headquarters' new supertall tower is designed by the UK's renowned architecture studio Foster+Partners to be a landmark in Kuwait's capital city. It features a circular shape that ends in a pointed apex. The National Bank of Kuwait Headquarters reaches 300 meters in height to become the country's second tallest structure.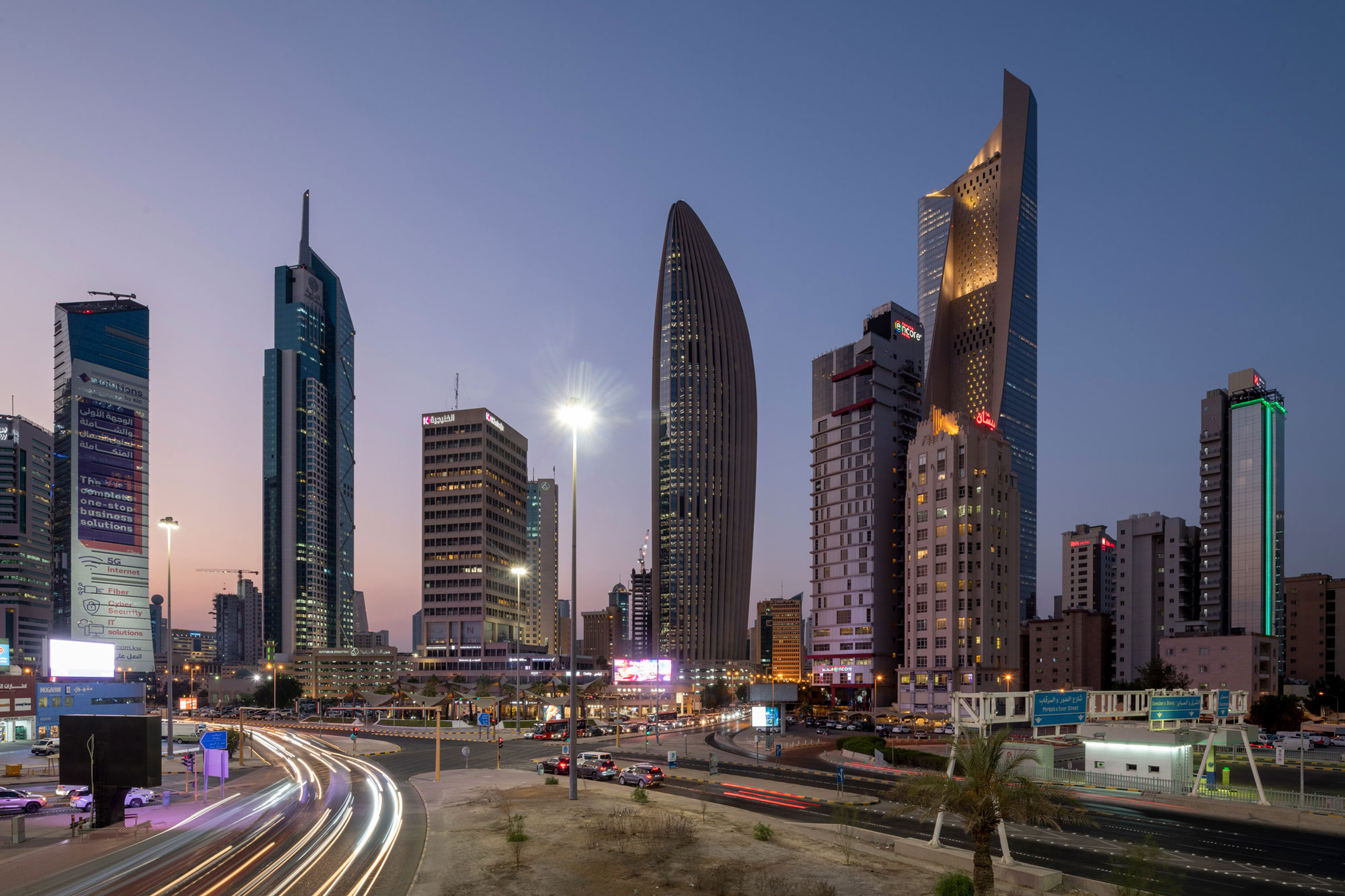 Foster + Partners head of studio Stefan Behling described the project: "The new headquarters for the National Bank of Kuwait (NBK) represents the coming together of an innovative environmental strategy and a diverse program as a distinctive landmark that stands out on the Kuwaiti skyline."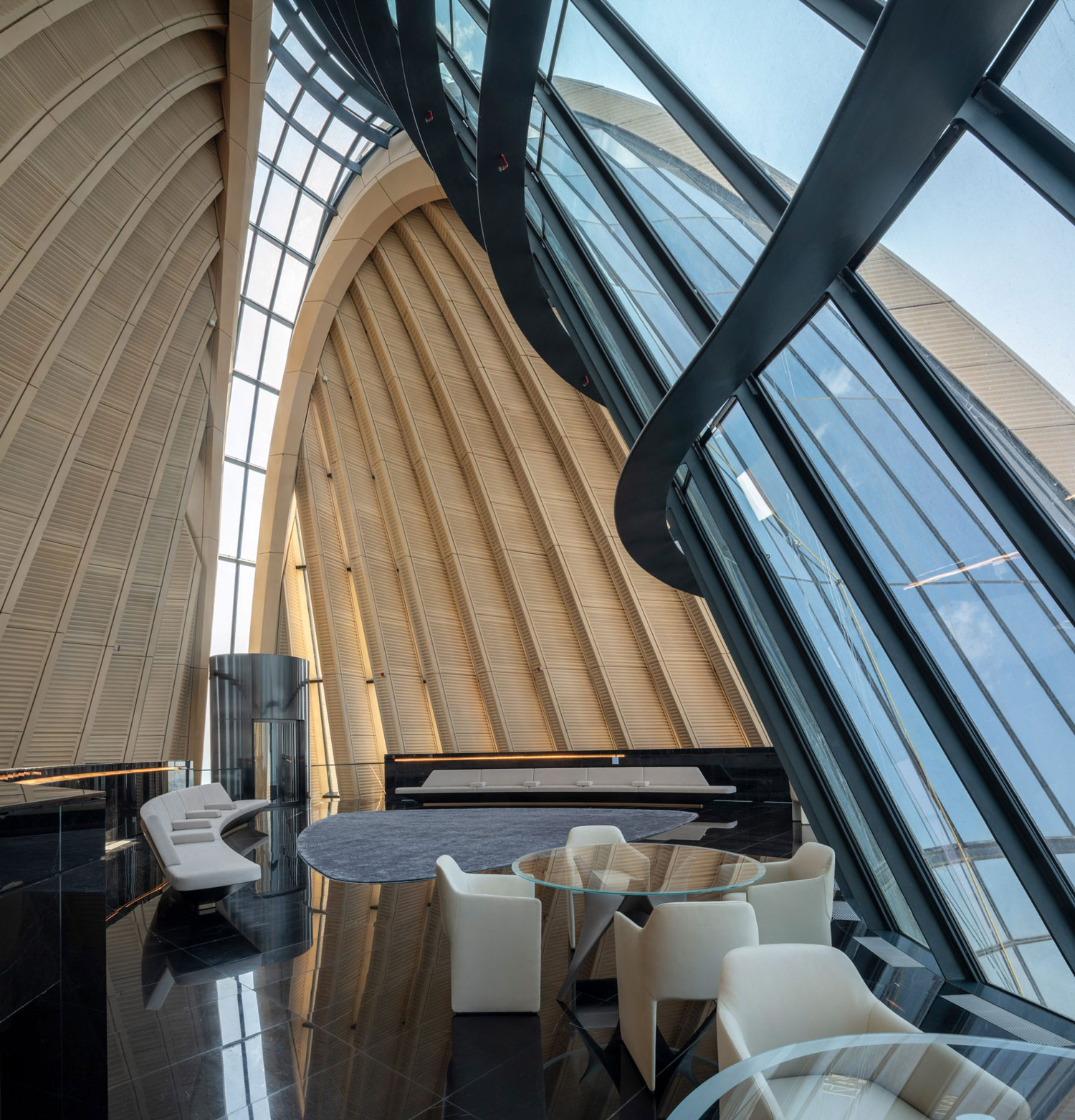 The structure is designed to integrate sustainability, functionality, and unique design. The skyscraper is encased in a series of concrete fins that span the whole height of the structure, providing sun shade for the sixty-three stories of office space. The curving fins surround vistas of the Arabian Gulf, and a strip of glass extends the whole height of the building.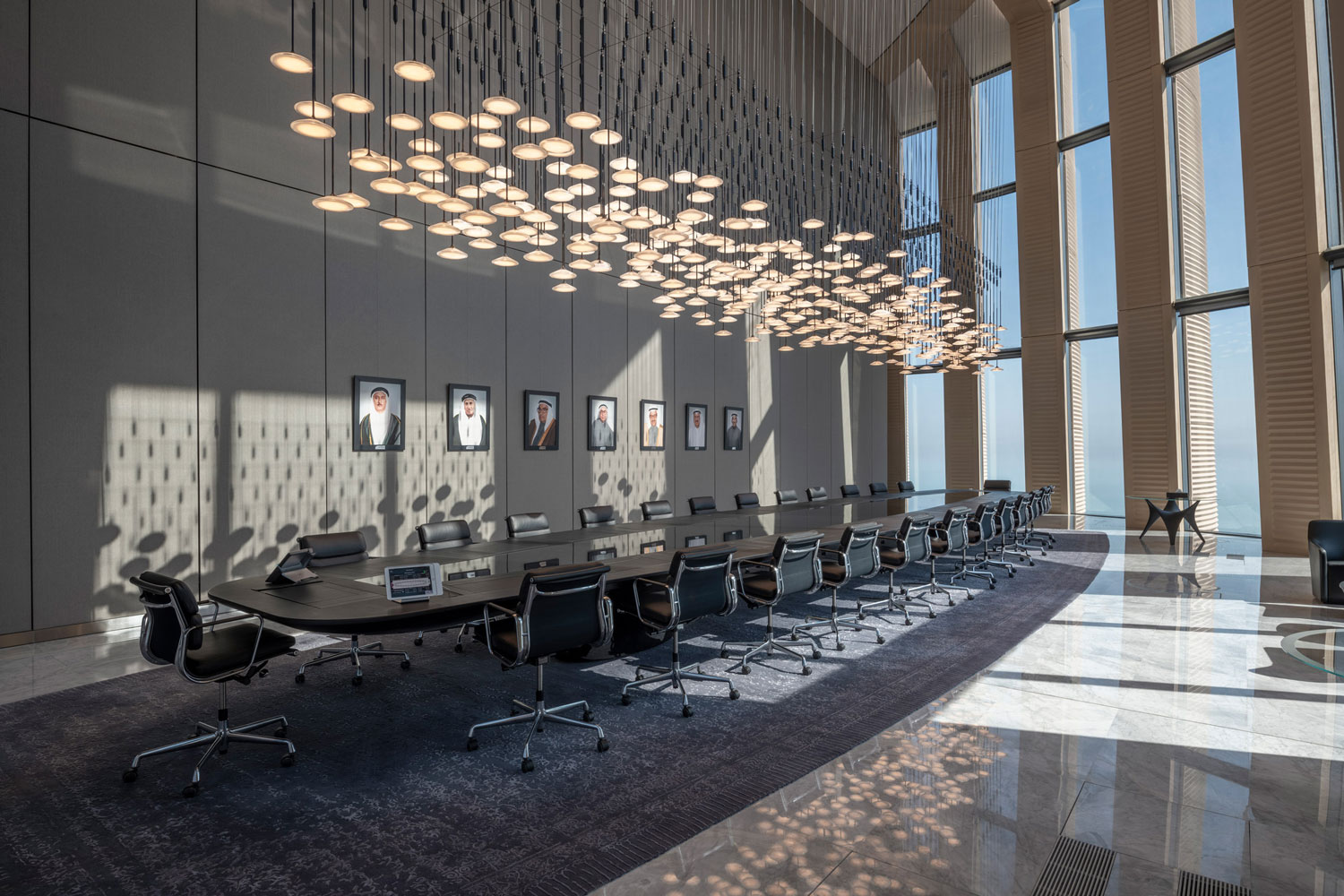 "The form we've developed for the tower is driven by the needs of the bank and the internal spatial arrangement is tailored to its organizational requirements, whilst providing flexibility for future change and growth," stated Foster + Partners senior partner Nikolai Malsch.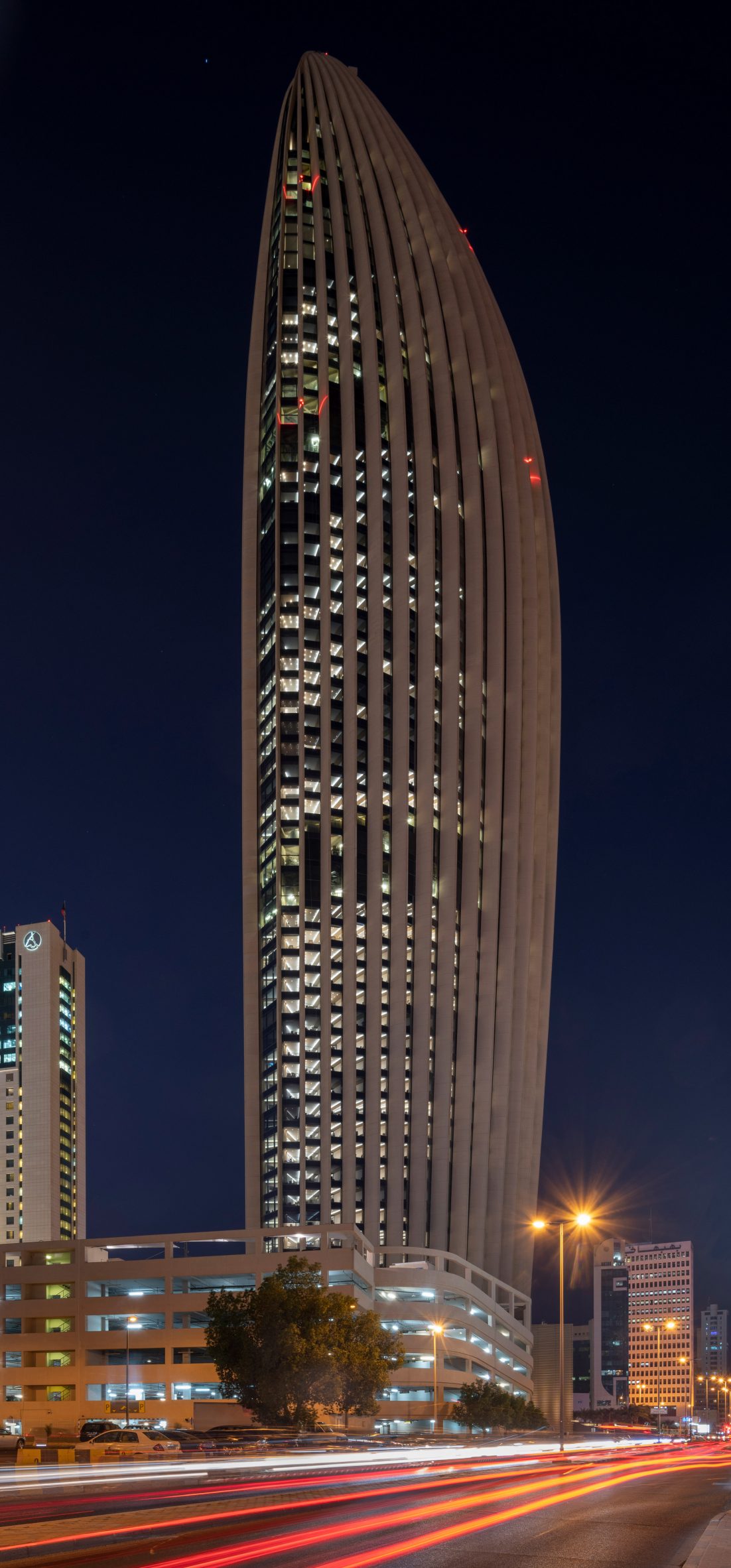 The skyscraper's typical plans were designed to house all of the bank's employees, with shield-shaped floor slabs, open-plan offices on one side of the elevator core, and conference rooms arrayed along the curving front. "We have created a customized working environment where everybody has their own unique space," said Foster + Partners senior partner Nikolai Malsch. Employees approach the tower through an 18-meter-high lobby on the ground floor, with "sky lobbies," a double-height restaurant on floor 18, and a gym on floor 19. Level 38 houses a ballroom and theater, while level 48 houses a triple-height boardroom. The chairman's club is located within the structure's pointed summit and is illuminated by a massive curving skylight.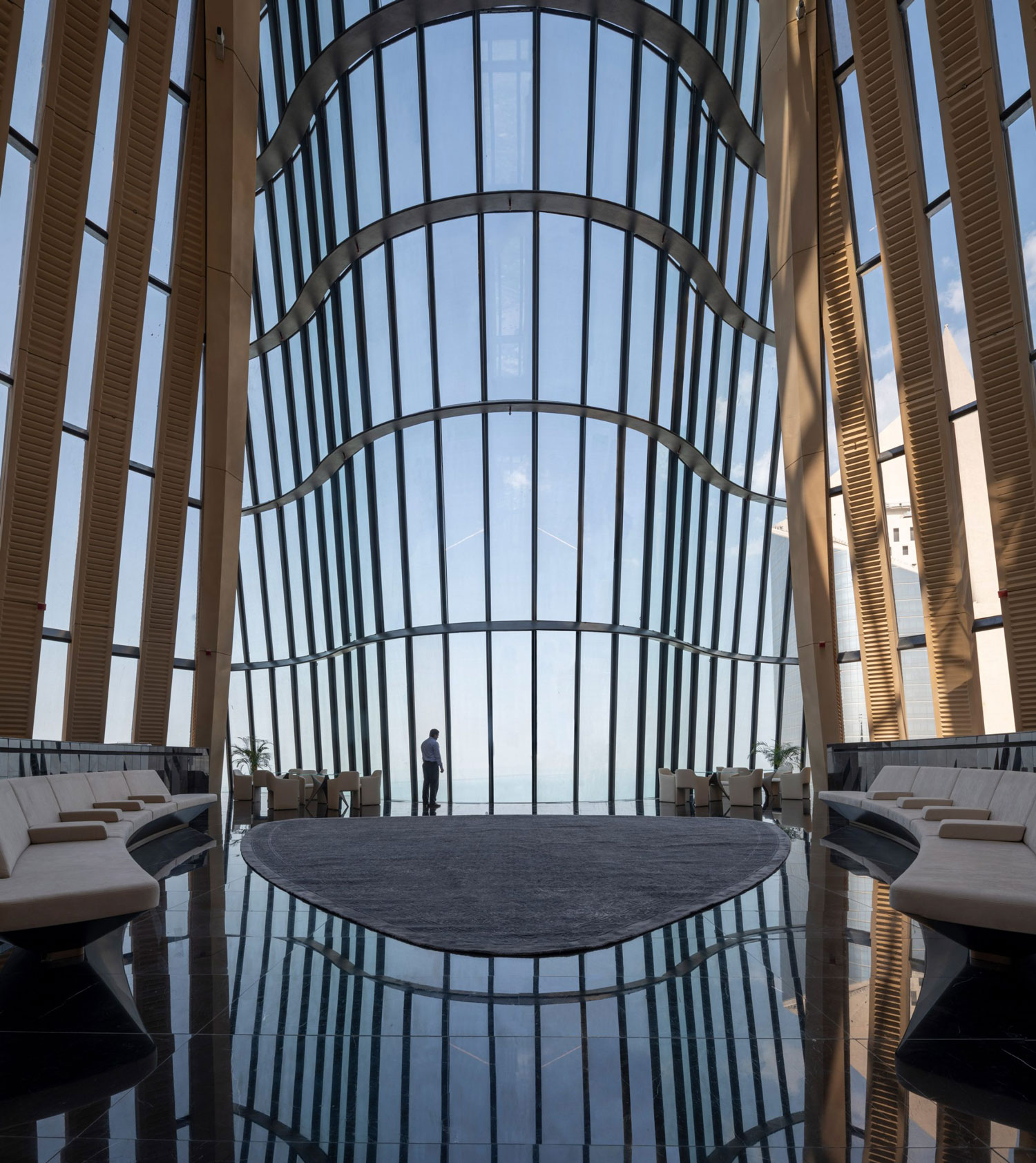 The building's innovative structural design and highly effective passive form protect the workplaces from Kuwait's extreme weather, when summertime temperatures may reach 40 degrees. While providing views of the Arabian Gulf, the cylindrical form of the tower expands like a shell to the north in order to reduce solar gain. And at the southern façade, a set of concrete fins are used to cover the full height of the tower. Additionally, the design maximizes floor space on the higher floors and encourages self-shading since the overhanging floor plates shield the offices below by tapering towards the base. The project aims for a LEED Gold certification by utilizing passive and active strategies to decrease water and energy use.
Project info:
Project: National Bank of Kuwait Headquarters
Studio: Foster+Partners
Client: National Bank of Kuwait
Location: Kuwait City, Kuwait
Year: 2020
Structural Engineer: Buro Happold
Lighting Engineer: Claude Engle
Building use: Administrative offices
Area: 127,000 m²
Height: 300 m
Photography: Nigel Young