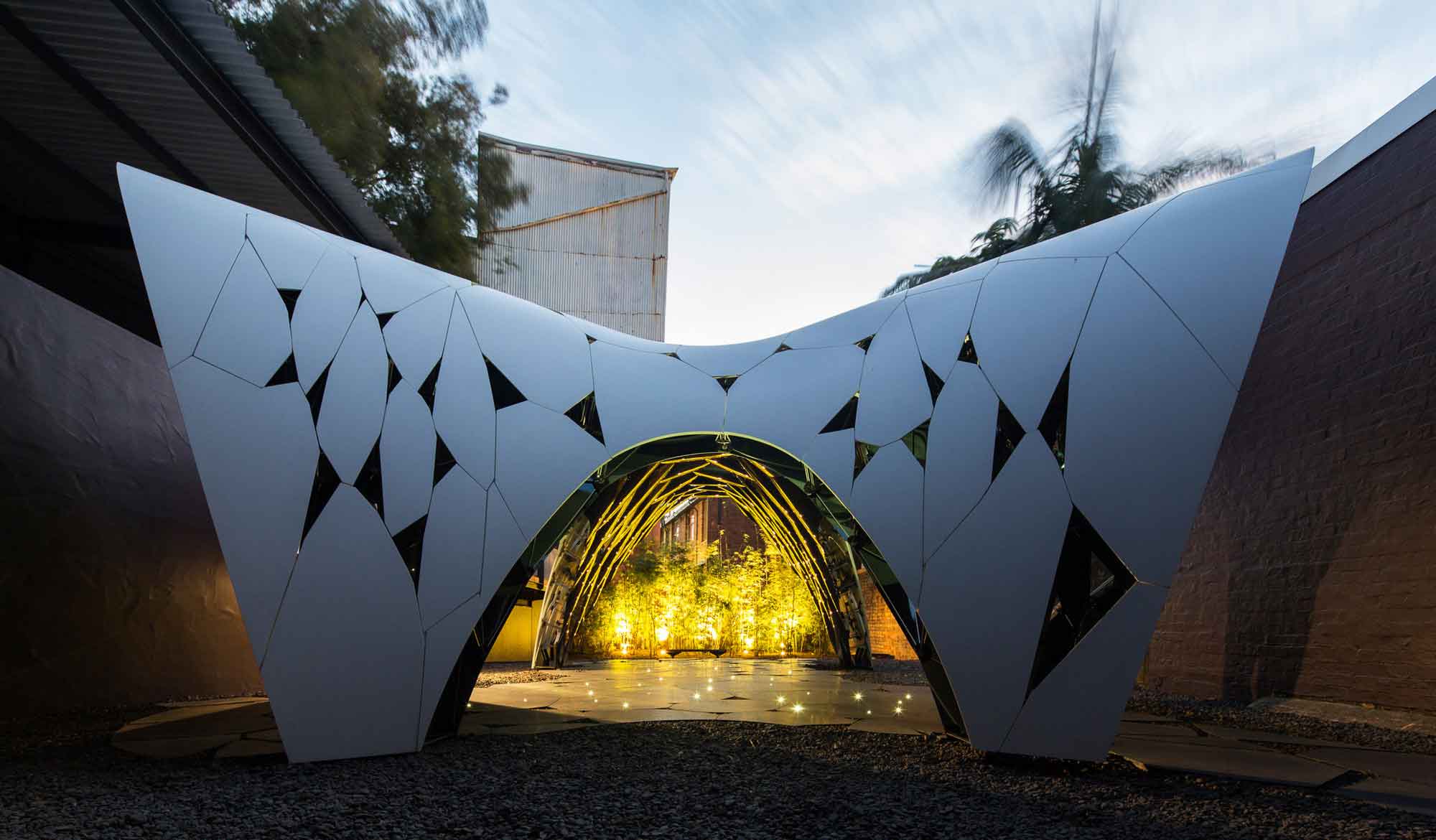 The Sydney Garden Pavilion by AR-MA, called Trifolium, was constructed using thousands of components. The pavilion's curves were created by joining robotically-produced Corian panels with laser-cut mirrors. AR-MA, an Australian studio, won the second edition of the Fugitive Structures architecture competition with their Trifolium design. This annual competition invites emerging or mid-career architects to propose structures that utilize advanced technologies. The pavilion is located in the garden of the Sherman Contemporary Art Foundation in Sydney.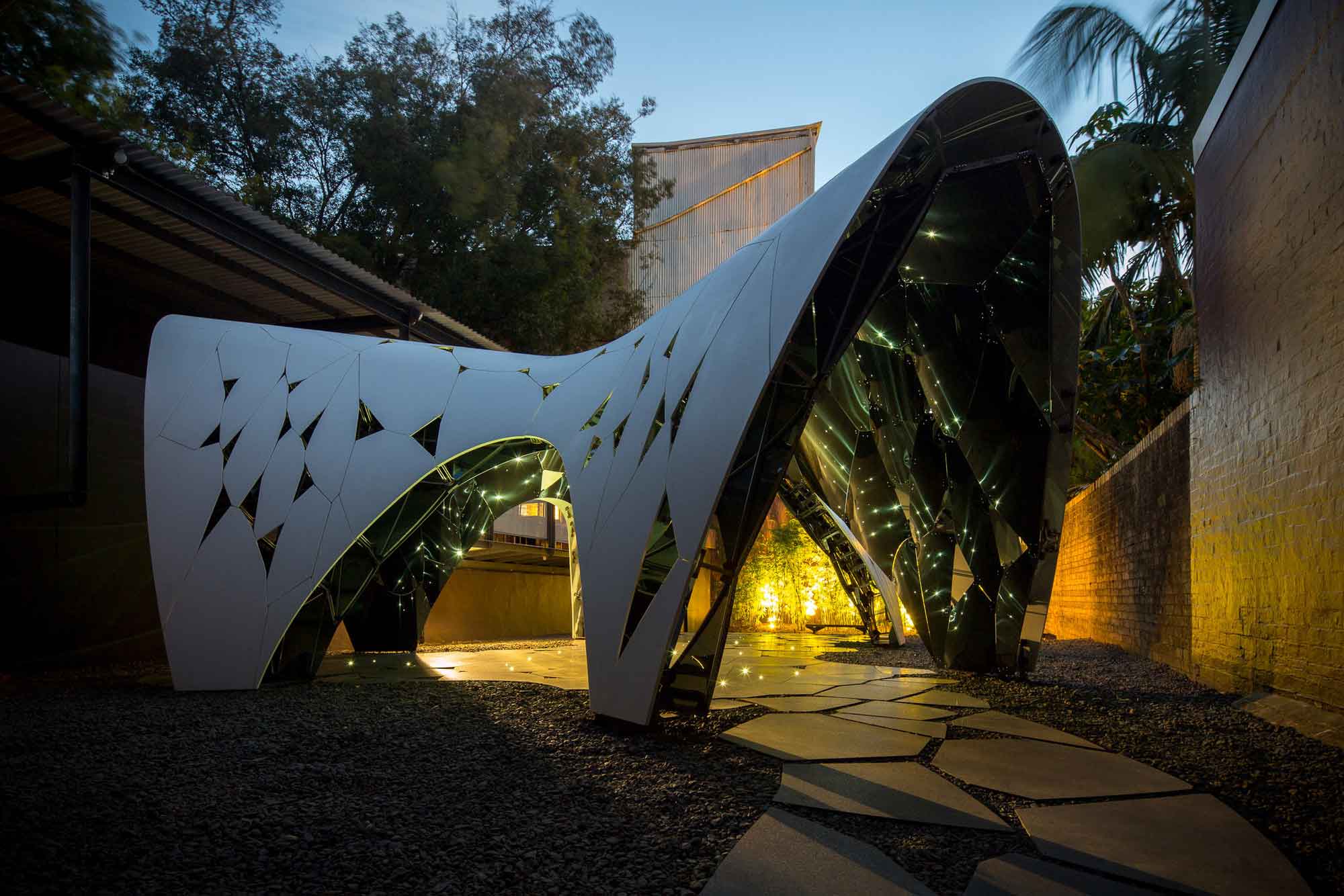 Trifolium is a unique, self-supporting shell structure located in Sydney. Its three-pronged shape creates a beautiful curved canopy that can be used as a meeting place, auditorium, or stage for events. The exterior shell is made up of 152 robotically cut Corian panels, a man-made solid surface material that is heated and shaped to create each unique piece. Each Corian panel is fixed to a corresponding piece of curved black mirror-polished stainless steel using 452 unique steel brackets. The stainless steel panels are individually curved to produce an internal surface that creates a stunning visual effect.
"There are thousands of components and each one is unique," said AR-MA director Robert Beson. "The only common elements are the bolts and screws that hold it together, so really it's a logistical project of tracking and managing all of the information and material."AR-MA worked with global engineering firm Arup to develop the form of the pavilion, using structural analysis software to monitor the stiffness and strength of the materials and components. The structure was entirely prefabricated off-site and assembled in just eight days. The 19-millimetre-thick Corian panels are rebated and were slotted together around a scaffolding frame to produce a rigid and watertight surface.
"Rather than bring a whole bunch of sticks and sheets to site that you then chop up and make into a building, everything is designed to efficiently use materials and resources off-site to be produced to a higher standard and then brought to site and put together," said Beson.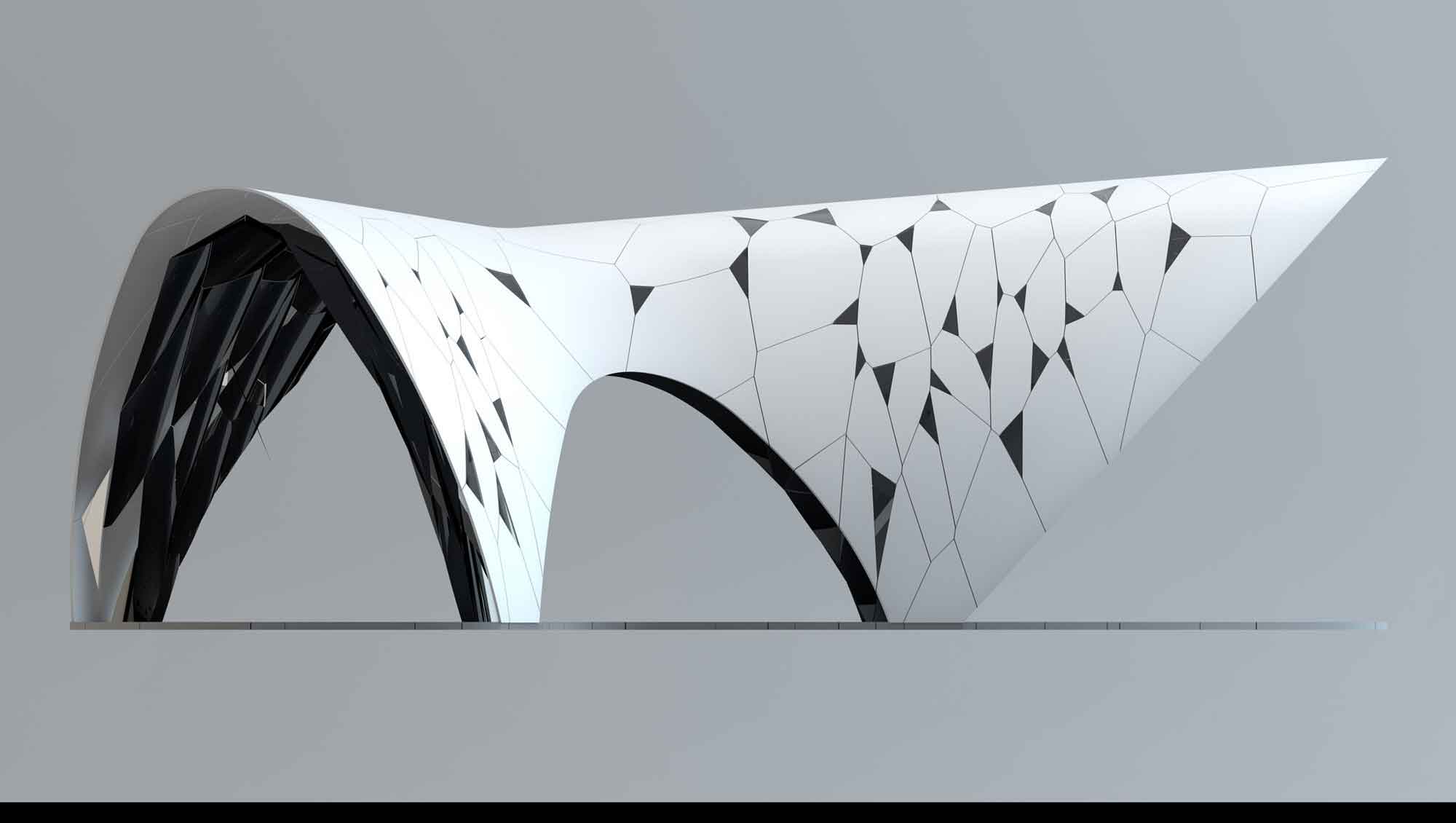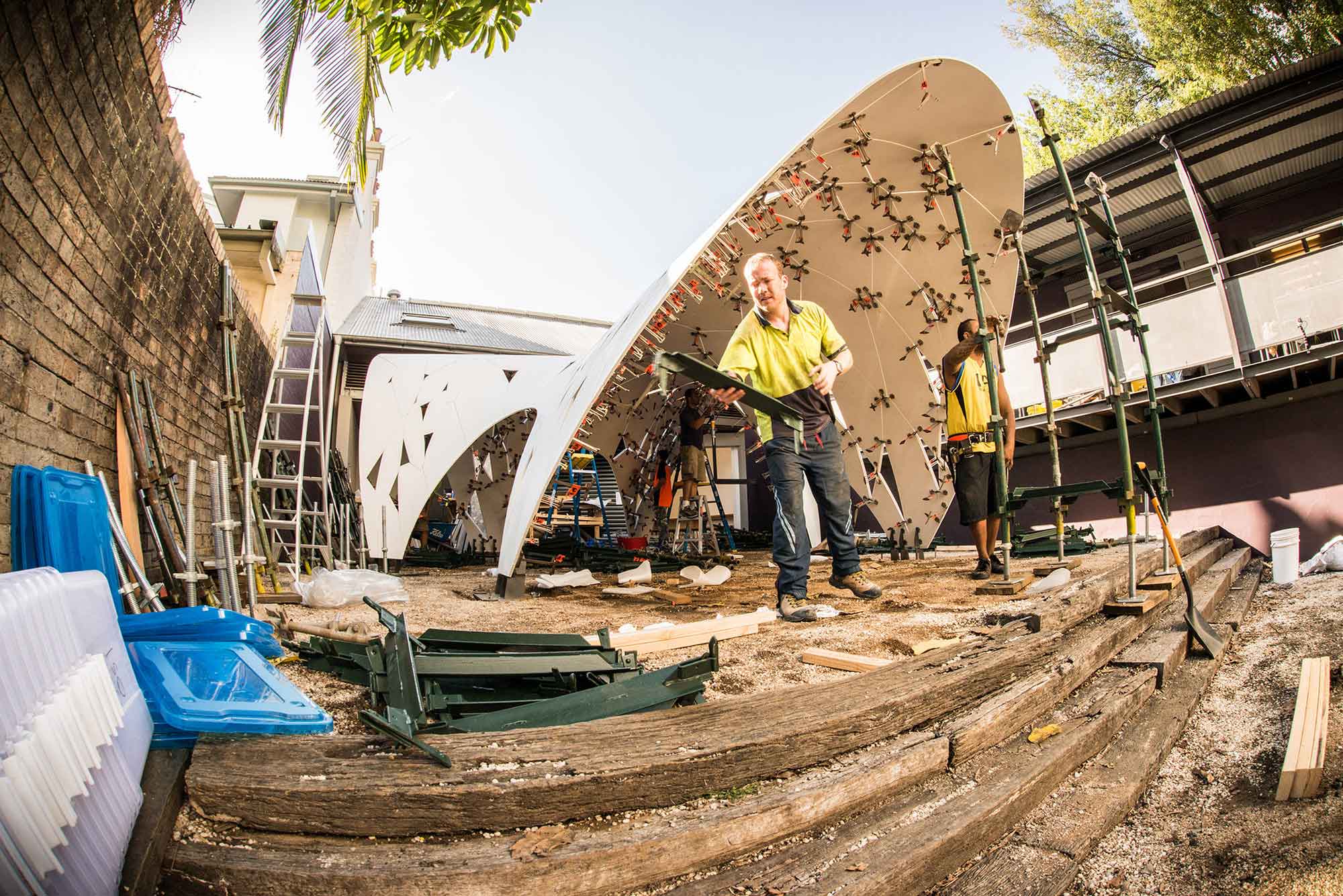 Fibre-optic cables offer lighting within the concrete paving slabs laid underneath, which have an irregular pattern that echoes that of the steel panels, and they create reflections on the structure's stainless-steel inner skin. Last year's inaugural edition of the Fugitive Structures competition saw architect Andrew Burns install a charred timber structure with curved walls leading to a secluded space in SCAF's garden.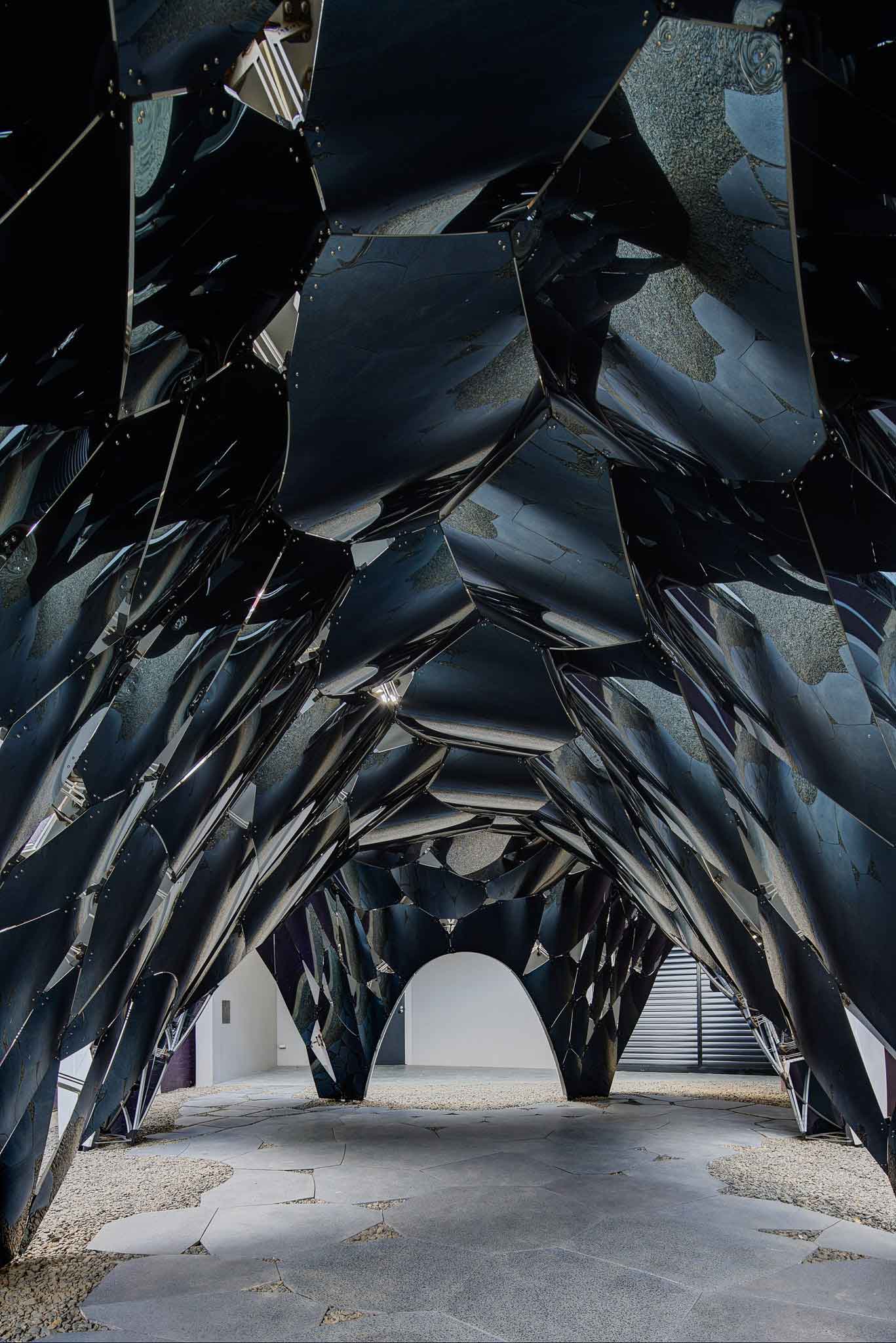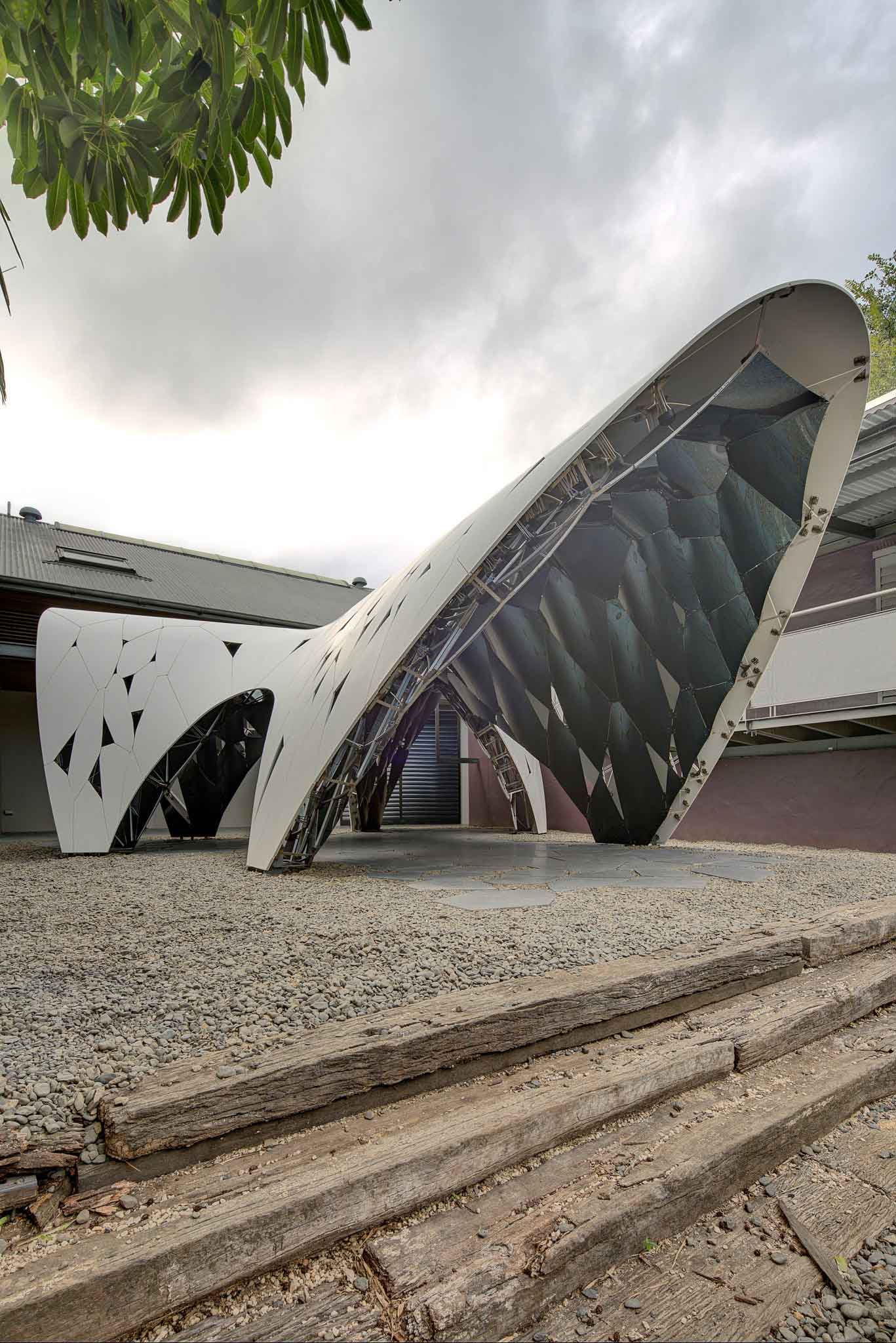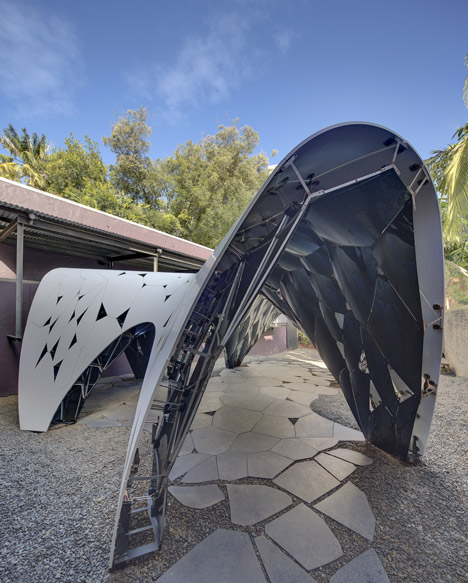 Architects : AR-MA
Location : 16/18-20 Goodhope Street, Paddington NSW 2021, Australia
Design Team : Robert Beson, Gabriele Ulacco, Tony Ho, Guido Maciocci, Nono Martinez Alonso, Simon Vorhammer
Area : 60.0 sqm
Project Year : 2014
Photographs : Brett Boardman