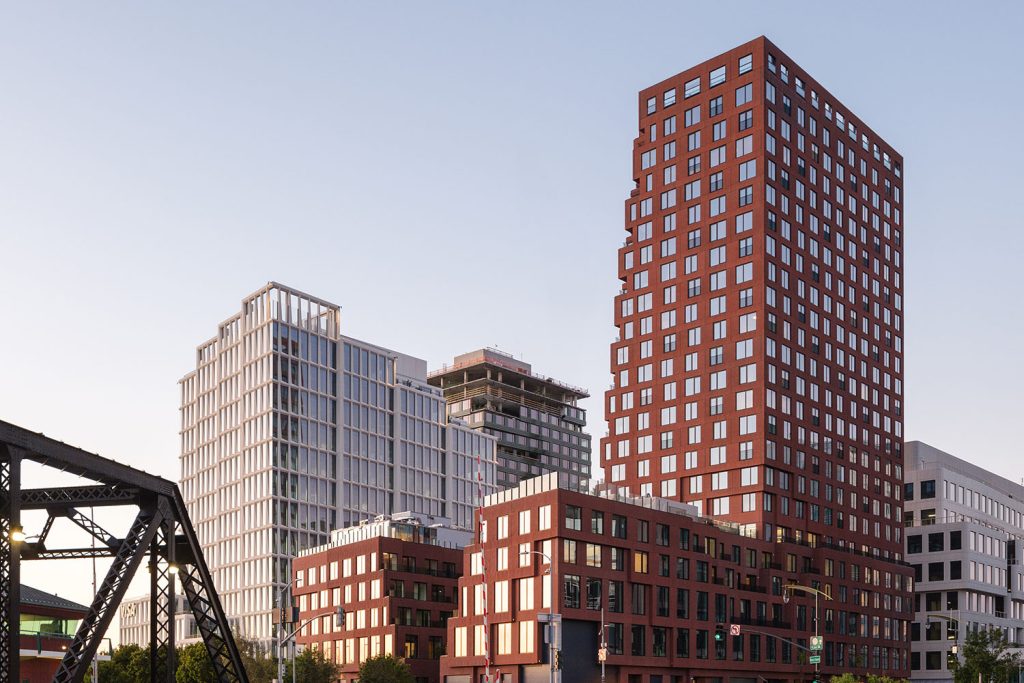 The Canyon, MVRDV's apartment building on San Francisco's waterfront, is now finished. The 23-story mixed-use building is MVRDV's first finished project on the United States West Coast. It is part of a masterplan to make "Mission Rock," a brand-new neighborhood with a view of San Francisco Bay. The development based on California's dramatic geology will keep Mission Rock lively all day and night. It will include a lot of housing for middle-income people, as well as offices, shops, and restaurants.
One of the four buildings that make up the new Mission Rock neighborhood's first phase is The Canyon, next to Oracle Park, home of the San Francisco Giants. The San Francisco Giants, Tishman Speyer, and the Port of San Francisco are working together to build the neighborhood. These buildings, which are on an 11-hectare site, were simultaneously designed by four internationally renowned design firms: Studio Gang, Henning Larsen, WORKac, and MVRDV. They each came up with their own unique designs that work well with the others.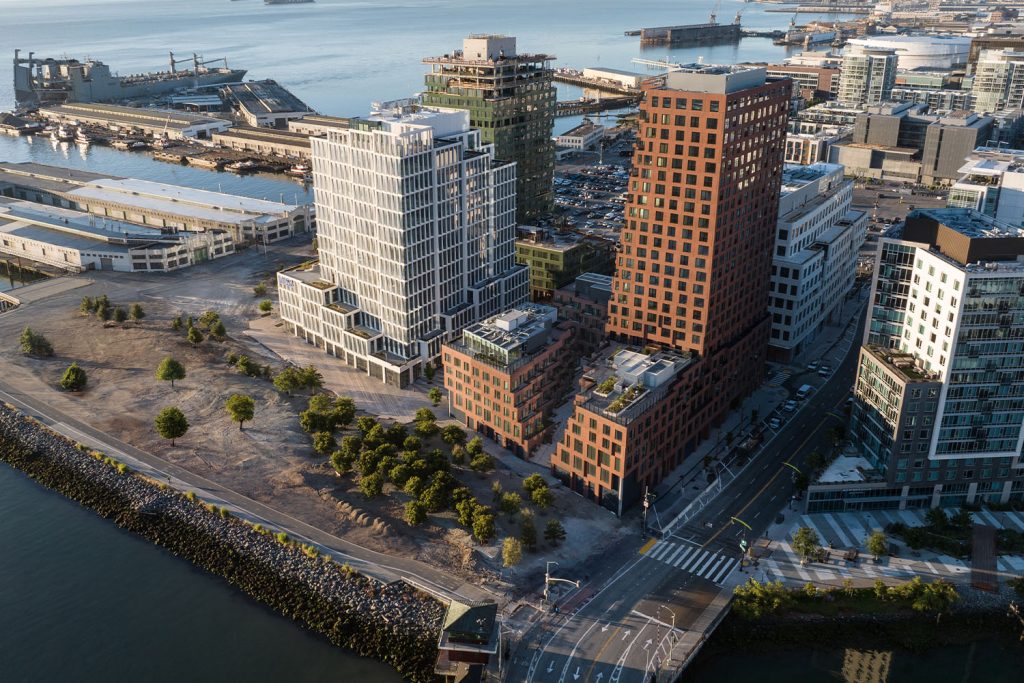 The Canyon is the first building people see when they cross the Lefty O'Doul Bridge. It is in the northwest corner of the neighborhood. The building has a five-story base and a 73-meter (240-foot) tower in the western corner of the plot. Soon, China Basin Park, a waterfront park and cultural hub for the community, will be built in front of the building, making it easier for people to get to the water and connect to the more than 350-mile San Francisco Bay Trail. The Canyon, like the other buildings in the master plan, has small shops and restaurants on the ground level. These will help make the new neighborhood feel like a community.
Two office floors and 283 apartments follow the Canyon's ground floor. People with middle-class incomes can get more than a third of these apartments at prices below market value. The development will help solve San Francisco's housing problem because the 102 apartments will be available to various households through a lottery.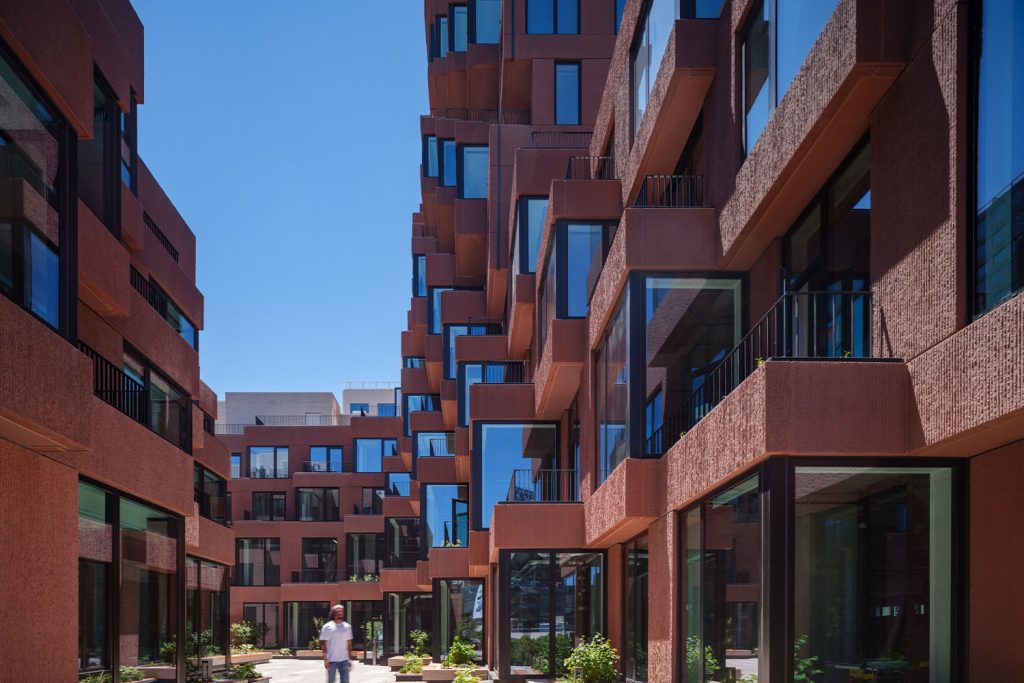 It is easy to spot the Canyon because of its rough reddish-brown exterior. The design is based on Californian rock formations. It includes a landscaped public "canyon" that runs diagonally through the base of the building and leads to offices and common areas for residents.
"The Canyon helps create connections in several ways, with the landscaped ravine as its focal point", says Nathalie de Vries, MVRDV co-founder. "The ravine binds the public realm's shops and restaurants with access to offices and resident services to keep Mission Rock vibrant, and residents can further meet, relax and entertain on The Canyon's green communal spaces. That a significant proportion of rentals are available at below-market rates will also help engender the diverse and inclusive communities that are vital to sustaining and enhancing cities."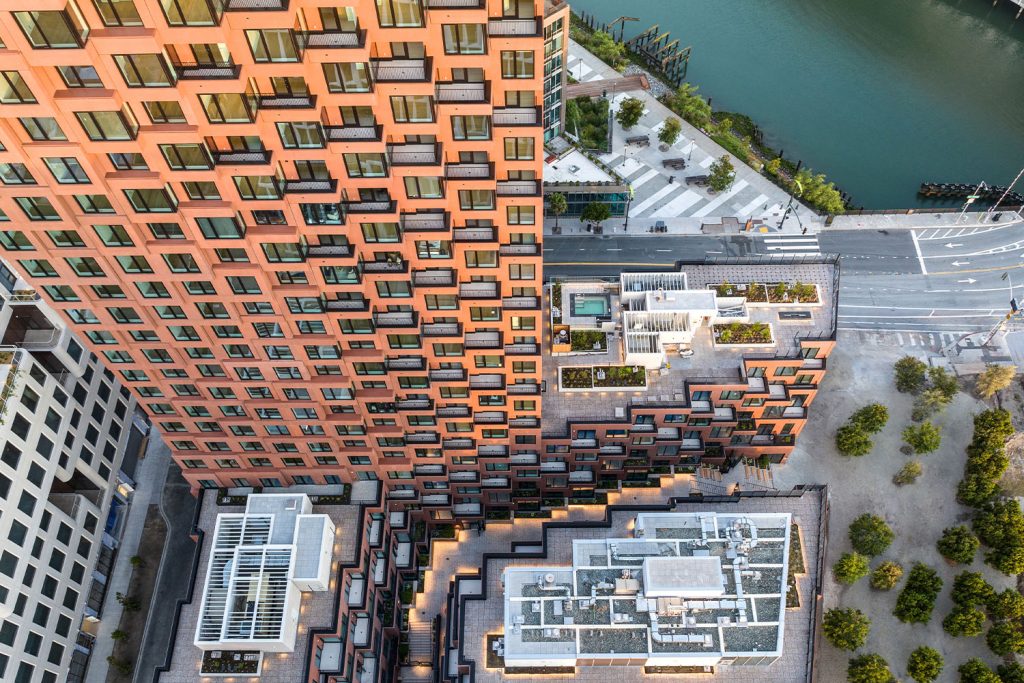 Project Info
Project Name: The Canyon
Location: San Francisco, California, USA
Year: 2023
Client: SF Giants + Tishman Speyer
Architect: MVRDV
Founding Partner in charge: Nathalie de Vries
Partner: Frans de Witte
Design Team: Fedor Bron, Mick van Gemert, Fouad Addou, Matteo Gramellini, Teodora Cirjan, Andrea Manente, Claudia Consonni, Aneta Rymsza, Marina Kounavi, Sandra Jasionyte, Ievgenia Koval, Nicolas Garin Odriozola, Paul van Herk, Kamila Korona
Executive Architect: Perry Architects Landscape architect: GLS Landscape/Architecture
Structural engineer: Magnusson Klemencic Associates MEP: PAE Engineers
Contractor: Swinerton Builders
Photography: Jason O'Rear, Mission Rock Partnership