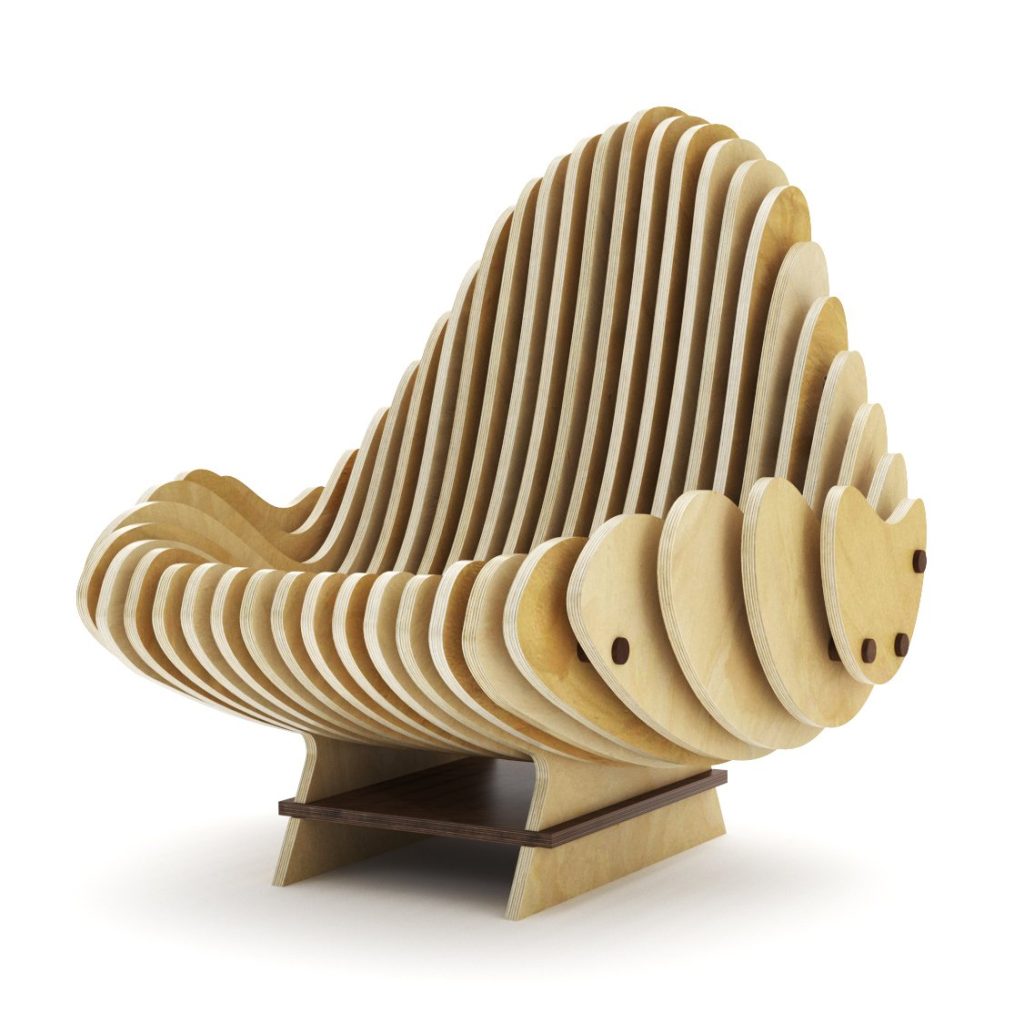 Nick O'Donnell is a designer based out of Sarasota, Florida, where he uses his unique process of parametric design to create and fabricate his highly unique furniture, lighting, and wall fixture pieces. As opposed to traditional methods of designing and drafting, many of Nick's designs are "grown", using generative algorithms, which define and generate the shapes of his works. Often highly geometric and organic in nature, Nick creates his designs through his company, Terraform Design. In 2016, he was awarded the Governor's 'Young Entrepreneur of Florida' award by Governor Rick Scott and has since spoken as a TEDx speaker on the future of design & fabrication methods.
Terraform Chair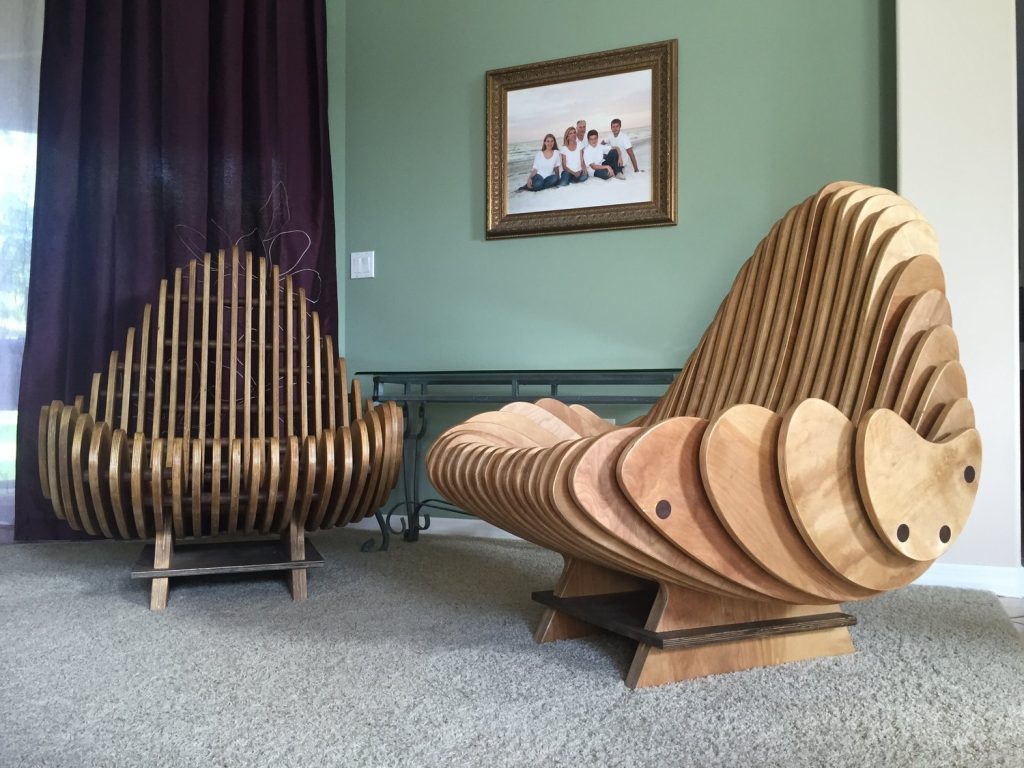 Terraform furniture and wall fixture pieces are composed of Baltic Birch plywood sections, held together by a series of threaded metal rods. The pieces are first designed in CAD software as an unbroken, solid pieces. At this point, the piece is 'sliced' into a series of vertical sections that can be laid flat for cutting. A CNC router cuts out the pieces, which are sanded and finished before being assembled at their final destination.
The light pendants they make, known as the Spore Lamp, are similarly cut from flat sheets of wood, but using laser cutting machines as opposed to CNC. The piece's friction fit together around central rings to create their final, pine cone-like shape. These lamps have been featured all around the world as well, including large chain stores such as Abercrombie & Fitch, Hollister, and Gilly Hicks.
Nick O'Donnell, the designer of Terraform's piece collection, often draws inspiration from highly fluidic and geometric shapes. He often starts in a 'form-finding' phase of development, where he uses generative programming tools to see dozens of iterations of a single design before narrowing in and perfecting his favorite version. Other times, Nick has started off with a 3D scan of a surface, which he will use to create his parametric wall fixture around, such as with a boulder wall created for a high school in Silicon Valley. Many of his pieces, such as the 'Phantasma Bench' in a high-end apartment complex lobby in South Florida, also come from careful and painstaking sculpting performed within his 3D software.
Invisalign Wall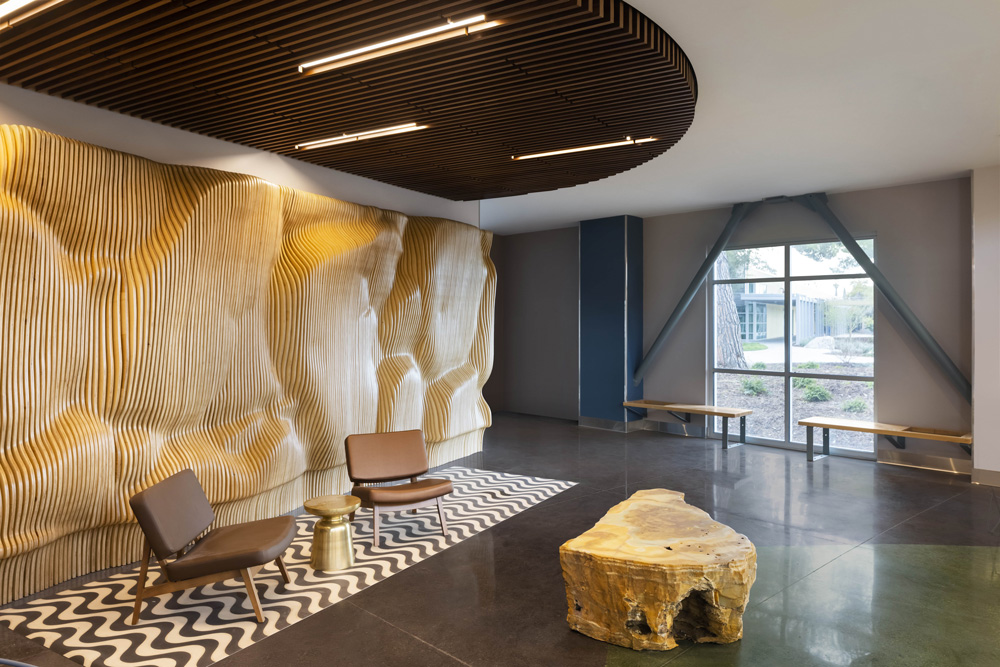 This piece was designed for a 3D-printed braces company based out of California. For their headquarters, they wanted a wall that resembled the contours and ridges that their braces trays have when looking at them up close. The result was a topographical accent wall that doubled as a futuristic statement piece for the high-tech company.
Sabal Palm Bank Bench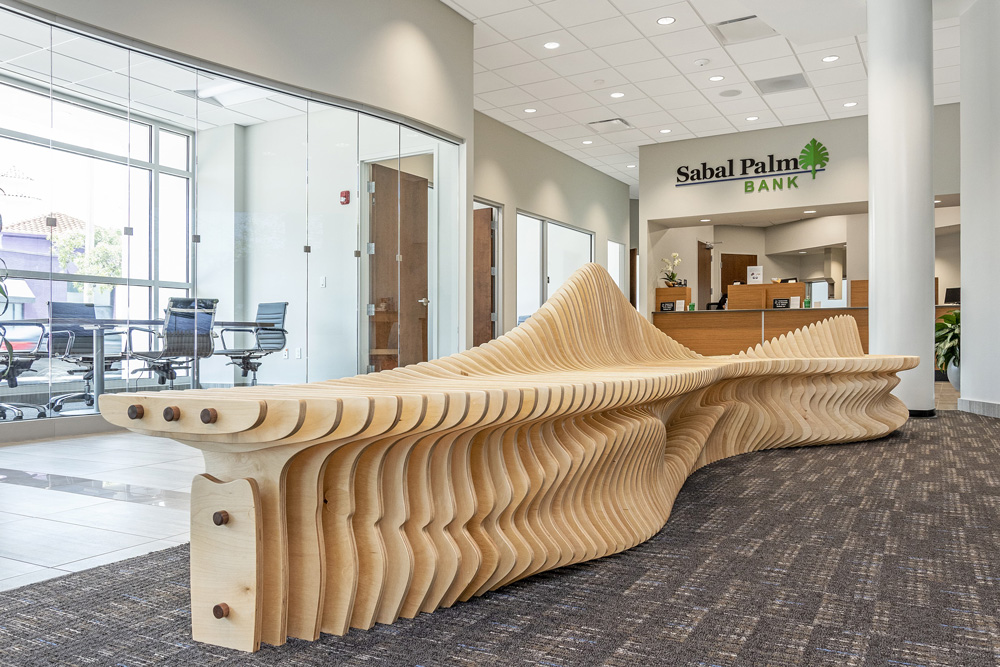 This bench was designed for a local bank in Sarasota, FL, (the headquarters of the Design company Terraform itself). As a very artistically inclined, beach-oriented town, the buyer was looking for something organic and aquatic to fill the space of their very modern, wedge-shaped lobby.