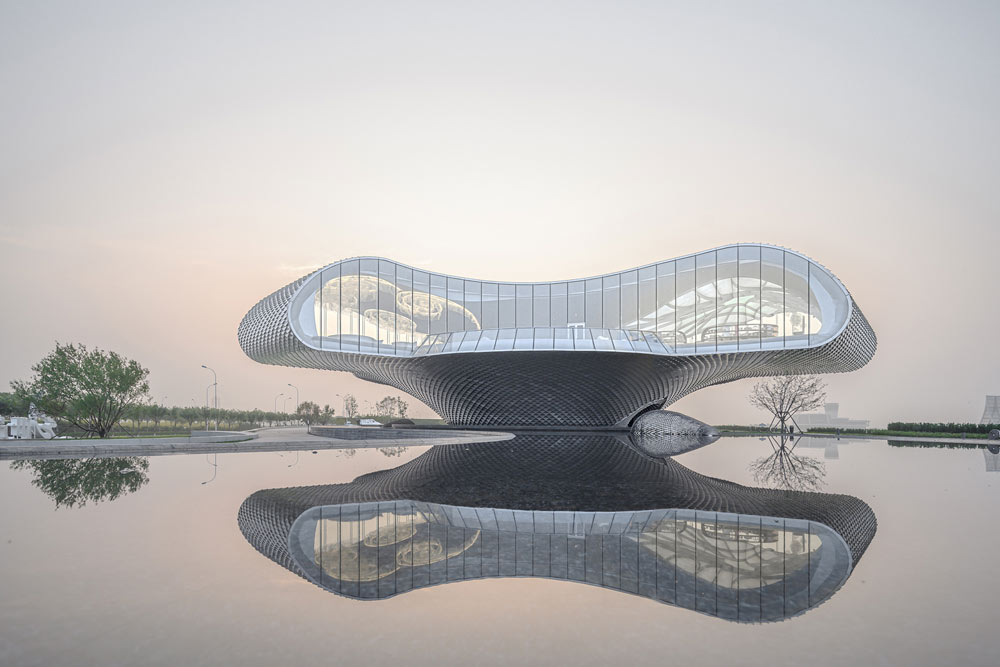 Designed by Shanghai-based architecture firm Lacime Architects in 2020, "Shimao-The Wave Showroom" rises at the junction of the sea and the land. The entire bay area planning follows the basic logic of "point, line, and plane to create a contemporary urban spatial sequence of man, sea, and sky." The building was designed based on the concepts of "water drop" and "wave" to show a dialogue with nature. Every element, from the ceiling to the floor, reflects the different states of water, creating a soft and balanced ambiance.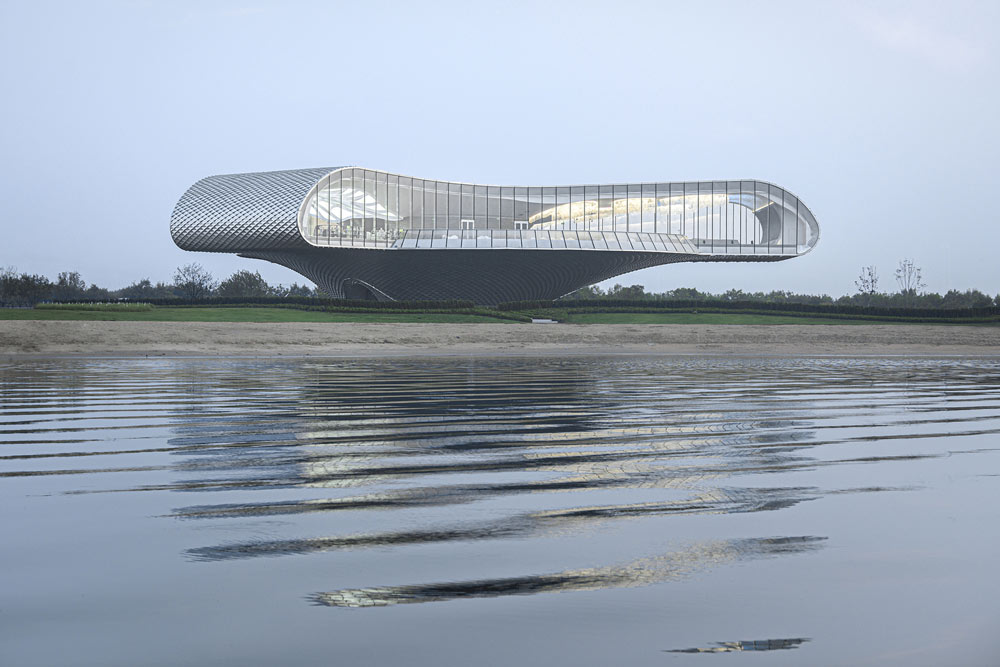 Shimao-The Wave Showroom is a unique area combining education, entertainment, artistic activities, and various cultural parks in the Binhai district on Tianjin's east coast.
There is an open-air theater and entrance square in addition to the art museum, which forms the main mass and gives the impression of a structure floating on the sea by separating from sand and rocks. All three sections have a direct connection to the beach. There are also three terraces in the main mass where visitors can experience the sea and fresh air while being alone with the sounds of nature.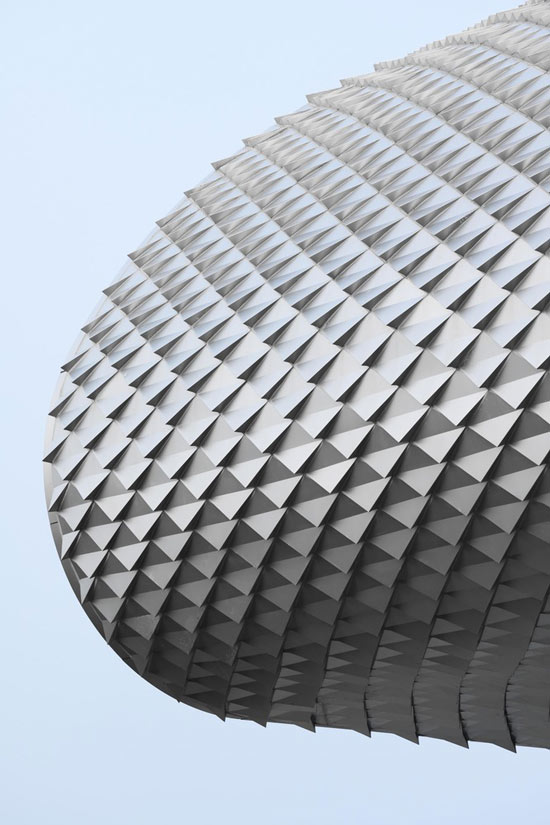 The column-free upper section of the building, which is more than 30 meters high and designed with BIM technology, is divided into three structures that balance the tension in all directions. More than 13 thousand flake-shaped aluminum plates on the façade create a rhythmic spiral texture and allow the façade to reflect sunlight at different angles in different periods. The pure form is created with the service of technology.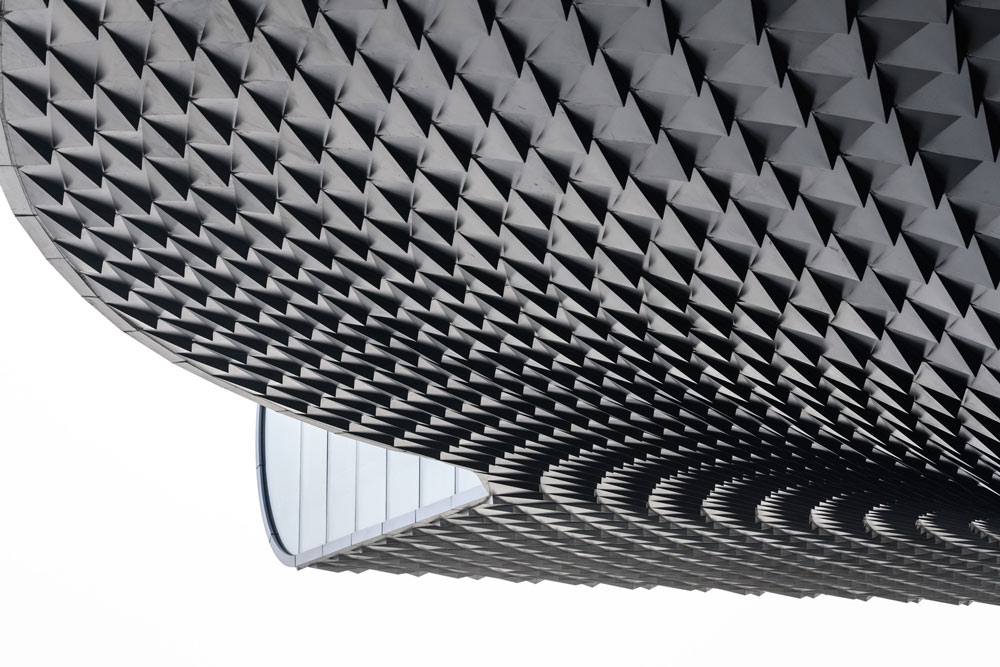 The architects used parametric and computational design tools to create the skin of the building. The subtle arrangement of the scale-shaped aluminum plates allows the façade to reflect the sunlight from different angles throughout the day, while the pool around the building casts diffused light onto the metallic façade. It provides balance in the distribution of daylight. The pool surrounding the building offers impressive views by reflecting the façade.
Office and technical units are added on an upper floor to the core and reception area in the section where the building touches the ground. The volumes are divided into three branches on the third-floor function as exhibition space, bar, and reading area.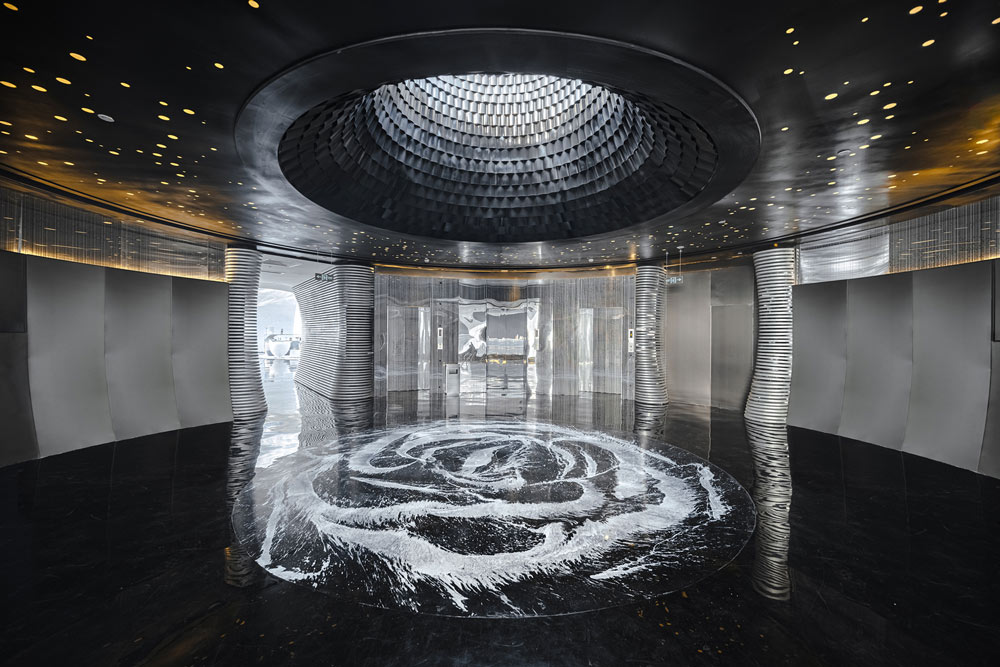 While the reception area with stainless steel surfaces at the entrance provides an impressive visual experience by being illuminated with light beams coming from above, the curtain glass façades on the upper floor façade, reaching a height of 8 meters in places, offer a unique view and allow natural light to penetrate the interior parts of the building.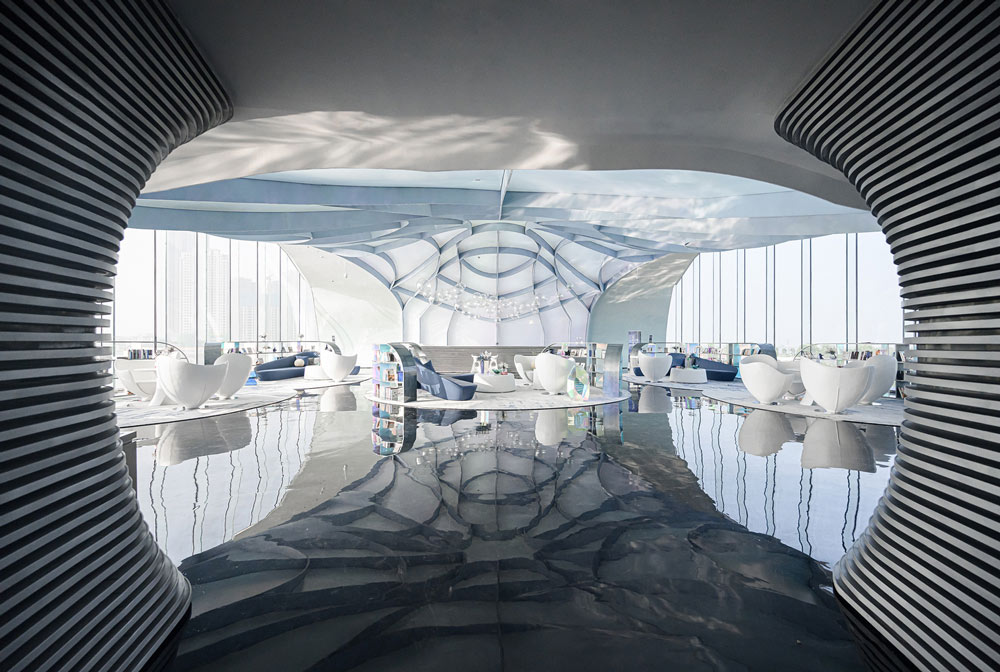 Project Info
Architects: Lacime Architects
Area: 3563 sqm
Year: 2020
Manufacturers: Fuchandi (Tianjin) Technology Co., LTD, Tianjin South Glass Energy Saving Glass Co. LTD, Tianyuan Construction Group
Structure Design: Yuan Xin Engineering Consultant (Shanghai) Office
Landscape Design: Tianjin Donglin Zhujing Landscape Planning and Design Co. LTD
Interior Design: Shanghai Biyu Environmental Art Design Office
Structure Construction: Tianyuan Construction Group Co. LTD
Curtain Wall Construction: Beijing Tiancheng Yingliang Stone Co. LTD
Architect In Charge: Zhaofang Song
Design Team: Xiaobo Pan, Shuguang Wu, Yue Ren, Jia Luo, Wenfeng Liu, Bo Feng, Tianpeng Zhu, Mengrou Wei, Dehe Yang, Chenyun Shen
Construction Design: Tianjin Tianyou Architectural Design Co.Ltd
Curtain Wall Design: LTD, Shanghai Hengli Construction decoration Engineering Co.
Bim Design: Beijing Interconnection Cube Technology Service Co. LTD
Photographs: CAAI