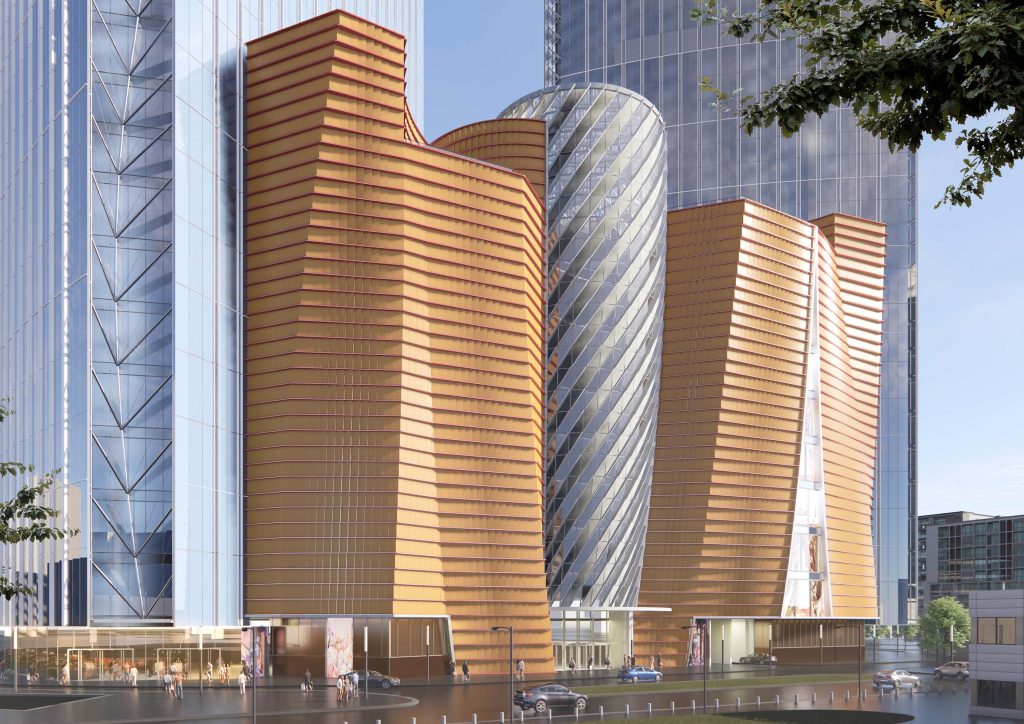 Deji Plaza Xuzhou comprises twin 60-story luxury residential towers, an 11-story retail podium, and extensive landscaped spaces designed by LMCA Design. The project aimed to enhance Xuzhou's urban green core. The construction of the project was initially halted by the previous developer, but the new owner commissioned LMCA Design to intervene and complete the ambitious project.
"When I first approached the site, I realized right away that the design was not aligned with the developer's vision or my own," recalls Li Min Ching, President and Founder of LMCA Design. "I immediately wanted to know what could and couldn't be modified, and, in some cases, we were impeded by structural restrictions."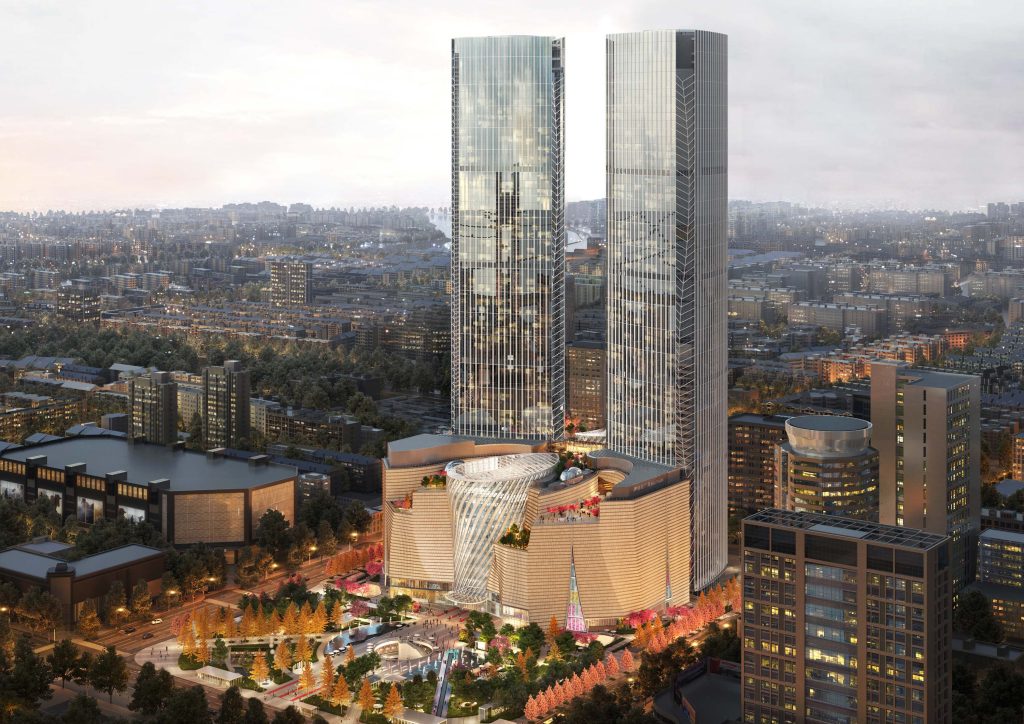 LMCA aimed to establish a visual link between the project's front facade and the city's green initiatives. To achieve this, the flow of green space has been extended through a public plaza on the ground level. The plaza features beautifully manicured landscaping that is part of an urban green space masterplan designed by Ohtori Consultants Environmental Design Institute.
Li Min Ching felt that the Deji Plaza Xuzhou project should reflect its surrounding natural elements in some shape or form, in keeping with the theme of the city's expanding green philosophy and the environmental sustainability goals of the China Green Star rating system (the project received a 2 out of 3-star rating). Designers began to imagine organic shapes and textures that could be architecturally adapted to the project, embracing the Banyan tree as an ideological guide in the process. As a result, the organic forms and actions of the Banyan tree, as well as its complex root system, would serve as aesthetic and functional inspiration for LMCA's new design.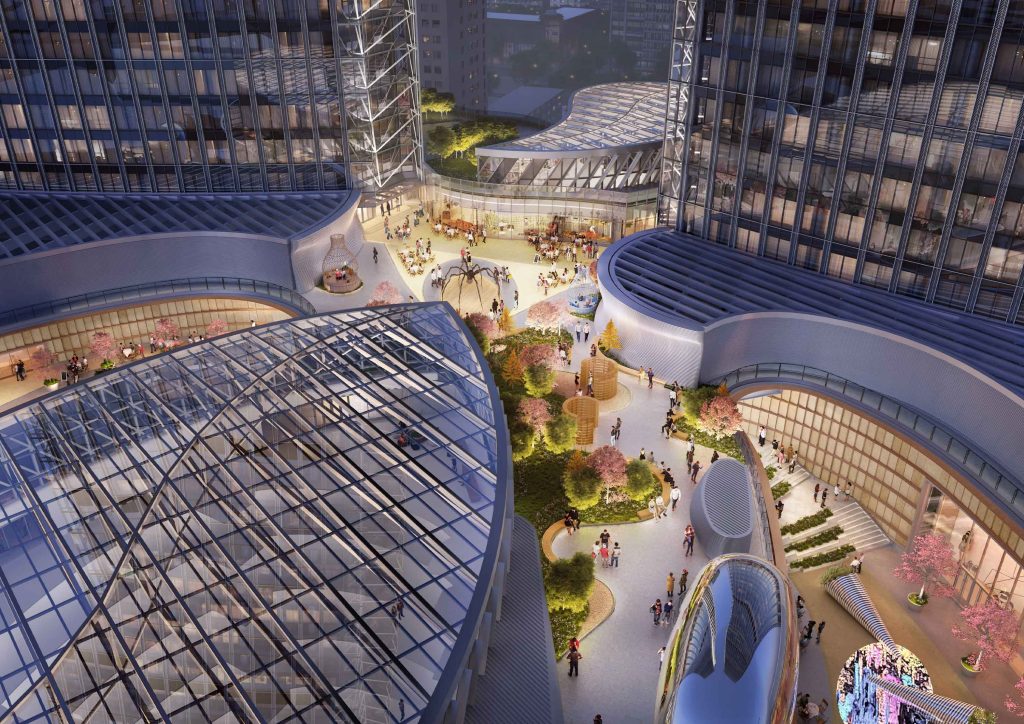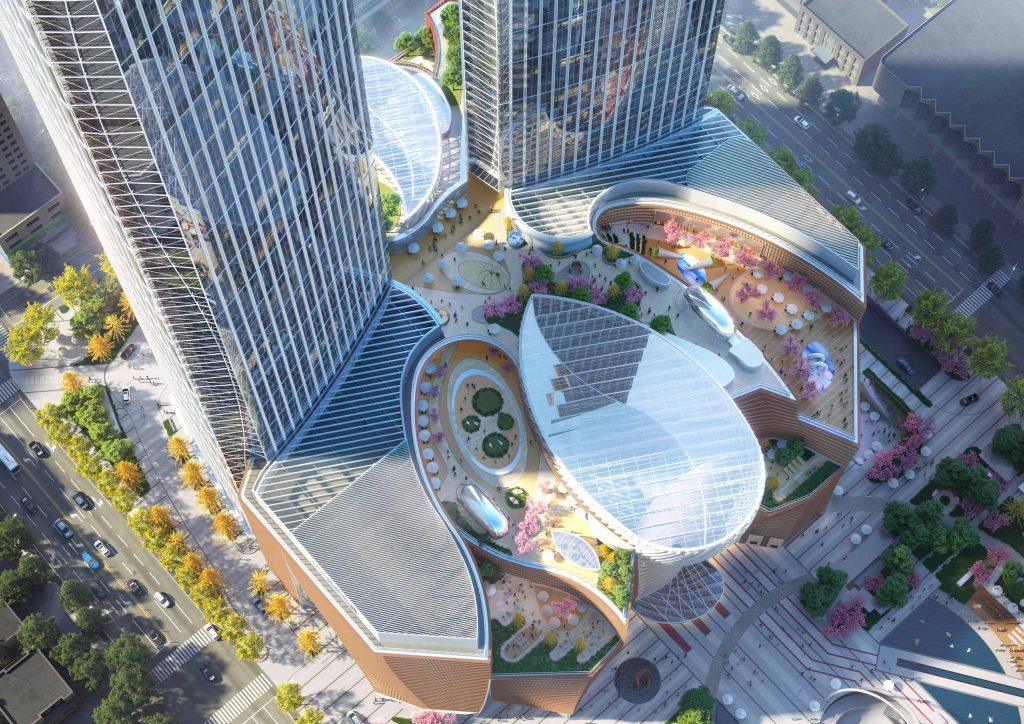 "A Banyan tree is not born of its own seeds, but rather it seeds an existing older tree and rebirths it in an elegant and organic new form," he explains. "I thought that that was entirely appropriate for this project that was undergoing a massive transformation."
The space has been completely reimagined by LMCA, with new floor-to-floor heights and a re-programmed design that injects art and culture into its soul, reflecting the new developer's status as one of China's largest private art collectors. The redesign of LMCA will result in two luxury residential towers with 1,326 units ranging from studio condos to much larger floorplans.
"One of the biggest challenges we faced was determining how to optimize the programming and floor heights to align with the developer's vision for its usage," states Li Min Ching. "We repositioned and repurposed most of the existing slabs and structure to save on natural resources and to ensure that we didn't waste any of the embodied carbon already used in the previous construction."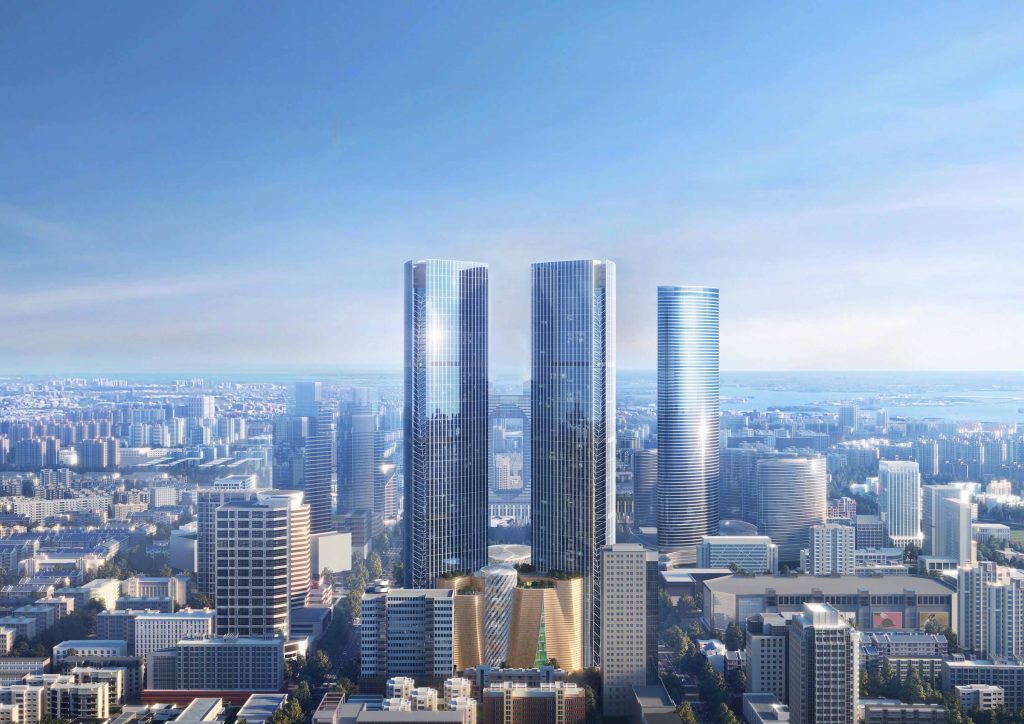 Project Info
Project name: Deji Plaza Xuzhou
Height: 259 m / 850 ft
Size: 351,206 m2 / 3,780,350 ft2
Client: Deji Plaza (Xuzhou) Co., Ltd.
Architect (Lead Design Architect): LMCA Design – (Li Min Ching Architecture & Design)
Current – Local Architect of Record / MEP & Structural Engineer: Nanjing Changjiang Urban Architectural Design Co., Ltd.
Prior – Local Architect of Record / MEP & Structural Engineer: Nanjing Architectural Design & Research Institute Co., LTD.
MEP Consultant: Technova
Façade Consultant: CCAT
Interior / Exterior Lighting Design: UNOLAI Design & Associates, Shanghai Branch
Landscape Design: Ohtori Consultants Environmental Design Institute
Transportation Consultant: AECOM Design and Consulting (Shenzhen) Co., Ltd.