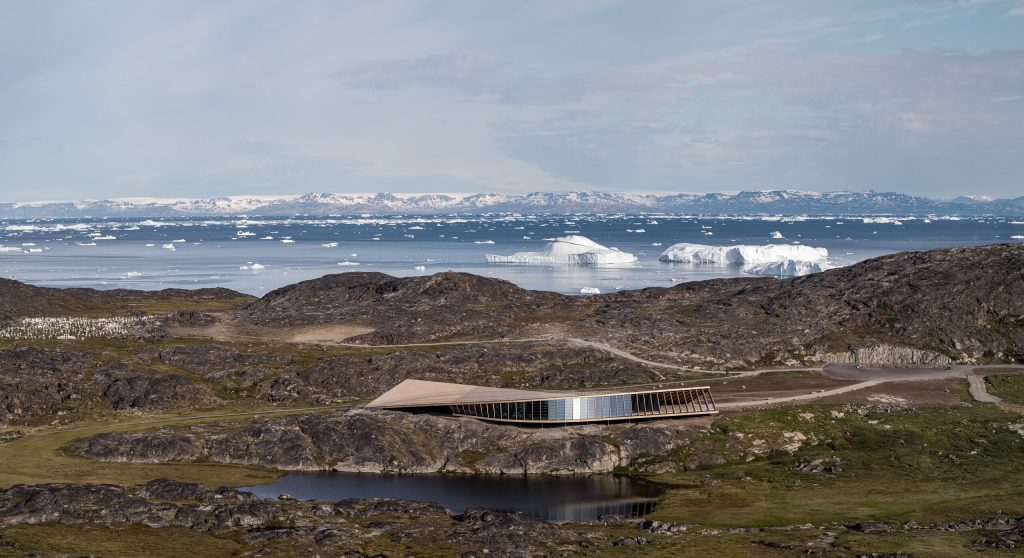 In the summer of 2016, Dorte Mandrup was announced the winner of the international design competition for the Ilulissat Icefjord Centre. The center was officially launched three years later, in the summer of 2019. After four months, the slanted windows and 52 unique steel frames of the building emerged above an inland lake. The building's aerodynamic shape was designed to minimize snow accumulation and provide stunning views of the fjord. Today, the building stands as a striking addition to the surrounding landscape.
Dorte Mandrup designed the Icefjord Centre in Ilulissat to blend in with the impressive landscape while providing residents, tourists, and climate researchers with the best vantage point to absorb the Icefjord's historic atmosphere. On a local and global scale, the Icefjord Centre will tell the story of ice, human history, and evolution.
The Icefjord region contains 4,000 years of cultural heritage and is critical for understanding climate change today.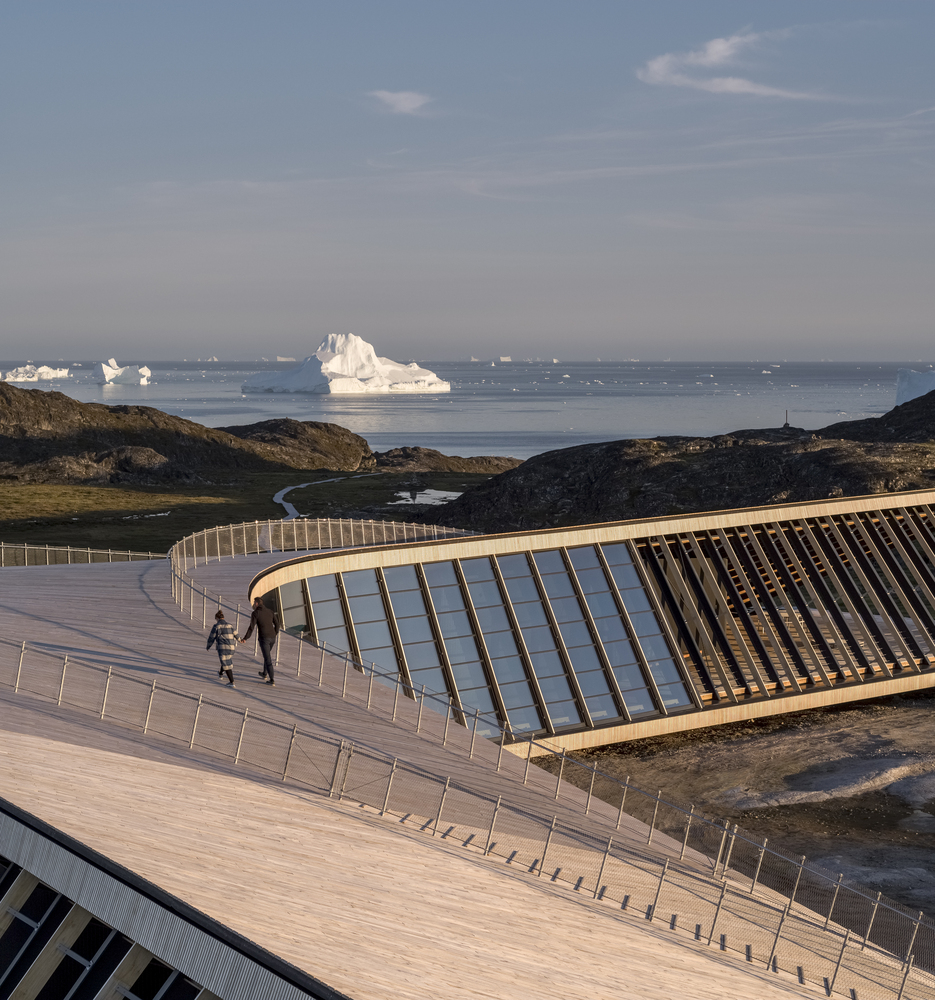 "The establishment of regional visitor centers is one of the cornerstones in Greenland's new tourism strategy. Therefore, it's an important milestone that the construction of the Icefjord Centre in Ilulissat has now started. Dorte Mandrup's beautiful and discreet building is created with great respect for and in unity with the surroundings, and we look forward to seeing it grow up by the Icefjord in the years to come. This will contribute to strengthening the development of Ilulissat and Greenland in general," says Minister of Industry, Energy and Research, Jess Svane.
The Ilulissat Icefjord Centre, according to the designer, is a simple yet poetic gesture highlighting the magnitude and beauty of its surroundings. The building's curved geometry is difficult to work with. Every frame has a distinct geometric shape, ranging from acute-angled triangles at each end to a rectangular in the center, and the windowpanes all incline differently on the facade. This aerodynamic shape sculpturally anchors the center while preventing snow accumulation on the façade.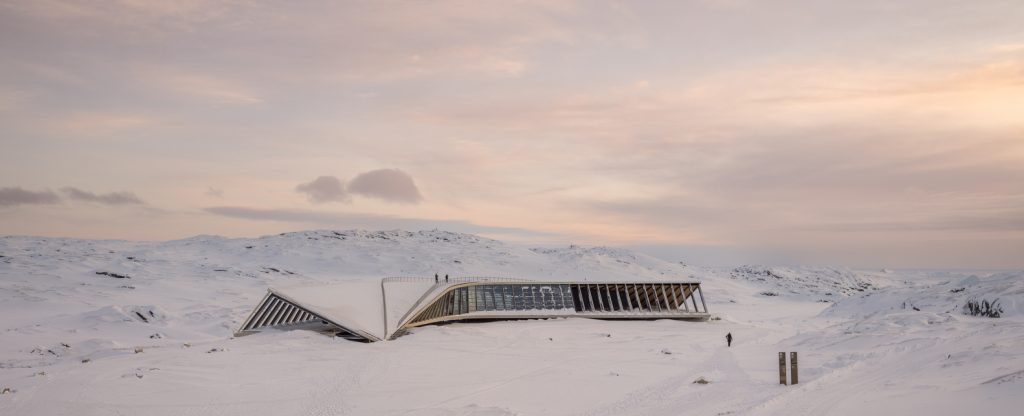 Different geometrical steel frames form the curved form, resulting in a double-curved roof. A gently sloping, curved wooden boardwalk covers the building's framework. It serves as a gathering point, informal seating area, and viewing platform for the World Heritage Trail, providing a spectacular, uninterrupted view of the Sermermiut Valley and the Icefjord.
Three "floating" cores containing service and research functions and a small cinema define the exhibition space. The exhibition space is between the two largest cores in an open interior landscape. The exhibition 'Sermeq pillugu Oqaluttuaq – The Story of Ice' transports visitors through time. The exhibition, designed by JAC Studio, addresses the environmental concerns of climate change by communicating past, present, and future conditions. It tells the story of ice through multi-layered storytelling, conveying the enormous scale on which the ice can be considered – from the formation of the ice crystal to the enormity of inland ice and its impact on the world.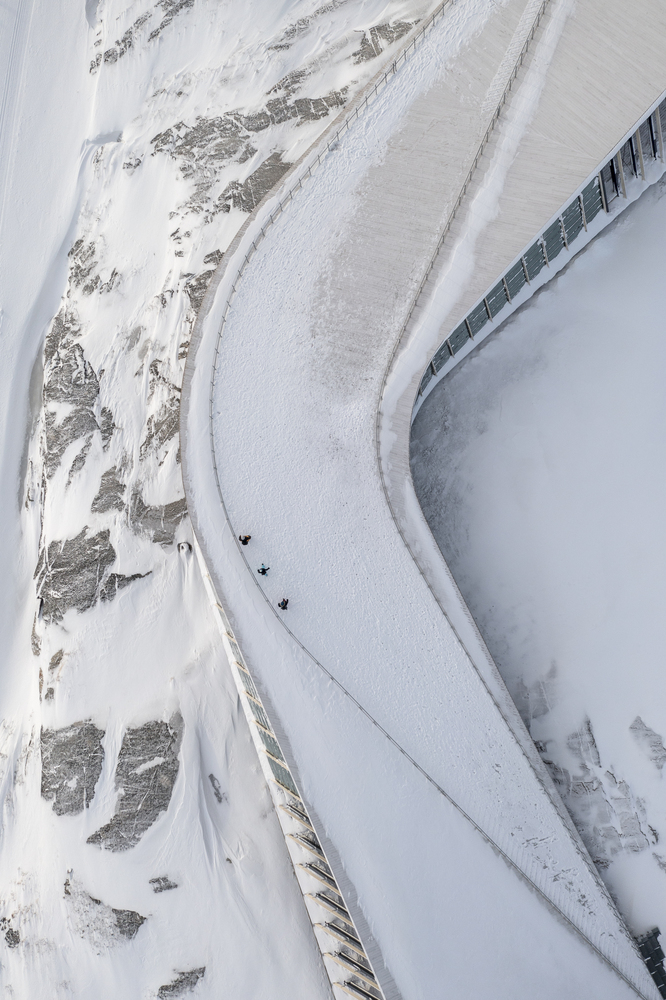 Project Info
Landscape Architect: Kristine Jensen Landscape & Architecture
Engineer: Søren Jensen Consulting Engineers
Exhibition: JAC Studios
City Planning Consultant: Niels Bennetzen
Geologist: Minik Thorleif Rosing (Copenhagen University, Geological Museum and Natural History Museum of Denmark)
Photography: Adam Mørk
Status: Completed, 2021