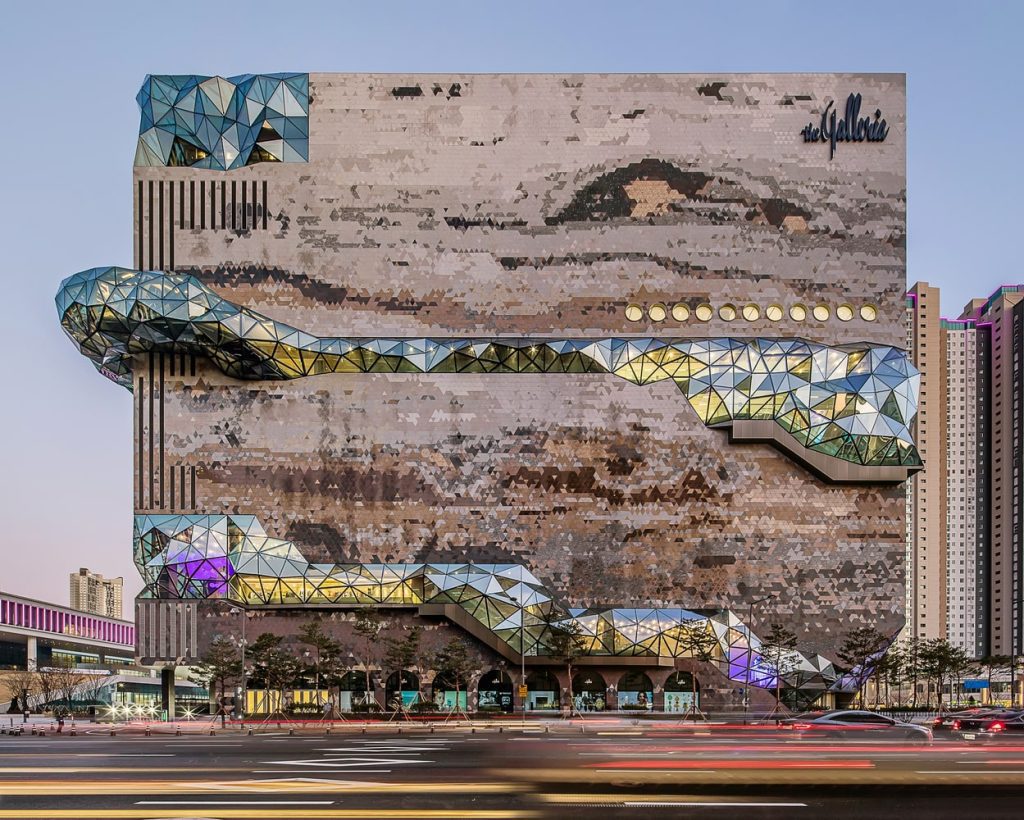 Designed by OMA, Galleria Gwanggyo opened in March 2020. Established in the 1970s, Galleria is one of Korea's leading shopping mall chains. The Gwanggyo store is the company's sixth store in the country. Located between high skyscrapers and residences in Gwanggyo, a partially newly developed and young city in South Korea, the building gains character as the focal point of the city's public life with its striking architecture.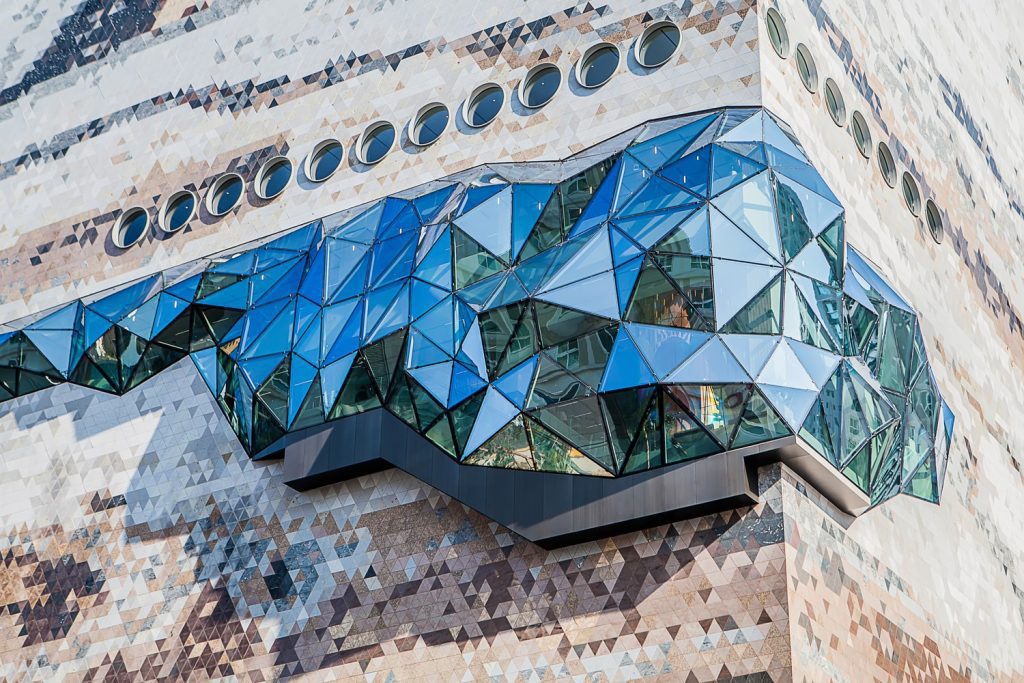 The location of the Galleria Gwanggyo dictated a large part of the design decisions made. The project area is located at a point where green and gray meet, between Suwon Gwanggyo Lake Park and the buildings that make up the urban fabric.
The textured natural mosaic cladding preferred by OMA on the façade of the store is the result of the building's desire to resemble this park. The facade, which is formed by the combination of triangular stones in beige, brown, and earth tones, also resembles an earthen section. The mosaic mass rising from the ground like a sculptural monument makes the building a visual icon of the city.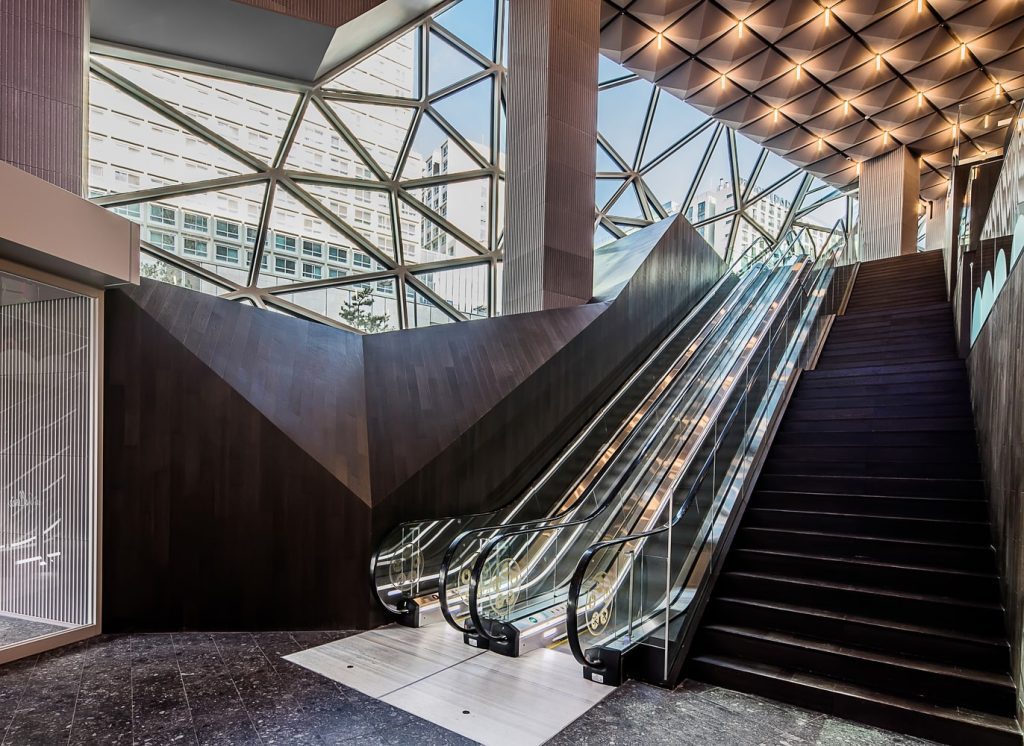 The undisputed most striking point of the building is the public route 'created by digging the stone'. This route, which connects the ground floor to the roof garden of the store, is an interaction network where commercial and cultural activities also take place. With the presence of this road, OMA has brought an innovative element to the traditional shopping center typology.
Visitors, who use this public road that goes up 10 floors of the Galleria Gwanggyo by winding for 540 meters, have the opportunity to encounter not only shopping opportunities but also many different activities in the store.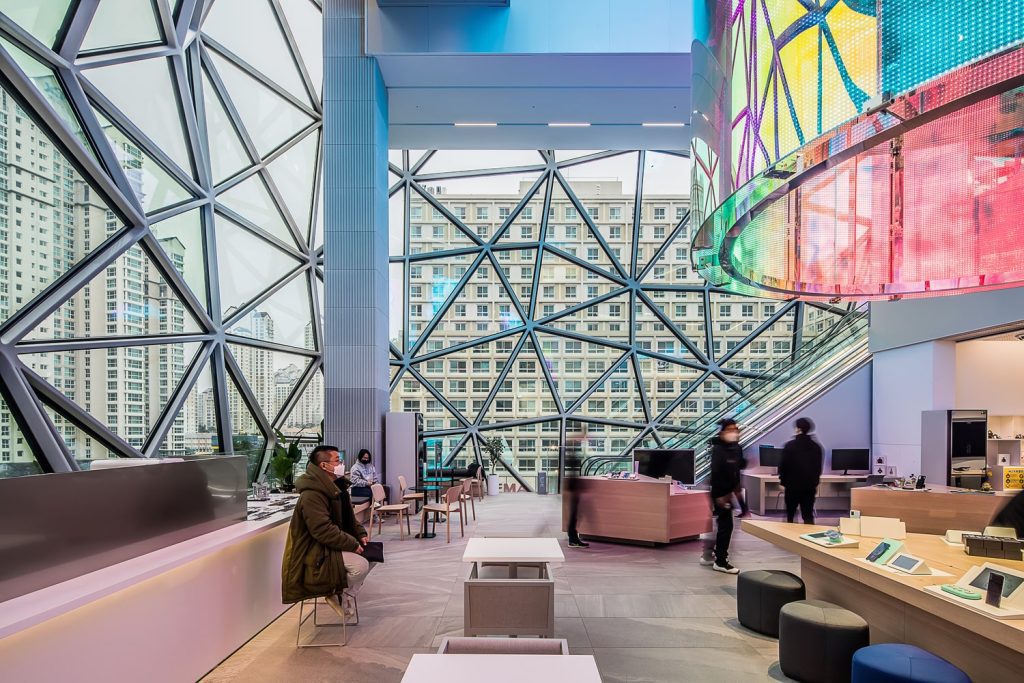 There is a food and beverage market in the basement of the building, which has a total of 10 floors, while there are bars and restaurants on the eighth floor. There are multi-screen movie theaters on the ninth and tenth floors, and an area called the lodge and academy on the eleventh floor. Along the eight floors reserved for shopping, there are stairs and elevators that provide circulation to the building, as well as the route that goes around all floors.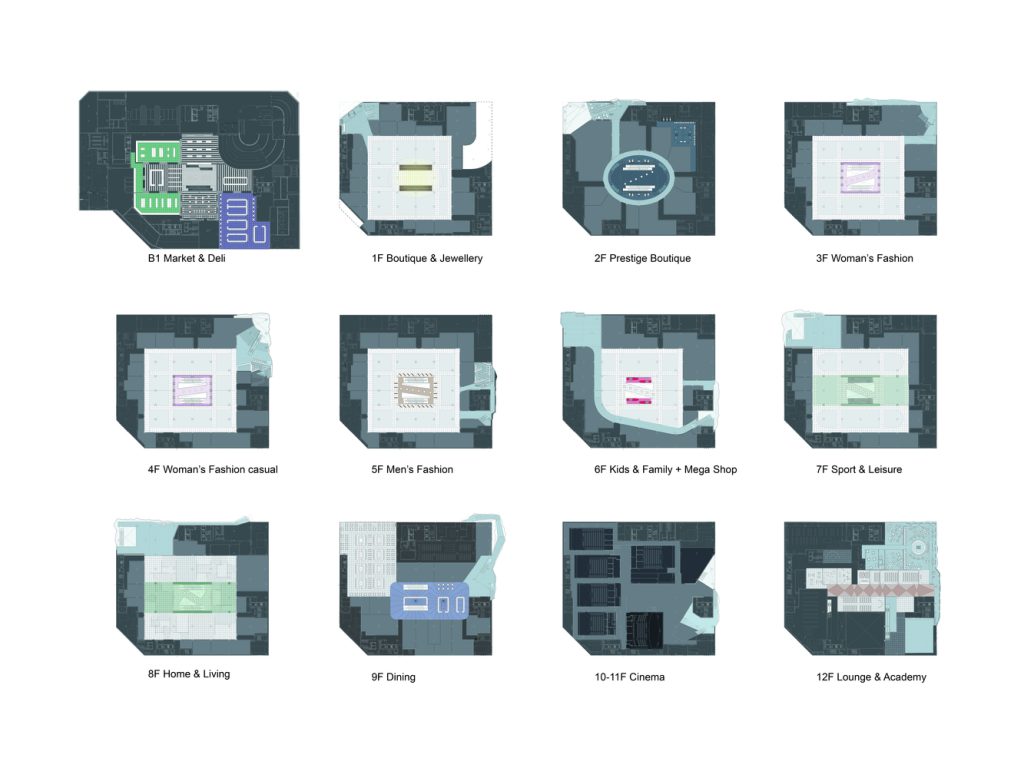 Project Info
Architects: OMA
Area: 13.7213 sqm
Year: 2020
Manufacturers: Kuraray
Contractor: Hanwha Engineering&Construction corp.
Partner In Charge: Chris van Duijn
Associate: Ravi Kamisetti
Project Leader: Patrizia Zobernig
Project Team (Concept Phase): Mark Bavoso, Alan Lau, James Lee, Slobodan Radoman, Tianyu Su, John Thurtle
Schematic Design: Mark Bavoso, James Lee, John Thurtle
Design Development: Ikki Kondo, James Lee, Daan Ooievaar, Slobodan Radoman, John Thurtle
Interior Design: Nils Axen, Simon Bastien, Tommaso Bernabo, Minjung Cho, Felicia Gambino, Nicola Ho, Meng Huang, Zhenke Jin, Richard Leung, Ioana Pricop, Junsik Oh, Calvin Yue
Executive Architect: GANSAM Architects & Partners
Facade Consultant: VS-A
Model Makers: Made by Mistake, RJ Models, Edelsmid Emile Estourgie, Yasuhito Hirose
Model Photographer: Frans Parthesius
Curtain Wall Consultant: WITHWORKS
Photographs: Hong Sung Jun, courtesy of OMA