Vlasbrug Bicycle Bridge's wavy structure harmonizes with its surroundings, designed by SBE NV in Wielsbeke-Waregem, Belgium. The Flemish government administers De Vlaamse Waterweg NV. Their primary objective is to maintain all waterways that traverse the region, as well as the surrounding land and infrastructure. By enhancing the ecological, water-regulating, mobility, and recreational value of their infrastructure, they seek to improve the quality and attractiveness of water transport and life along the waterways.
Towpaths parallel to rivers and canals are typically intensively used routes for cyclists and pedestrians, both recreationally and functionally. To enhance the functionality of these paths, a connection between the municipalities of Wielsbeke and Waregem was required across the river Lyss. De Vlaamse Waterweg commissioned SBE to design a bridge for cyclists and pedestrians that traverses the river without disturbing the canal's landscape or ecological value. Therefore, SBE designed a somber, earthy bridge that complements its surroundings.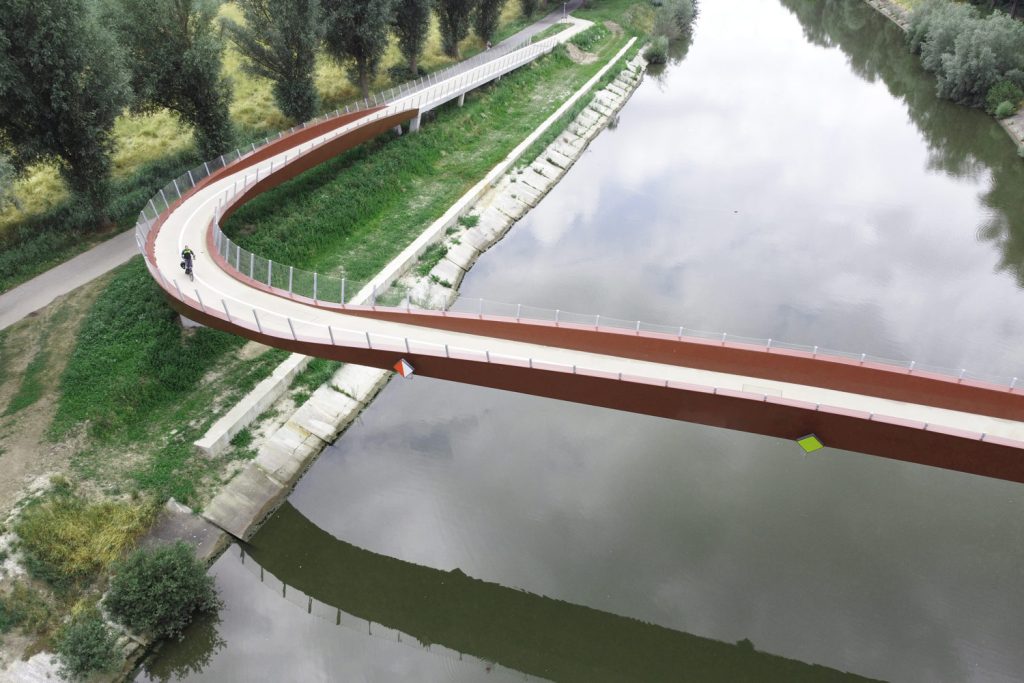 Based on extant traffic flows and recreational hotspots, an S-shaped route was selected. It was also determined that the bridge would remain on the "inside" of the banks so that everything could remain within the public domain and the existing towpaths would not need to be rerouted. Thus, the construction primarily follows the naturally occurring lines in the landscape (Lyss – tree rows – towpaths).
The structure spanning the breadth of the river is conceived as a symmetrical steel arch that adheres to the inverse bending momentum diagram, achieving a logical, organic form that complements the natural environment. A straight concrete incline connects the central bridge to the adjacent towpaths on both banks. On both approaches, earthen slopes anchor the structure in its environs.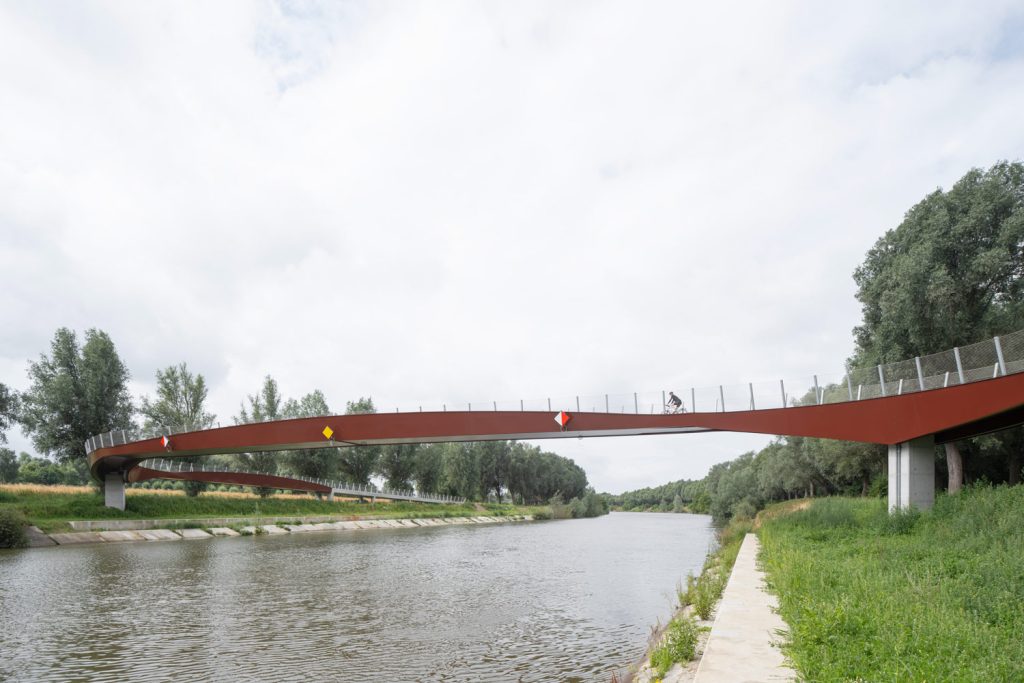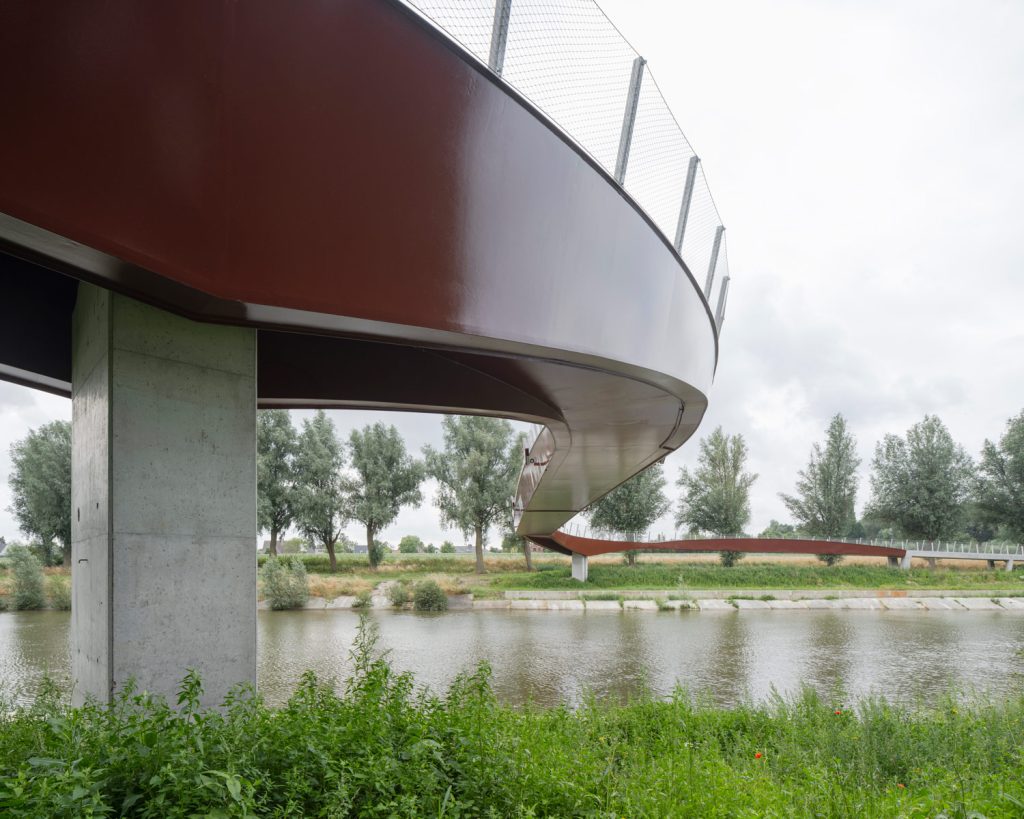 The goal was to provide the narrowest feasible view from the bridge. Therefore, among other things, the bridge's uprights were slanted outward to provide more space at navigation height without having to enlarge the bridge deck and generate certain shadow lines on the exterior. This slope was also maintained on the concrete slopes and in conjunction with the foundation's concrete pillars.
It was possible to accomplish an expressive dynamic in the architectural design by employing three materials: steel, concrete, and earth. And this applies to both the outward appearance of the bridge and the user's experience on the bridge itself. The incline at the approaches gives the impression that the bridge is firmly rooted in its surroundings. Then a straight-moving concrete slope gives you time to experience the steel bridge as a true star performer. Once on the steel bridge, one follows the organic line from low to high and back, so the experience on the bridge varies in each location.
Project Info
Project Name: Vlasbrug Bicycle Bridge
Location: Wielsbeke – Waregem, Belgium
Architecture Firm: SBE – Experts at Play
Architect: An Schoenmaekers – Robin Vangheluwe – Ronan Pieters – Bart Desloovere – Freek Speleman – Rien Gheyle – Floor Waerenburgh – Thijs Burms – Ronny Thomaes – Steven Walschaerts – Mohammed Haddioui
Photographer: Johnny Umans / Jorn Jansoone