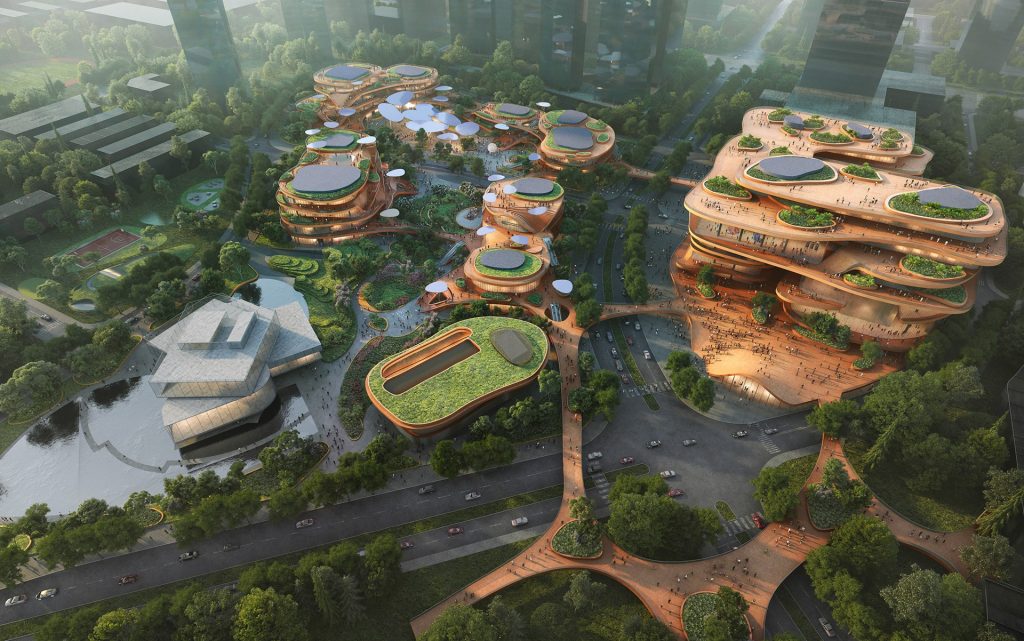 Shenzhen Terraces, a mixed-use development measuring 95,000 square meters, is one of the ground-breaking architectural masterpieces designed by MVRDV in the Longgang area of Shenzhen. The enormous project envisioned as a sustainable hub has 20 programs, including educational, commercial, and public transportation, that merge into various outdoor green spaces.
In contrast to the neighboring high-rise structures, Shenzhen Terraces are laid out as a series of stacked and easily accessible horizontal slabs. The rounded forms allow air flow and natural ventilation, while large overhangs offer welcome shade in Shenzhen's subtropical environment. The plates also dip downwards at parts to create outdoor theaters, allowing people to occupy the building like a 'three-dimensional park,' as MVRDV founding partner Winy Maas defines it.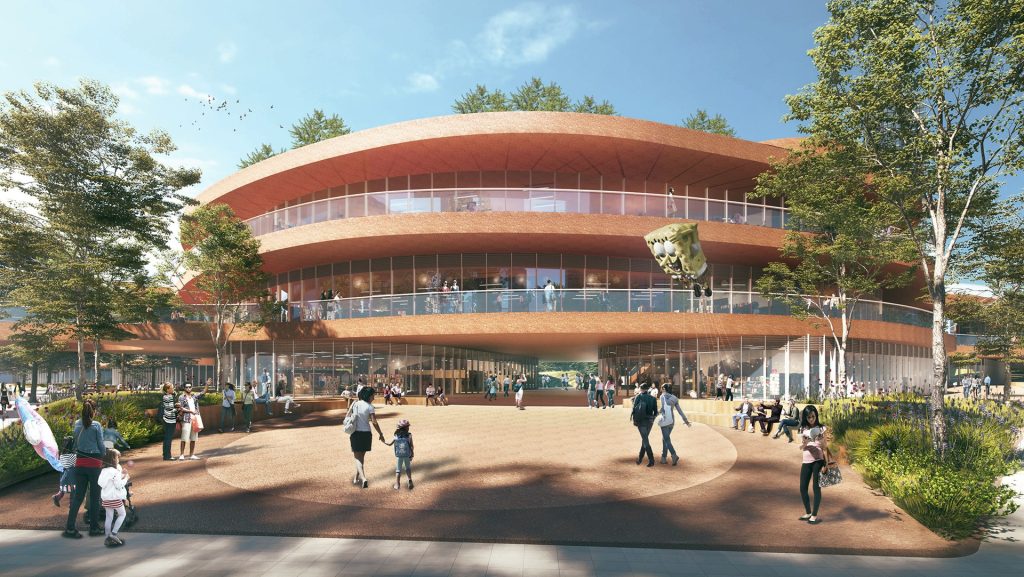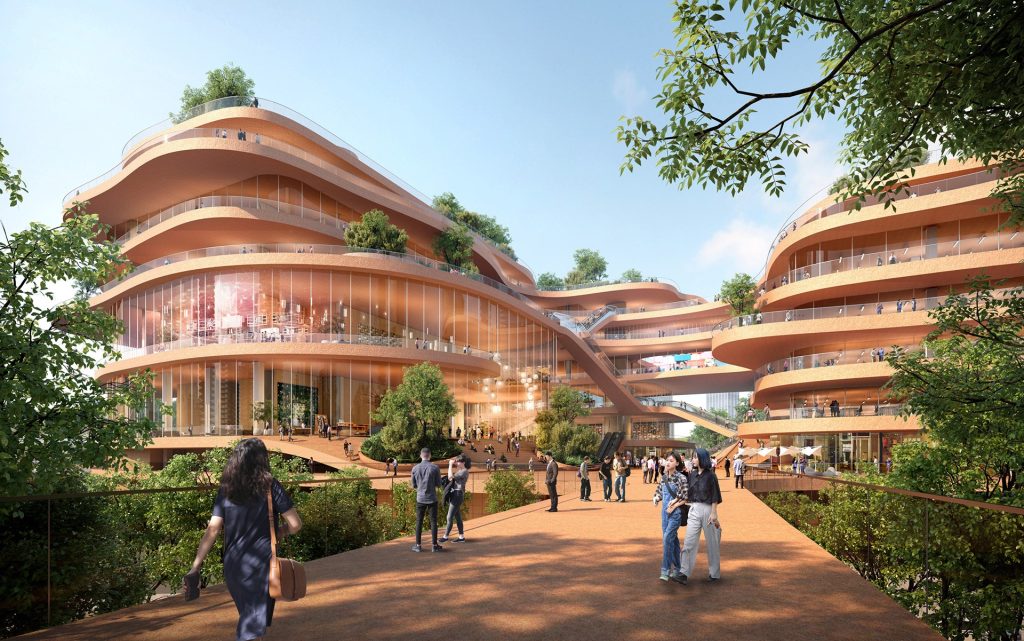 The project's key attractions include a theatre, library, museum, conference center, and retail shops, providing a bustling hub for gathering, education, entertainment, culture, and relaxation. The largest building has an open-air atrium in the center, while the library in the development is divided into two smaller volumes. The library is the distinctive feature of the vast development; it serves as a glue that unites allied educational and commercial initiatives, such as a youth activity center and a youth entrepreneurship center, with an outdoor "books park." Shenzhen terraces are connected to nearby constructions by bridges on the second story, which combine the various locations into one continuous path.
Shenzhen Terraces has the potential to become a sustainable center for the surrounding area, integrating a pedestrian-friendly setting with no fewer than 20 different activities.
MVRDV prioritized its external landscape as much as the interior spaces of its design, and the two elements appear to melt into one. The architects collaborated with Openfabric to design a diversified, pedestrian-friendly landscape with pockets of subtropical vegetation, grassy knolls, public artwork, reflection pools, and climbing or table tennis activity zones. Roofs become a part of the landscape, serving not just as photovoltaic panels and rainwater harvesting systems, but also as huge, accessible green lawns. In addition to drawing humans closer to the environment, the lush flora and water features help to cool the area and provide a habitat for urban wildlife. Food and water resources are generated via the gardens and rainwater collection.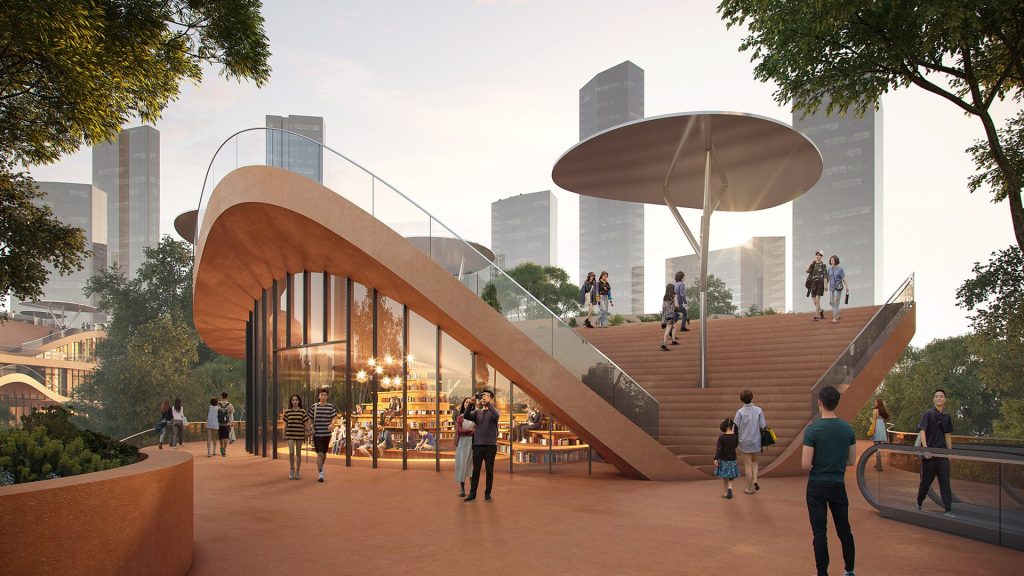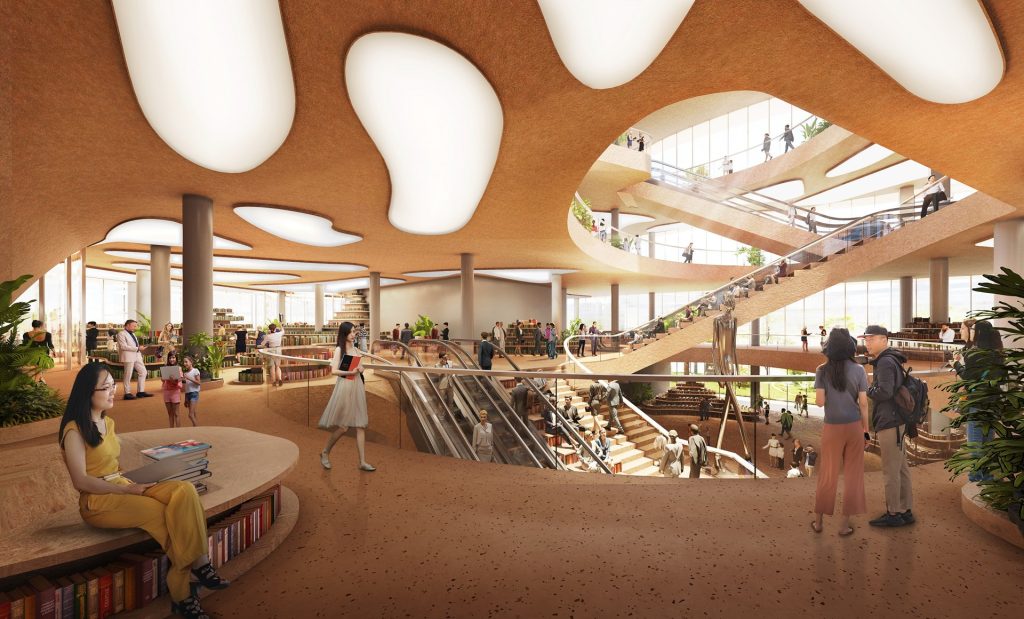 Project Info
Architect: MVRDV
Location: Shenzhen, China
Year: 2019
Client: Shenzhen Shimao Xin Li Cheng Industry Co.,Ltd.
Size and Programme: 95,000 m2 mixed-use
Founding Partner in charge: Winy Maas
Director: Gideon Maasland
Associate Design Director: Gijs Rikken
Design Team: Sanne van Manen, Irgen Salianji, Shengjie Zhan, Luca Beltrame, Katarzyna Maria Ephraim, Cas Esbach, Hengwei Ji, DongMin Lee, Yannick Macken, Giuseppe Mazzaglia, Siyi Pan, Sen Yang, Jiani You, Daan Zandbergen Partners
Landscape architect: Openfabric
Cost Calculation: Shanghai Xinyuan Construction Engineering Consulting Co., Ltd
Images: © Atchain | Copyright, MVRDV 2018 – (Winy Maas, Jacob van Rijs, Nathalie de Vries)