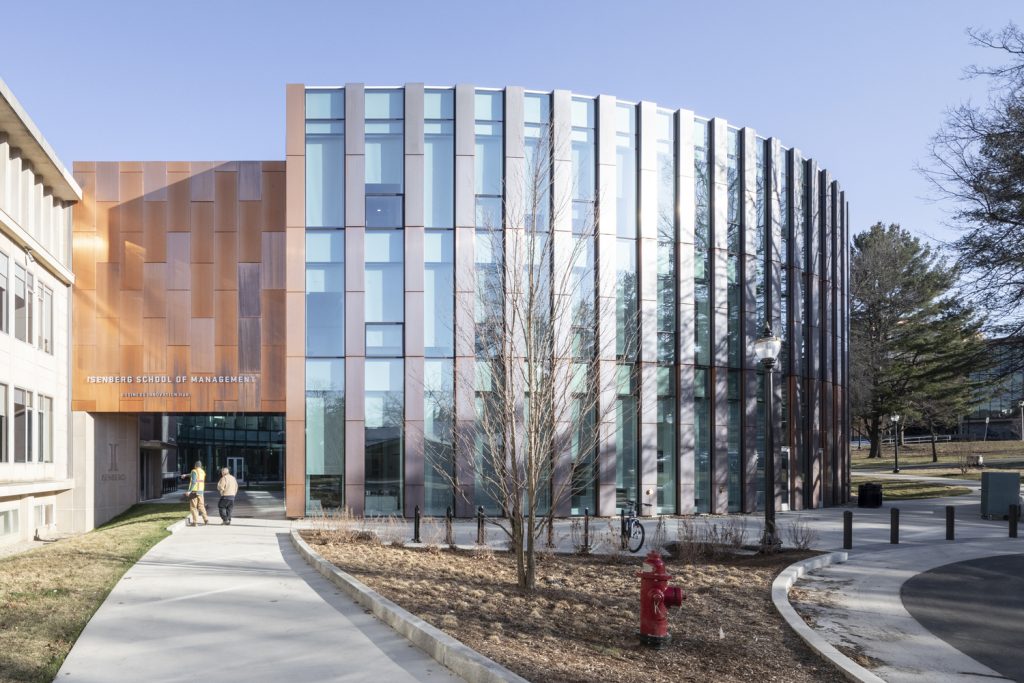 The Business Innovation Hub of the Isenberg School of Management at the University of Massachusetts – Amherst was designed by BIG. The Business Innovation Hub emerged with the partial renovation of the Isenberg Business Faculty building and a new annex to the existing structure. The building is located on an area of ​​6500 square meters in one of the most central points of the campus.
The Isenberg School of Business is among America's most respected business schools, with more than 5,000 undergraduate, graduate, and doctoral students and academic staff. With the new project, the faculty building has doubled and become a modern education complex that encourages collective work.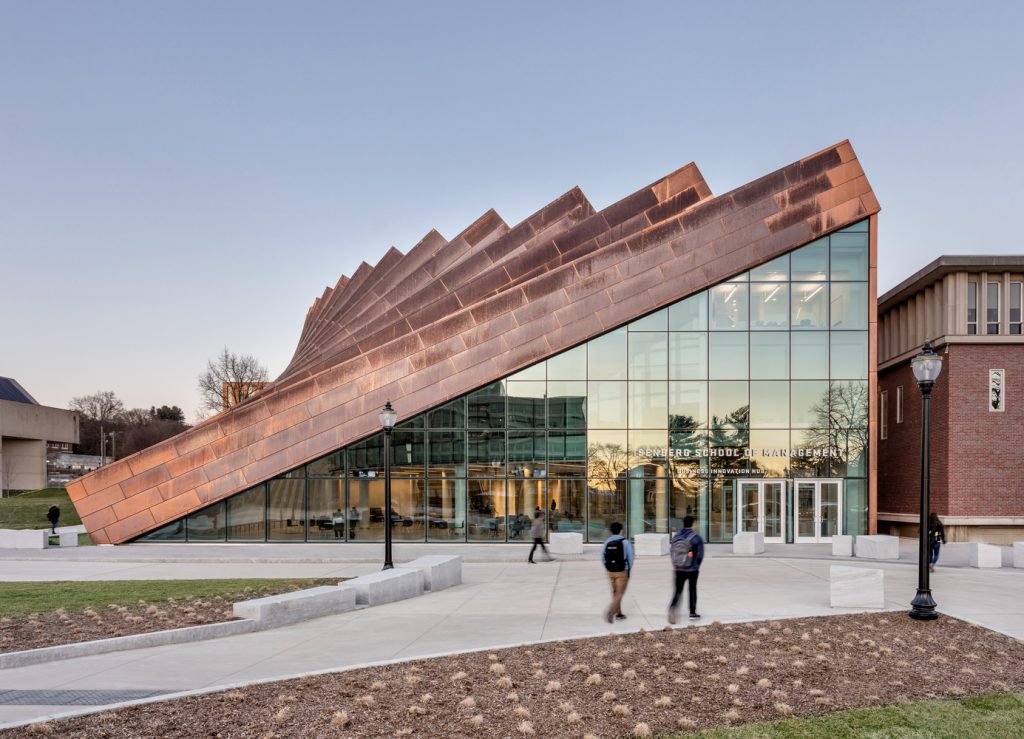 Bjarke Ingels has proposed a new annex that will expand the current faculty building, constructed in 1964. The annex will be circular in shape and will be connected to the north and east wings of the existing structure. To comply with fire regulations, the circular volume has been detached from the main building. Nevertheless, the two structures intersect at the upper levels, allowing for floor connectivity. The new annex has given the Isenberg School of Business a distinctive visual identity and has consolidated the academic staff and employees under one roof.
The most striking part of the newly added mass is the designed triangular glass entrance. The entrance, which resembles dominoes, gives the building a unique character. A bright and spacious high-ceilinged entrance is created in this part, which has accordion-shaped openings. Considered the heart of the faculty, this area includes working, dining, and socializing areas. The spaces inside the building receive light from both the exterior and the large courtyard in the middle of the circular mass.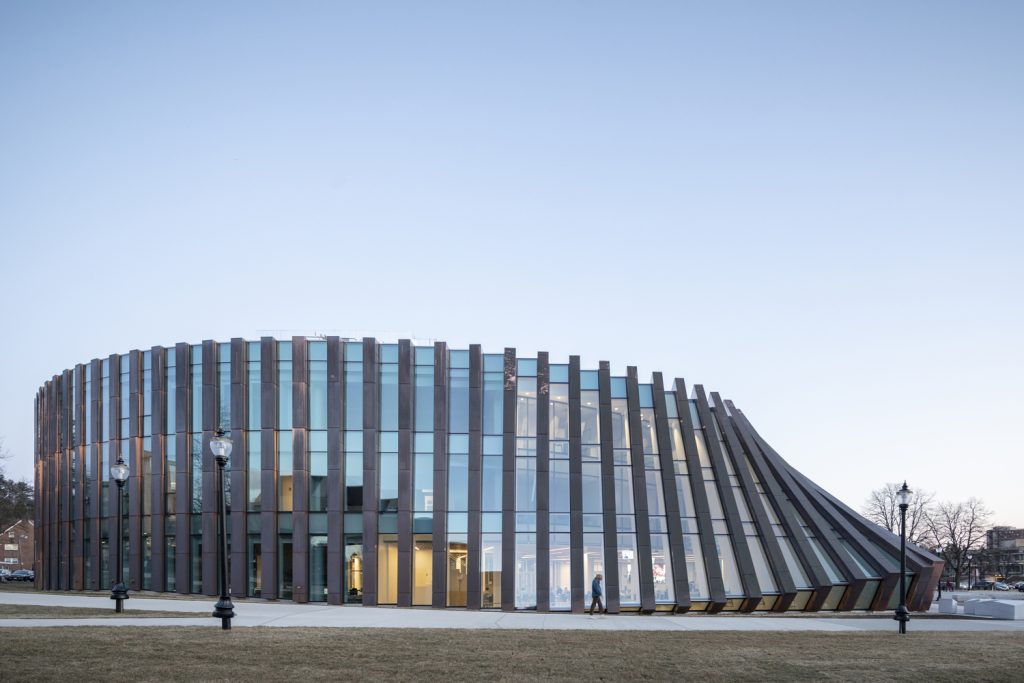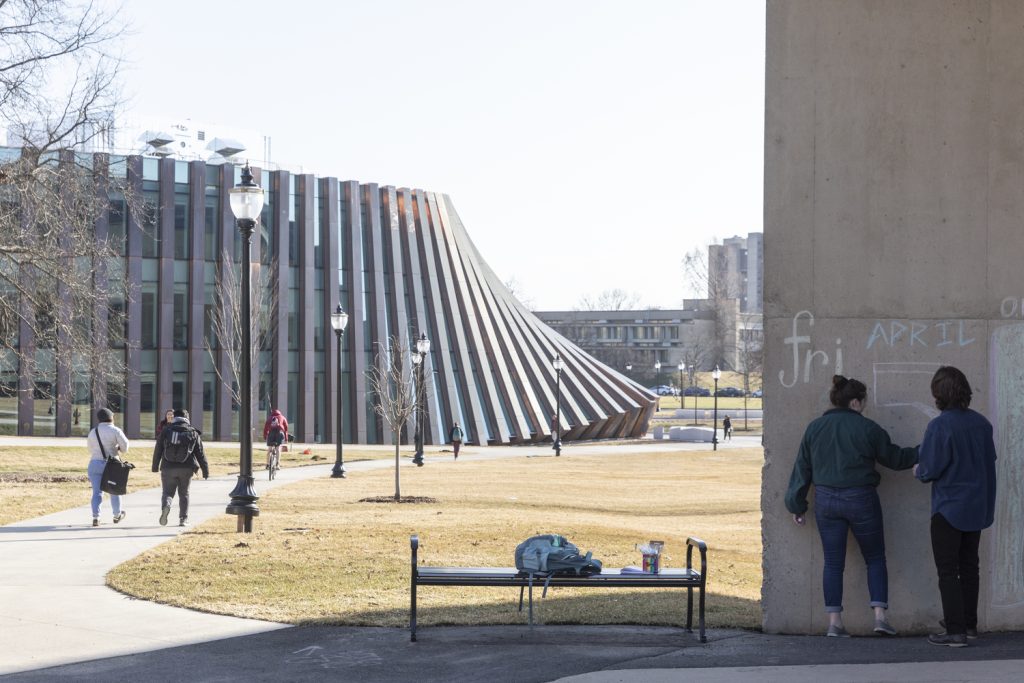 In addition to the existing classrooms and conference venues at the Isenberg School of Business, the new building includes 15 interview rooms, conference rooms of varying sizes, innovation labs and academic offices. Another important space that Bjarke Ingels brought to the faculty is the courtyard located in the center of the circular mass.
Copper coating, which is a durable and sustainable material, was preferred on the exterior of the building. It is aimed that the building will receive LEED Silver certification. The circular shape of the building also facilitates accessibility within the faculty. Two bridges connect the new building and the existing faculty building. The entrance to the courtyard is provided under the large copper-clad bridge, while the second smaller bridge is completely covered with glass.
All spaces inside the building are designed with students' interaction and teamwork in mind. Many desks and comfortable seating are placed in the hallways and common areas. All of the chairs in the classrooms have been chosen so that they can be adjusted to suit different course patterns.