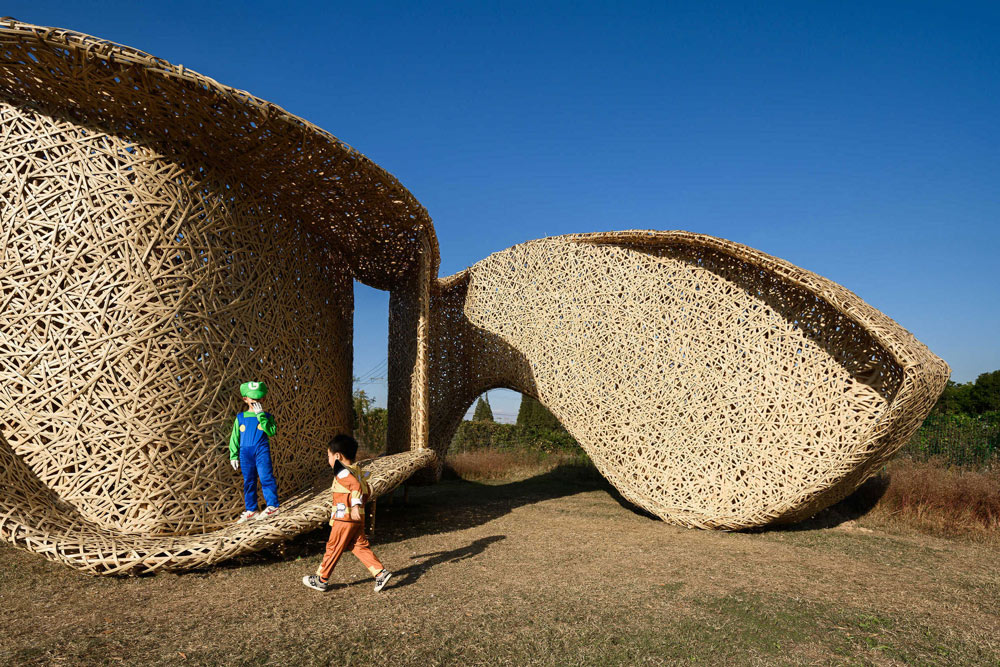 Pavilions are compact and often standalone structures that refine the design to its essence. Usually, pavilions showcase innovative concepts, materials, and building methods. These structures also serve as temporary or permanent spaces for cultural activities, exhibitions, and events, fostering connections between people and ideas.
Pavilions can range from intricate geometric forms to minimalist creations, with their compact size allowing architects to experiment with intricate details and unique geometries that might be challenging in more significant buildings. As Rem Koolhaas said, "The pavilion is a unique opportunity to experiment with something new – new forms, new technologies, new materials."
Here we picked 15 pavilions published on PA. These pavilions showcase some truly exceptional design and innovation.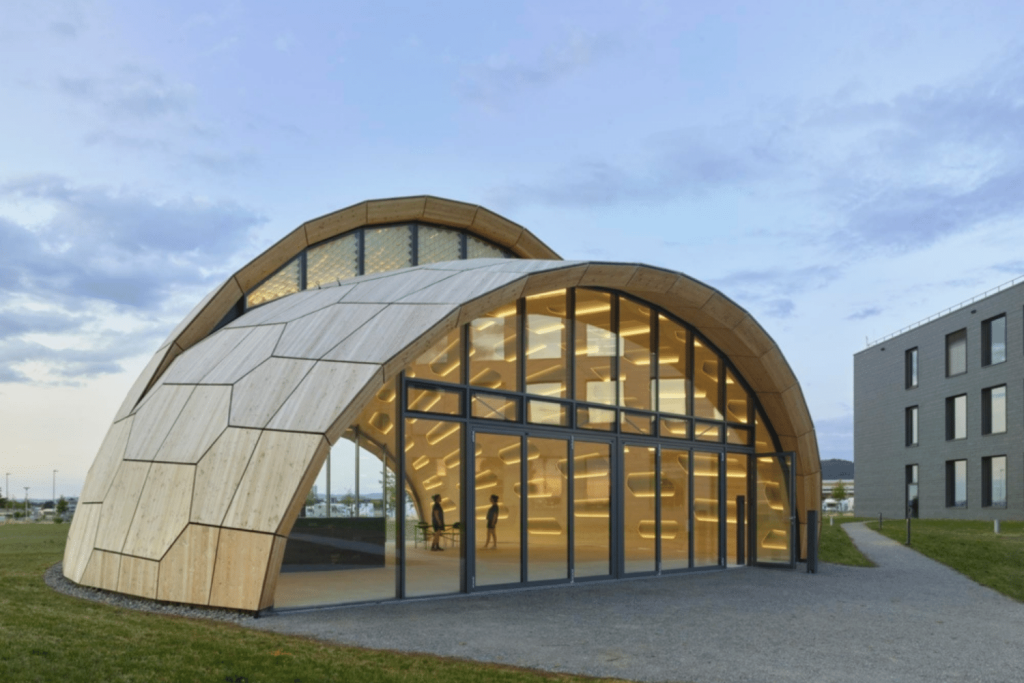 At the FIT Freiburg Centre for Interactive Materials and Bioinspired Technologies, the livMatS Biomimetic Shell is a cutting-edge research structure. The expansive space seamlessly blends into the rest of the campus and acts as an architectural incubator for creating creative, cross-disciplinary research ideas. Simultaneously, the building is a research project involving two Clusters of Excellence, Integrative Computational Design and Construction for Architecture (IntCDC) at the University of Stuttgart and Living, Adaptive, and Energy-autonomous Materials Systems (livMatS) at the University of Freiburg, both of which are investigating an integrative approach to design and construction for sustainable architecture.
The structure of LivMatS combines the various research philosophies of the two Excellence Clusters to produce an architectural synthesis. The FIT Biomimetic Shell decreases the entire life cycle impact of a standard timber building by 50%. The unique and environmentally conscious segmented timber shell construction is completely deconstructible and reusable. It is made possible by integrating computational design methodologies, robotic prefabrication, automated building methods, and unique kinds of interaction between humans and machines in timber construction.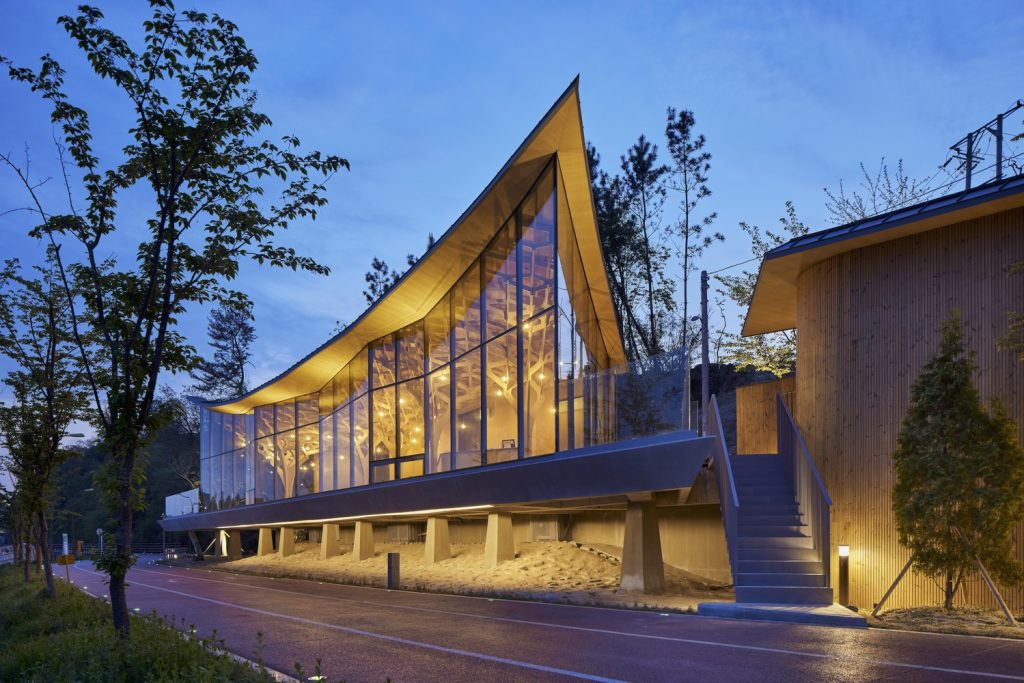 'The Pavilion of Floating Lights' aims to reimagine East Asian timber architecture, particularly '-ru,' the East Asian equivalent of a pavilion on a larger scale. Traditional assembling techniques and structural systems, such as wooden brackets, are recreated in the project's six tree-like columns. These tree structures are inspired by the six pillars on the front side of Chokseok-ru, the most symbolic building in Jinju, Korea, where the project is located.
Furthermore, the project aims to avoid the use of pins and adhesives to preserve the original carpentry. However, complex plywood members fabricated by a CNC router were assembled using Augmented Reality to form tree structures to improve construction productivity. In this way, 'The Pavilion of Floating Lights' demonstrates the potential for forgotten East Asian craftsmanship to be reborn with modern technology.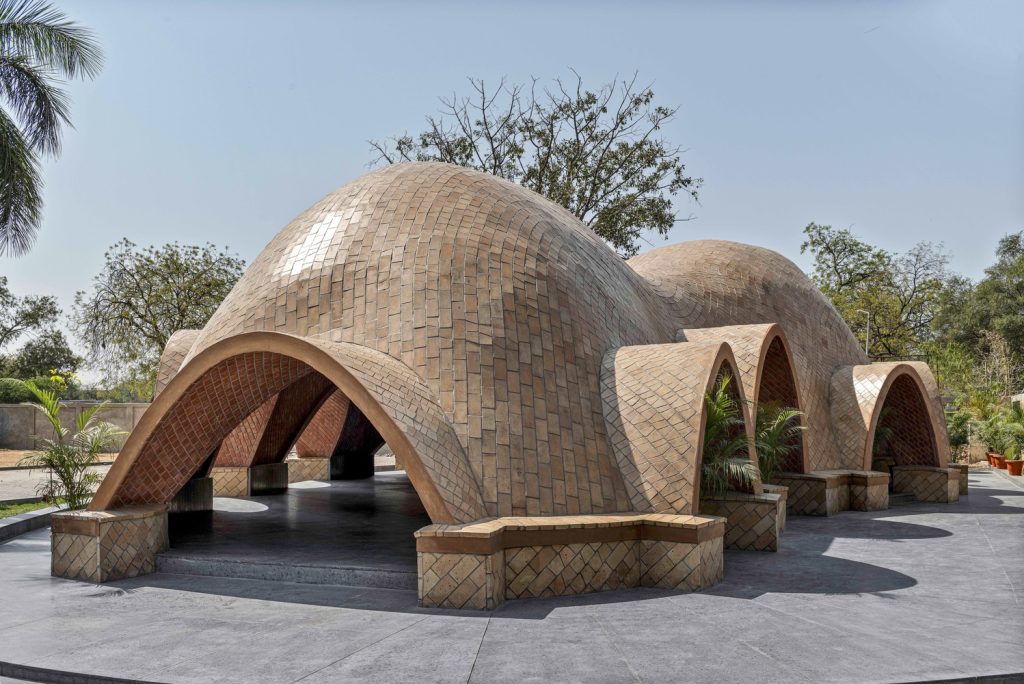 The Tarang Pavilion, a recently completed project in Gandhinagar, India, shows how The Grid Architects works creatively and thoughtfully. By creating a built environment that looks stunning and considers the surrounding natural environment, this pavilion, which resembles a vaulted sculpture, will promote meaningful conversation connecting the past, present, and future.
The goal of the intervention is to design a flexible area that can accommodate different activities both within and outside the structure. The idea of Tarang was to create a dynamic exhibition environment that could effortlessly adapt and change. Its function is to act as a platform for immersive exhibitions where the interiors are used as canvases to display the featured products. The project's values are based on three core principles: a profound reverence for history and the protection of cultural heritage, a genuine appreciation for craft and the value of working with one's hands; and a deep respect for Mother Earth and an urgency for sustainability.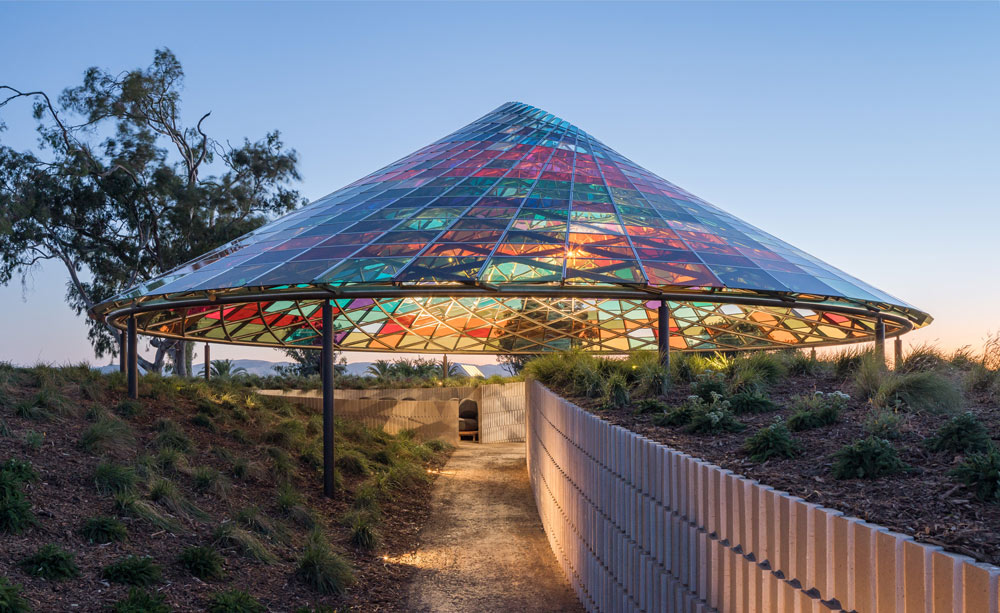 The Vertical Panorama Pavilion was designed by Olafur Eliasson and Sebastian Behmann's Studio Other Space in a winery in Sonoma, California, USA. The pavilion is inspired by the history of circular calendars and made from 832 colored glass panels for the winery, The Donum Estate. The pavilion provides a unique intersection between our senses and landscape.
The pavilion is a synergy of art and architecture and also manifests Studio Other Spaces' vision. The glass panels consist of 24 colors in variations of translucent and transparent hues, which resonate colors of the regional environment in the Sonoma Valley. The 14.5-meter-diameter glass canopy is circular in plan and tapers to a round opening at its highest point, framing northern views of the sky.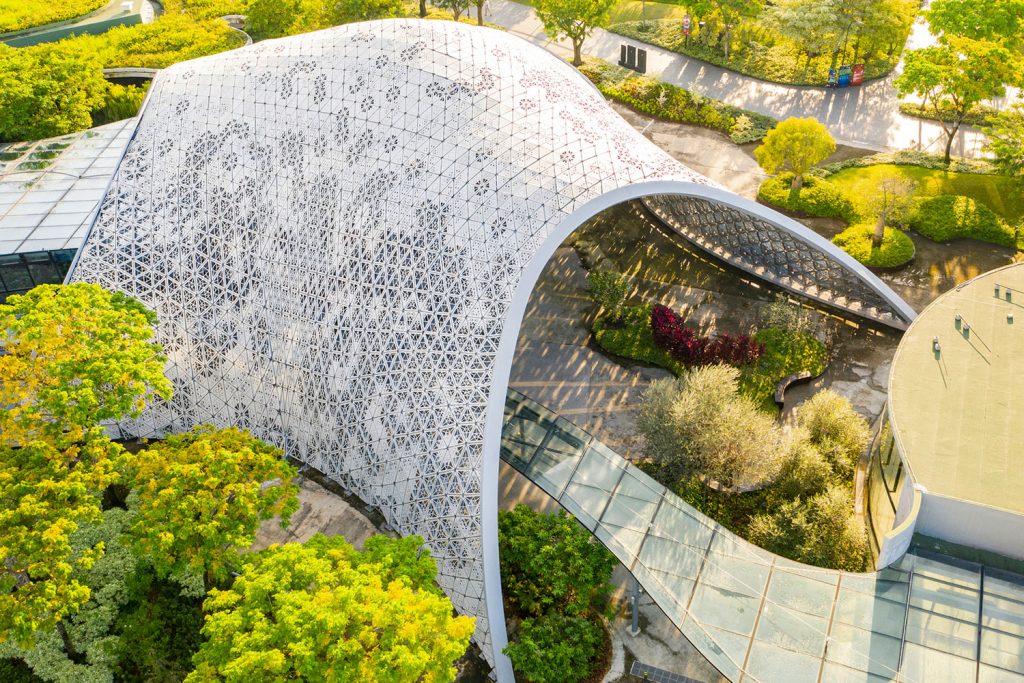 The Bayfront (The Future of Us) Pavilion, which can be seen at Singapore's Gardens by the Bay, continues the long heritage of experimental architectural buildings that encourage interaction with nature by fusing an intricate shape with a perforated surface that flows with the surrounding ecosystems. This intricate structural building, created for The Future of Us show in late 2014, at the Singapore University of Technology as well as Design's Advanced Architecture Laboratory (AAL) is an impressive sight, providing a stunning display of light and shade through its elaborate metal lattice—an experience akin to taking a stroll in a magical forest.
The Bayfront Pavilion, which was completed for its current use in 2019, was originally constructed to host The Future of Us Exhibition, Singapore's 50th-anniversary capstone event. It offers visitors a climatically pleasant outdoor setting and a visual experience similar to walking under a canopy of lush tropical trees. The exhibition invites Singaporeans to share their goals and dreams for themselves, their families, and the nation, as well as to take part in steering Singapore into the future. This experience serves as an inspirational reminder of what can be achieved when people come together to create a vision for themselves and for the future. It was the culmination of Singapore's Golden Jubilee (SG50) year of celebrations, and it lasted 100 days.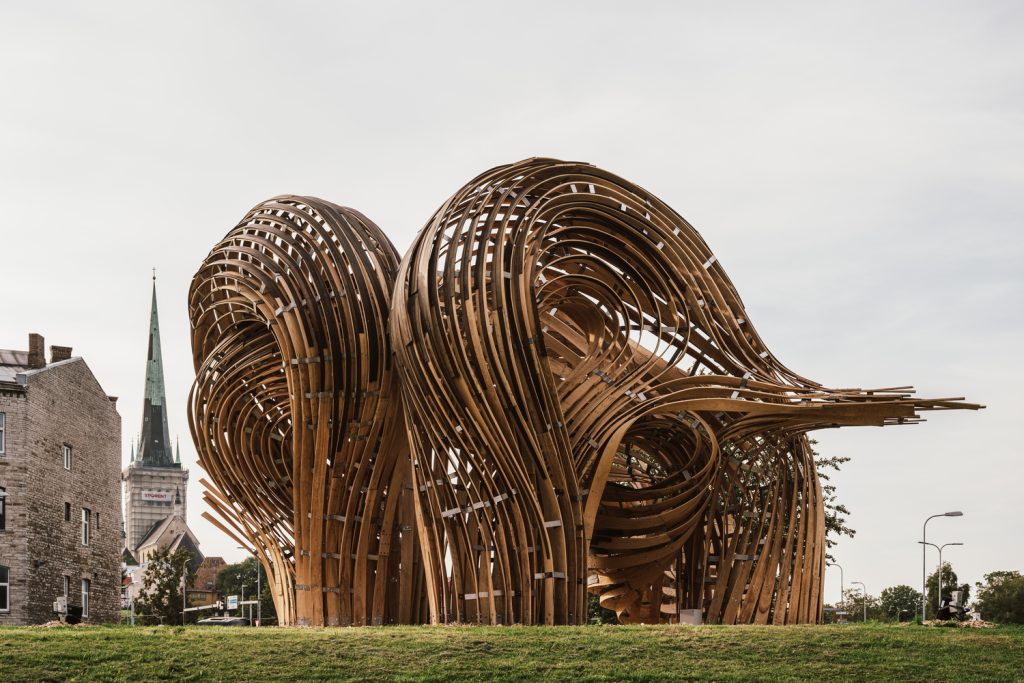 Designed in 2019, Steampunk is a pavilion constructed from steam-bent hardwood using primitive hand tools augmented with the precision of intelligent holographic guides. At the production stage, the designers of Steampunk have developed an experimental approach to materializing architecture that serves as a deliberate polemic in the context of robotic production and automation, rather than producing drawings or lines of CNC code from which parts of our design could be cut, printed, or assembled.
The Steampunk pavilion design is a cross that splits the Biennial site's grassy mound into four discrete sections that frame views of Tallinn's old city and the Architecture Museum. The pavilion's varying surface effects are the result of bending three-dimensional curves from straight 100x10mm boards, which causes the timber profile to twist along its length. Twisting timber parts add rigidity and compression strength to a composite timber and steel shell, and this endeavor to construct an architecture from specified lengths of material is more comparable to weaving than assembly.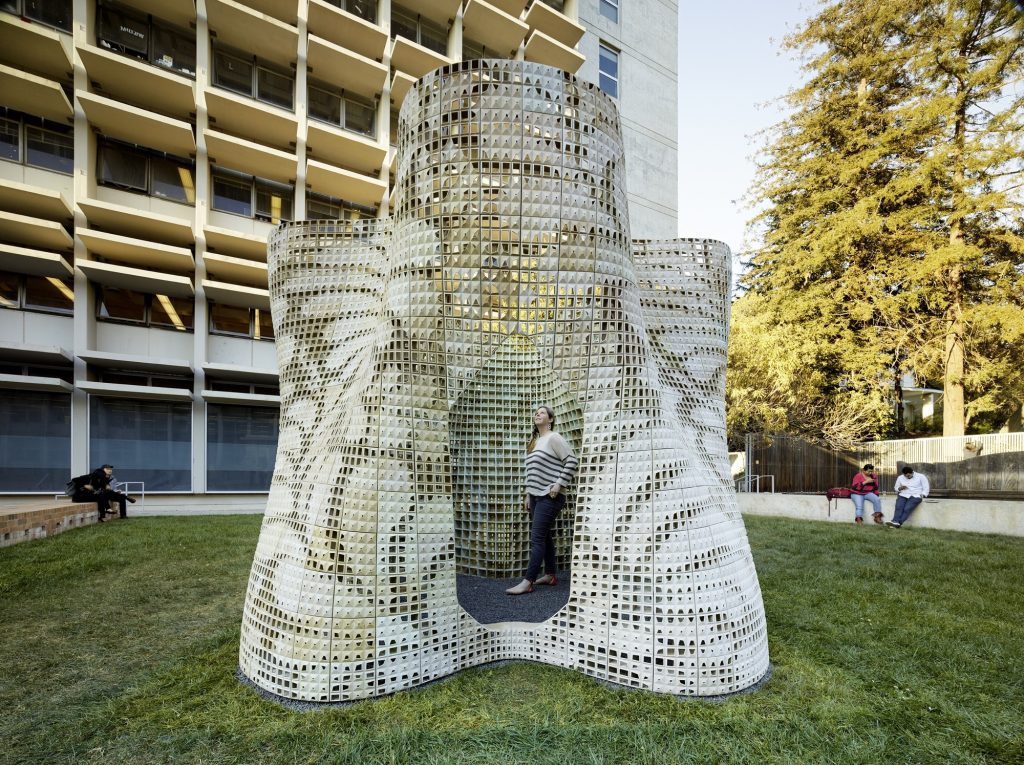 Bloom is an experimental pavilion, approximately 2.7 meters, and includes 840 unique small 3D-printed block pieces designed by Emerging Objects in 2015. Bloom represents new construction methods using 11 powder 3D printers with special oxide-free Portland cement blocks.
There is no need for formwork using 3D-printed cement, and the support material can be reused to make more blocks. The blocks are printed with an environmentally friendly polymer and iron oxide-free Portland cement, which makes the cement a lighter tone. All block is built and secured with stainless steel hardware.
The cement blocks are perforated to form a motif inspired by traditional Thai flower patterns. Bloom is a curving cross-shaped shape that rises 2.7 meters to meet a torqued "x" shape that has been turned 45 degrees. The block needs no additional support; it stands by itself because of the connection of structural ribs. The pavilion partnered with Emerging Objects, PrintFARM at the University of California Berkeley College of Environmental Design, and the Siam Cement Group (SCG Thailand).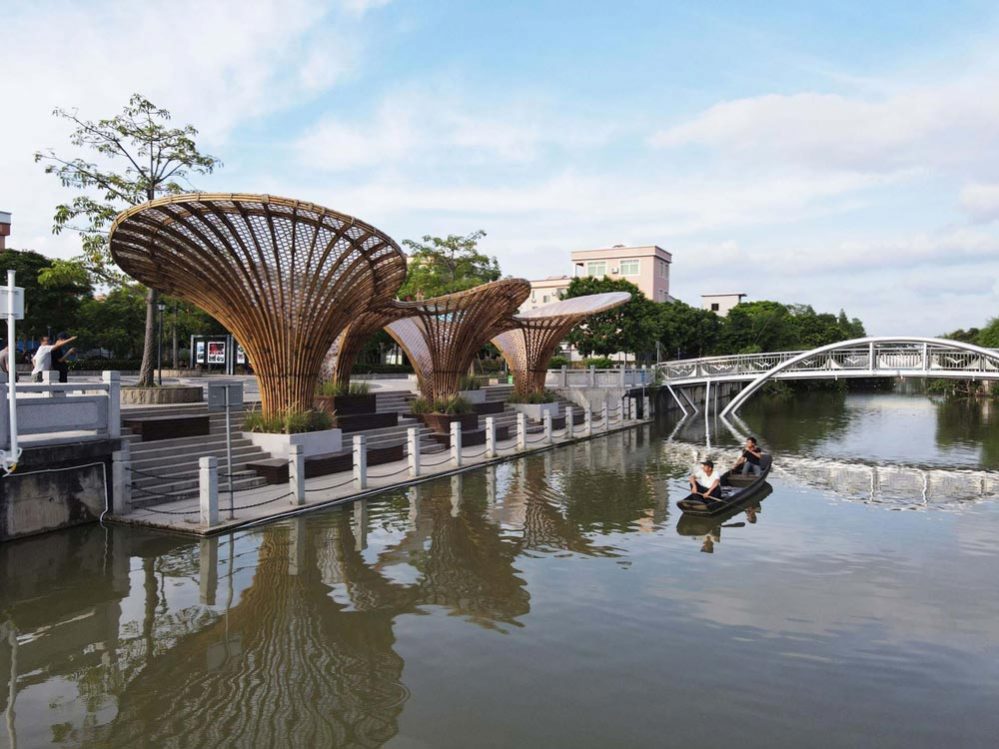 Huanglong Waterfront Bamboo Pavilion stands solemnly supplementing the Huanglong Ancient Village, Beijiao, Foshan, Guangdong Province, designed by Atelier cnS, School of Architecture, and the South China University of Technology. Its context heralds the 600-year-old Hulong Bridge and the 300-year-old Du's Ancestral Hall, captivating its surroundings with a timeless flair. Inspired by Changqi Stadium's Bamboo Gallery, the Huanglong Waterfront Bamboo Pavilion throttles its contemporary craft and creation in low-carbon raw bamboo materials. The elements combine to instill an aesthetic feeling of traditional bamboo woven in rural areas.
In search of a stimulating site, the designers found that villagers often went fishing and took activities at the waterfront descending steps in the park. The shade installation gave the place a refreshing outlook transforming it into a popular hangout space for villagers and tourists. The waterfront bamboo corridor espouses a double-sided cantilever method, utilizing the original bamboo to conceive an integrated curvy design. The steps provide ample space about the waterfront, alluding to the Bamboo Pavilion as a multi-functional recreational space, water theatre, and wharf as one sculptural enigma.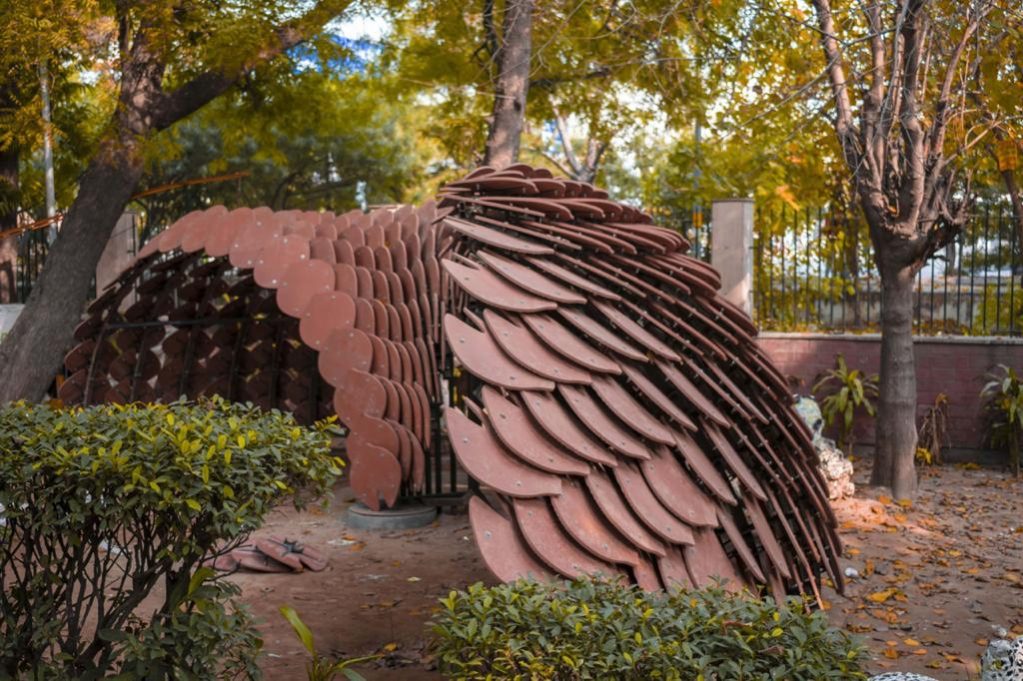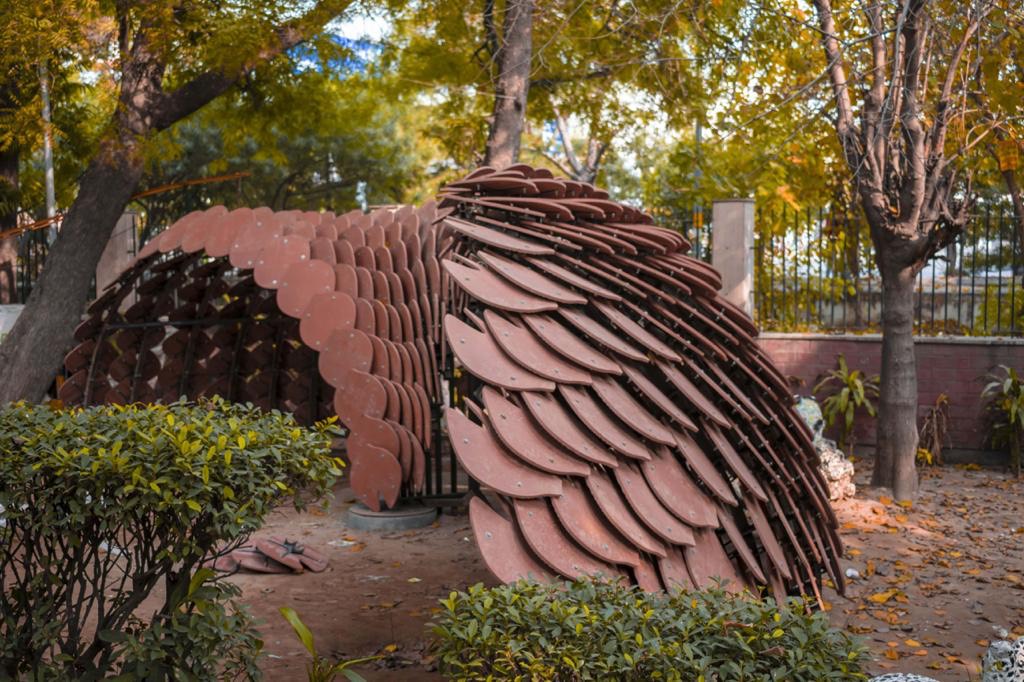 Ant Studio builds the Pangolin Pavilion in India to raise awareness against poaching beautiful pangolin species. The pavilion is designed for a parametric design workshop to teach architecture students new computational tools hosted by Oneistox. Pangolins are one of the most trafficked mammals in the world. They could be extinct before we realize they exist. They are trafficked for their scales, which are boiled off their bodies for uses in traditional medicine. Their meat is a high-end delicacy in parts of the world & their blood is considered a healing tonic.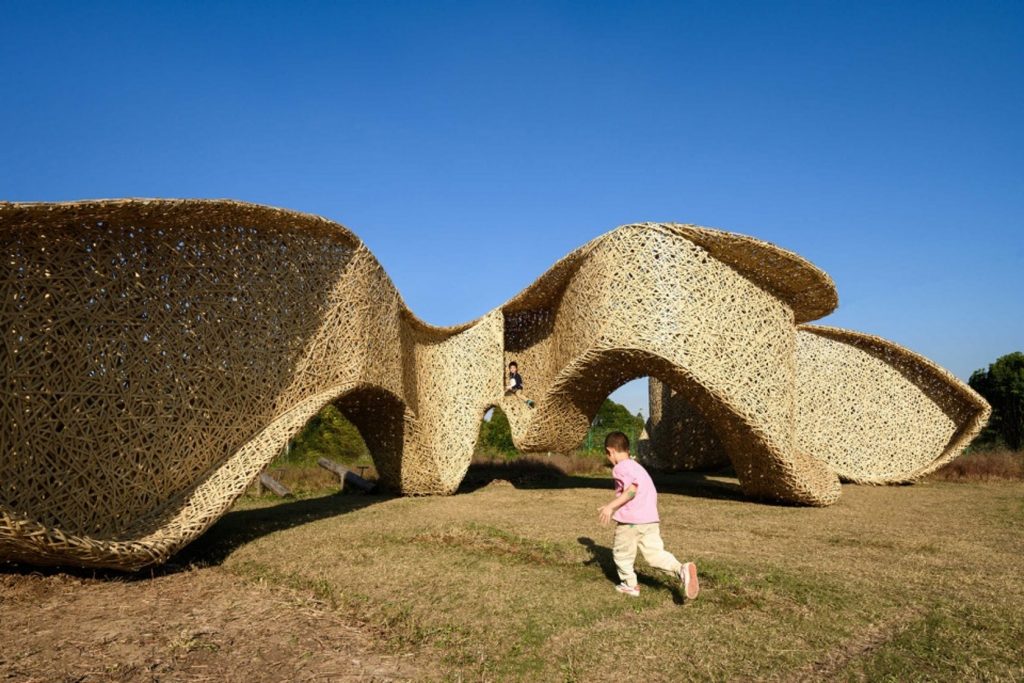 Serenely sitting in the landscape as a small wave! Bamboo Pavilion presents a twisty and meandering form designed by LIN Architecture. Activating a rural public field space throttled the quotient that pulled the strings to up-bring rural construction. Designers and students joined in this rural experiment project, driving the possibility for rural design, ecological building, sustainable operation, teaching within research, and collective contribution.
Beautifully set in the charming Chongming, an island with an excellent natural environment and ecological resources draws in unique advantages to deliver development conditions for local tourism and agriculture. Every weekend, tourists from Shanghai and the surrounding cities flock to Chongming. The Bamboo Pavilion, aesthetically lashing like a frozen wave imparts a celebratory harmony. During special holidays, the trips aggrandize. In the rural fields, besides the beautiful farmland, people's activities have taken a novel shape to the stunning rural landscape.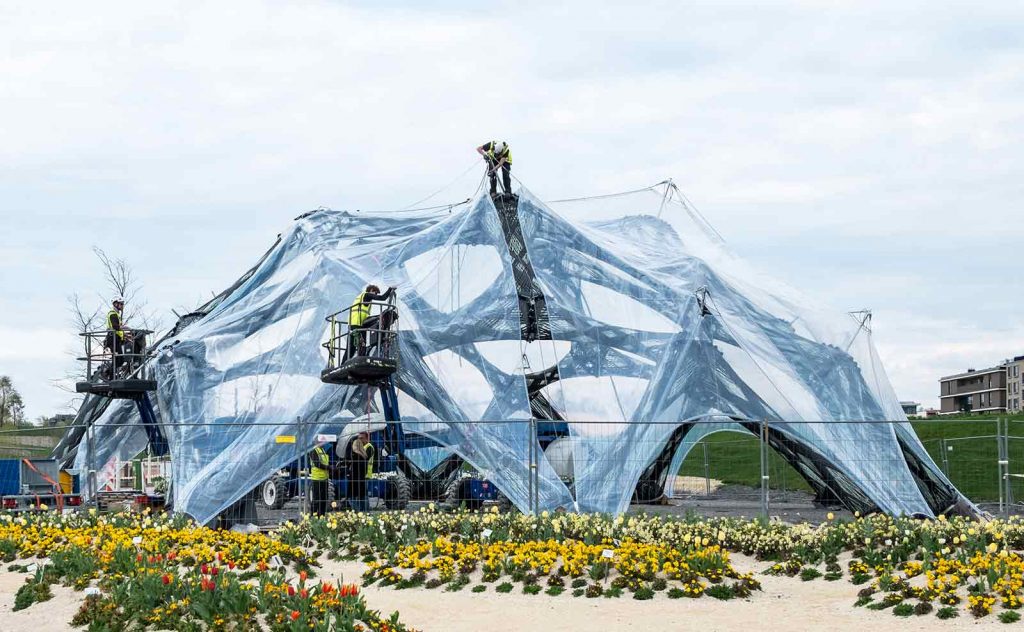 The pavilion demonstrates how combining cutting-edge computational technologies with constructional principles found in nature enables the development of truly novel and genuinely digital building systems. The pavilion's load-bearing structure is robotically produced from advanced fiber composites only. This globally unique structure is not only highly effective and exceptionally lightweight, but it also provides a distinctive yet authentic architectural expression and an extraordinary spatial experience.
Embedded in the wavelike landscape of the Bundesgartenschau grounds, the BUGA Fibre Pavilion offers visitors an astounding architectural experience and a glimpse of future construction. It builds on many years of biomimetic research in architecture at the Institute for Computational Design and Construction (ICD) and the Institute for Building Structures and Structural Design (ITKE) at the University of Stuttgart.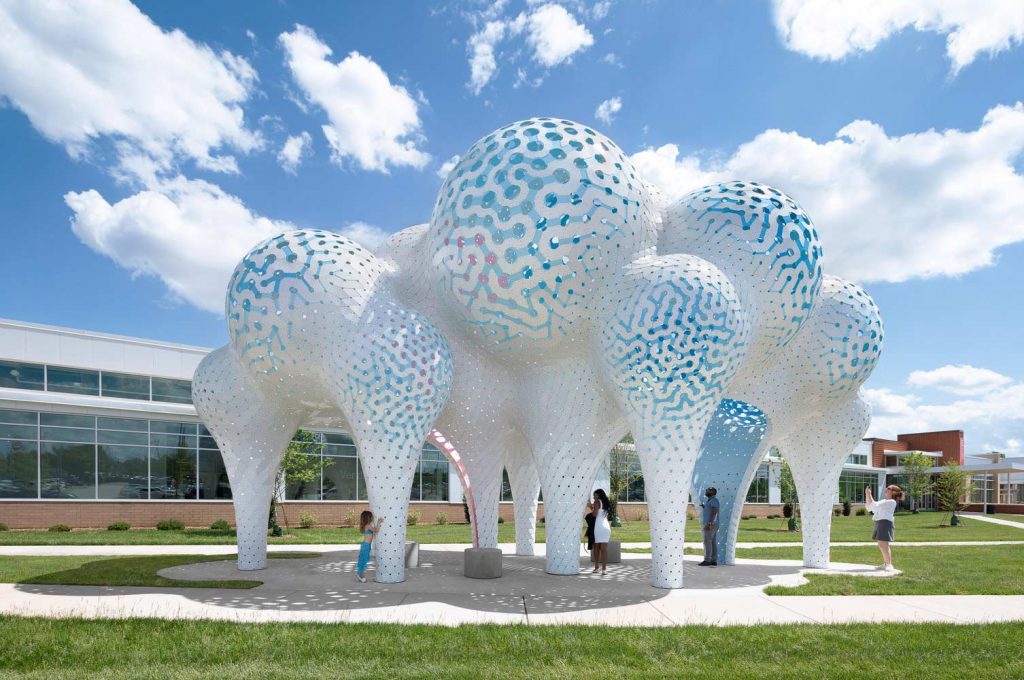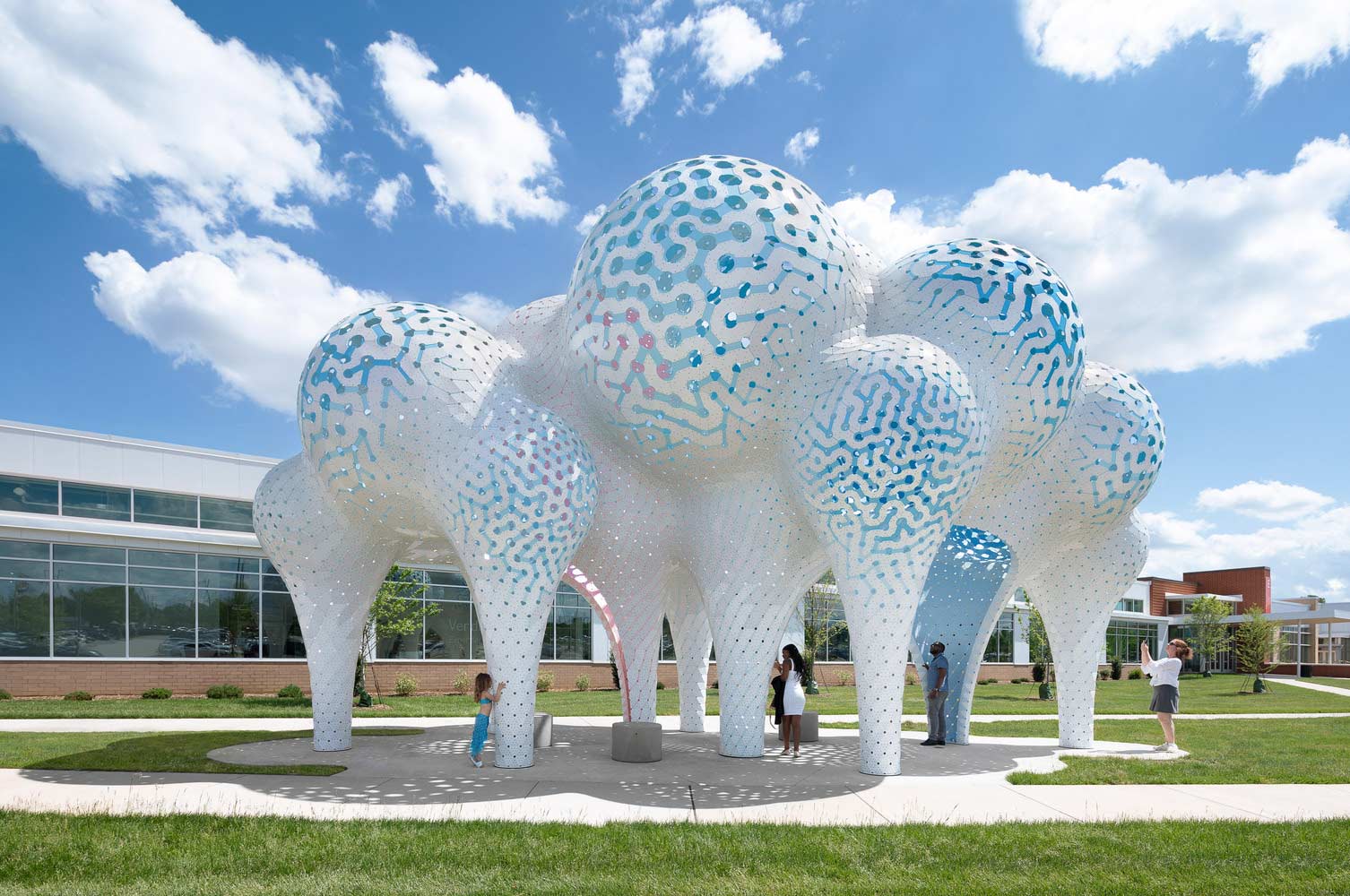 Pillars of Dreams by Marc Fornes / THEVERYMANY enliven the plaza of the renovated Valerie C. Woodard Center, a county building that houses a number of departments and local services. It makes a curious impression on the street. Along the path to the building's entrance, the cloud-like pavilion makes a soft landing in a field of quiet moments and curious interactions.
Open columns drop down from the floating canopy into a field of seating, open paths for wandering, and unbounded spaces for self-assembly. More than an idiosyncratic space for individual discovery, Pillars of Dreams establishes a public agora for visitors and employees at this important community interface between local government and Charlotte-Mecklenburg residents. The white exterior face shrouds the saturated coloration on the interior. Openings in the veil suggest the energy inside, where cross-laminated stripes in a set of bright hues peek out from the interior. From a distance, the structure strikes a soft tone, but the viewer can still register the pulsing glow of the gradient within. It catches the eye from the street but must be approached to be understood. The intensity of color grows as one nears the pavilion and finally envelopes the viewer upon entry–curiosity rewarded.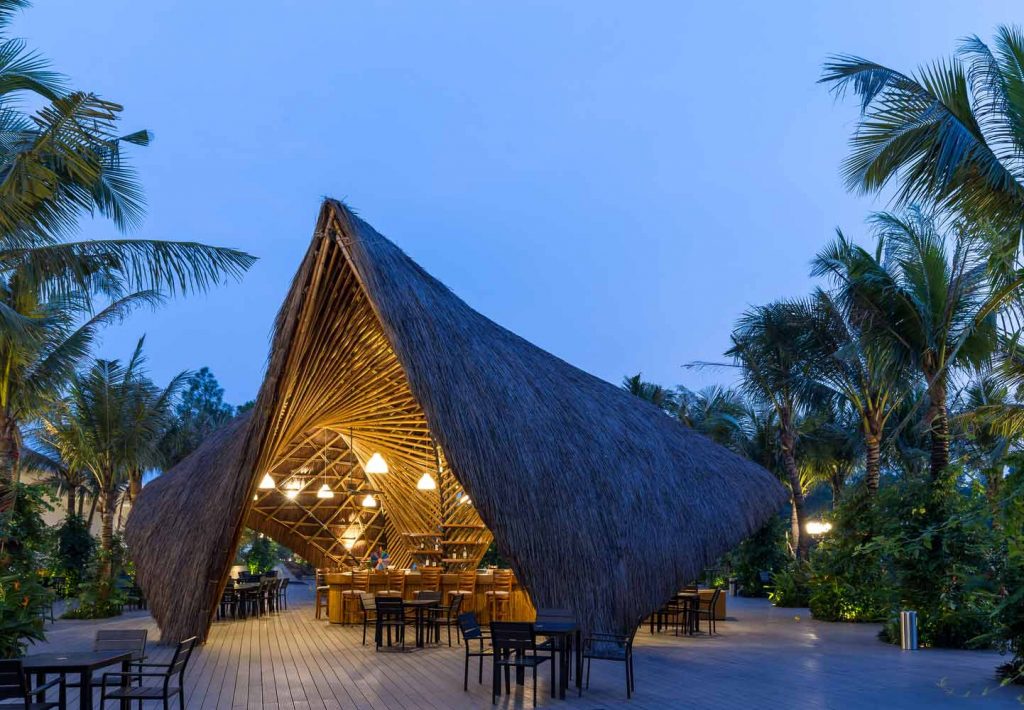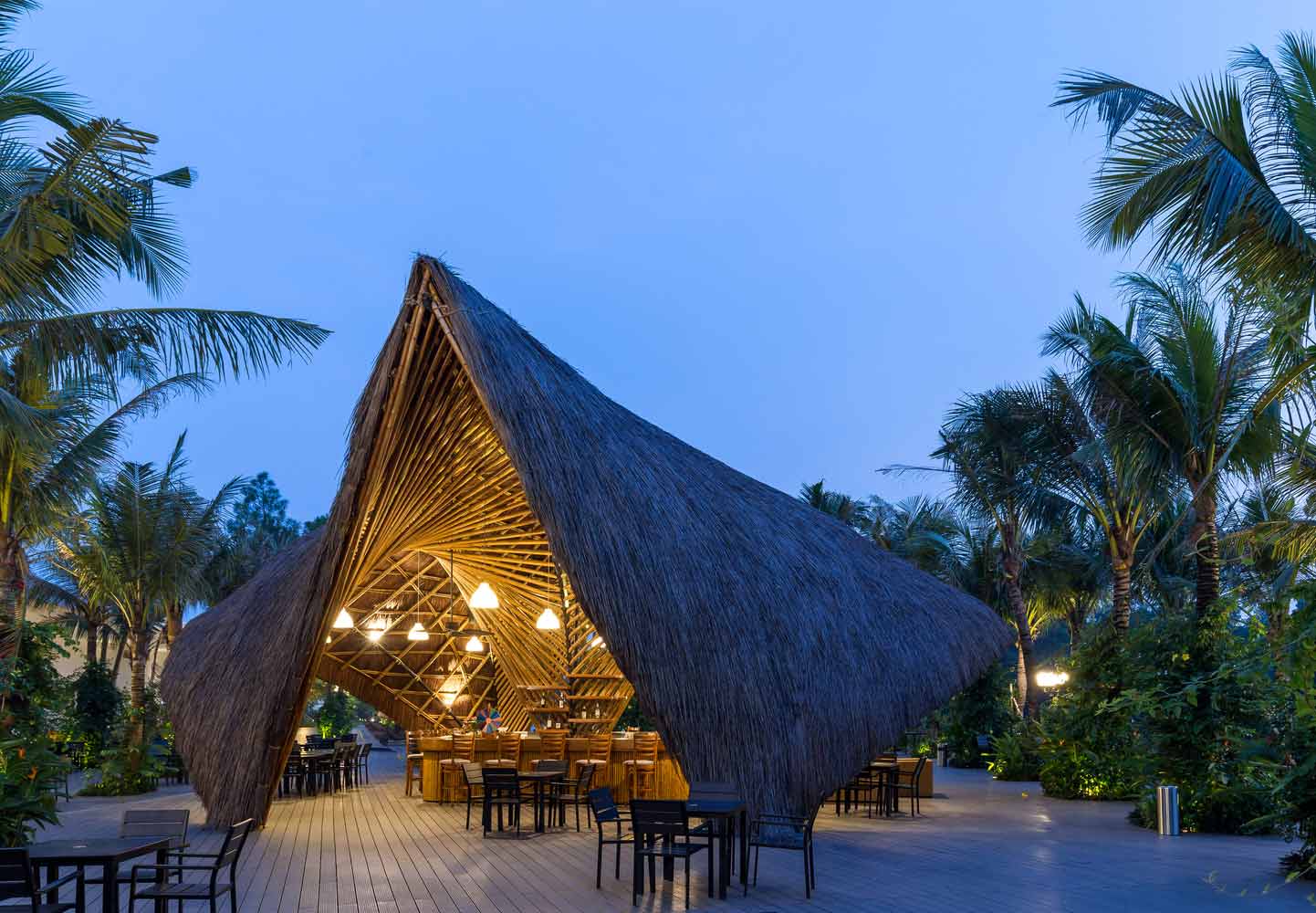 Flamingo Bamboo Pavilion was previously designed as an exhibition kiosk before finding new life as a bar and restaurant. Bambubuild — a team of bamboo specialists based in Vietnam — was first commissioned to develop plans for a pavilion for Vietnam's international travel mart in 2015. The client requested a unique stand that could be quickly and easily assembled. Importantly, the brief called for a structure that could be used again and again.
To build the pavilion bambubuild selected Dendrocalamus, one of the tallest bamboo species, capable of reaching extraordinary heights. To test the structure, the firm successfully assembled the pavilion before dismantling it and transporting it to Hanoi where it was erected within the Vietnam exhibition fair center. The pavilion was then used for another travel exhibition 120 kilometers east of Haiphong City. The pavilion is now located at flamingo dai lai, a resort in Vietnam's Vĩnh phúc province, serving as a bar and restaurant. The bamboo structure has been covered with a thatched roof, which encloses the space while simultaneously forging a relationship with the natural setting.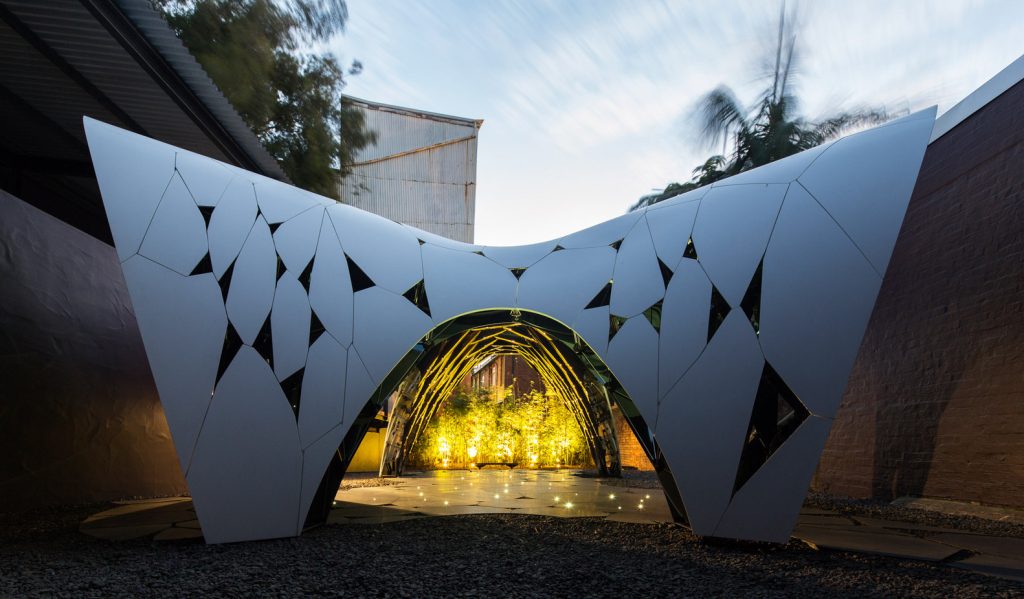 Trifolium, Sydney Garden Pavilion by AR-MA Built From Thousands of Components. Robotically-produced Corian panels were joined to laser-cut mirrors to create the curves of this pavilion in the garden of Sydney's Sherman Contemporary Art Foundation, designed by Australian studio AR-MA. AR-MA's Trifolium design was the winning entry to the second edition of the annual Fugitive Structures architecture competition, which invites emerging or mid-career architects to propose designs for a structure that employs cutting-edge technologies.
Trifolium is a self-supporting shell structure with a three-pronged shape, which creates a curving canopy that can be used as a meeting place, an auditorium, or a stage for events. The exterior shell comprises 152 pieces of robotically cut Corian – a manmade solid surface material that is heated and shaped to create unique pieces. Each Corian panel has been fixed to a corresponding piece of curved black mirror-polished stainless steel using 452 unique steel brackets. The stainless steel panels are individually curved to produce an internal surface that creates distorted reflections.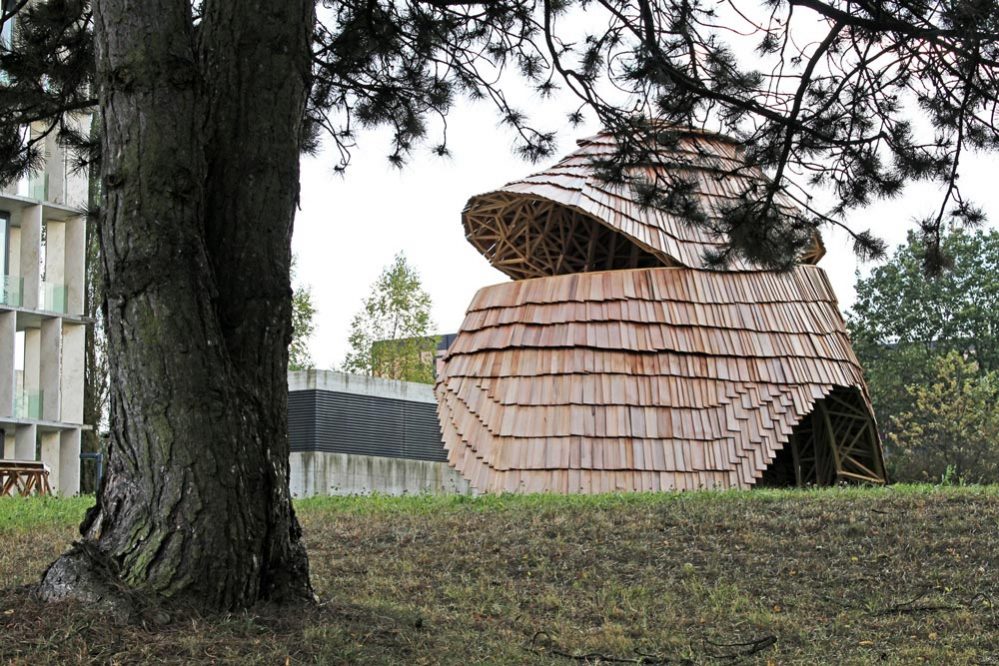 This shingled timber pavilion was created by master's students in ETH Zurich's Digital Fabrication course after developing robotic fabrication techniques to minimize the waste involved in its construction. The group claims the pavilion is the world's first two-story wooden pavilion to be built using robots.
The Shingled Timber Pavilion is a latticed structure braced and bolted up using interconnected cuboids. The framework intricately weaves, exposing the interior as it forms windows and staircases. The curving outer walls and roof are engrossed in shingles skin. The design team varied the dimensions of solid spruce slats across the framework, thus inducing a challenge for the robot in adapting to non-standardized materials and technical performance.