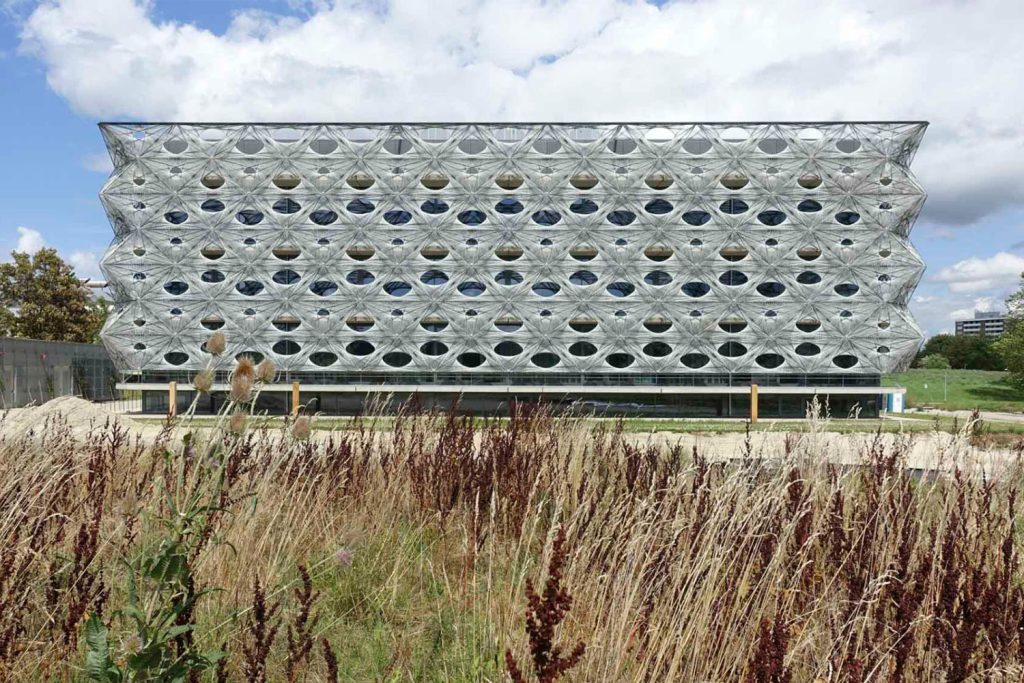 The Texoversum, an innovation centre for the textile industry in Europe, was opened by Reutlingen University. The 2,000-square-meter textile-like facades are made of carbon fibres that were wound by robots. This makes the structure light and strong, and it only needs a small amount of material. Design by Allmann Wappner, Menges Scheffler Architekten and Jan Knippers Ingenieure, Fabricated by Fibr GmbH.
The Texoversum facade is one example of a brand-new technology that has the potential to change the building business completely. The complex structure was planned on a computer and is made up of carbon fibres that were wound by robots. In nature, networks can be found in things like spider webs, beetle wings, and palm leaves. The fibre structures are very light but also very strong and don't need much material. This not only saves resources but also makes it easier to move and put together the parts.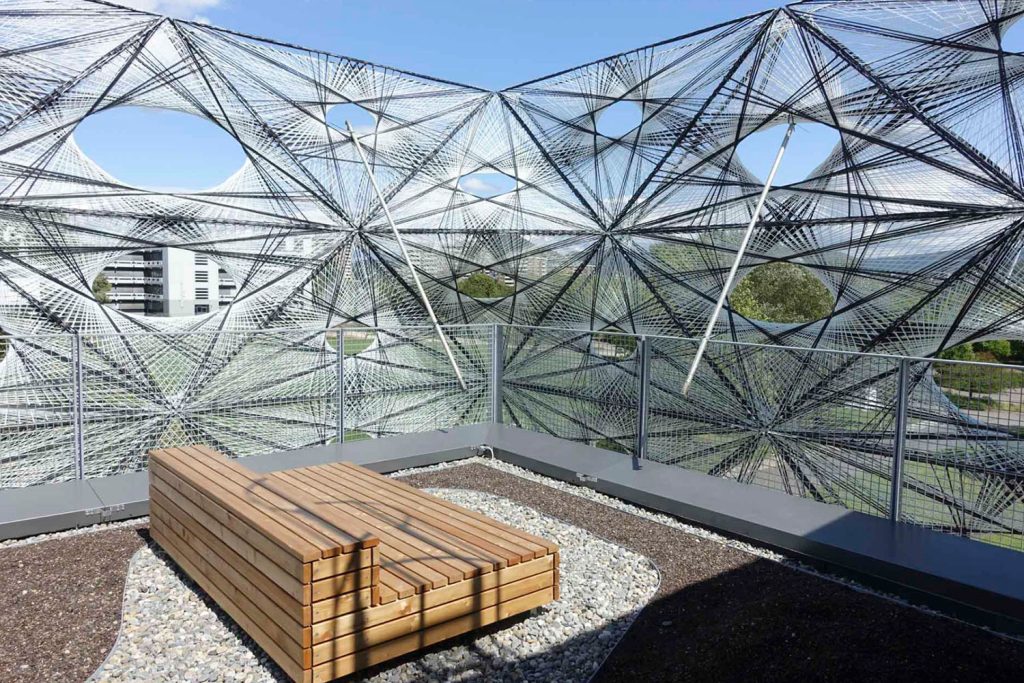 An architect named Prof. Moritz Dorstelmann helped come up with the new technology. His company, FibR, fabricated the Texoversum's facade: "In contrast to conventional steel and concrete structures, we are able to get by with a minimum of material because the robots only process as many fibres as are needed for the strength of the respective structure. As a result, we also save large amounts of CO₂ emissions." Dörstelmann also sees advantageous applications for the technology in roof structures, supports and, not least, interior fittings.
The necessary strength and durability of the composite are provided by Covestro's aliphatic polyurethane resin system Desmocomp®, in which the fibers are embedded as if in a matrix. "The resin is highly resistant to weathering and the sun's high-energy UV radiation, making it very suitable for outdoor applications," explains Pejman Norastehfar, architect and specialist for construction applications in Covestro's Coatings and Adhesives segment. "Other plus points in the construction sector are its excellent chemical and flame resistance."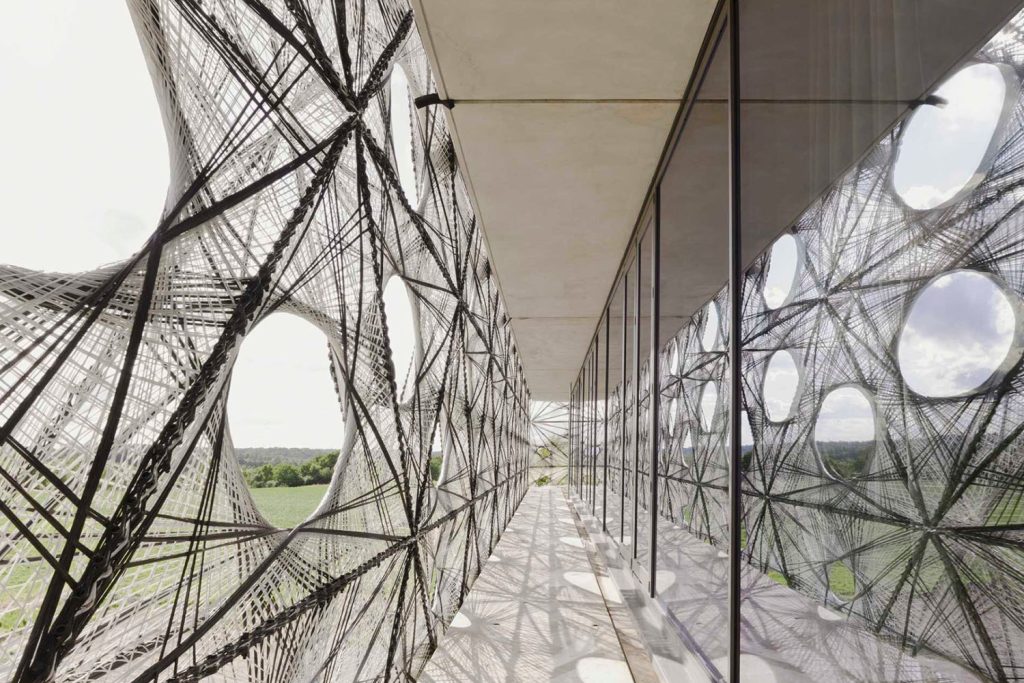 The spun facade of the Texoversum does a lot of important things at once. It gives the building a unique look and keeps the balconies around it stable. It also keeps people from falling off and gives the glass front behind it the shade it needs.
The building has about 3,000 square meters of space for classrooms, workshops, labs, a textile collection, and a place for people to think. The 18.5 million euro cost of building the Texoversum was covered by the employers' association Südwesttextil. FibR GmbH in Kernen, which is east of Stuttgart, is a member of this association.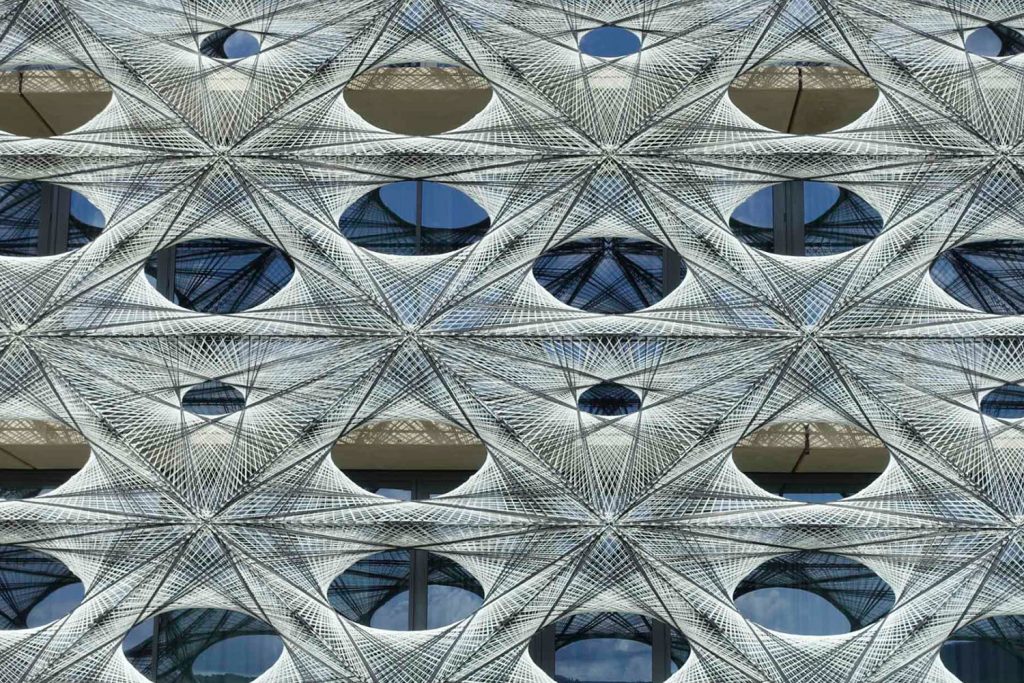 Project Info
Investor: Südwesttextil e.V. Stuttgart
Architecture: Allmannwappner, in cooperation with Menges Scheffler Architekten, Jan Knippers Ingenieure
Gross floor area: 4112 m²
Structural Engineering: bwp Burggraf + Reiminger Beratende Ingenieure GmbH
Project Management: Kubus 360 GmbH
Landscape Design: Glück Landschaftsarchitektur
Fireproofing: hhpberlin
Energy Technology: Transsolar Energietechnik GmbH, München
Building Physics: Müller – BBM GmbH
Fabrication: FibR GmbH
Photography: Brigida Gonzalez, Frank Kaltenbach