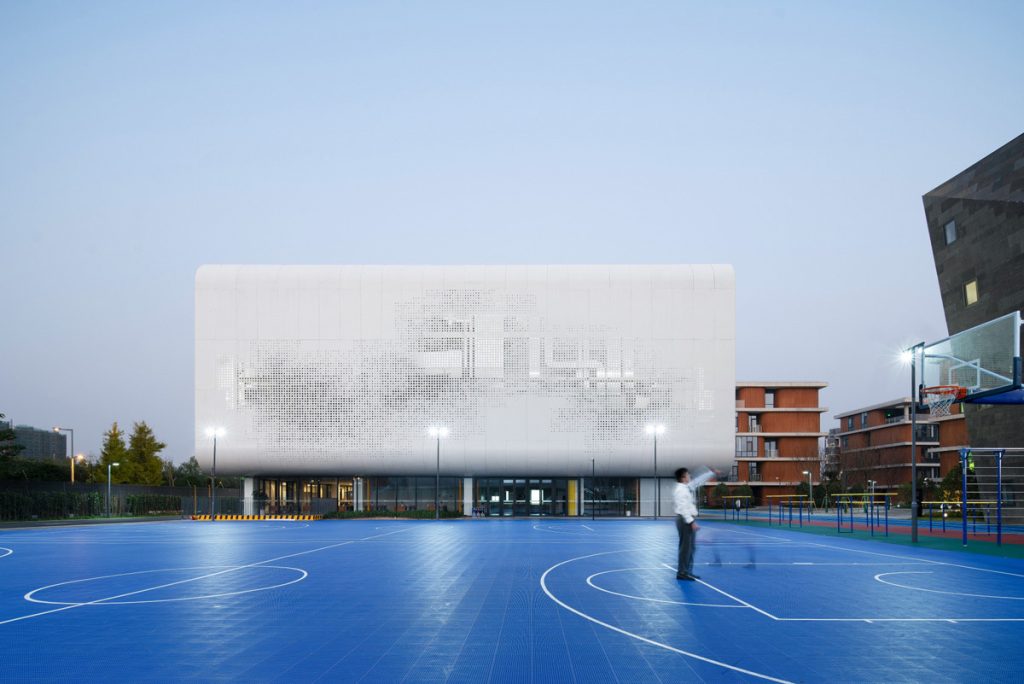 Shanghai Qingpu Pinghe International School Campus was designed by OPEN Architecture in 2020. The structure on the International School Campus consists of semi-transparent volumes with rounded corners floating above a transparent box.
The Shanghai school building is deliberately placed on the north corner of campus to facilitate public use during school holidays. The swimming pool, gym, and canteen within the program of the campus are designed with the idea of ​​lightness.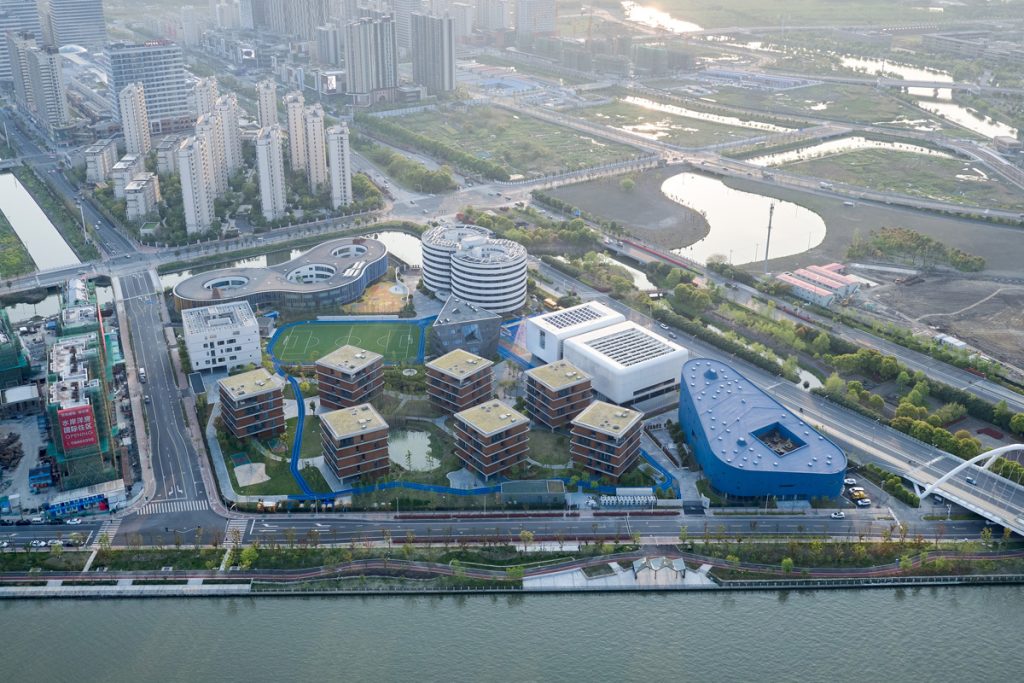 Translucent walls of the thin-stretched membrane, polycarbonate panels, and perforated aluminum cladding work to eliminate the bulk and heaviness of programs using soft colors, and bubbly forms. The volumes containing the gym and the pool are structurally extruded, increasing the swimming illusion of the structures.
The highlighting of the white color proves the cleanliness and simplicity of the sports and swimming facilities. The rectangular skylight on the long-span roof of the gym brings daylight into the space below, eliminating the need for artificial lighting and allowing students to enjoy natural light while tackling indoor activities.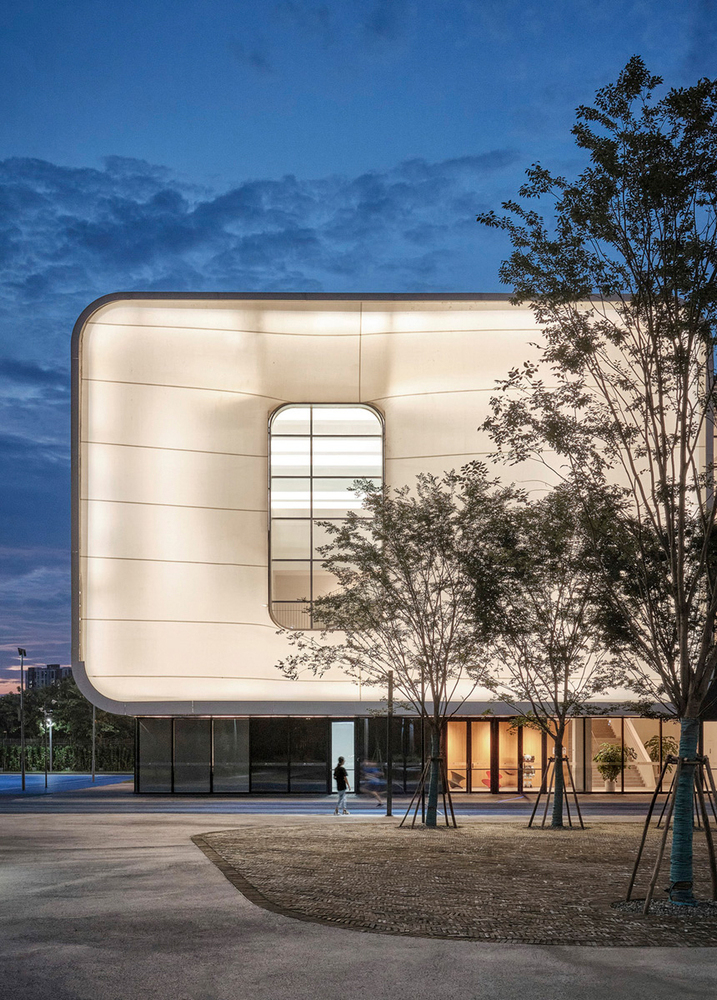 The polycarbonate double-layer curtain wall system gives swimmers panoramic views of the campus and the city while giving the "floating swimming pool" a light and airy quality. At night, the entire building turns into a warm lantern, illuminating the north corner of campus. The steel frame structure and MEP equipment hidden between the double walls are also visible through the holes of the membrane, creating abstract patterns on the facade of the building with the interaction of structure and light.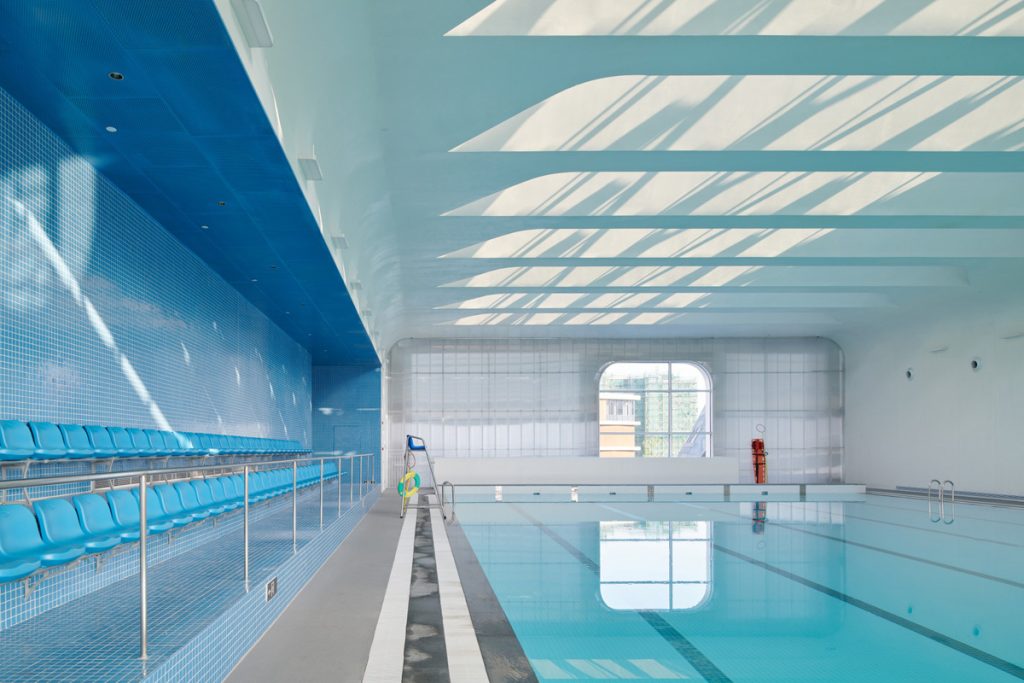 A 12-meter-high glass atrium, lit by skylights, connects the two rectangular volumes housing the pool and gym. The main staircase in the atrium provides a platform from which students can observe activities taking place in both spaces.
When night falls, the stretched membrane on the swimming pool's façade begins to glow, and the light of students in their evening studies shines out from the canteen's glass box. The entire structure transforms into a warm lantern illuminating a corner of campus, bright enough that no additional lighting is required around it at night.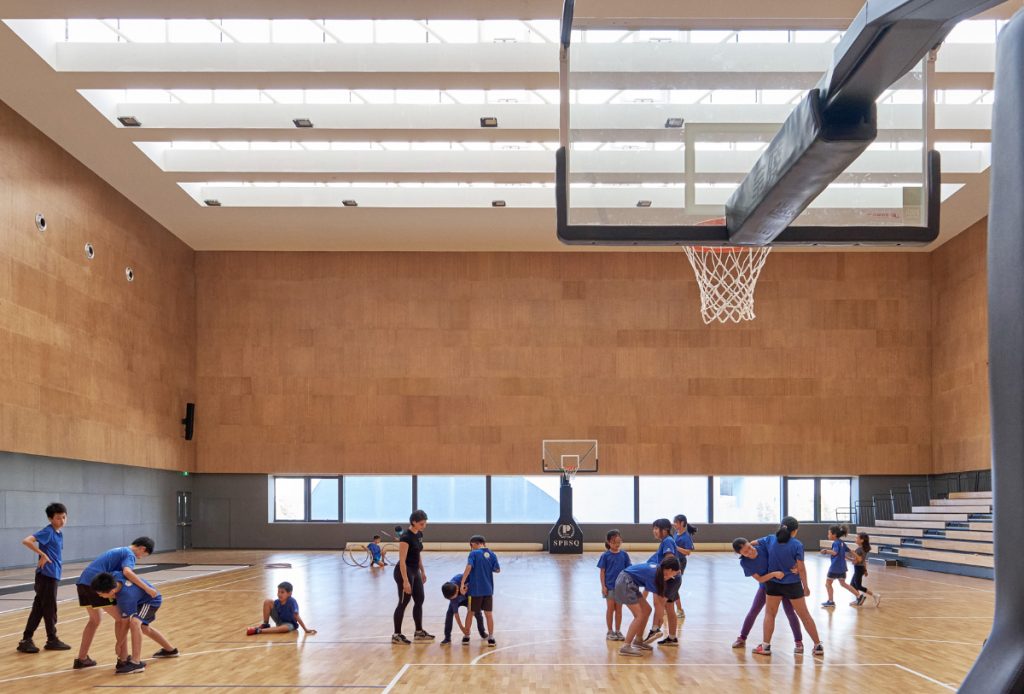 Project Info
Architects: OPEN Architecture
Area: 5690 sqm
Year: 2020
Lighting Consultant: Shanghai Modern Architecture Decoration Environmental Design Research Institute Co. Ltd.
Interior Design: OPEN Architecture
Principals In Charge: Li Hu, Huang Wenjing
Design Team: Qingjun Tan, Mengxing Cao, Di Lu, Daijiro NAKAYAMA, Tingting Zhou, Hao Zhang, Mengmeng Wang, Xiuyuan Chen, Bihong Lin, Qing Feng, Tianming Zhu, Lunan Wei
The Client: Shanghai Tixue Education and Technology Co., Ltd.
Curtain Wall Consultants: CABR Technology Co. Ltd.
Swimming Pool Design: Water Cuke Shanghai Environmental Protection Technology Co. LTD
Signage Design: Beijing Trycool Culture and Art Development Co. Ltd.
Mep Design: CABR Technology Co. Ltd.
Local Design Institute: Shanghai Yuangou Architects and Consultants
Structural Engineer: CABR Technology Co. Ltd.
Photograph:Hao Chen, Qingshan Wu, Jonathan Leijonhufvud