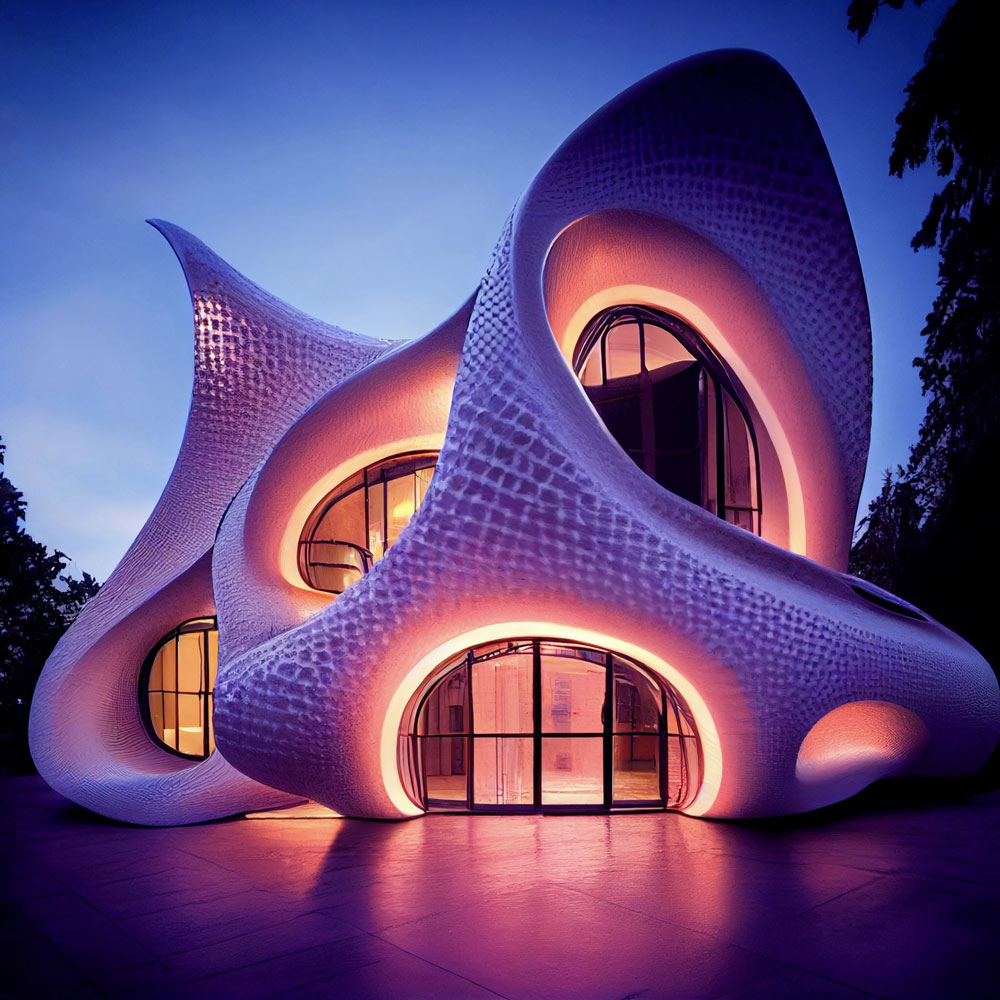 Gianasgana is one of the projects by Gianluigi Marin, in a few weeks, another one is coming (MiscelaCreativa), in collaboration with an AI engineer where Gianluigi focuses more on video content. Aside from this little spoiler, Gianluigi feels he can define Gianasgana as a research project because very often his works would be difficult if not impossible to be realized in reality. It is a research project both from a conceptual and a technical point of view.
According to Gianluigi, the idea behind the project is to imagine and explore a world where architecture and design intersect with nature, it is no longer just a side element but becomes an integral part of it, if not itself an object of design or architectural construction. It is a world where all that is natural is valued and is placed at the center of attention. The images he generates are conceptually surreal but at the same time, he tries to create them as realistic as possible in terms of image composition, textures, materials, lights, etc. This is because Gianluigi wants to immerse the viewer as much as possible in this world, almost pushing them to want to touch what he creates, remembering how important it is to preserve the nature that surrounds us. It is a world where the mission is to build as little as possible from scratch and if it happens the underlying principles are sustainability and respect for natural forms.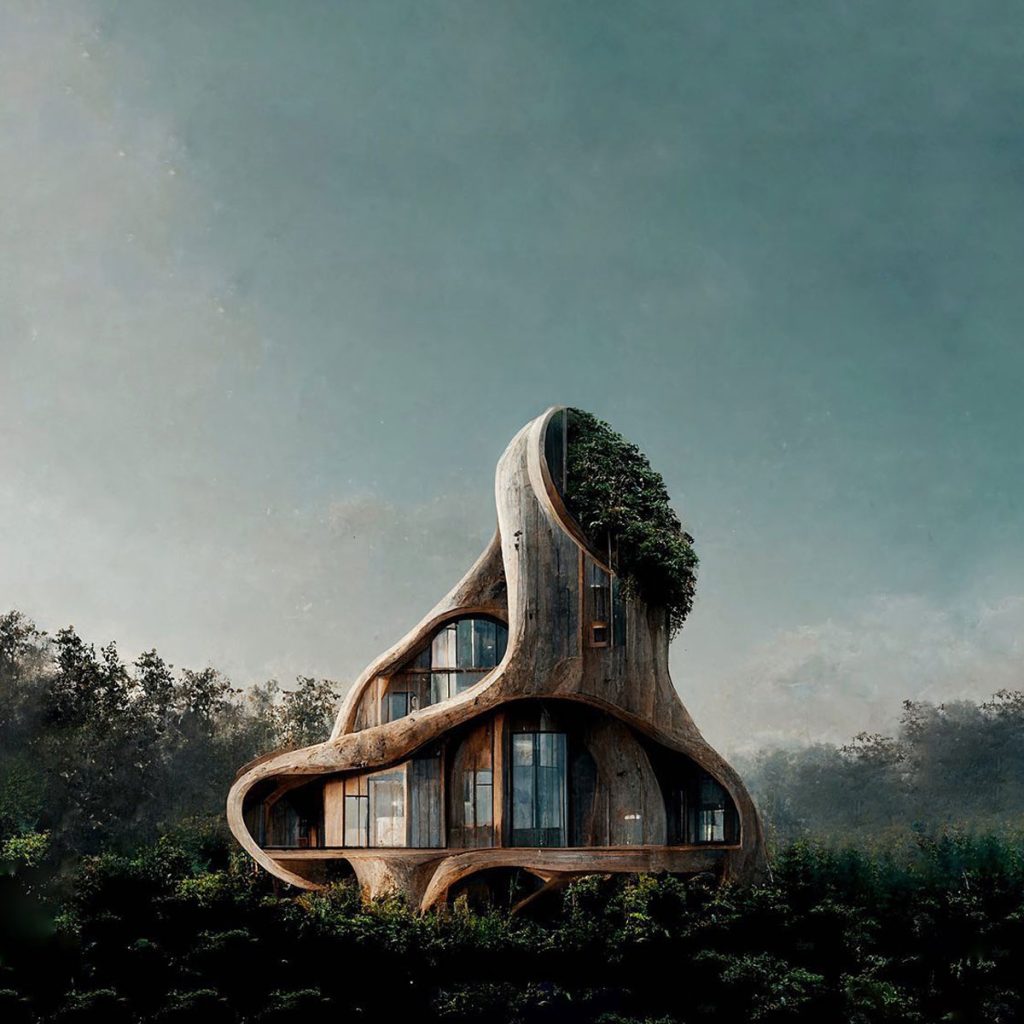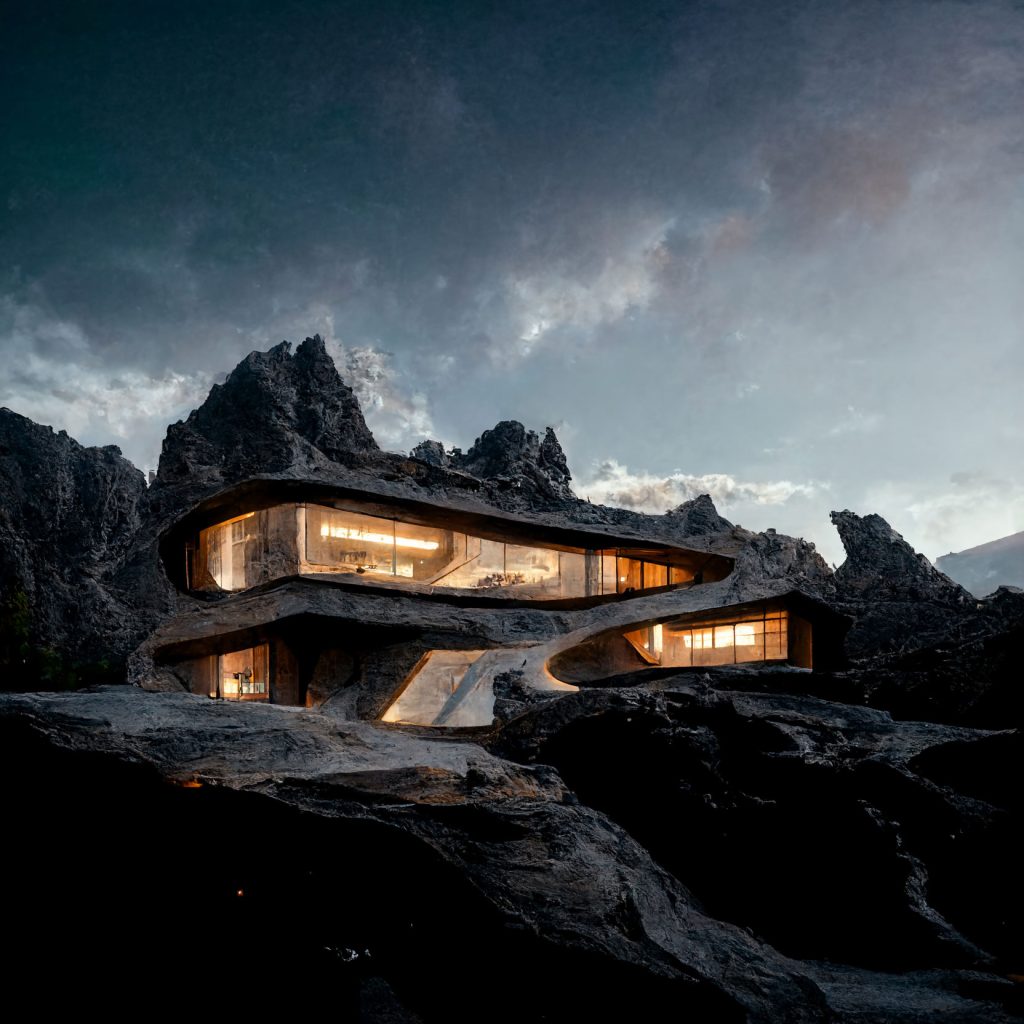 To create his work, Gianluigi decided to use only AI tools, except for some minor tweaks in Photoshop if necessary. He made this choice because he has always been passionate about technology and he likes to experiment with new software and technologies. Over the years it has become part of his work, together with design and graphics and this project represents for me a meeting point between all his passions. From a technical point of view, his research is focused on using the new AI tools in the creative process. According to Gianluigi, firstly, he wants to see if and how these tools are able to help artists and designers in the creative process, and the limits and potential they have.
Secondly, Gianluigi likes to see how something so far from the concept of nature manages to visualize concepts where it is placed in the foreground. It happens that sometimes the generated images are very complex while other times, for example in his work "Leaf Chair", AI creates objects using a simple natural element that we humans will hardly associate with a design object or a house, like a leaf. He uses different software based on different models, but most of his works are made using Midjourney.
How did Gianluigi's AI journey start?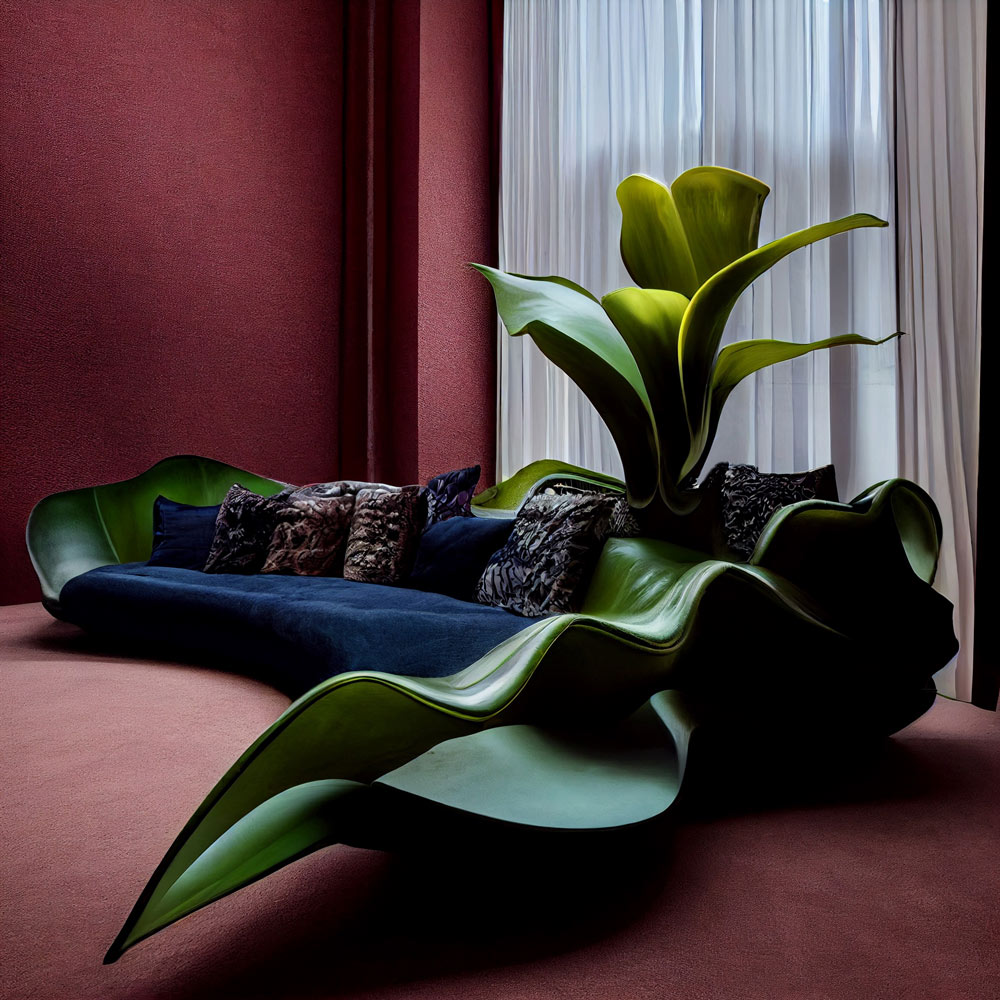 According to Gianluigi, it was born after seeing works by artists such as Refik Anadol, Robby Barrat, and Memo Akten. He was fascinated by their works and started researching how machine learning can interact with art. The first works he created were videos where the visuals were generated by a GAN (generative adversarial network) and synchronized with music. The name gianasGANa comes from these first videos. The results obtained intrigued him both for the fluidity of the visuals in the video and for the variety of the images generated so he started to delve into the topic and tried many different models.
Gianluigi Marin had his first approach to text-to-image models with DALLE and was impressed by its ability to interpret what was written in the prompt. The real breakthrough though came when he tried Midjourney. Gianluigi was amazed by the images that were generated because they followed his instructions in the prompt but at the same time, they were more artistic and allowed him to broaden the ideas he had in his head, helping him to find new ideas for his projects.
Gianluigi was also struck by how quickly the program evolved, each week new features were added. He started using the app a few days after the launch, in July 2022, and in a short time many functions were implemented, such as test or test photography, remix mode, the bigger image on the final output, stylize options, aspect ratio, etc and it arrived at v4 in November.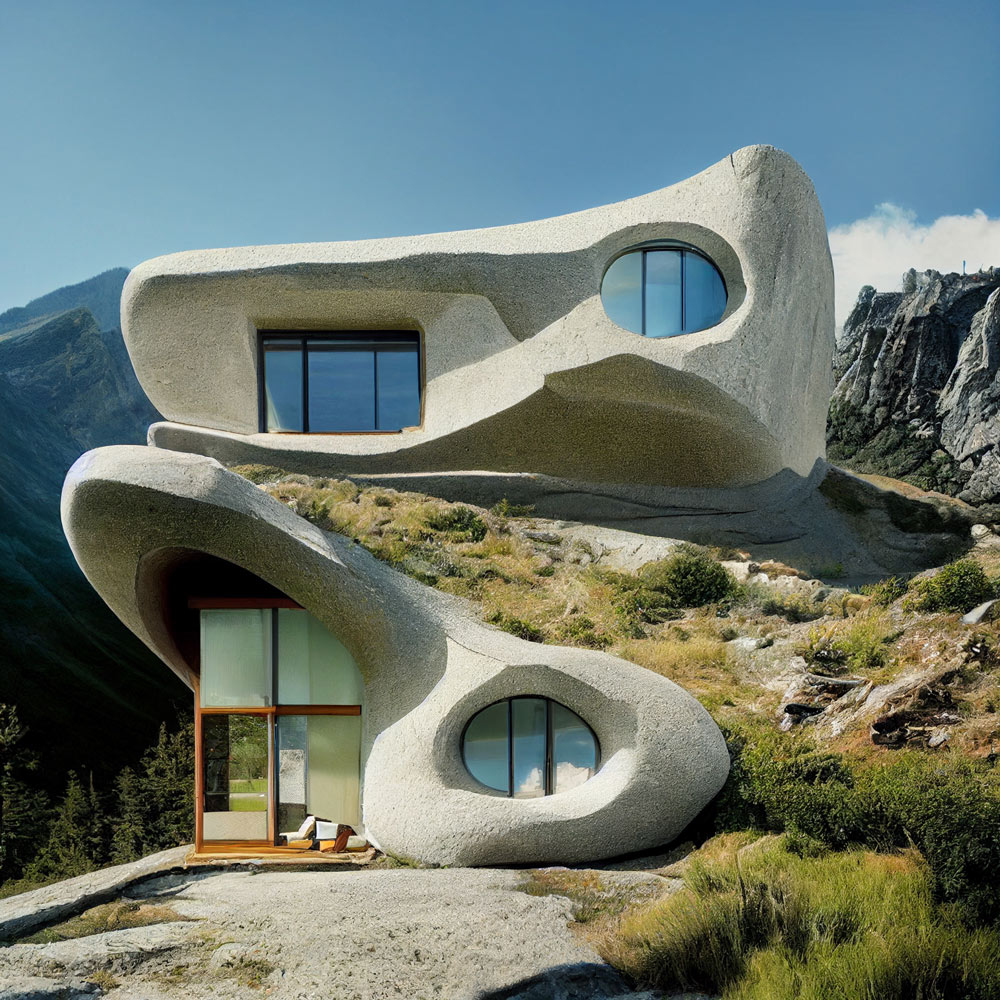 Gianluigi Marin tested this tool by creating many images of any kind to understand the potential and the limits that exist and he really liked the results he was getting both on an artistic level and in terms of image composition, lights, photorealism, colors, etc. So he started exploring how algorithms work to improve the writing of my prompts and get higher-quality images. There is the possibility to write prompts completely randomly and see what you get but if you want to achieve something precise that you have in your head you have to work a lot on the image.
In fact, the correct prompt formulation plays a fundamental role in the success of the image we want to generate. Furthermore, upscaling, variations, and remixes completely change the final result of the work. You can have the result you are looking for in a short time as in a lot, it is a variable that can not be calculated but generally, you have to work a little, for example, Gianluigi posted on Instagram about 60 images but he generated more than 10000.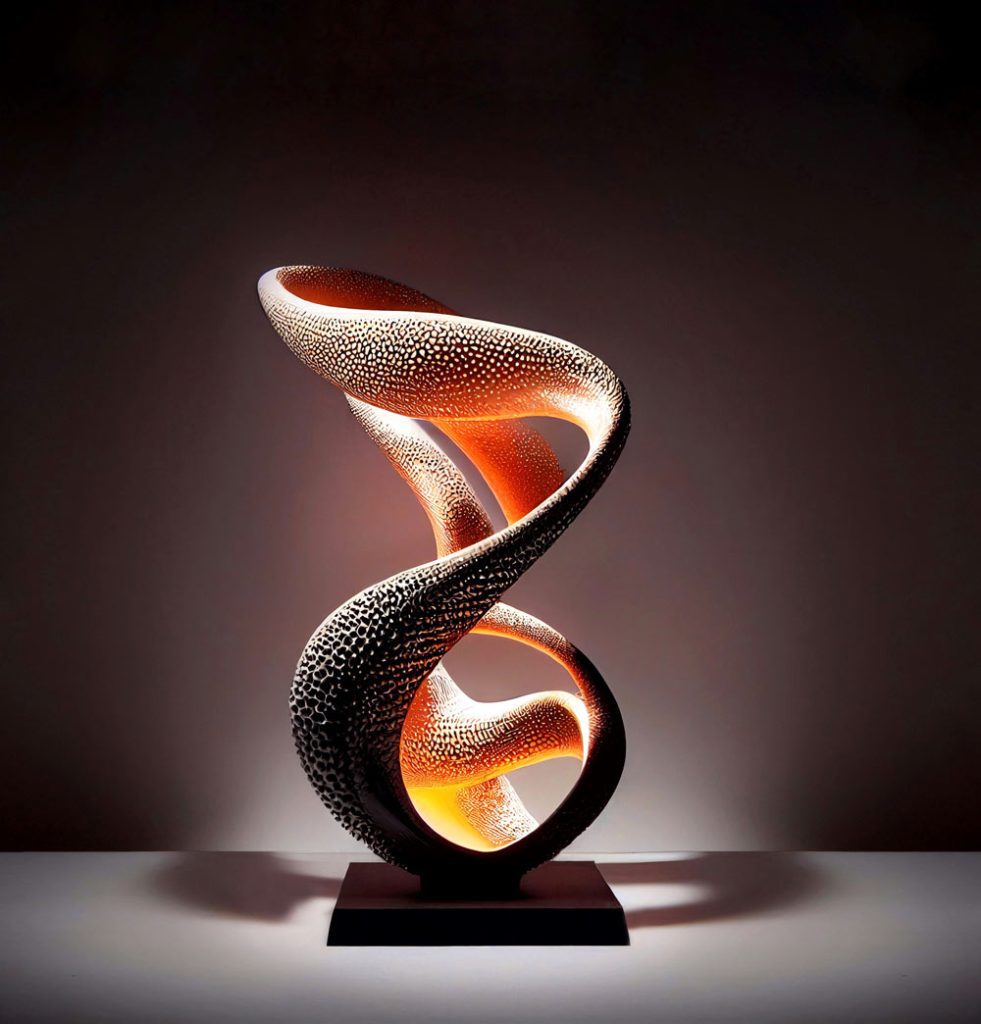 Generally the ideas behind his works come from his head but sometimes he takes inspiration from Midjourney itself by writing a few word prompts and seeing the outputs being generated after he starts typing prompts according to my needs. It is precisely at this stage that in his opinion Midjourney, DALLE, Stable Diffusion, etc will play an increasingly important role in the creative process. He is able to expand both the vision that we have of our project giving us new ideas and to visualize in a quick way the concepts that maybe we have in the head but that we are struggling to imagine concretely and that would require a lot of research time and processing.
From this point of view, Gianluigi Marin can say that these tools are excellent tools to carry out the part of the research, mood boards, and sketches/ drafts. The usage should be adapted to the purpose we have, for example in an architecture design context it can be used to create sketches but he wouldn't use it to create the final render of the work. Or if you are a graphic designer and need an illustrated image you could use it to create the final image as well. As he said before, the use must be adapted to the purpose we have. For example, he used several tools together a few times to get my final image, in his work "Tree Hotel" the image generated in Midjourney didn't fully satisfy me so he imported it into DALLE and with the edit function he changed the background.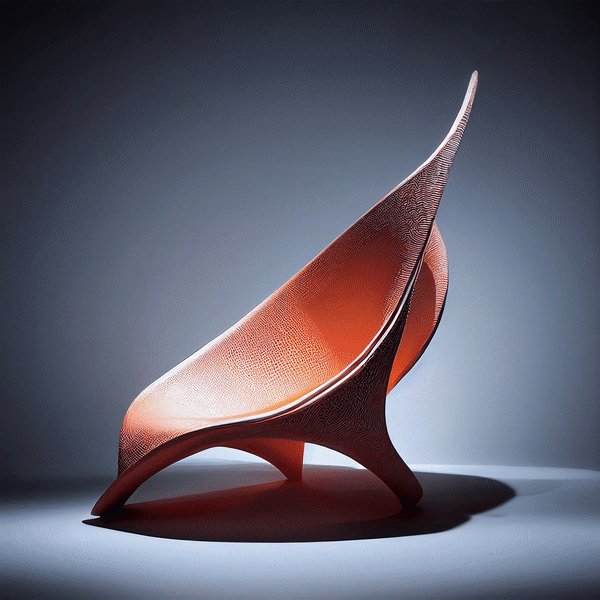 In Gianluigi's work "Shell chair" after creating several images of a chair inspired by marine corals he wanted to create a video to show the evolution of the chair starting from the images where it was easier to get to the more complex shapes that generated MJ. To make it happen he used a high-quality frame interpolation neural network by Google Research, another Ai tool that allows you to create high-quality slow-motion videos from almost duplicate photos. This tool can be useful, especially for those who, for example, work with videos. There are really many models applicable in different fields. Many people are still skeptical about artificial intelligence and debates often arise on a variety of topics even if the main one remains focused on the fact that machines will replace human work, also from a creative point of view but for me these tools are helpful to help work, to make it more flexible and faster but they cannot completely replace the human mind.
In fact, the work of man remains of fundamental importance in the process, you need to make decisions, and direct the computer to get what you have in your head. It is not a fully managed work of the machine, you do not press a button and magically the work is finished but rather you have to intervene several times and take some time to get the result you want. According to Gianluigi, We must begin to see them as tools that can facilitate our work, make it faster and enrich it with new visions and ideas. Almost as if it is a person added to your work team.
About Gianluigi Marin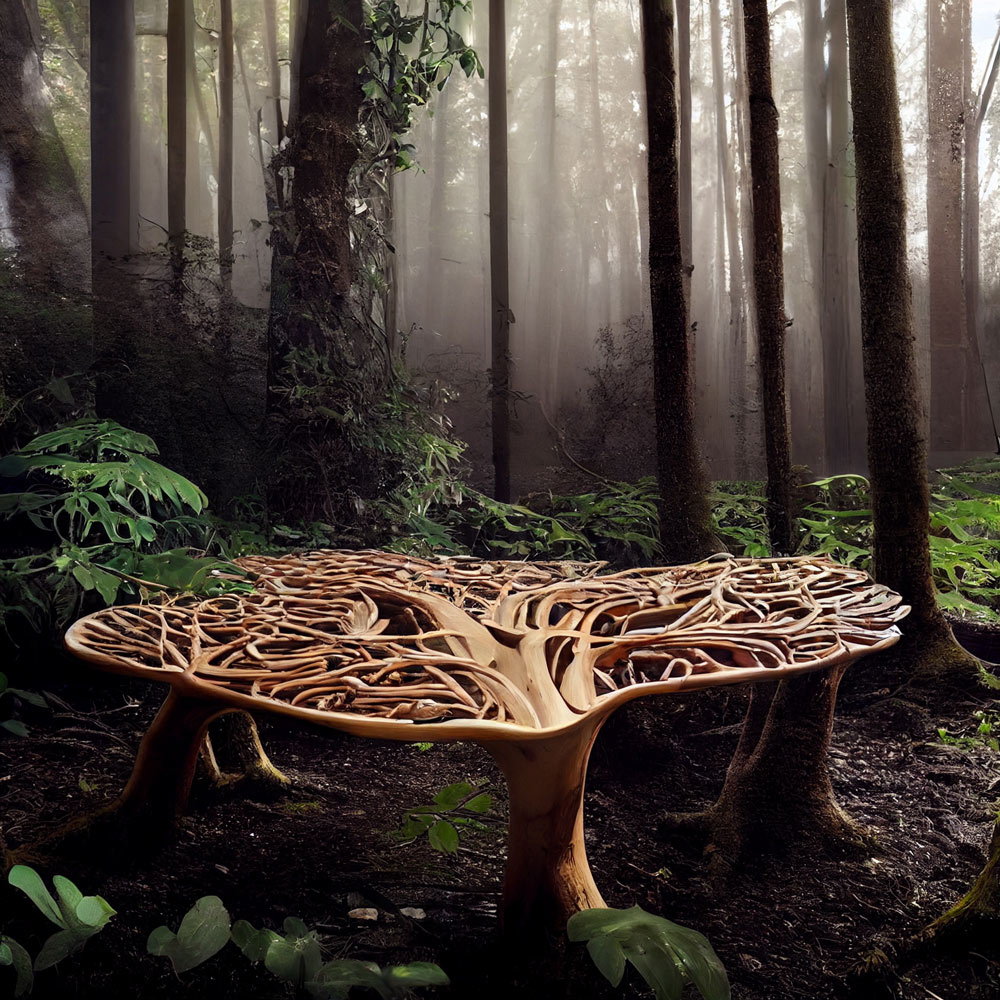 Gianluigi Marin, 25, is an artist and graphic designer based in Italy. With a background in visual and graphic design, over the years he has increasingly entered the digital world studying and working on UX, UI, and web design. Graduated in Venice, Italy, now working for a digital and advertising agency. Always passionate about art, design, and technology he started working with artificial intelligence as a tool and a medium in the creative field. He is the founder of Gianasgana, a research lab where he explores the connections between architecture, design, and nature with Ai tools. Recently he is collaborating with an AI engineer on a new project, Miscela Creativa, a studio where they will work with reactive audio images and where he is a co-founder.
Parenthetically, If you are curious to dive deeper into Midjourney, you can check the Midjourney Architecture 3.0 / Studio Tim Fu by PAACADEMY.