Artificial Intelligence
As the technological advancements in all industries push the boundaries forward, architects are also following the trend and never want to be left behind. The emergence of Artificial Intelligence (AI), robotics, 3D printing, algorithms, and computational tools help to facilitate many tasks in our daily life that would take hours, days, and even weeks for a human to do it. Just as a simple example, the algorithms in navigation systems can show you the fastest way to your destination which is a very convenient way for your daily travels. If we don't think about the intentions for manipulating our decision-making process, algorithms really help.
As companies such as Google, Open AI (DALL·E 2), Facebook, and Tesla are doubling down on studying the high levels of artificial intelligence, machine learning, and deep learning in their research, they sometimes make announcements that freak everyone out. "Google's DeepMind says it is on verge of achieving human-level AI" reported by the Independent. Human-level artificial intelligence is close to finally being achieved, according to a lead researcher at Google's DeepMind AI division.
The same applies to the architecture profession as well. Architects are using very complex algorithms in a computer environment to generate un-imaginable spaces and geometries. These geometries can be created on multiple computer software such as Rhinoceros 3D, Grasshopper3D, Autodesk Maya, Houdini, Autodesk Revit, Dynamo, Cinema 4D, etc. By iterating one parameter these algorithms can generate hundreds of models with the same principles as were defined in the code. But it was mostly within the boundaries of pre-defined rules. It couldn't go far beyond giving a new idea and thinking instead of the designer. Until recent times that machine learning appeared and played the role of a savior angel for everyone.
Artificial Intelligence in Architecture
This article explains a study project by architect William Garner that attempts to uncover unique processes that enable architects to tap into the creative potential of co-designing with artificial intelligence (AI) using machine learning algorithms.
Overview of the research:
As design is a complicated process and humans have limited capacities, it requires a lot of energy to produce and translate ideas. Architects have been using many tools since ancient times and they are always in the exploration of finding new ways of doing repetitive tasks. Besides the amount of work to do, when combined with tight deadlines and more regulation, it is a laborious process that may push designers into a risk-averse, time-constrained, and creative strategy that limits a project's full potential.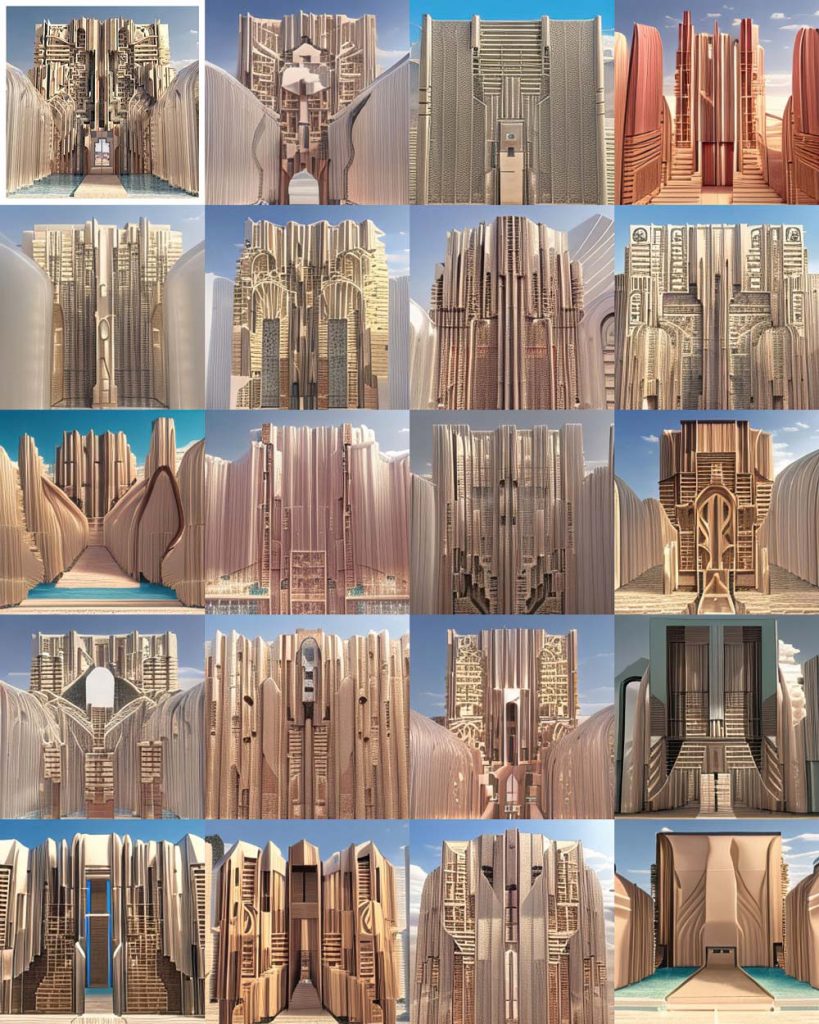 The conventional way of producing a wealth of ideas in the conceptual phase has been to use a brute-force technique. A designer or a design team works long hours to generate enough possibilities to satisfy their professional curiosity and the customers they work with. Unfortunately, this approach breeds non-sustainable behaviors that devalue the designer's time and effort and often result in burnout and stress.
Furthermore, while making judgments, all individuals have a subconscious internal bias that might lead to tunnel vision, potentially resulting in an entire set of undiscovered options. But here comes important questions to ask. What if we could rapidly expand on designer intuition and creativity with a wider range of ideas? Would it boost efficiency? Or does it allow for better large-scale design decisions? Does this open up new typologies? Can we create more fascinating realities?
This study goes against the principles of more traditional AI applications in architecture, which try to develop efficient layouts or solutions. Instead, the study asks "How can we use Artificial Intelligence to accomplish more of what we love as designers? design."
Disruptive technologies are merging in this new era. 3D printing, for example, will allow us to imagine an entirely new set of architectural places and experiences. This human-machine approach will assist designers in unlocking new typologies that unleash the creative possibilities of 3D printing. There are not many instances when transformational technologies collide with the potential to radically disrupt how a profession functions. As we go into the exponential age, designers must take the lead in how this evolves or risk losing more creative space.
This design research is made possible by LU-Arc's revolutionary Part II course, which uses an open framework to push students in what they create and how they utilize design. The course focuses on the intersection of practice and research to inspire innovation via visionary thinking and entrepreneurial action. As a result, this study attempts to test the boundaries of presently available foundation machine learning (ML) models to get insight into how AI might be employed as a real-time design collaborator in practice.
The Instagram series intends to show how versatile the process is and asks architects to cooperate to test variety and promote awareness.
Visuals: Courtesy of William Garner