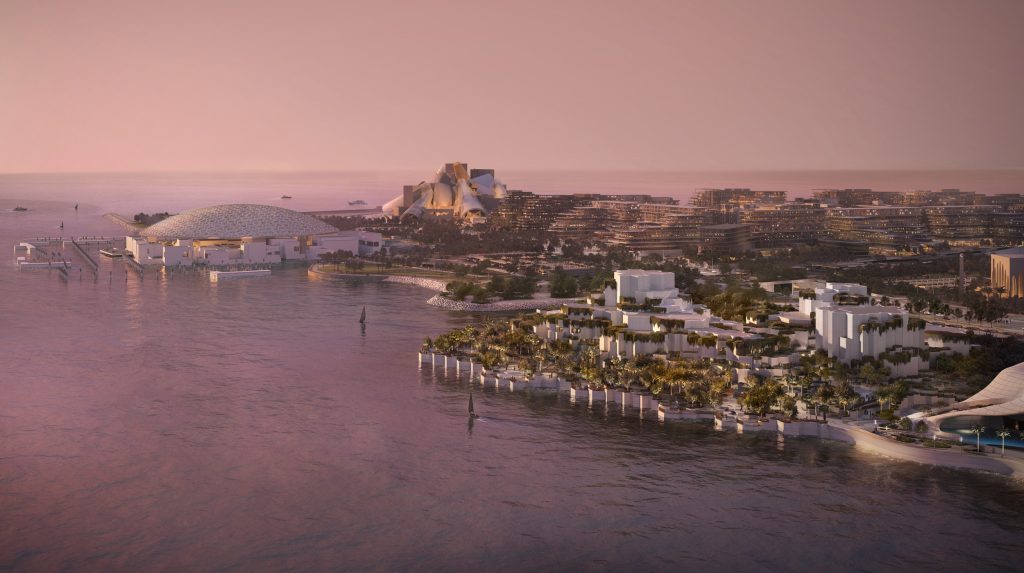 The United Arab Emirates is currently undertaking the development of multiple large-scale projects that will significantly impact the nation's future and solidify its position as a leader in the global and regional arena. These upcoming projects are a testament to the UAE's unwavering dedication to shaping its future. With the support of both the government and the private sector, these megaprojects are anticipated to boost economic growth, generate employment opportunities, and establish the country as a global hub for innovation, tourism, and potential prospects.
Here are 10 upcoming megaprojects in the United Arab Emirates:
1. Natural History Museum Abu Dhabi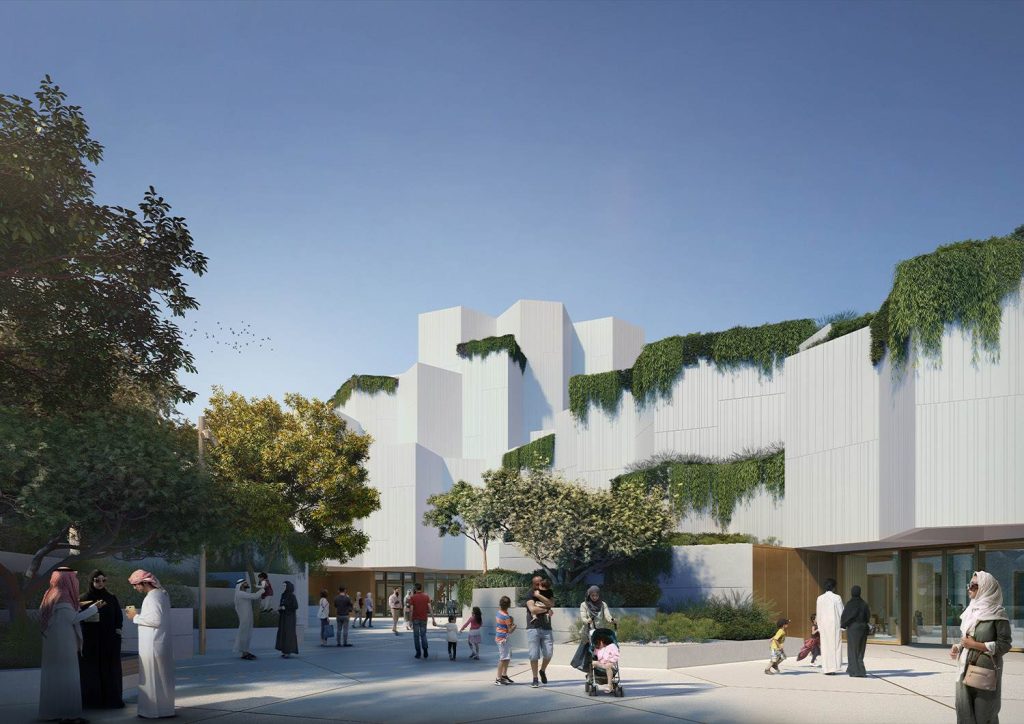 Location: Abu Dhabi
Design: Mecanoo
Natural History Museum Abu Dhabi, presently under construction and scheduled to open at the end of 2025, will be located in the Saadiyat Cultural District.
Mecanoo designed the museum, which spans more than 35,000 square meters, to resonate with natural rock formations, reflecting the museum's goal of improving knowledge of and engagement with the natural world. Geometry is a recurring theme throughout the design, with pentagonal shapes reminiscent of cellular structures. Water and vegetation, both potent symbols of life in the desert, play an important role in the design. In addition to gallery display areas, the museum will include temporary exhibition spaces for special events, as well as theater capabilities.
2. Guggenheim Abu Dhabi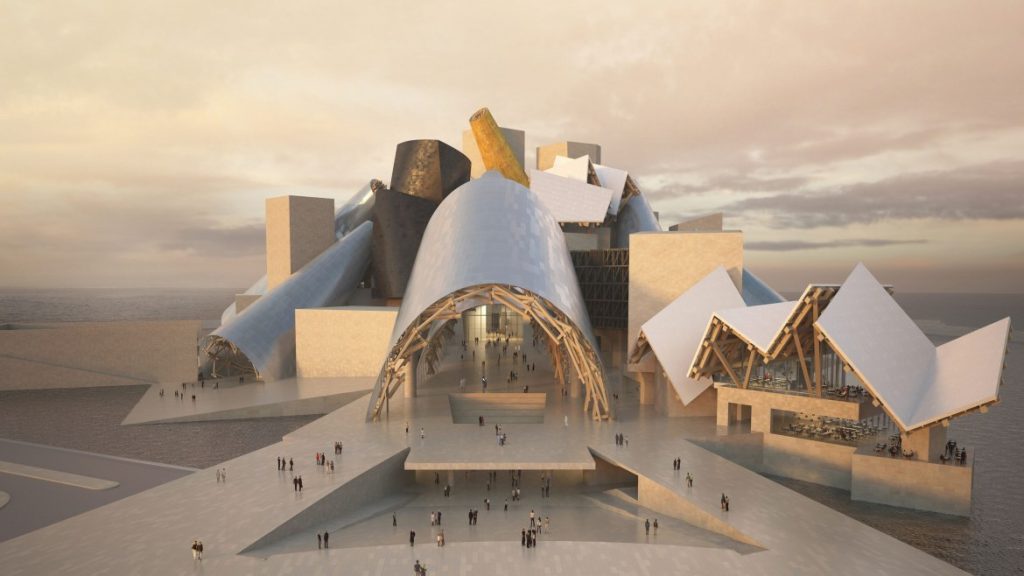 Location: Abu Dhabi, United Arab Emirates
Design:Gehry Partners, LLP
Frank Gehry-designed Guggenheim Abu Dhabi Museum is a collaboration between the Department of Culture and Tourism of Abu Dhabi and the Solomon R. Guggenheim Foundation will open in 2025.
The museum's design, which will be the world's largest Guggenheim museum at 320,000 square feet, is focused on housing approximately 130,000 square feet of exhibition space. Permanent collections, galleries, a technology center, a children's art education facility, archives, a library, a research center, and a conservation laboratory will all be housed there.
Frank Gehry designed Guggenheim Abu Dhabi's lighting was designed by L'Observatoire International. Gehry stated, "The site itself, virtually on the water or close to the water on all sides, in a desert landscape with the beautiful sea and the light quality of the place suggested some of the direction."
The museum project was announced in 2006, and construction on the Saadiyat Island cultural district in Abu Dhabi, United Arab Emirates, began in 2011. The Abu Dhabi Department of Culture and Tourism announced that the Guggenheim Abu Dhabi should be completed by 2025.
3. Abu Dhabi Midfield Terminal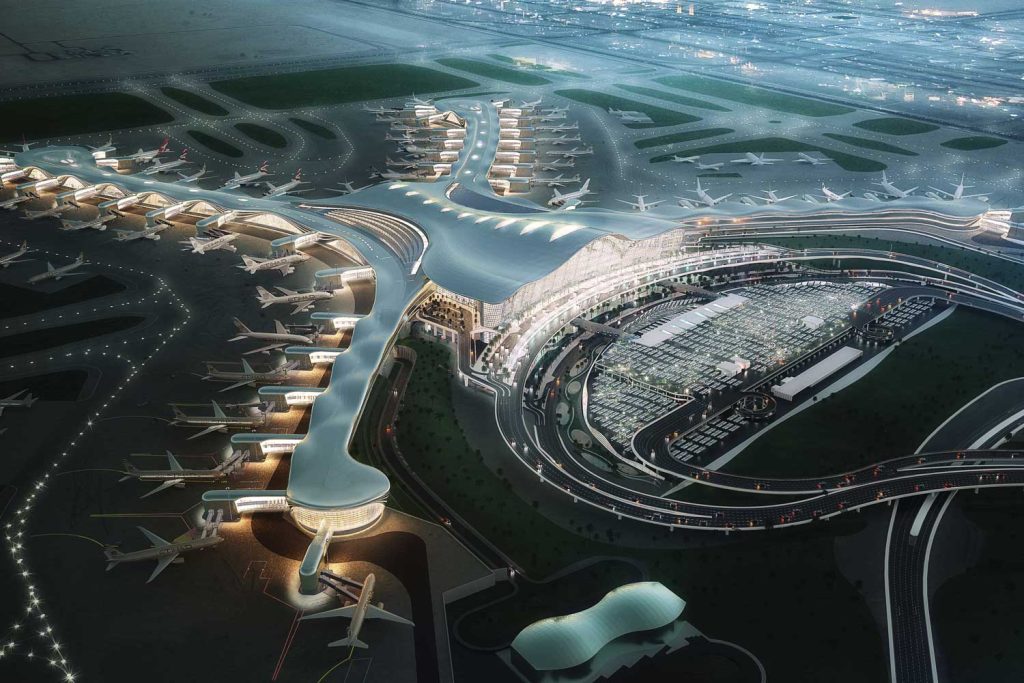 Location: Abu Dhabi, United Arab Emirates
Design: Kohn Pederson Fox Associates
Kohn Pederson Fox Associates and ARUP, NACO designed the 700,000 m2 Midfield Terminal Complex at Abu Dhabi International Airport, which is currently under construction in Abu Dhabi, UAE. The Abu Dhabi International Airport Midfield Terminal project is expected to be completed by the end of this year, most likely on December 2, the UAE National Day.
The Midfield Terminal Complex will include an 800,000m2 support structure as well as access to cargo parking stands. Approximately 20,000m2 to 25,000m2 of the area will be allocated to retail and food outlets, with an additional 8,400m2 devoted to an indoor park.
The construction supervisors have been named Hill International and AECOM. For the project, ECG supplied geotechnical and design services. Parsons was in charge of preparing the terminal's environmental and sustainability standards. Space Agency offered masterplan service.
4. The Zayed National Museum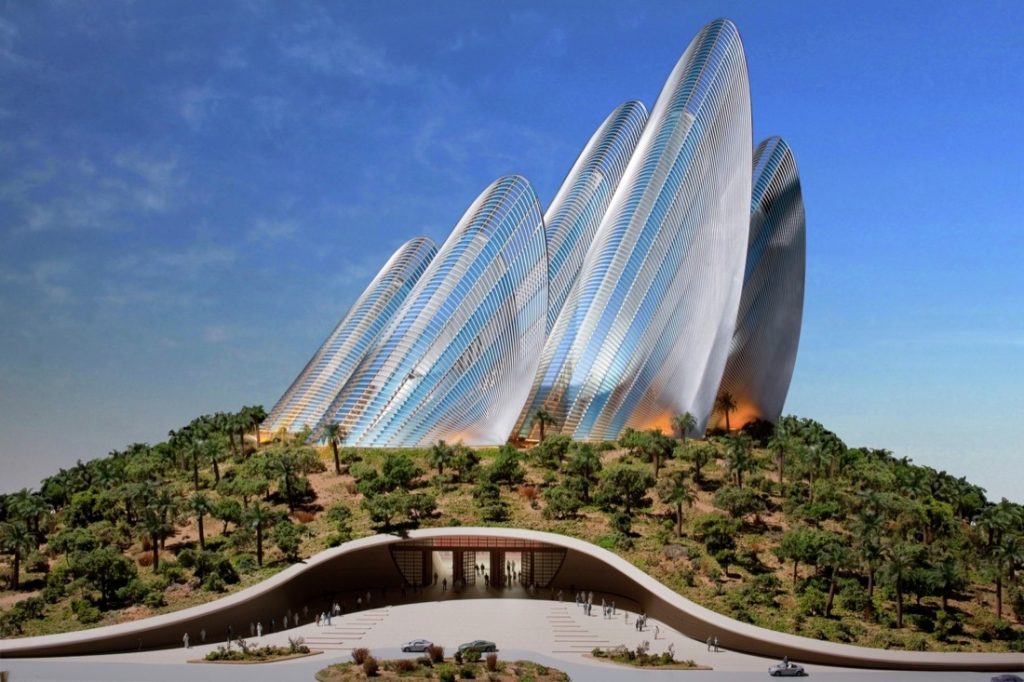 Location: Abu Dhabi, United Arab Emirates
Design: Foster+Partnes
Located at the center of Abu Dhabi's Saadiyat Island Cultural District, Foster+Partnes unveiled Zayed National Museum in 2010. Its debut has been repeatedly postponed. Originally scheduled to open in 2012, the date has been pushed back to 2013, then 2021, and now 2025.
The museum was created as a memorial to the UAE's founder and first president, Zayed bin Sultan Al Nahyan. In 2009, the Zayed National Museum announced a ten-year partnership with the British Museum. The British Museum would assist with curation and lend the Zayed National Museum approximately 500 artifacts.
The 44,000 m2 project by Foster+Partners works in collaboration with RLB as Quantity Surveyor; AKT/WSP Grop as structural Engineer; WATG Landscape as Landscape architect and Claude Engle as Lighting Engineer.
The galleries within the museum are housed within a mound whose shape is an abstraction of the geography of the Emirates. Five lightweight steel structures have been aerodynamically molded to serve as solar thermal towers above this. Pod-shaped galleries are suspended over a dramatic top-lit central lobby, which is dug into the earth to exploit its thermal properties and brings together shops, cafes, and informal venues for poetry and dance performances, balancing the lightweight steel structures with a more monumental interior experience, according to Foster+Parnets.
5. World's first 3D printed mosque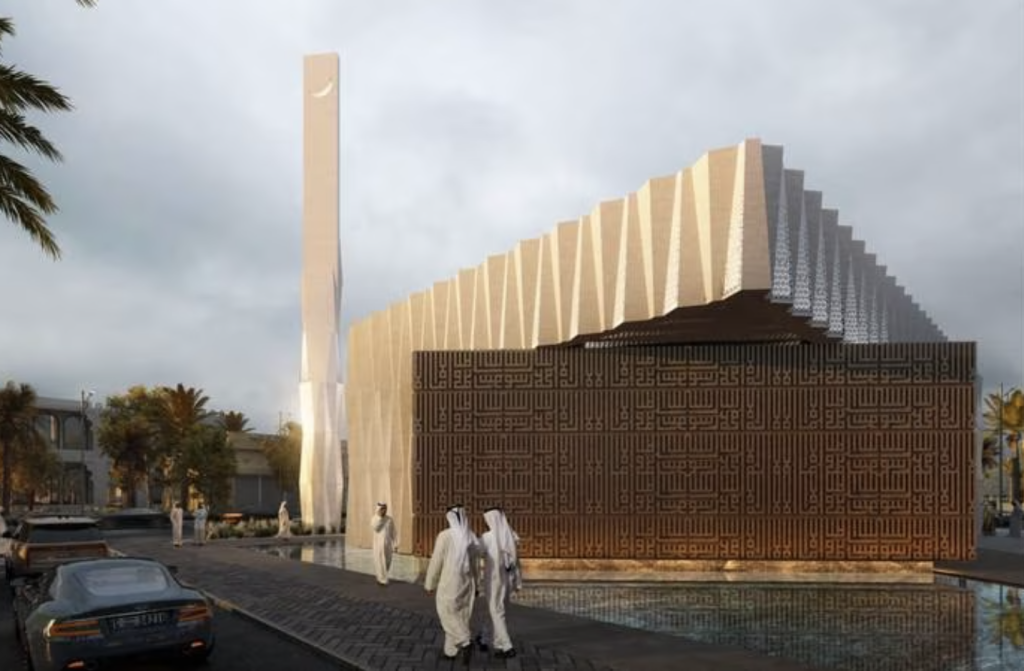 Location: Dubai, United Arab Emirates
Design: Islamic Affairs and Charitable Activities Department (IACAD)
Dubai intends to construct the world's first fully functional, 2,000-square-metre, 3D-printed mosque in Bur Dubai will start in October and the mosque will be ready for 600 worshippers early in 2025. The mosque is the latest step in Dubai's 3D Printing Strategy, a global initiative aimed at harnessing technology for the benefit of humanity and positioning the city as a leader in the field by 2030. The project is the emirate's latest step in its Dubai 3D Printing Strategy, launched in 2016. According to the plan, Dubai's key goal is to ensure that 25% of buildings in Dubai are based on 3D printing technology by 2030.
Plans for the mosque were released by Dubai's Islamic Affairs and Charitable Activities Department (IACAD) on its website. "Using 3D printing will reduce the construction material wastes. It is friendly to the environment. The mosque represents the vision of our wise leadership," Hamad Al-Shaibani, Director General of IACAD, said.
6. Phenomena Abu Dhabi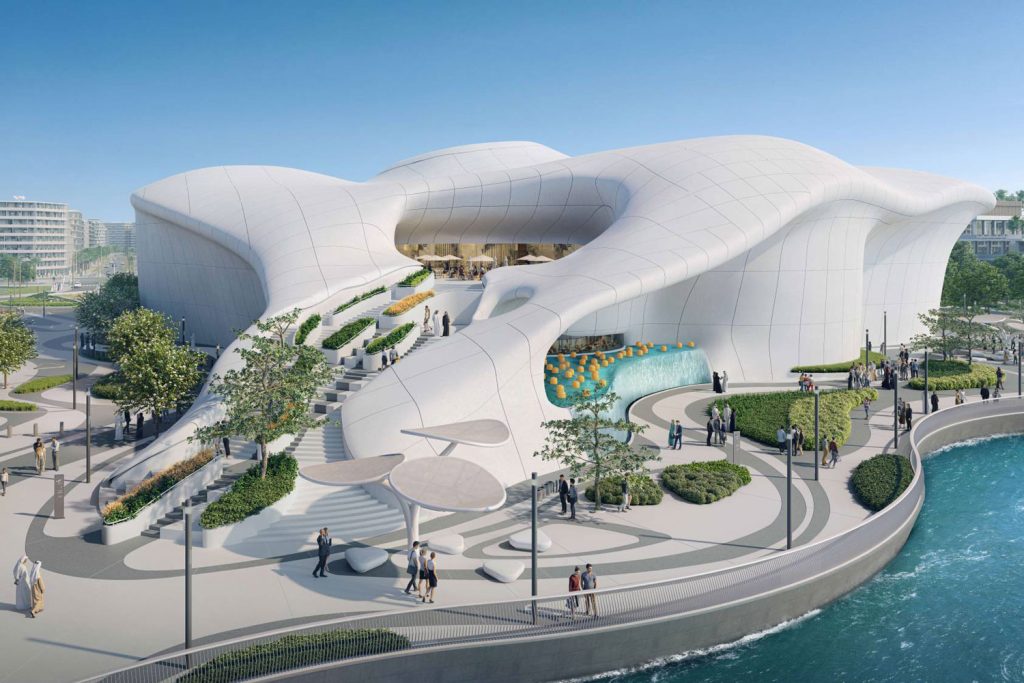 Location: Abu Dhabi, United Arab Emirates
Design: TeamLab
TeamLab, an art collective based in Japan, will be constructing its experimental center, TeamLab Phenomena Abu Dhabi, on Saadiyat Island in Abu Dhabi. The 17,000-square-meter center is scheduled to open in 2024. As part of the project, TeamLab will collaborate with MZ Architects, an Abu Dhabi-based studio, to design the island's waterfront.
"Phenomena – it's such a philosophical place that we would hope for you to become this critical intellectual thinker," says DCT Abu Dhabi's Chairman Mohamed Khalifa Al Mubarak. "So, the concepts of discovery and imagination and curiosity that – to us – are the building blocks of a flourishing human being… that is what the Phenomena is all about. It pushes you to take in all of everything that you've seen…..and to truly celebrate your imagination, your curiosity, and then discover the world that's ahead of you."
7. Louvre Abu Dhabi Residences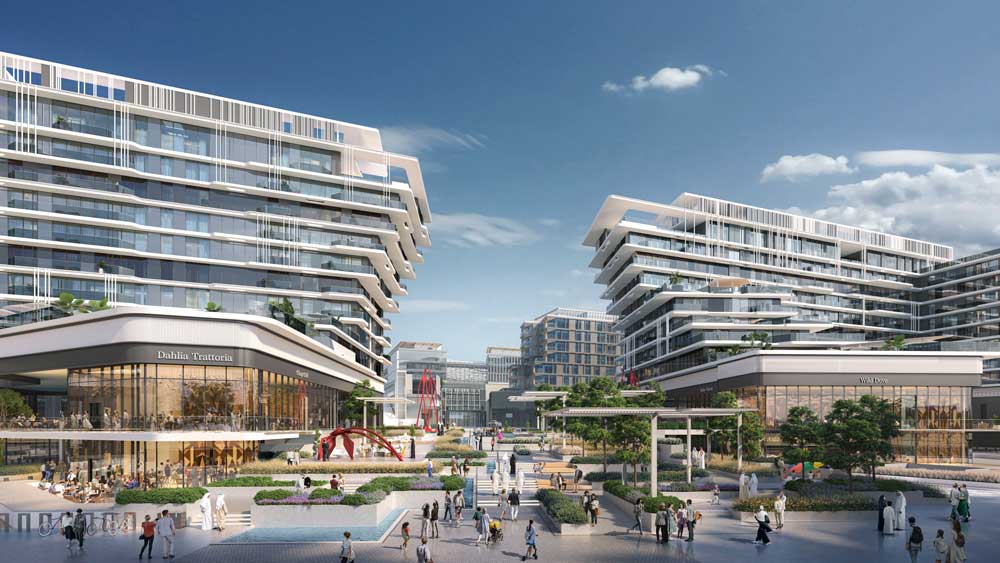 Location: Abu Dhabi, United Arab Emirates
Design: Aldar Properties
The new Louvre Abu Dhabi Residences is a partnership between Louvre Abu Dhabi and Aldar Properties. The residences will be built within the Saadiyat Grove multifunctional complex and will be ready in 2025. There are 400 apartments in total, with studios, one, two, and three-bedroom apartments, as well as five penthouses. Fittings and built-in home appliances will be standard in all units. It will also include a 12-seat private theatre, a wellness center, a gym with saunas, yoga and meditation space, and an indoor children's playroom.
The project is inspired by the Louvre Abu Dhabi, with art and sculptures chosen to mimic those on display at the museum.
"Aldar's vision and expertise in building the most inclusive communities resonate with Louvre Abu Dhabi's philosophy of celebrating cultural connections. With the residences, now there is an opportunity to reside at the most inspiring cultural address in the world," says Manuel Rabate, director of Louvre Abu Dhabi.
8. Dubai Urban Tech District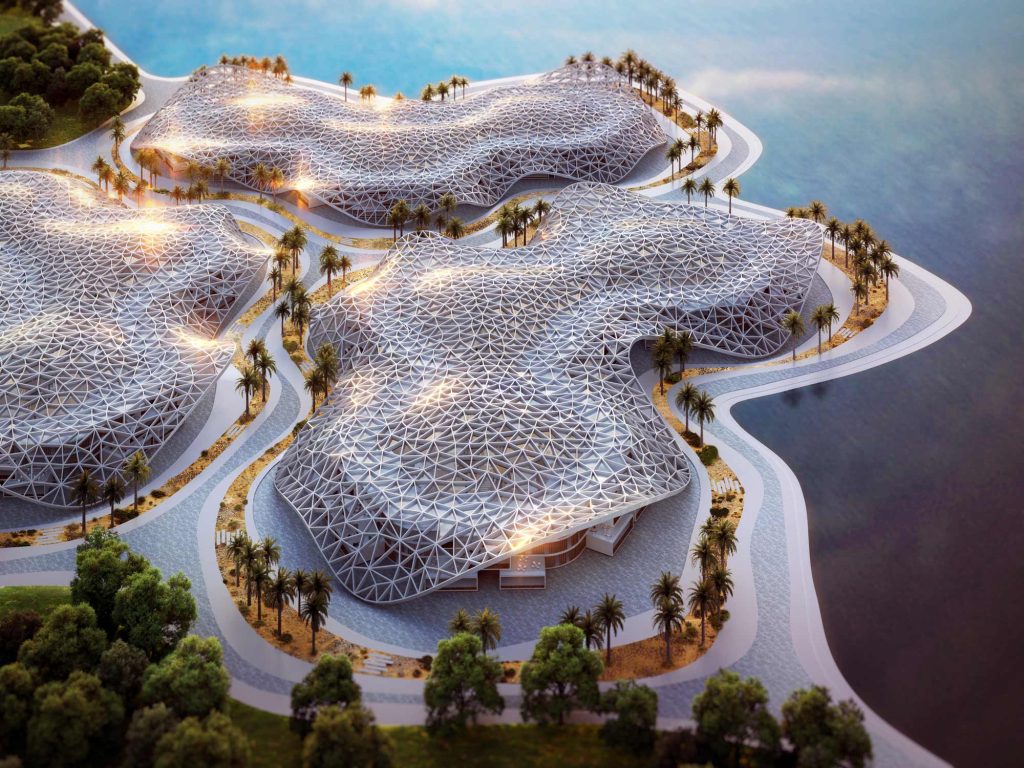 Location: Abu Dhabi, United Arab Emirates
Design: URB
The district, created by URB, aims to create over 4,000 jobs in urban technologies, education, and training, while also welcoming entrepreneurs to foster a collaborative tech ecosystem. Training, research, conferences, business incubations, shared-desk spaces, and dedicated offices will all be available in the district. It will also house an urban tech institute, which aims to drive innovation through applied research and public-private partnerships.
The idea behind the development was that innovation and research centers like these could help shape the evolution of future cities. The tech-enabled urban district aims to address issues such as food scarcity, energy production, water harvesting, and zero-waste management. It also aims to create more equitable living conditions by incorporating technologies into city planning, while also addressing environmental challenges and climate change threats.
9. Dubai Vertiport Terminal
Location: Dubai, United Arab Emirates
Design: Foster + Partners
Foster + Partners developed the vertiport terminal concept in collaboration with Skyports Infrastructure which is located next to Dubai International Airport (DXB).
The locations are part of a future network of electric vertical take-off and landing (eVTOL) infrastructure that will connect Dubai's most famous – and populous – areas while providing high-speed, zero-emissions travel. The network of vertiport terminals will connect to existing transportation hubs such as the RTA's Dubai Metro system and Dubai International Airport.
To ease aircraft take-off and landing, the terminal is built on an elevated deck. The structure wraps around the airfield, linking the arrival and exit lounges and providing breathtaking views of the planes and the city beyond. The overhanging roof and inclination of the façade shield the structure from direct sunlight and avoid overheating.
The building's façade matches that of the nearby metro station, and its edges are softened by verdant landscaping. To produce a comfortable and serene atmosphere, the interior spaces are designed with a refined palette of warm, natural materials.
10. Burj Jumeirah Tower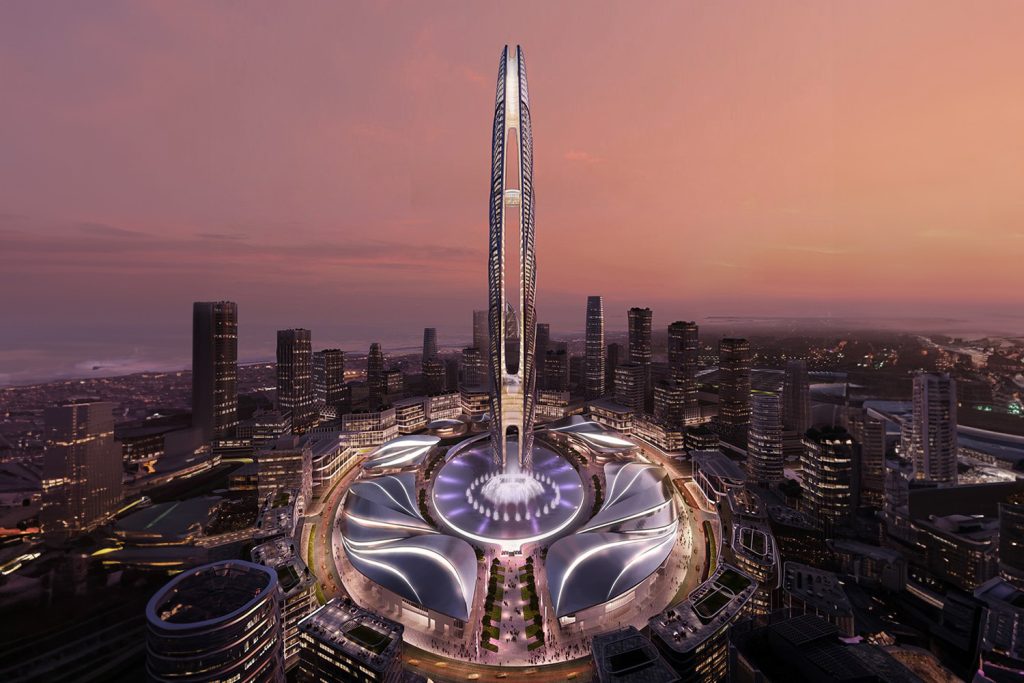 Location: Dubai, United Arab Emirates
Design: Skidmore, Owings & Merrill LLP
The Burj Jumeirah Tower was ready to participate in Dubai's skyline. The project's construction was planned to start in 2021 and is estimated to complete its first phase in 2023. However, the project stopped in 2022 without any progress completed.
The project aimed to be one of the focal points of Dubai with various functions. It includes observation decks, residential units, a sky lounge, a sky restaurant, a convention center, a gym, a reflecting pool, water fountains, a terraced outdoor theater, and a retail center.
The Burj Jumeirah was designed collaboratively by SOM's New York office, resulting in its astounding height and distinctive, bifurcated shape. Panoramic views of the city are available through the central void, which is made possible by a panelized metal façade system that integrates seamlessly with the structural system. The design of the outside bracing strengthens the tower against lateral forces, while the building's shape reduces wind loads aerodynamically. The panoramic views are enabled by the middle void, which is created by a panelized metal facade system that integrates seamlessly with the structural system.