Meta-Fluid Studio
We are happy to announce that we have almost reached an excellent end for the "Meta-Fluid Studio" workshop with amazing student results. The jury day and final presentation are on July 15, at 19:00 London Time (GMT +1). Join us at the open event for the final presentation as we invited Ping-Hsiang, Cherylene M. Shangpliang, and Irfan Bhakrani from Zaha Hadid Architects to be the jury for the event. At the open session, the students will present the projects they designed and created using Maya Autodesk and Unreal Engine during the studio. The studio has been running through the last nine weeks, and the students were able to learn and digest a good amount of knowledge about Maya and Unreal Engine. After this, they had two weeks to prepare for their final presentation. You can watch the recordings of the Meta-Fluid Studio.
The Meta-Fluid Studio explores the quality and power of Fluid Design to conceive cyber-urban environments in virtual cities. The goal was to create a free-standing virtual city designed by 30 different designers teamed up in 3s. Some teams will create meta-archi typologies for this studio, and some designers will join skills to develop a 'Meta-Urban' base. Combined, they will make a free-standing, fluid virtual urban field and prove the Multi-Author Urban Design to be the directionality for the future of virtual cities.
During this studio, the designers had acquainted with the 3d modeling software Autodesk Maya – the number one software for Fluid Architecture in the current real-life scenario – and Unreal Engine for the immersive experience of their designs.
For the Meta-Fluid Studio, virtual environments are as real as Physical environments. Together they enhance the fluid experience of space and push the boundaries of Fluid Design in Architecture.
Meta Archi-Typologies: Event Spaces; NFT exhibitions; Crypto Markets; Concert Stages; Sports Stadium; Lice Streamed Arenas / Fashion walk-ways/ Entertainment and nigh-life.
Meta-urban Typologies: Master planners; vertical and horizontal voided buildings; water and green ration; multi-layers of urban circulation
Studio Instructor: Mariana Cabugueira
Mariana Cabugueira is a Portuguese architect and urban designer working as a senior architectural designer at Zaha Hadid Architects. She also teaches at the Architectural Association DRL in London and conducts live workshops, talks, and webinars with students worldwide.
After graduating from the School of Architecture in Lisbon and the Politecnico di Milano, she traveled to London to study design and technology at the Architectural Association School's Postgraduate course: Design Research Laboratory (DRL) (AA).
Her research interests include Parametric Design, Generative Design, Digital Design, and Robotic Fabrication. Her final proposal envisions a cluster of structures in the heart of London that are dramatically diverse but physiologically related.
Mariana graduated from the AA School in 2017 and joined Zaha Hadid Architects. Since then, she has been a member of the Competition Cluster, in charge of the Office's High-End Design projects. She was a member of the Design Team for award-winning projects such as Navi Mumbai Airport, Western Sydney Airport, Chongqing Terminal 3b, Beijing Exhibition Center, and, most recently, Shenzhen Tower C.
Guest Juries:
Ping-Hsiang Chen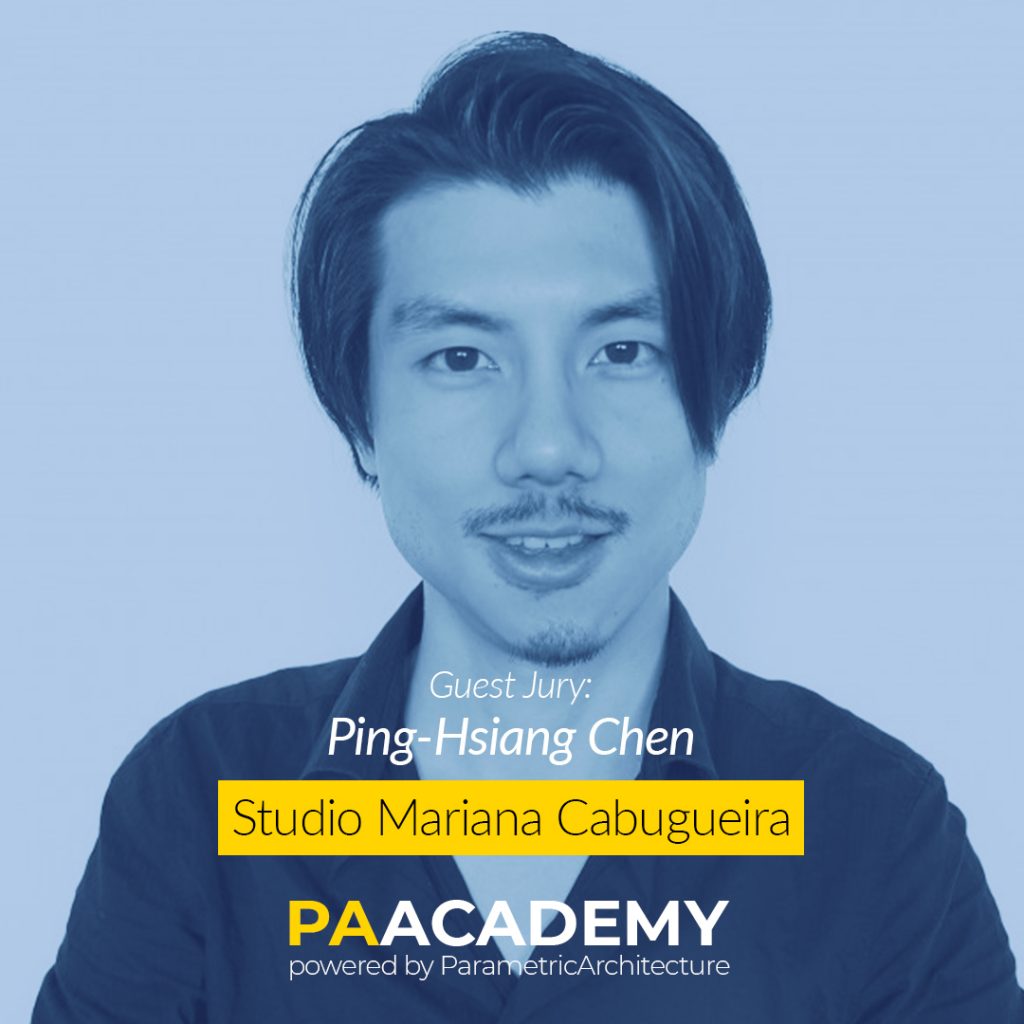 Ping-Hsiang Chen works as a Senior Architect at Zaha Hadid Architects. He specializes in data-driven design, complex geometry, multimedia, and digital fabrication in architecture. Also, he has worked on a wide range of architectural projects covering all RIBA stages as an architect and as a senior computational designer providing highly technical solutions for projects across various fields.
Previously he worked as both architect and computational designer in KPF, ShaGa Architects, A+T Partners, and Mamou-Mani Architects in London. Before joining Zaha Hadid Architects, he was a computational designer and geometry specialist at Applied Research Team at KPF. Academically, he is a computational course tutor at the Bartlett school of architecture, UCL. He has taught at Shih Chien University in Taiwan. He has over ten years of experience providing computational design training, technical solutions, and software development services for various fields such as architecture, urban and industrial design, 3D printing, CNC manufacturing, and building construction.
Cherylene M. Shangpliang
Cherylene M. Shangpliang is an Architectural Designer currently working at Zaha Hadid Architects in London. She holds a Master of Architecture degree from the Architectural Association Design Research Lab (AADRL) in London under Patrik Schumacher's research agenda "Agent Based Parametric Semiology" and a Bachelor of Architecture degree from BMS College of Engineering, Bangalore, India. Prior to joining Zaha Hadid Architects, she has gained professional working experience at international office MAD Architects in Beijing, China.
Since her time at ZHA, Cherylene has worked on various international competition projects developing high-end designs for building typologies, interiors and landscape design. She has previously taught workshops utilizing Autodesk Maya as an architectural modelling tool at the Computational Design: NEXT 3.0 online conference and the Metaplay online workshops in collaboration with DEZACT London. She is passionate about communicating complex concepts in architectural design with Autodesk Maya being her primary tool for 3d modelling. Her areas of interests lie in parametric modelling, computational design and generative design methodologies.
Irfan Bhakrani
Irfan Bhakrani is an Architect and Designer currently working at Zaha Hadid Architects in London. He holds an M.Arch degree in Architecture and Urbanism from the Architectural Association Design Research Lab (AADRL)in London under Patrik Schumacher's research agenda "Agent-Based Parametric Semiology" and a B.Arch degree from Rizvi College of Architecture, Mumbai, India. Since 2019, Irfan has been actively working at ZHA on several international projects at multiple scales ranging from master plans to independent towers with a diverse team. He is highly skilled in complex parametric modeling, with his primary tool being Autodesk Maya. His keen interests lie at the intersection of Art, Architecture, and Computation.