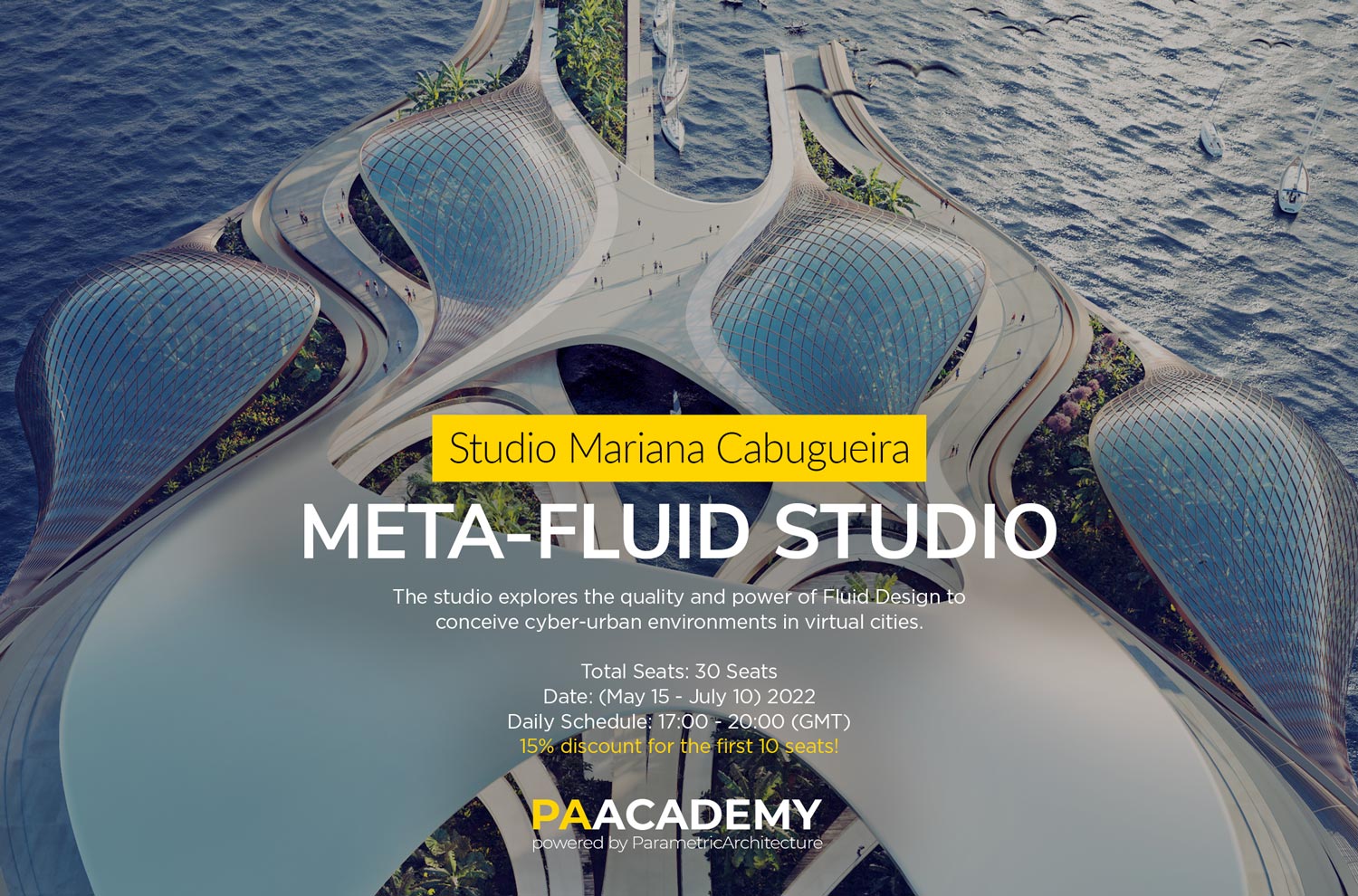 Topic: Meta-Fluid Studio
Time: May 15 – July 10, 2022
Location: ZOOM hosted by PA
Format: Online
Duration: 7 Sessions
Total Hours: 28 Hours
Workshop Type: Project-based online studio workshop
Early Registration Fee: €340 (15% discount for the first 10 seats) (Closed)
General Registration: €400 (The next 20 seats) (Closed)
Seats after 30: €450 (Closed)
Recordings On-Demand: €500
Registration Deadline: May 14, 2022
Total Seats: 30 + 5 (Closed)
Available Seats: 0 Seat
Organized By: PAACADEMY
Studio: Studio Mariana Cabugueira
Meta-Fluid Studio
The Meta-Fluid Studio explores the quality and power of Fluid Design to conceive cyber-urban environments in virtual cities. The goal is the creation of a free-standing virtual city designed by 30 different designers teamed up in 3s. For this studio, some teams will create meta-archi typologies, and some designers will join skills to create a 'meta-urban' base. Combined, they will create a free-standing, fluid virtual urban field and prove the Multi-Author Urban Design to be the directionality for the future of virtual cities.
During this studio, the designers will get acquainted with the 3d modeling software Autodesk Maya – the nr 1 software for Fluid Architecture in the current real-life scenario – and Unreal Engine for the immersive experience of their designs.
For the Meta-Fluid Studio, virtual environments are as real as Physical environments. Together they strengthen the fluid experience of space and push the boundaries of Fluid Design in Architecture.
Meta Archi-Typologies: Event Spaces; NFT exhibitions; Crypto Markets; Concert Stages; Sports Stadium; Lice Streamed Arenas / Fashion walk-ways/ Entertainment and nigh-life.
Meta-urban Typologies: Master planners; vertical and horizontal voided buildings; water and green ration; multi-layers of urban circulation.
Program:
Week 1 (May 15): introduction + basic modeling in Maya – Archi-typologies and urban techniques
Week 2 (May 22): creation of teams + continuation of Maya modeling Typologies and Urban fields + brief and meet the teams
Week 3 (May 29): Maya modeling Typologies and Urban fields + projects review
Week 4 (June 12): Unreal basic interface with Maya + projects review
Week 5 (June 19): Unreal and experience of space + Projects Review
Week 6 (June 26): Combine the final scene + Project Reviews
Week 7 (July 10): Final Presentation
Software:
Autodesk Maya: Autodesk Maya is one of the top digital design tools because of its versatility and freedom in design.
Unreal Engine: With Unreal Engine, you can bring amazing real-time experiences to life using the world's most advanced real-time 3D creation tool.
Important Notes:
The Meta-Fluid Studio workshop by PAACADEMY will start on Sunday, May 15, at 17:00 (GMT/UTC).
Total sessions: 6 (teaching sessions) + 1 (final presentation)
Schedule on each Sunday: 17:00 – 22:00 (GMT/UTC).
Each session and the entire studio will be recorded, and videos will be available for participants just a day after the class for an unlimited period of time.
Certificate of attendance will be will provided by PAACADEMY only for students who deliver a final project.
No previous knowledge of any software is required. You will learn everything in the workshop.
We accept payments in crypto. Please email us for the details: [email protected].
The studio has limited seats. Tickets are non-transferable & non-refundable. Please read carefully before you register.
Deliverables:
This is an applied workshop. We will learn through involvement, so expect homework! You will work in groups of 3 to distribute the tasks and produce a complete project. Each group will have 10 minutes to present their work on jury day.
Instructor:
Mariana Cabugueira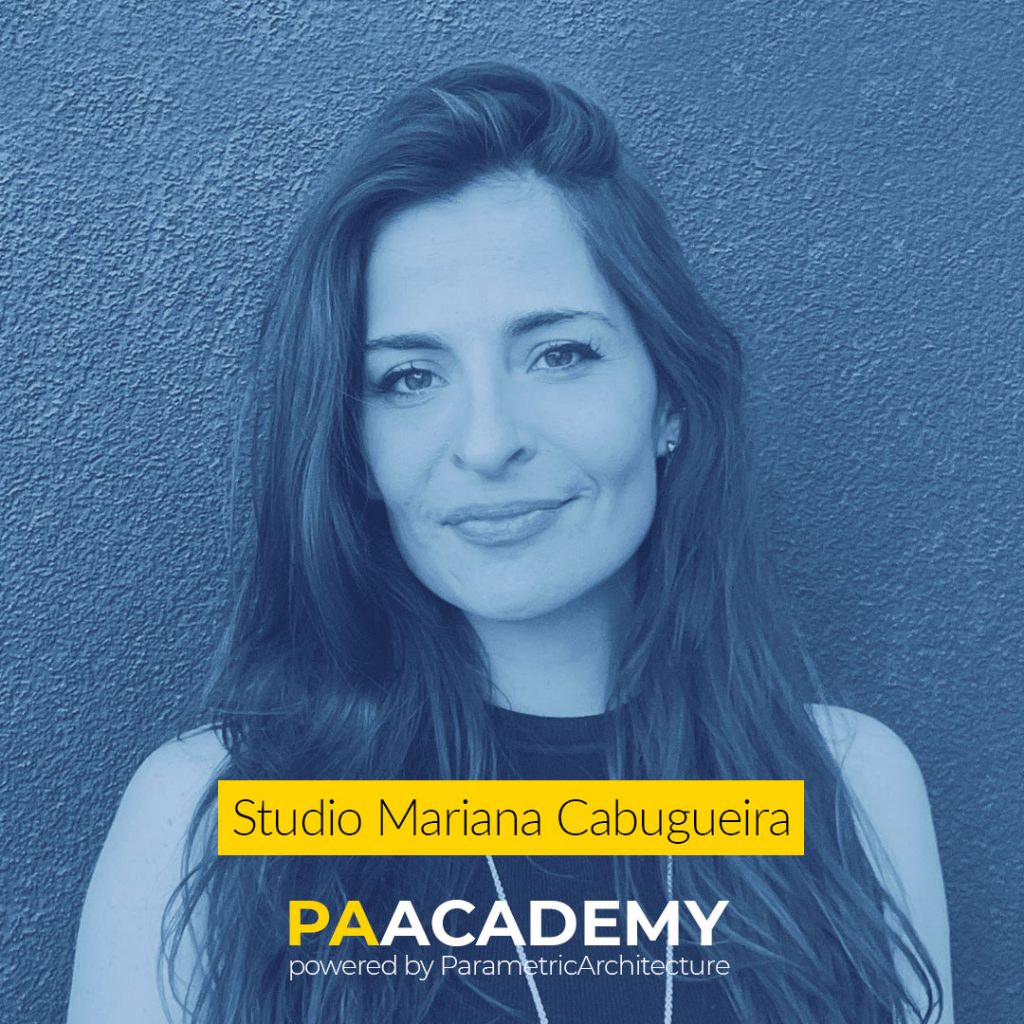 MARIANA CABUGUEIRA is a Portuguese architect and urban designer working as a senior architectural designer at Zaha Hadid Architects. She also teaches at the Architectural Association DRL in London and conducts live workshops, talks, and webinars with students worldwide.
After graduating from the School of Architecture in Lisbon and the Politecnico di Milano, she traveled to London to study design and technology at the Architectural Association School's Postgraduate course: Design Research Laboratory (DRL) (AA).
Parametric Design, Generative Design, Digital Design, and Robotic Fabrication are some of her research interests. Her final proposal envisions a cluster of structures in the heart of London that are dramatically diverse but physiologically related.
Mariana graduated from the AA School in 2017 and joined Zaha Hadid Architects. Since then, she has been a member of the Competition Cluster, where she is in charge of the Office's High-End Design projects. She was a member of the Design Team for award-winning projects such as Navi Mumbai Airport, Western Sydney Airport, Chongqing Terminal 3b, Beijing Exhibition Center, and, most recently, Shenzhen Tower C.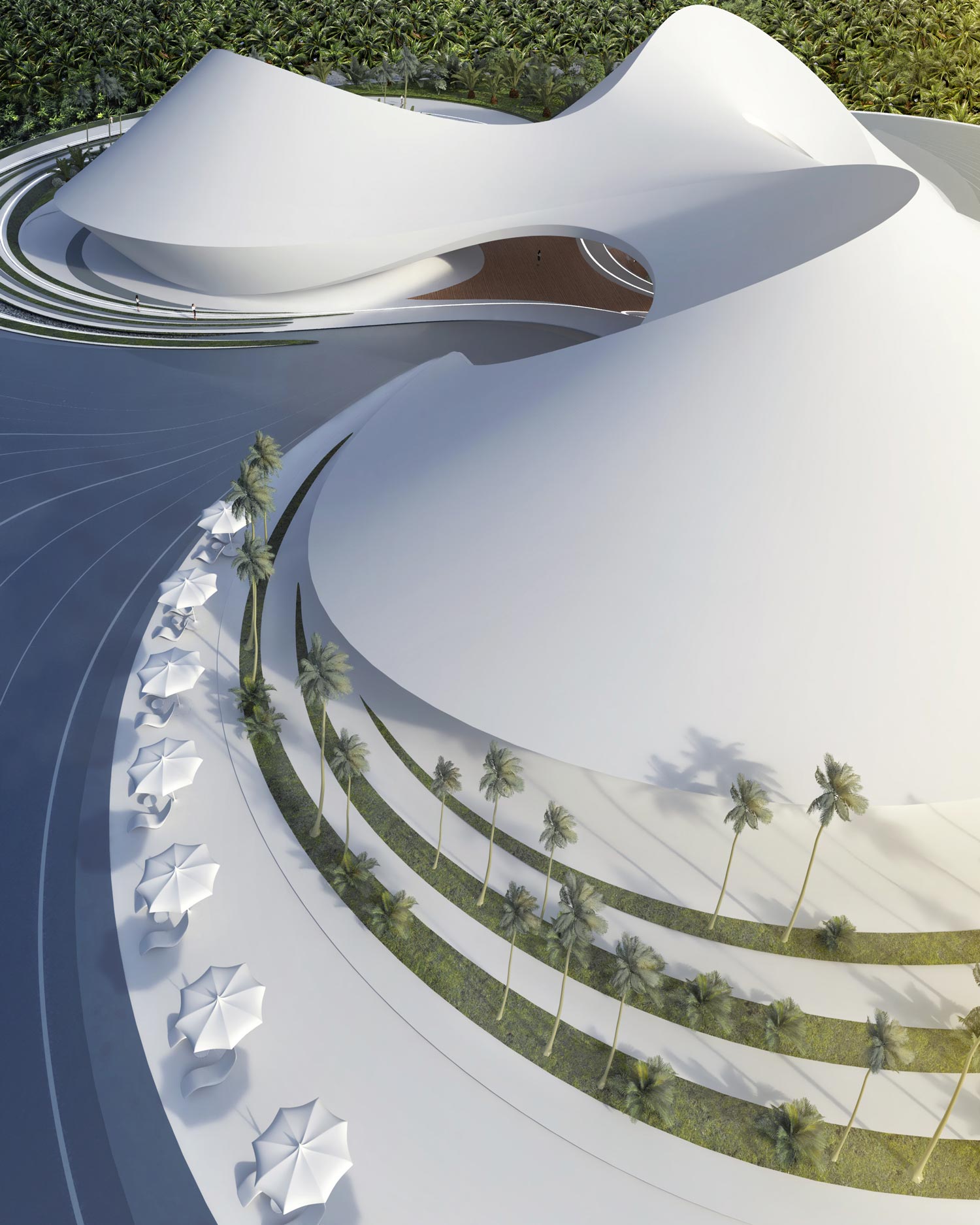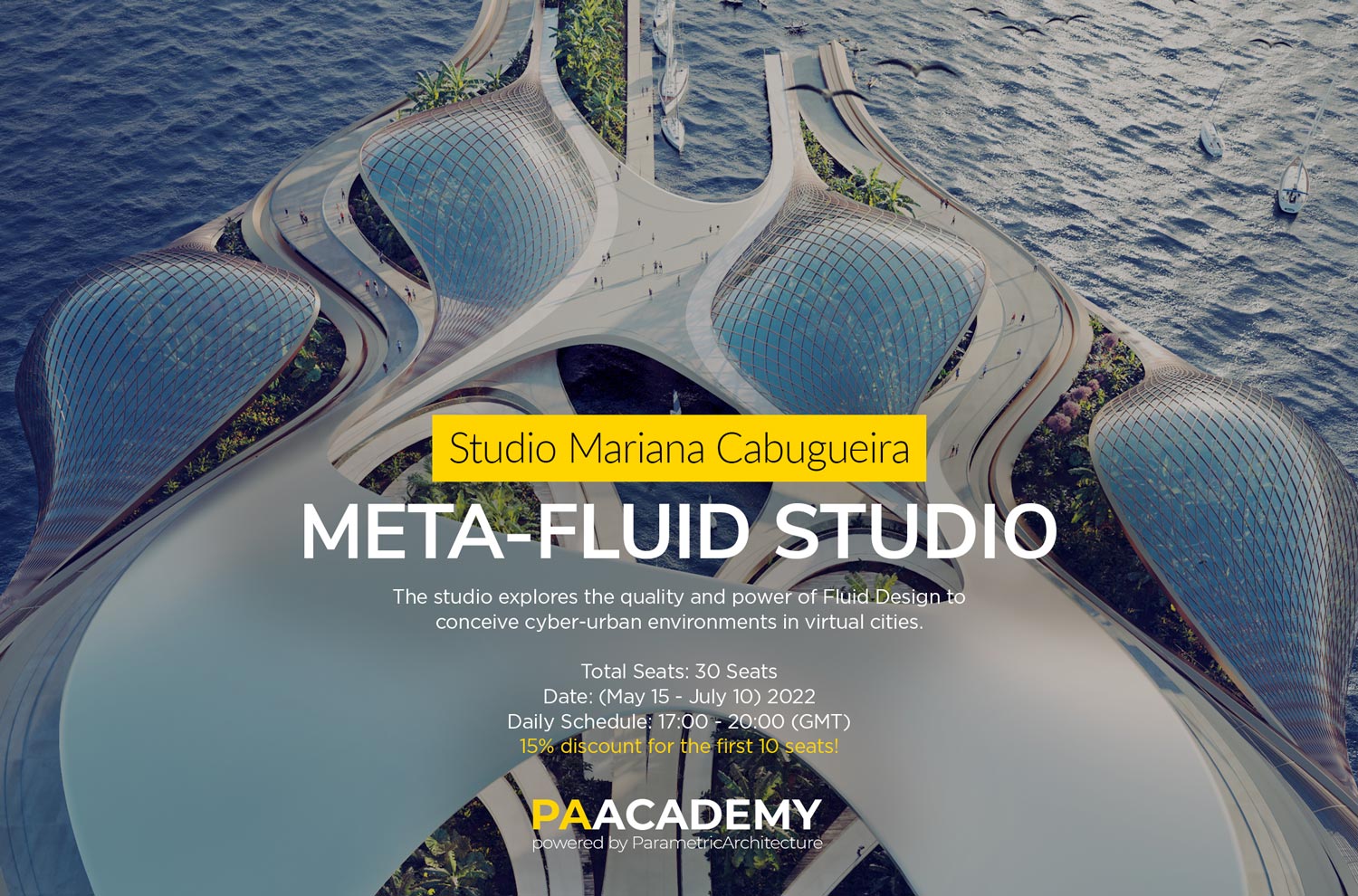 Topic: Meta-Fluid Studio
Time: May 15 – July 10, 2022
Location: ZOOM hosted by PA
Format: Online
Duration: 7 Sessions
Total Hours: 28 Hours
Workshop Type: Project-based online studio workshop
Early Registration Fee: €340 (15% discount for the first 10 seats) (Closed)
General Registration: €400 (The next 20 seats) (Closed)
Seats after 30: €450 (Closed)
Recordings On-Demand: €500
Registration Deadline: May 14, 2022
Total Seats: 30 + 5 (Closed)
Available Seats: 0 Seat
Organized By: PAACADEMY
Studio: Studio Mariana Cabugueira