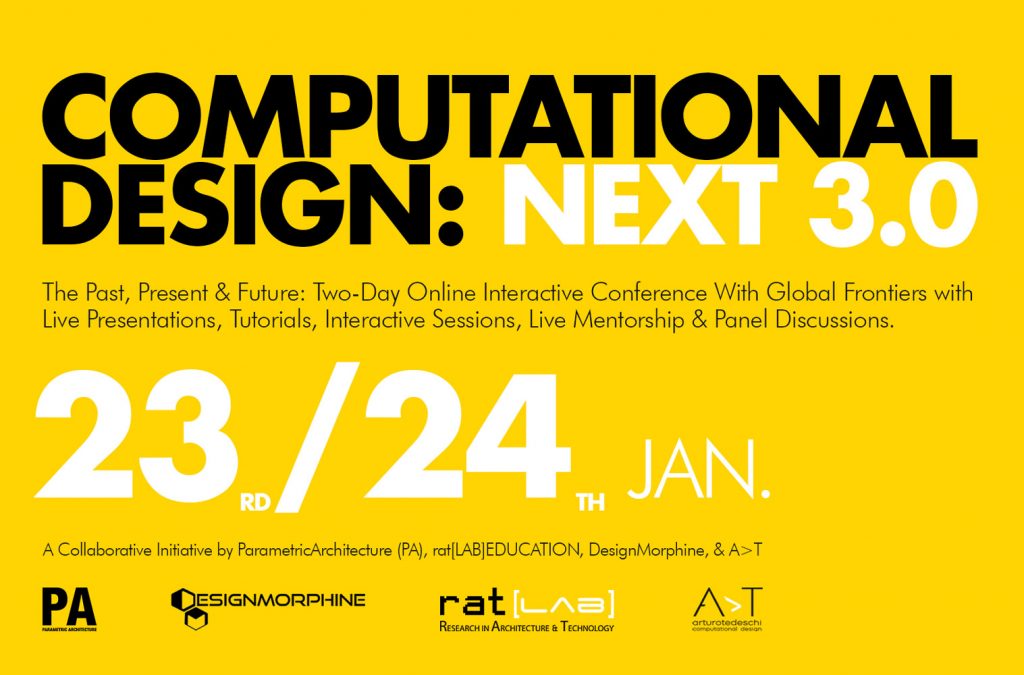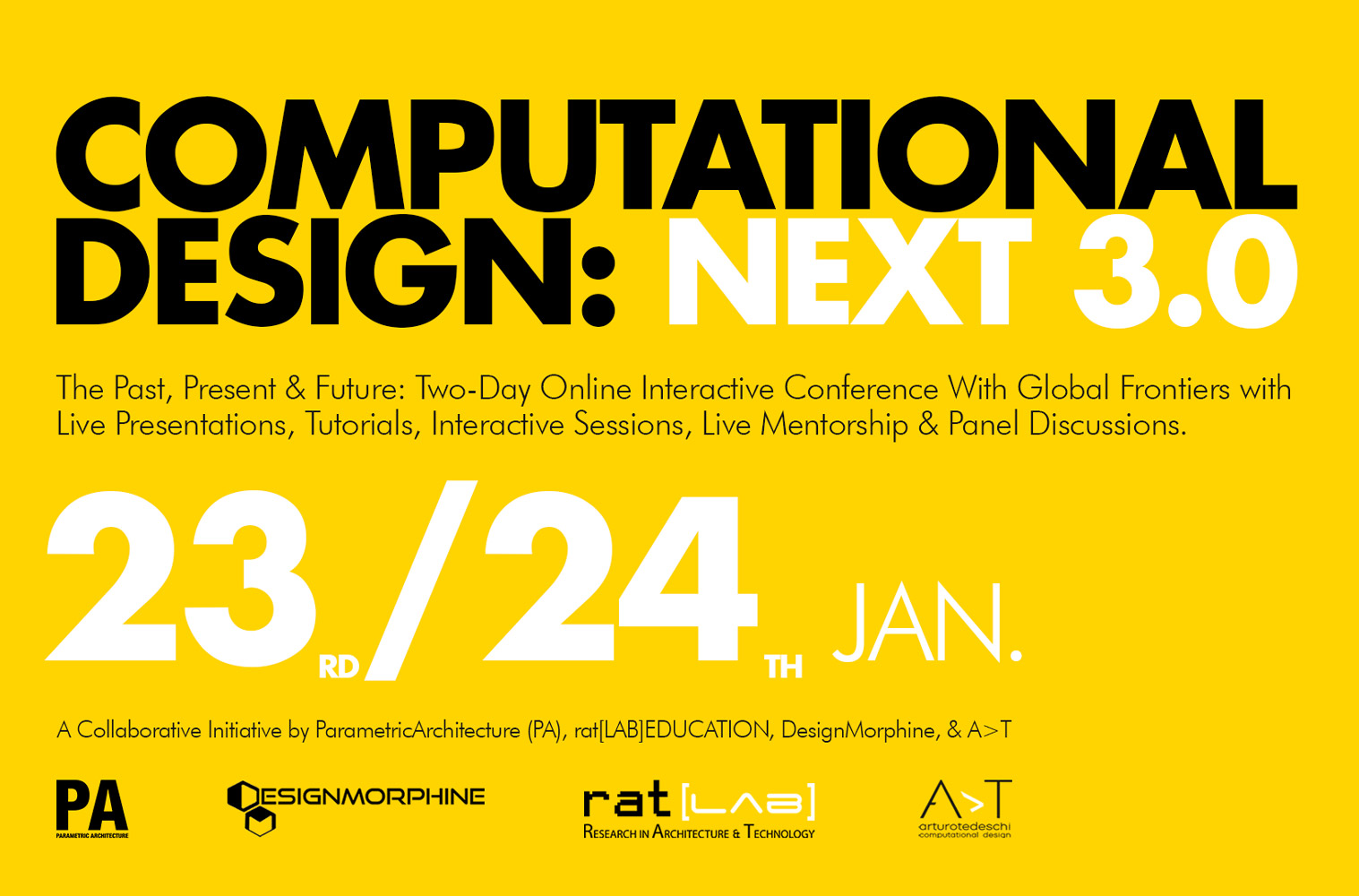 Topic: COMPUTATIONAL DESIGN: NEXT 3.0
Time: 23rd & 24th January 2021, Saturday and Sunday
Day 1 Starts: 23th Jan, 12:00 GMT
Day 1 Ends: 23th Jan, 18:15 GMT
Day 2 Starts: 24th Jan, 12:00 GMT
Day 2 Ends: 24th Jan, 20:45 GMT
Where: ClickMeeting platform, hosted by PA
Duration: Two Days Conference
Format: Online
Total Hours: 14.5 Hours
Speakers: Arturo Tedeschi, Hamid Hassanzadeh, Michael Pryor, Sushant Verma + 6 other guests (to be announced)
Collaborators: PA, A>T, DesignMorphine, rat[LAB]EDUCATION
Invite only fee: €38 (Till 11:59 GMT, 10th October 2020)
Early-bird Registration: €48 (Till 11:59 GMT, 30th November 2020)
General Registration: €60 (Till 11:59 GMT, 20th January 2020)
THE PAST, PRESENT & FUTURE: An Online Interactive Conference with global frontiers.
Two-Day Online Conference with Live Presentations, Tutorials, Interactive Sessions, Live Mentorship & Panel Discussions.
A collaborative initiative by ParametricArchitecture (PA) with rat[LAB]EDUCATION, DesignMorphine, A>T
Computational Design: NEXT is a collaborative initiative by some of the global frontiers of Computational Design to open up an Online Learning platform as a comprehensive ONLINE CONFERENCE comprising of discussions, dialogues, tutorials and mentorship to a global audience through thought-provoking and meaningful dialogues curated by ParametricArchitecture (PA), one of the leading media platforms focussing on Computational Design and its various subsets.
The first iteration of online conference NEXT 1.0 took place on 13-14 June 2020 and brought forth all collaborators on a single platform in a power-packed 2-day dialogue with live tutorials and mentorship for designers for an immersive learning and knowledge-building experience.
NEXT 2.0 took the next step, taking cues from the inaugural conference and expanded to bring forth collaborative workshops, guest lectures on Advanced Computational Design, showcase of inter-disciplinary approaches by renowned experts and personal interactions through panel discussions revolving around Emerging Technologies in Design.
The 2-day knowledge-rich conference took place on 26-27 Sept 2020 and had renowned experts for Guest Lectures and Tutorials including Refik Anadol, Anouk Wipprecht, Michail Desyllas (AI Build), iheartblob, Justin Hattendorf (nTopology), Hamid Hassanzadeh (ParametricArchitecture) & Zeynep Topal (ZETZDEZIGN). Arturo Tedeschi (A>T), Michael Pryor (DesignMorphine) and Sushant Verma (rat[LAB]EDUCATION) demonstrated a collaborative workshop to design a Soccer Stadium through multiple techniques of computational overlaps.
Each tutor shall built upon the programme based on rational decision-making aided by computational tools, right from seating design, sightline optimization, structural skin design, environmental design integration, panelization, etc. as a part of an integrated and collaborative process.
NEXT 3.0 takes another step to delve into new age design technologies by global advocates of technology and is scheduled to take place on 23-24 January 2021 (Saturday & Sunday) as a 2-day conference with workshops, panel discussions, tech demonstrations and discussions.
When:
23rd & 24th January 2021 (Saturday & Sunday)
Where:
ClickMeeting platform, hosted by PA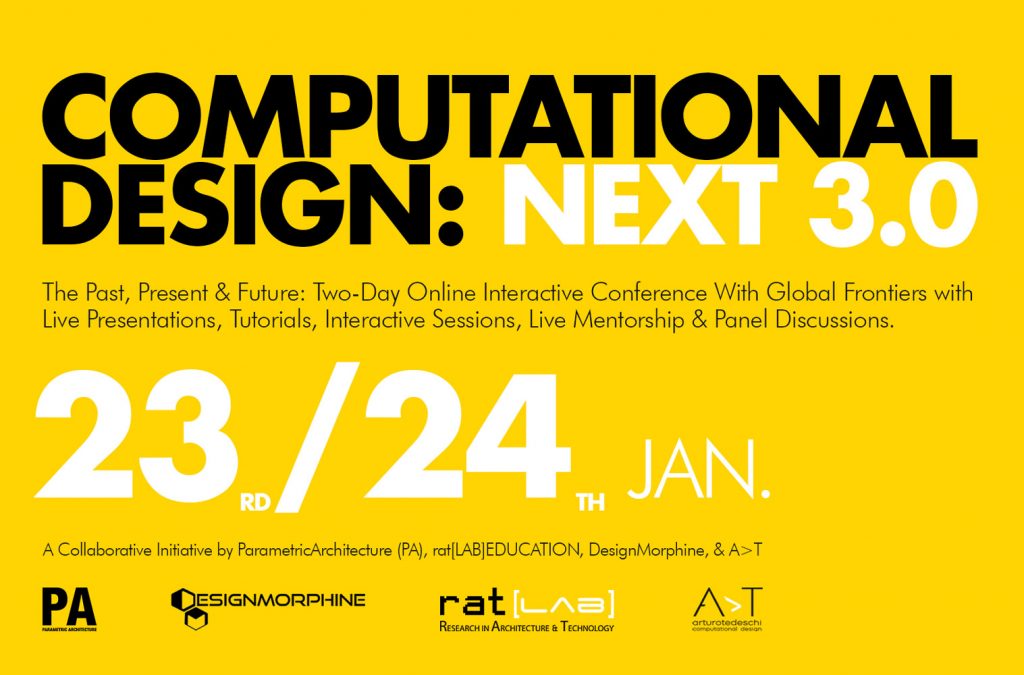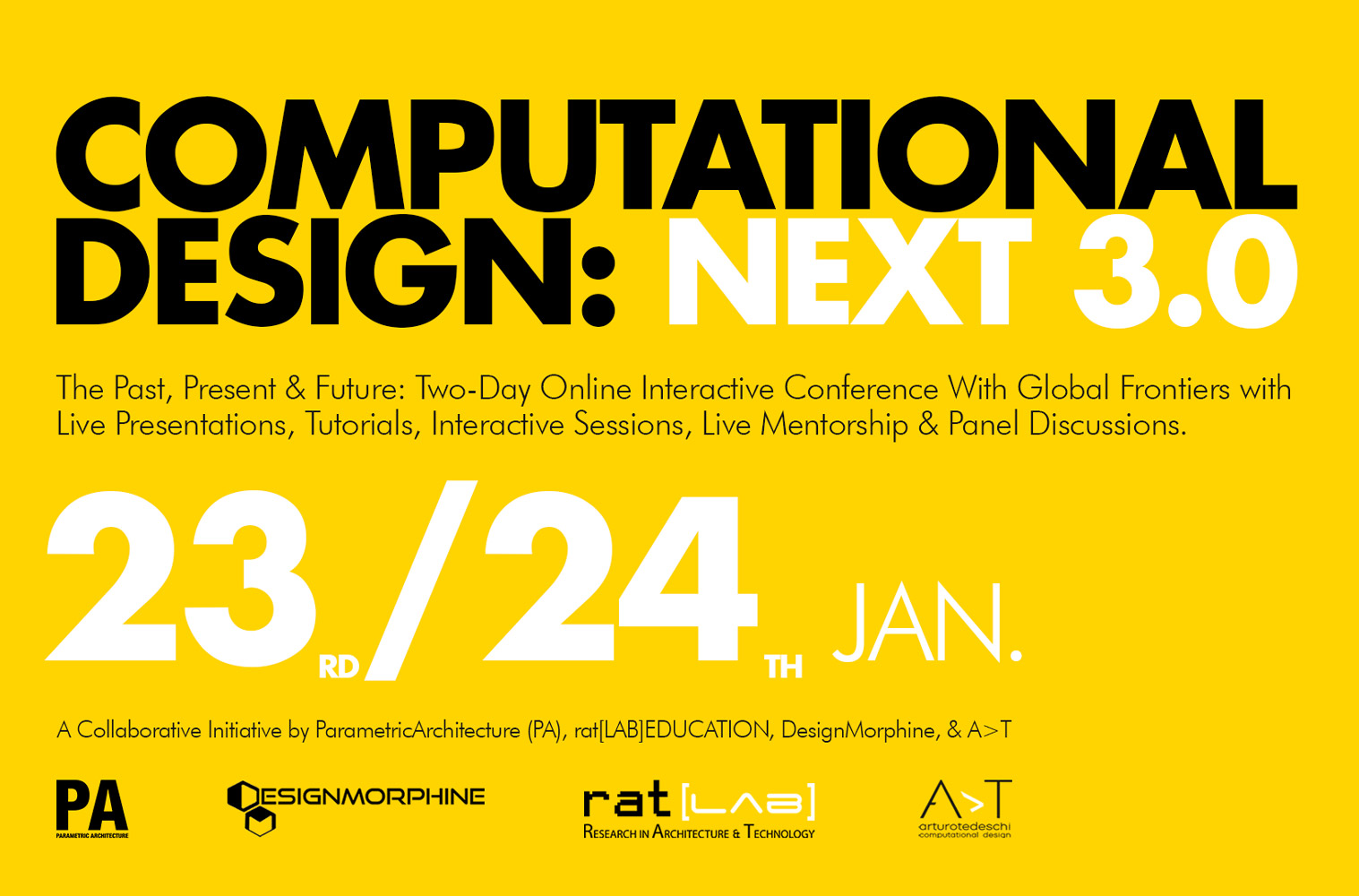 Topic: COMPUTATIONAL DESIGN: NEXT 3.0
Time: 23rd & 24th January 2021, Saturday and Sunday
Day 1 Starts: 23th Jan, 12:00 GMT
Day 1 Ends: 23th Jan, 18:15 GMT
Day 2 Starts: 24th Jan, 12:00 GMT
Day 2 Ends: 24th Jan, 20:45 GMT
Where: ClickMeeting platform, hosted by PA
Duration: Two Days Conference
Format: Online
Total Hours: 14.5 Hours
Speakers: Arturo Tedeschi, Hamid Hassanzadeh, Michael Pryor, Sushant Verma + 6 other guests (to be announced)
Collaborators: PA, A>T, DesignMorphine, rat[LAB]EDUCATION
Invite only fee: €38 (Till 11:59 GMT, 10th October 2020)
Early-bird Registration: €48 (Till 11:59 GMT, 30th November 2020)
General Registration: €60 (Till 11:59 GMT, 20th January 2020)
Topic: COMPUTATIONAL DESIGN: NEXT 2.0 Time: 26th & 27th September 2020, Saturday and Sunday Day 1 Starts: 26th Sep, 12:00 GMT Day 1 Ends: 26th Sep, 18:15 GMT Day 2 Starts: 27th Sep, 12:00 GMT Day 2 Ends: 27th Sep, 20:45 GMT Where: ClickMeeting platform, hosted by PA Duration: Two
Watch Computational Design: NEXT 1.0 You couldn't register for the first batch of the C-D […]