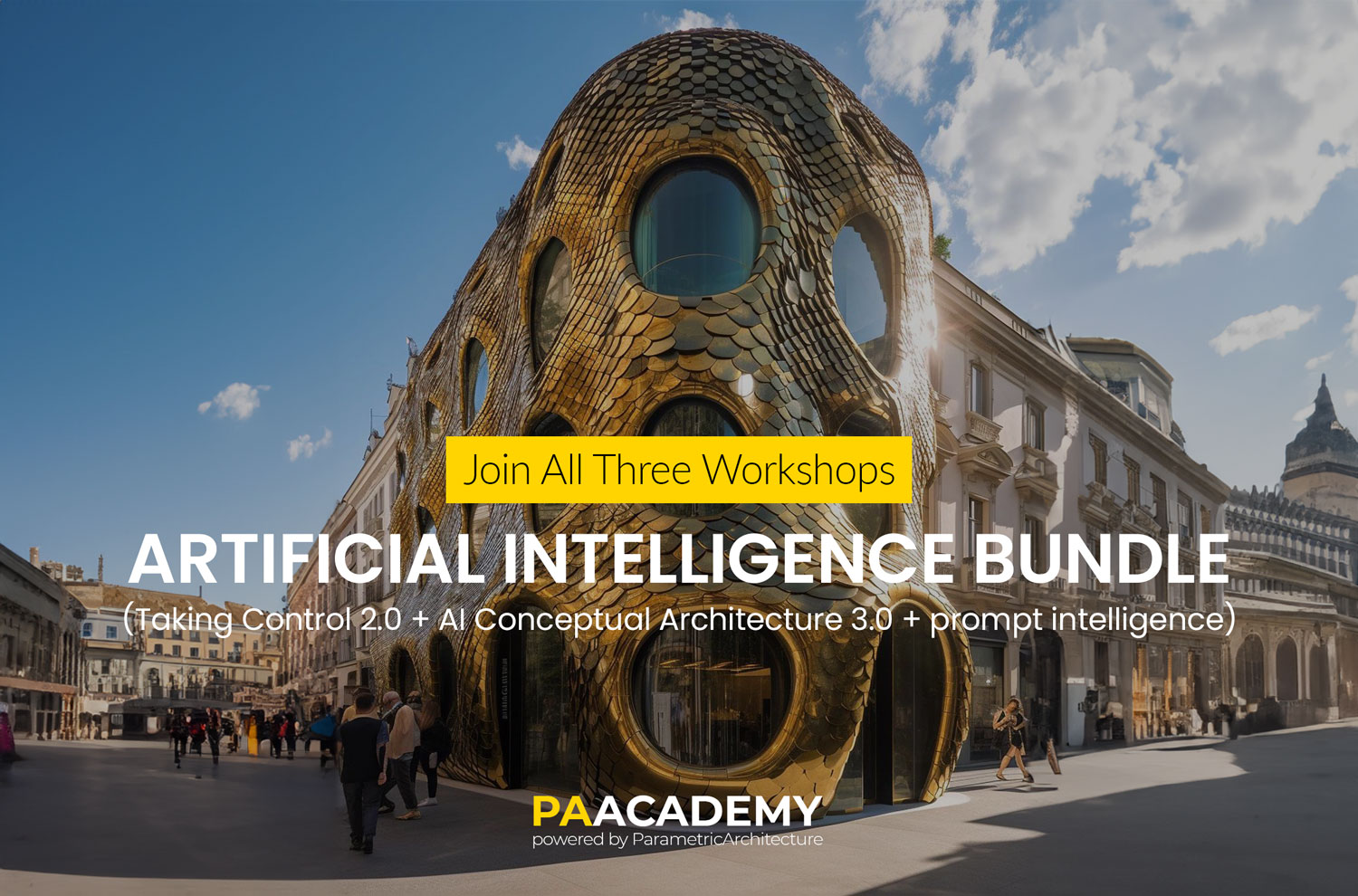 Topic: Artificial Intelligence Bundle: (Taking Control 2.0 + AI Conceptual Architecture 3.0 + Prompt Intelligence)
Date: July 8 – September 2, 2023
Format: Online on Zoom
Courses Included: 6 Sessions (24 Hours)
Registration Deadline: July 28, 2023
Total Seats: 100 seats
Difficulty: Beginner – Intermediate – Advanced
Language: English
Certificate: Yes
Fee for Digital Members: €252 (Additional 15% discount available only for Digital Members)
General Registration Fee: €296 (20% discount to register for all these workshops)
Fee Without Discount: €370
Organized By: PAACADEMY
Tutors: Carlos Banon + Hassan Ragab + Shail Patel
Recordings: Recordings will be available for all participants afterward indefinitely.
You can register for the Artificial Intelligence Bundle to gain access to all the workshops listed below: (Taking Control 2.0 + AI Conceptual Architecture 3.0 + Prompt Intelligence)
Design workflow has been completely redefined since AI platforms such as Midjourney and Stable Diffusion impacted Architecture and Design. AI algorithms have become increasingly capable of generating high-quality images, and industry-ready designs can be produced by integrating them with architectural programs.
At PAACADEMY, we will be more focused on AI tools and how they can be used in the design process to emphasize the importance of AI. Our upcoming workshops will focus on using AI for architecture from different perspectives. The three workshops are available to purchase as a bundle with a discount.
Once again, Carlos Banon will teach at the Taking Control 2.0: Midjourney X ControlNet, focusing on integrating Midjourney and Stable Diffusion with Rhinoceros to produce controlled designs with industry-ready standards.
AI Conceptual Architecture 3.0 by Hassan Ragab aims to teach the basic prompt crafting techniques in different models of Midjourney and understand the differences between each one through exploring various concepts about architectural elements.
Shail Patel at the Prompt Intelligence will teach hybrid techniques behind AI prompt-crafting process and will focus on combining different fields, including architecture, art, automobile, fashion, and retail.
Important information:
If you're joining each workshop separately, they will be offered at a higher price.
Each workshop has its own timing, content, and information and is completely independent of each other.
PAACADEMY will provide a certificate of attendance for all the workshops.
The workshops have limited seats. And the first 20 seats are offered at a lower price.
Tickets are non-transferable & non-refundable. There will be no partial refund too because of the discount. Please read carefully before you register.