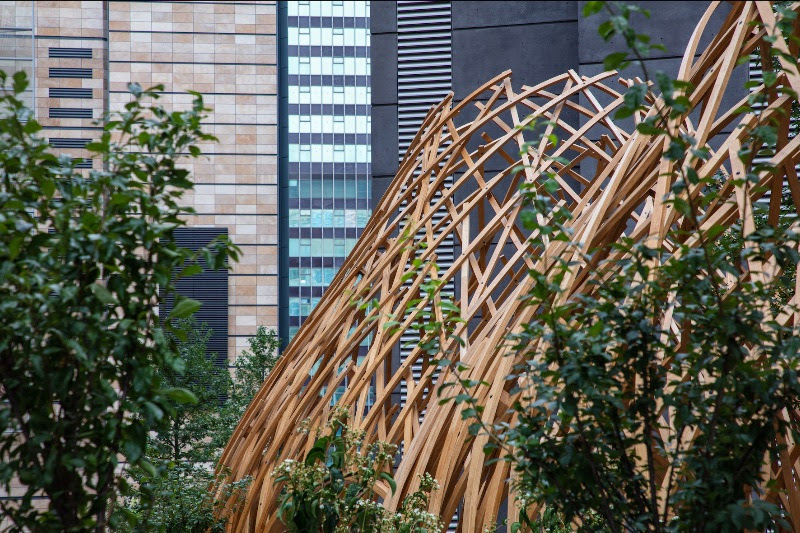 Nex- Architecture collaborated with Xylotek advanced timber structure specialists to create a series of inventive laminated oak pavilions that are now enhancing the public spaces of Regent's Place in London. Regent's Place, located east of Regent's Park and west of Euston station, is a mixed-use commercial and residential campus built by British Land in the mid-1990s.
The pavilions were designed in response to British Land's vision for revitalizing public spaces and pedestrian routes in, through, and out of Regent's Place, using natural materials, timber furniture, and extensive planting. The three new pavilions are semi-sheltered spaces for friends and colleagues to sit and relax between meetings or after-work hours, for outdoor theatre and music performances, and for those walking through Regent's Place from the busy Euston Road.
Tenants on the Regent's Place campus have recently shifted from corporate blue chips to media, technology, and life science firms. This shift has resulted in the refurbishment of office buildings, which has improved their environmental performance while also providing refreshed workspaces better suited to modern needs.
As a result, new tenancies have brought a younger population to campus, as well as the desire to create a livelier and more welcoming public space. The Covid pandemic accelerated British Land's desire to enhance a greater sense of natural well-being throughout Regent's Place. The architects were challenged in an invited competition brief to make Regent's Place a more inviting place for tenants while also enlivening connections between Regent's Place and surrounding streets.
Design Approach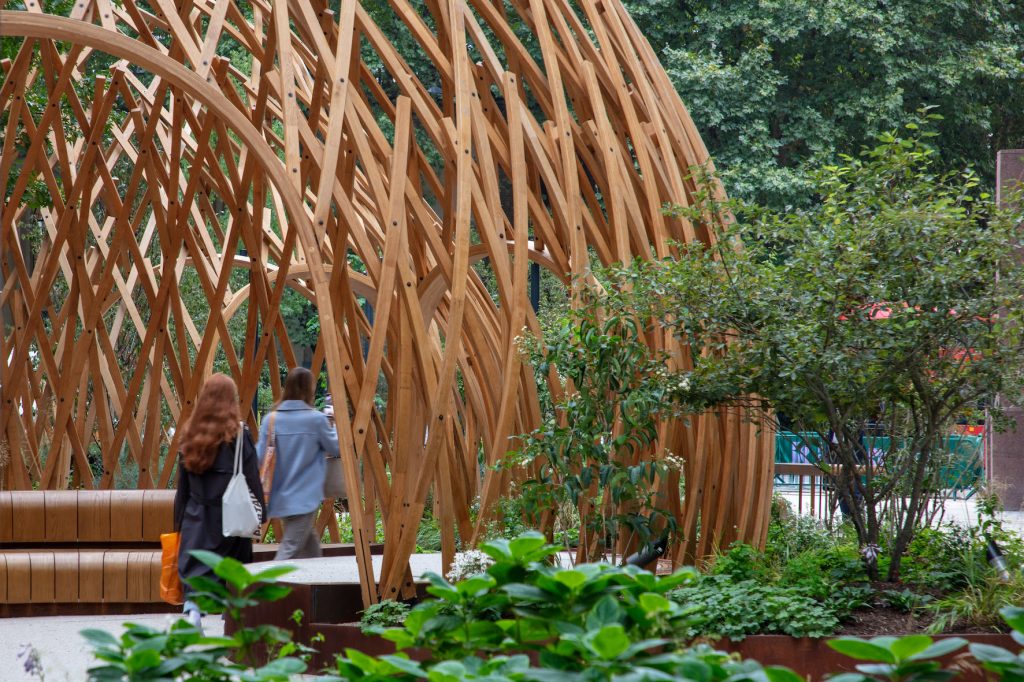 The design of the three Regent's Place pavilions is inspired by nature, particularly bundles of fine wood kindling found in woodlands, and gathers thin strips of oak in delicate lattices to enclose visitors while revealing lush planting around them.
The pavilions grow in size as you move from west to east. The first invites people to congregate and converse. The second encourages both children and adults to play with a large circular spinning seat in the path's center. The final pavilion includes a tiered performance space for the local theatre group as well as a venue for evening and weekend music.
The completed pavilions continue the transformation of Regent's Place's public realm. Those working, living, and passing through the campus have adopted a variety of new gathering places in settings that imaginatively bring nature into the heart of the development, encouraging biodiversity with Townsends' landscaping.
Design Development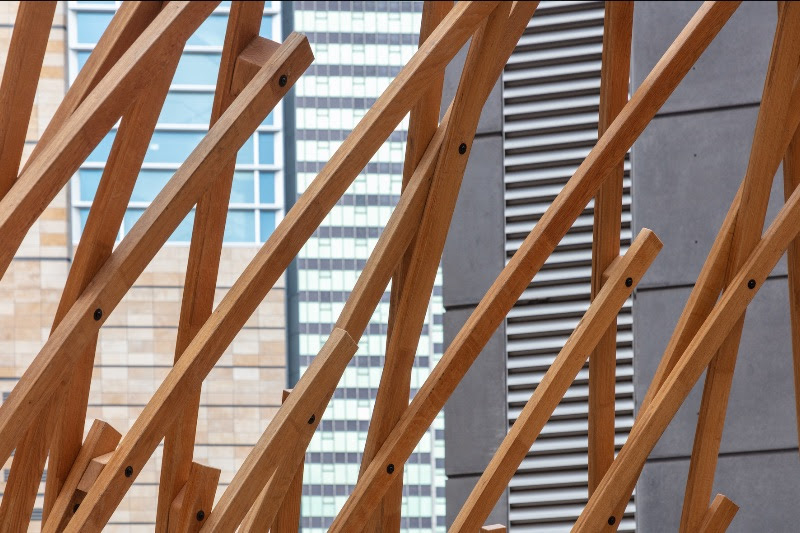 Nex- created early designs for the three pavilions using sketches, study models, and VR simulation to determine the shape, size, and location. After making these decisions, Nex- worked with design-to-manufacture partners Xylotek to complete computational studies that transformed the irregular lattice structures into geometrically rigorous but non-uniform patterns of thin oak laths.
A significant challenge for Xylotek has been to complete the structural design so that the laths remain slender while being stiff enough to create self-supporting lattices. The final design made use of off-site manufacturing to improve craftsmanship, cut waste, and shorten on-site assembly time. Thin strips of sustainably sourced oak were bent and laminated into their final curved shapes on room-sized jigs.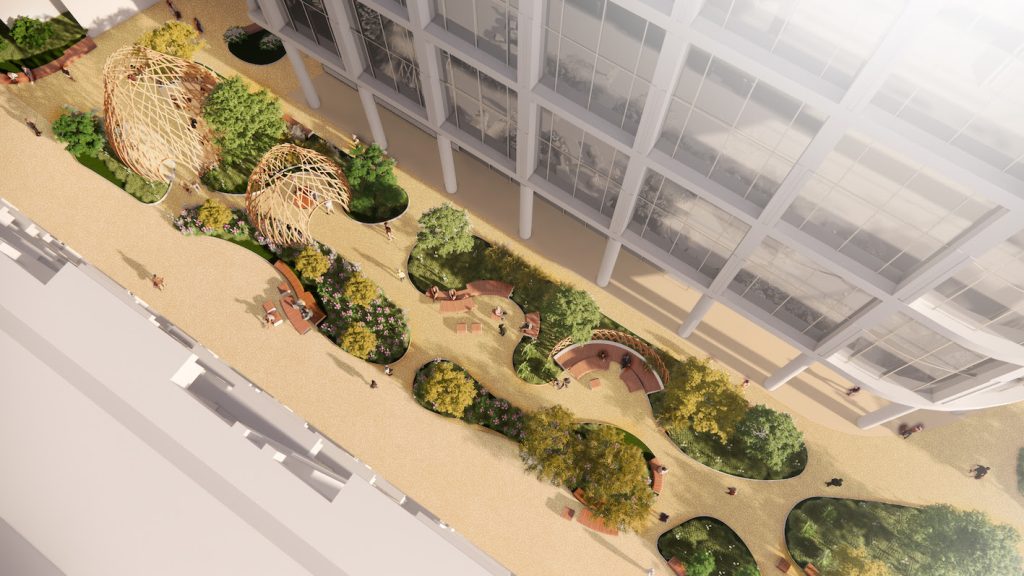 What appears to be imaginative, yet effortless and natural, form plays required structural and constructional ingenuity as well as forensic attention to detail. Each pavilion's laths are arranged in four layers, with alternate layers spiraling in opposite directions.
The laths within each layer have similar geodesic curved shapes, implying that they were formed from initially straight oak ribbons. This allowed all of the laths in one layer to be formed on a single bending jig, while visual dissimilarity was created by varying the lengths of the laths in a repeating pattern overlaid with a degree of randomness. This process resulted in a visual interaction between a consistent underlying pattern and a sense of natural variation.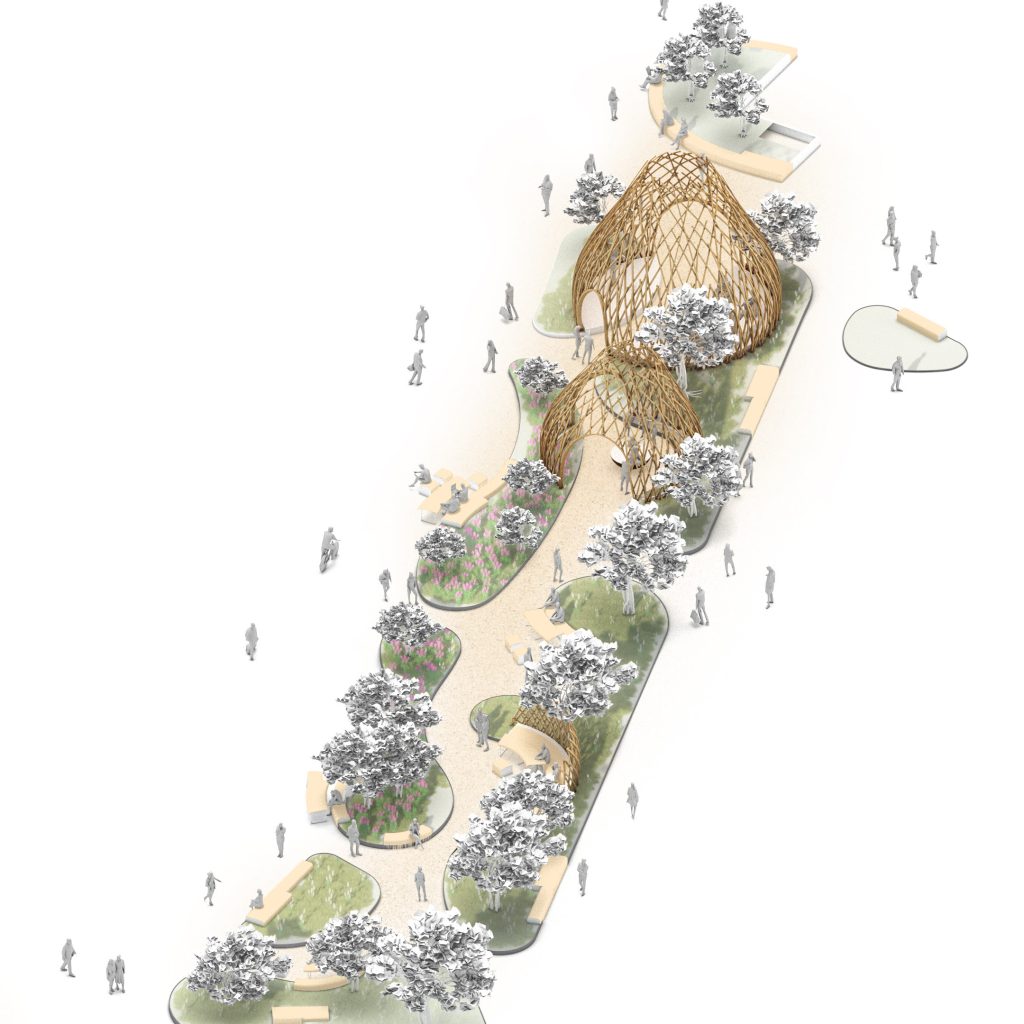 There are over 400 laths in total, made up of over 10km of oak lamella strips. Each oak lath has a 65x40mm cross-section and is made of five layers of 8mm oak lamellas. Lamellas up to 9.5m long was created by finger-joining short lengths of oak end to end. The glue-lamination was done in Xylotek's Bristol workshop using a set of bespoke profiling jigs, and each pavilion's segments were preassembled in the workshop, positioned on site, and then overlaid with additional laths to create the full 3D lattice of curved oak.
The doorway arches are also made of glue-laminated oak and are designed to match the complex curvature of the pavilions with single-direction curved elements. In the workshop, surface treatments were applied to the laths to provide both fire protection and to increase the durability of the timber.