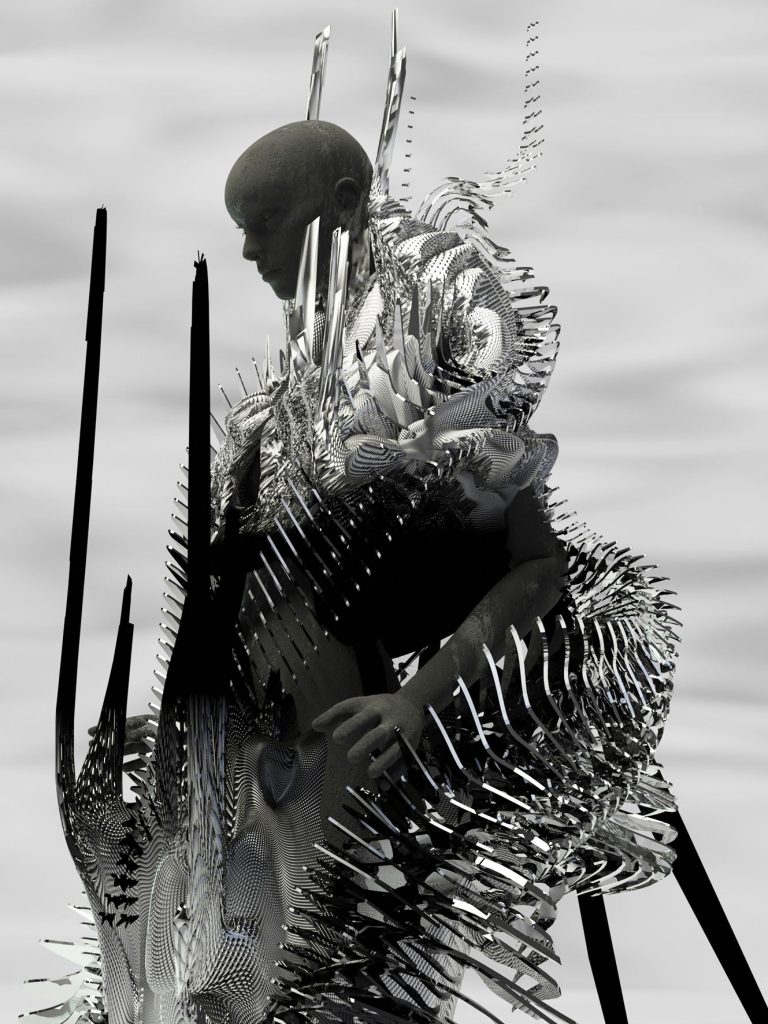 Siyun Huang is an interdisciplinary fashion designer, artist, and fashion lecturer based in Beijing, China. Graduated with MA in Fashion Design & Technology (Womenswear) at London College of Fashion and BA at Central Academy of Fine Art. Her research is dedicated to exploring transformable design and digital fashion ecology to create innovation in the fashion industry, drawing her hybrid Avant-grade aesthetic from the symbiotic relationship between human beings, lives, nature, technology, and art.
Siyun's works include wearable kinetic & interactive fashion art, digital couture and the responsive textile system has been showcased in multiple international well-known platforms such as International Fashion Art Exhibition, China International Fashion Week, Beijing Fashion Weeks, GAMMA Young Artist Competition, HEMPEL Award China International Young Fashion Designers Contest, IYDC International Young Designer Competition.
Siyun explained her creative workflow and amazing works to PA. Let's dive in!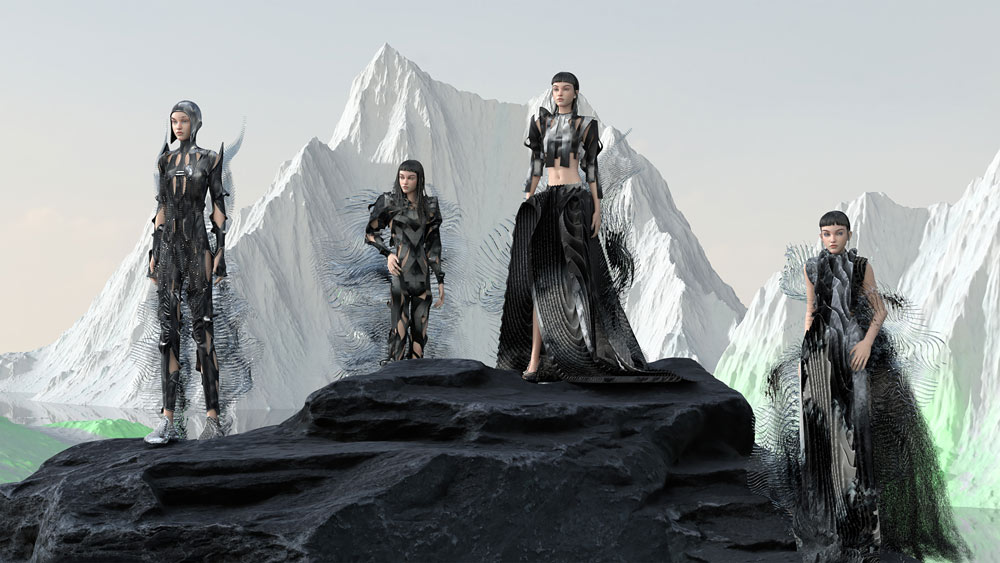 Stepping into digital fashion is a natural process for Siyun Huang. In her previous traditional training in fashion design at university and the fashion industry, Siyun has had skills in pattern cutting, draping, painting, sewing, and many practices on fashion design which are the foundation and helped her to study forward efficiently during the process of designing in the digital dimension. She also observed how fast the fashion industry is innovating, and how deeply the innovations cause an impact on people's lifestyles, thus, she is keenly aware that the occupation of a fashion designer is facing unstable, transformable, and powerful.
The fashion designer now is not rather just designing fashionable products or matters but includes designing systems that lead users to better adapt to changing lifestyles. In addition to running her own studio, and providing clients with personalized services such as digital art, design consulting, and curatorial communication, Siyun Huang is also an independent multidisciplinary researcher, giving lectures, lessons, and seminars.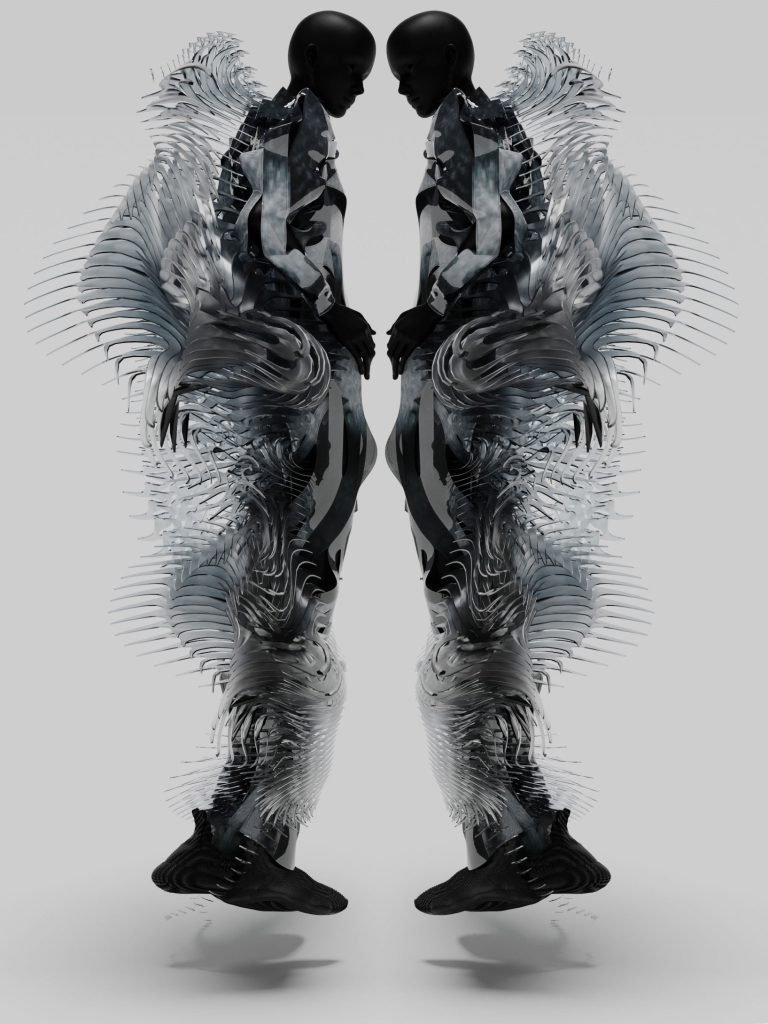 Considering fashion as an interface to bridge the gap between the body and the outside world, Siyun believes the future of fashion would advocate enhancing human being's body performance and the engagement of immersing multiple senses, in order to help the body better adapt to changes in the external environment and its own internal emotional needs. Therefore Siyun concentrates on criticizing and reflecting on body modification, technology ethic, and post-lifestyles as the themes that create her fashion artworks as the concept of a "wearable organism" which is transformable, dynamic, and responsive through integrating multi-disciplinary methods such as computational design, HCI, etc. into fashion design, which she tries to call them "∞ wear."
Underwater Inhabitants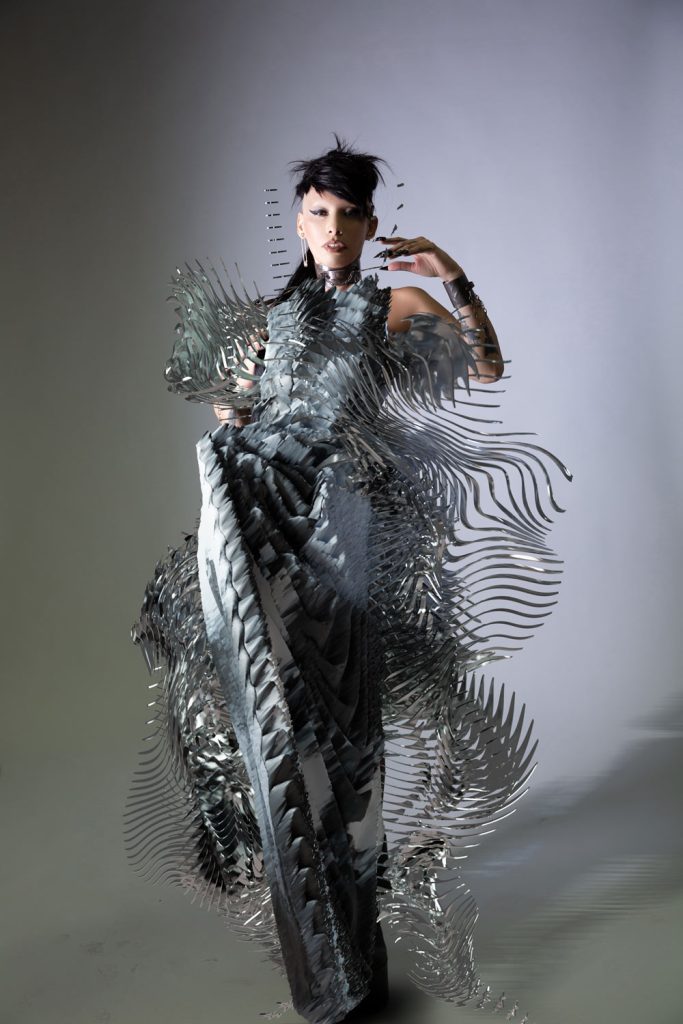 The digital fashion film Underwater Inhabitants produced by Siyun Huang Studio and the collaborative partner SoftWareSoft studio focuses on digital fashion design, virtual human design, and media art. It narrates a surrealistic future in the virtual world that human beings, ocean, and marine lives are extended into a symbiosis, and tends to discuss the ethical philosophy thinking of Deanthropocentrization and a vision of ocean care. In the film, the future human inhabitant in their clothes gradually melt, stick and grow together with each other, the abstract mechanical marine lives are activated as organs surrounding them to percept the outside world. How can people adapt their bodies to environmental changes in order to repair the symbiotic relationship between humans and nature that has been lost when technology is overused and brings about an ecological crisis?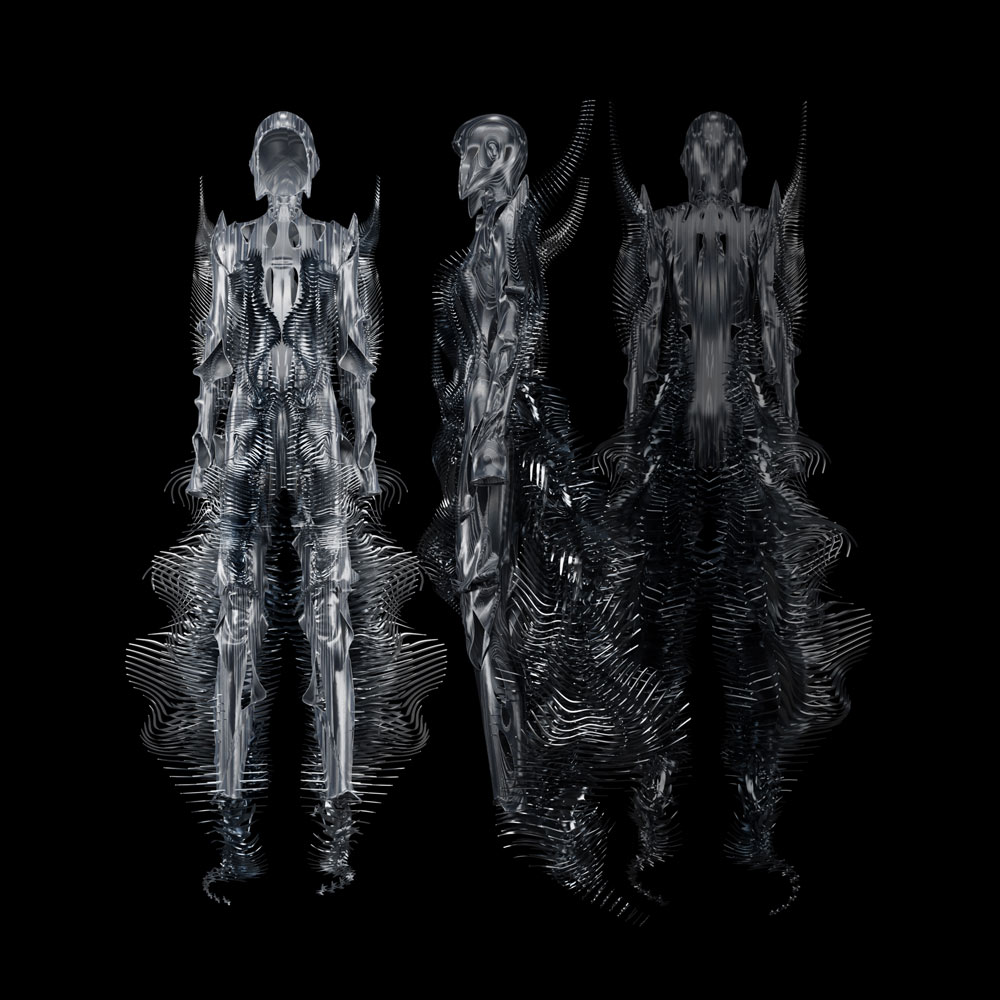 The design of digital fashion created by Siyun Huang are sourced from an abstract combination of diving suit, ocean wave, corals, and reefs, parametric design methods are used to generate some of their silhouettes and structures with creating the aesthetic of 'the shape of water.
The Underwater Inhabitants has been launched on SS23 China Fashion Week an international digital fashion platform and allows AR fitting on the accessory which has attracted public attention. Siyun believed the rapid development of digital technology and fabrication not only brings much creativity and commerce but also has strong power to inspire people to rethink our identities, lifestyles, and cultures which are full of human care.
Collection of Shield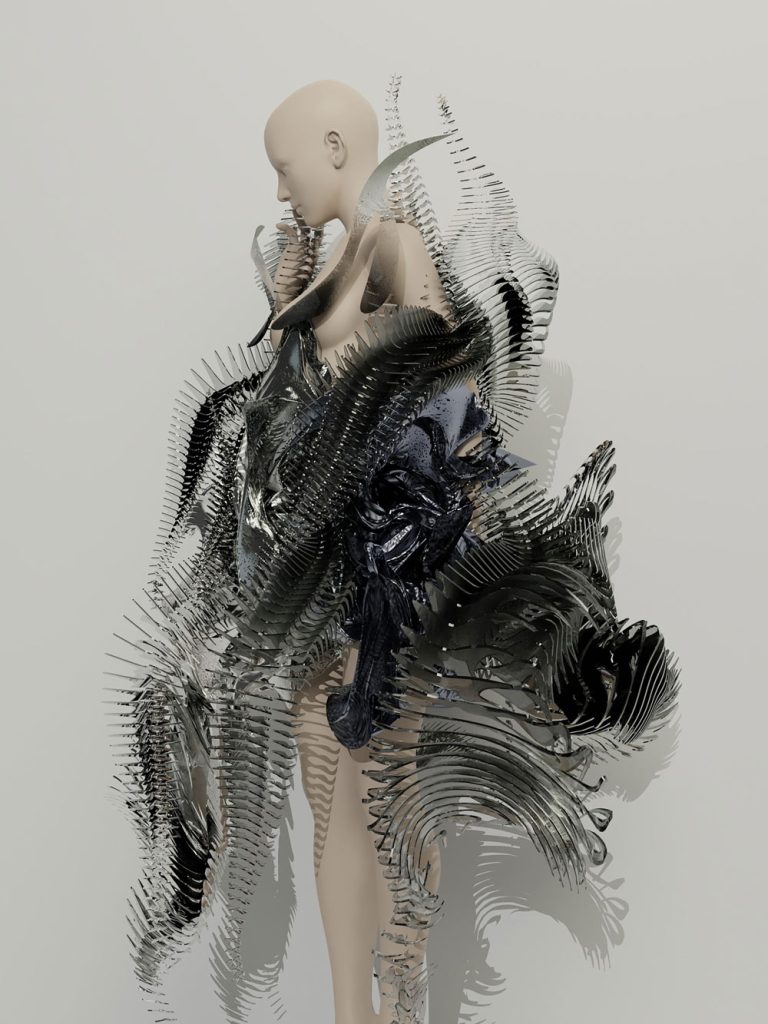 The Collection of Shield also integrates multi-disciplinary fashion design methods and conceptual digital art to transfer the design elements of intangible and tangible, materiality and immateriality, generating and generated, black and white, confliction and harmony, etc. that empowers Siyun's point of view ——In the ancient Chinese philosophical theory, the five elements represent metal, wood, water, fire and earth, they are the material laws of the development of this world which are indispensable to each other, it also reveals the general principle of Chinese world view and culture is the harmony between the heaven and human, human and nature should be common prosperity equally.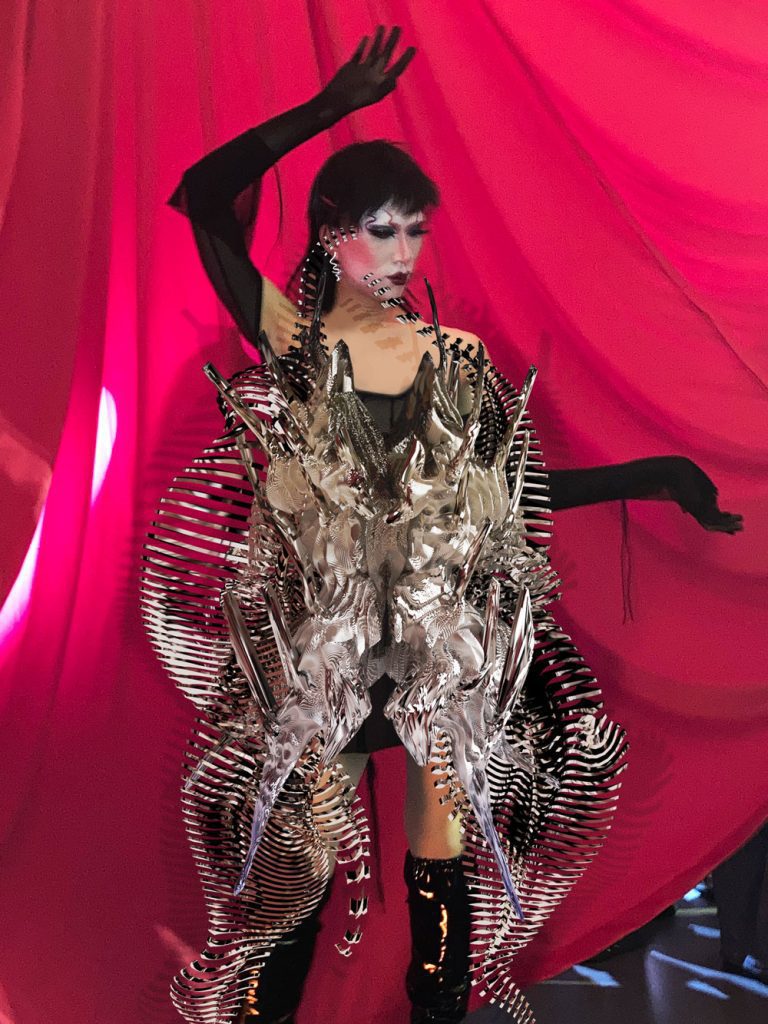 Siyun observes that this precious immaterial culture is her own cultural gene leads her works often metaphorically refer to the concept of the symbiotic relationship between humans and nature.
Besides, the work Taiping showcased in Reality Beyond Reality- International Fashion Art Exhibition, Xiqiao, China is the bio-inspired kinetic & interactive fashion artwork whose textile will respond accordingly with a lifelike morphing surface once the sensors are active.
Taiping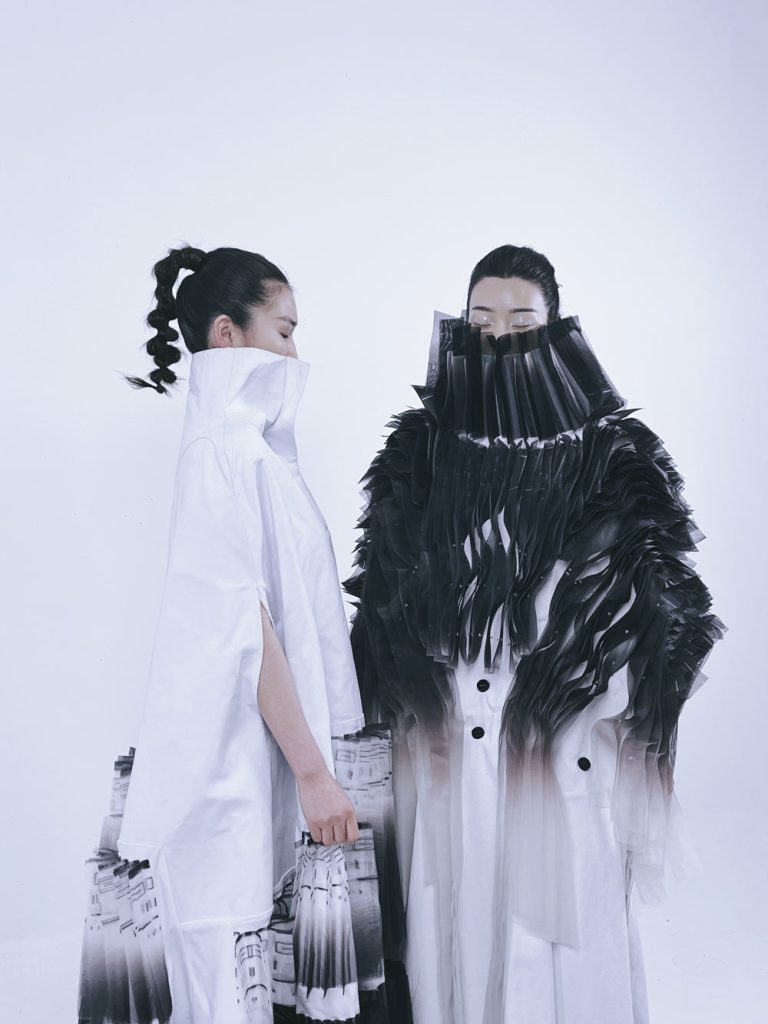 Clothing demonstrates identities, spirits, emotions, aesthetics, technology, ethics .etc. that link the exclusive closed relationship between the inside body and the outside world. As much as to say, clothing itself can be seen as a medium, to some extent, an interface to transfer communication. So started by rethinking the definition of COMMUNICATION from the past to the future. How much new information could a garment transmit under the evolution of emerging technology? How could fashion enhance cognitive understanding of the world when integrate with interactive technology? Such thinking demonstrates the challenges of seeing fashion as ' WEARABLE ORGANSIM'.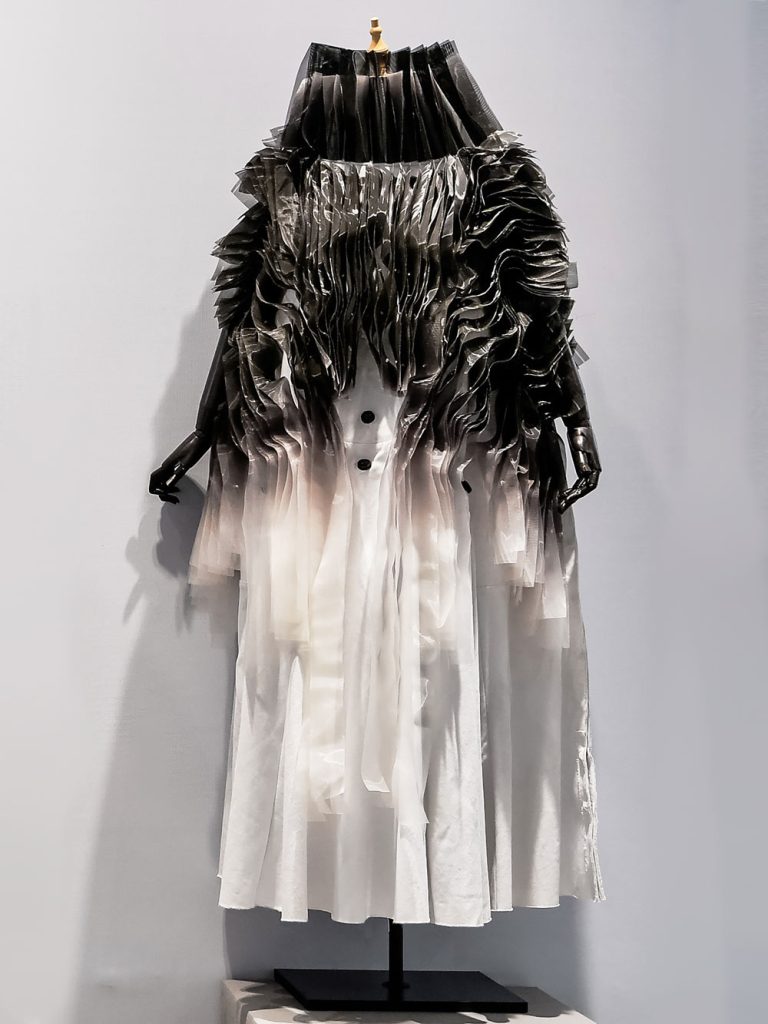 The design elements refer to traditional Chinese folk art – The Lingnan Lion Dance which is an expression of the balance between humans and nature, an embedded concept of ' 合 ' ( means human life being in high harmony with nature in the Chinese philosophy saying) within human, nature, and technology. A couple of motors were applied to actuate a honeycomb structure's textile system which was pre-programmed to perform the movement. The biological kinetic structure provides sufficient flexibility to allow a group of manipulating fabrics to act flexibly and stretchy in order to imitate the blinking eyes of lions in the dance.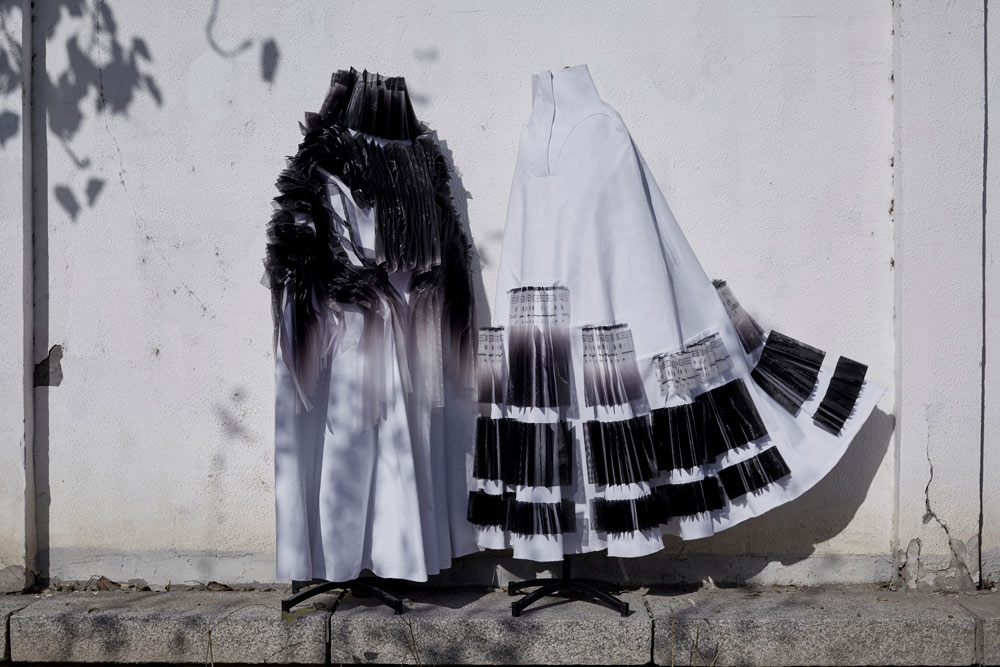 Taiping tends to bridge the world of fashion, conceptual art, human-computer interaction technology, mechanism, and biological dynamic structure. This work offers an exploration of communicating way through clothing in the future by investigating textile's interactive dynamically as a potential possibility of 'artificial life' to pass 'Language', 'Emotion', and 'Sense'. .( Pictures are in the file: Kinetic Fashion- the Taiping)
Siyun was born in a city in southwest China, where world-famous beautiful landscapes, industry, and nature coexist in harmony. The background and memories of her evoke her unique emotions for water, mountain, metal, etc. her appreciation and awe of intangible Chinese heritage culture. Siyun's works stand at the frontline of the times, exploring emerging technology and material, but how to appropriately use the relationship between art and technology also requires an essential exploration of technological ethics and sustainability.