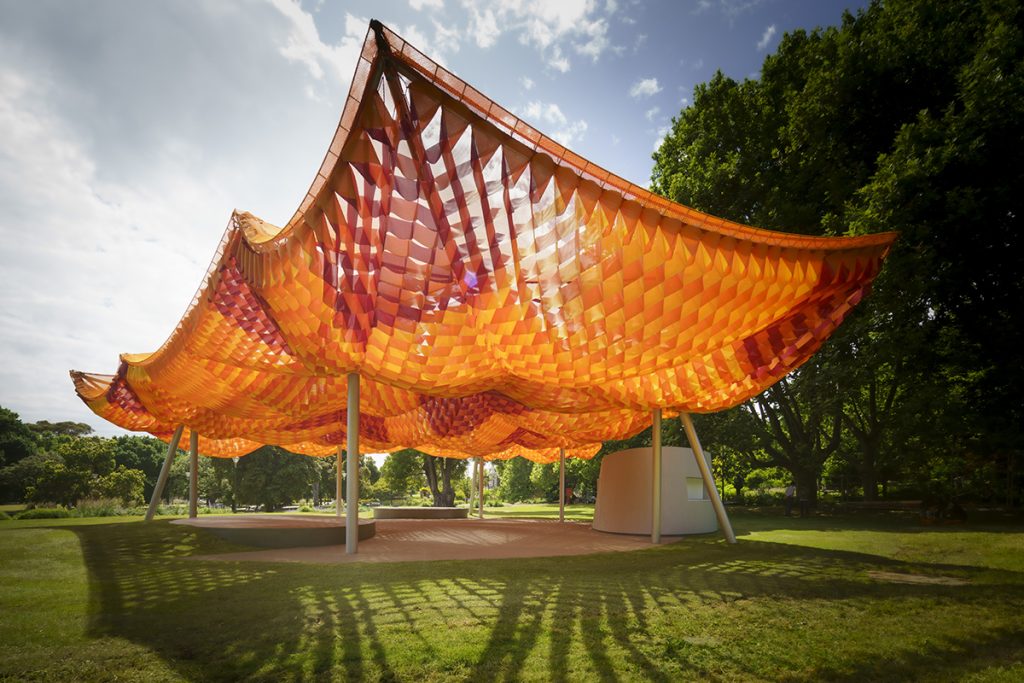 The ninth MPavilion was designed by all(zone), an international architecture practice founded by Rachaporn Choochuey, based in Bangkok, Thailand.
all(zone)'s MPavilion 2022, designed and delivered by a female-led team, experiments with materials never before used in Australia to create a joyful environment for MPavilion's summer programs in the Queen Victoria Gardens in the City of Melbourne, Australia.
MPavilion exists and creates on the stolen land of First Nations peoples. According to the organizer team, "MPavilion exists on the stolen land of the people of the Eastern Kulin Nations and we pay respects to Elders past, present, and emerging. We acknowledge that sovereignty has never been ceded. We believe this ancient sovereignty can shine through as a fuller expression of Australia's nationhood."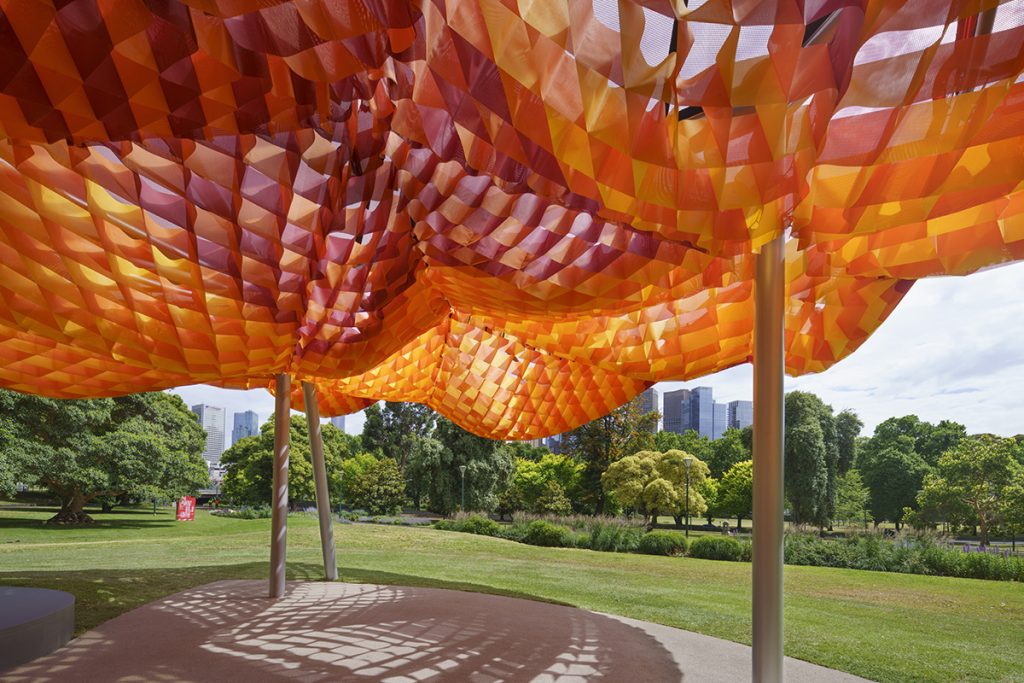 Rachaporn Choochuey said: "Working on the MPavilion project with so many talented individuals has been an incredible journey. MPavilion is special because even though it's called a temporary pavilion, it's actually even more complex than a building. The engineering and manufacturing have been a huge step forward for us in understanding the possibilities of fabric-based architecture."
Focused on solutions for upcycling and reusing sites and materials, MPavilion explores the potential of fabric and tensile architecture; the outer layer is made from fishing nets; the middle layer is crafted from an STFE membrane and also the pavilion is weatherproof. It's the first time STFE technology has been used in Australia.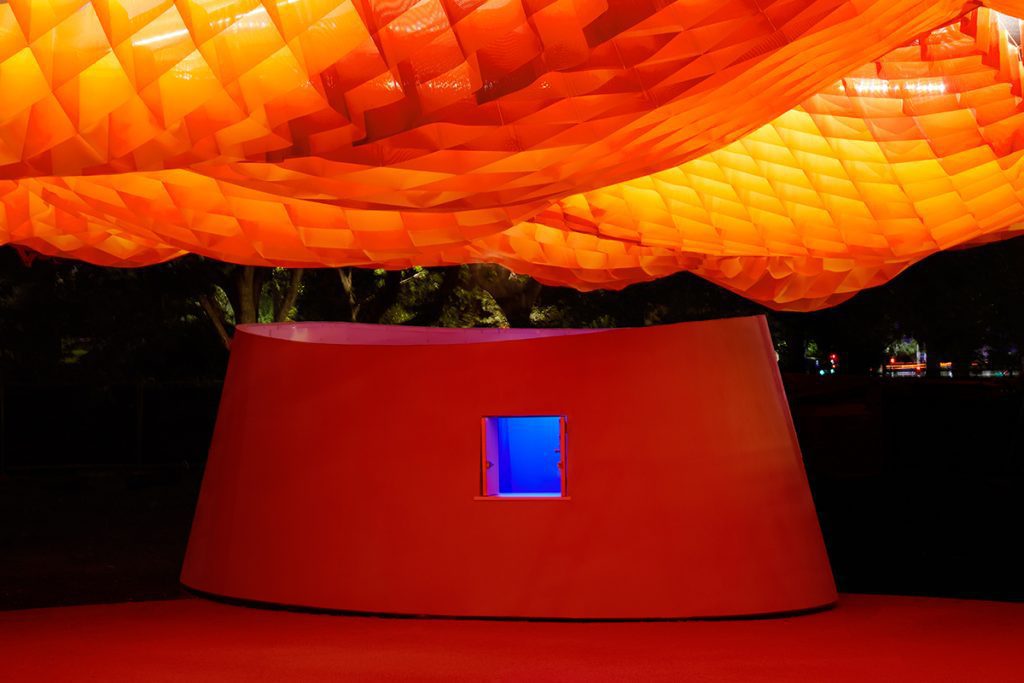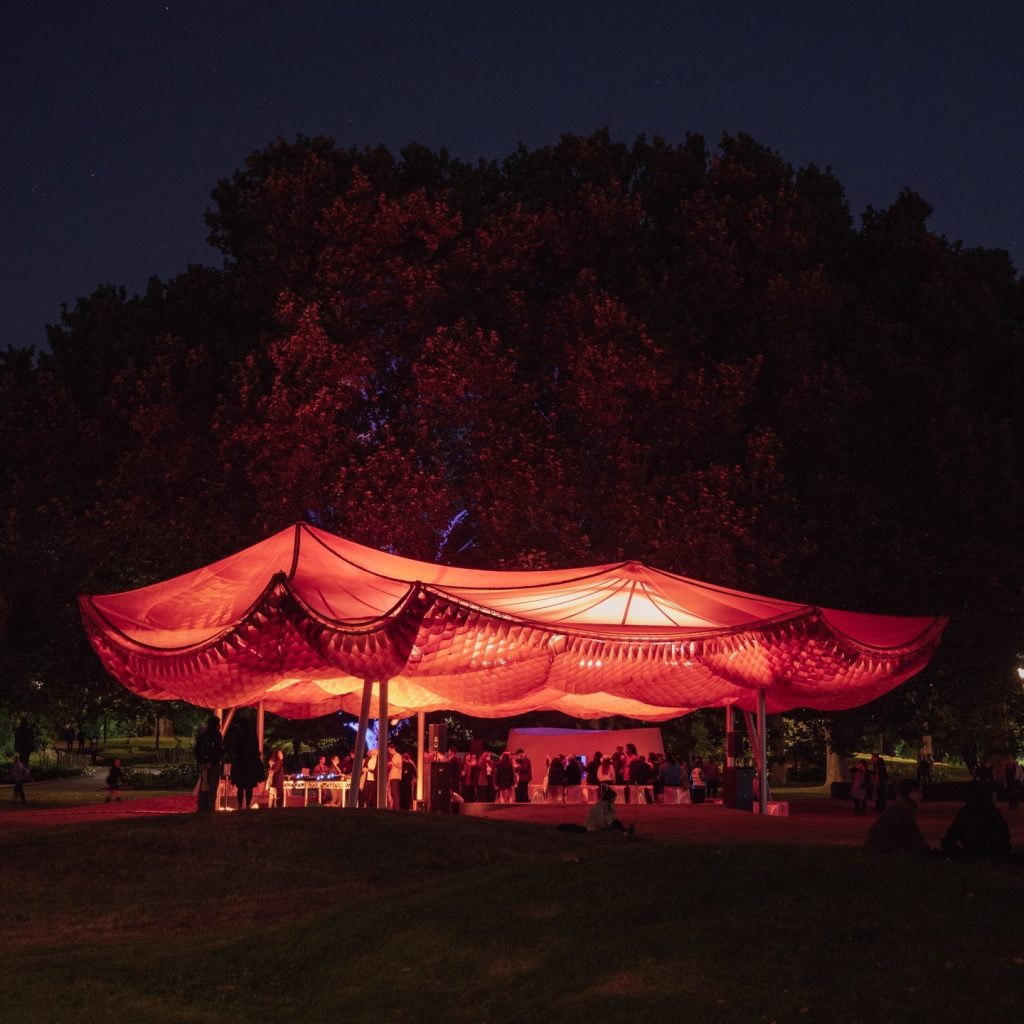 The all(zone) team collaborated with Bluebottle, to create the architectural lighting concept. Also collaborated and supported by AECOM, Tensys, Schiavello, and Serge Ferrari.
MPavilion's program themes for its 2022/23 season of free events will be open in the Queen Victoria Gardens from Thursday 8 December 2022 until Thursday 6 April 2023. After five months in Queen Victoria Gardens, the pavilion will move to Naomi Milgrom Foundation and relocate to a permanent home.
According to architects of MPavilion, "A place where people can come by to read books, have coffee, listen to music, participate in morning Yoga, or just pass by to see if anything is going on—like visiting a good friend who is always home."