Parametric Façade & Cladding Systems By rat[LAB]EDU In 4 Cities In India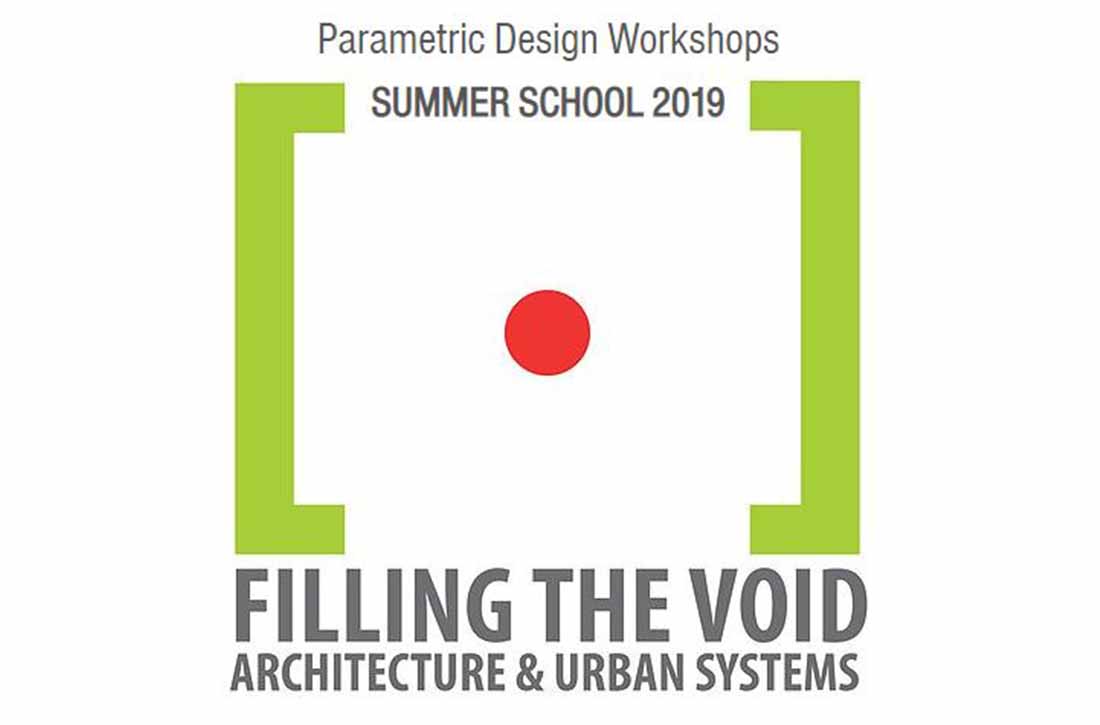 Time: July 19, 2019 to August 11, 2019
Country: India
City/Town: Manipal, New Delhi, Chennai, Kolkata
Location: Manipal School of Architecture, Sushant School of Art & Architecture, RVS School of Change, Aludecor
Website: https://www.rat-lab.org/summerschool2019
Workshop Type: Summer School
Topic: Parametric Facade & Cladding Systems
Organized By: rat[LAB]EDU
[maxbutton id="7″]

[maxbutton id="8″]

[maxbutton id="9″]

[maxbutton id="10″]
---
rat[LAB]EDU – SUMMER SCHOOL 2019
INDUSTRY INNOVATION PARTNER – Aludecor
MANIPAL | NEW DELHI | CHENNAI | KOLKATA
PARAMETRIC DESIGN WORKSHOPS
Early-bird registration (limited seats only) ending on 23rd June 2019: 15% Flat Discount
Group Registrations (Groups of 4 – 7) ending on 23rd June 2019 : 20% Flat Discount
Venue Partners' students : 25% Discount (as per coupon codes provided to school)
Previous workshop attendees : 25% Flat Discount (Write to us with your name, e-mail & workshop name which you attended and we will share the discount waiver)
About rat[LAB]-Research in Architecture & Technology
After a successful completion of 60+ design workshops worldwide, rat[LAB]EDU (Educational subset of rat[LAB]-Research in Architecture & Technology) is organizing PARAMETRIC DESIGN WORKSHOPS for design students & professionals that are focused on application of Computational Design for Innovative Façade and Cladding Systems. Summer School 2019 ::Parametric Design Workshops (3-day design workshops) will run across 4 cities in India –Manipal, New Delhi, Chennai & Kolkata and marks the 5th iteration of annual workshop series Summer-Winter School programmes carried out by rat[LAB]EDU. Aludecor, a leading innovative brand providing cladding and façade solutions has partnered for Summer School 2019 as Innovation Partner to provide industry-level and knowledge support for workshop participants.
The larger objective is to change the way we conceive spaces within art, architectural & urban systems through use of advanced architectural tools like Computational Design. This thereby changes the way architectural education is imparted in the country by inculcating an independent studio culture in India, which was initiated by the studio in 2015 with the popular 5-city India tour named Filling The Void – Architecture & Urban Systems.
About The Workshop
Studio is designed as a 3-day event in all cities comprising of technical tutorials, teaching sessions, design critics, design documentation methods, presentations, submission panel preparations and design exercises culminating in a critical discussion about computational design and its future potentials, pertaining to façade and cladding innovation. The workshop will provide an industry-exchange to discuss and develop R&D knowledge in close conjunction with Aludecor – one of the leading manufacturers of ACP sheets in India. Participants will explore systemic models using Computational & Parametric Techniques to develop innovative ideas, patterns, geometries that can later be developed as a usable product by Aludecor, providing an ideal academic-industry exchange to participants.
A pioneer in the world of Aluminium Composite Panels, Aludecor Lamination Private Limited has come a long way since inception in 2004. Aludecor is a premium ACP sheet manufacturer in India, synonymous with trust and reliability. With the promise of quality and innovation, Aludecor stands tall with strong retail network spanning 250 cities nationwide and prestigious clients and satisfied customers all over.
The 3-day studio / workshop shall focus on inculcating the following aspects as a part of syllabus:
Parametric & Computational Design Methods
Façade & Cladding Design Tool-set
Environmental Analysis
Façade and Building Skin Design
Documentation and Presentation
R&D exchange for Aludecor – Facade & Cladding Innovation
Selected projects (cumulative from all cities) will work with rat[LAB] Studio (Delhi) to collaborate with Aludecor to convert their ideas into façade & cladding solutions. The workshop is bound to create an academic-industry knowledge exchange leading to a collective R&D with support from Aludecor.
The selection will be based on final works developed in guidance of Studio Head – Ar. Sushant Verma from rat[LAB] Studio.
Teaching Methodology and Tools
Studio is structured to teach participants the use of computational techniques through Grasshopper (Generative modeling plug-in for Rhino) and ways to integrate it with architectural & structural systems for skyscraper design leading to international competition submissions.
No previous knowledge of Grasshopper & Rhinoceros is required for these workshops as basic technical knowledge will be provided on Day 1.
Pre-designed customizable tools will be provided by rat[LAB]EDU on Day 2 for design explorations & experimentation, pertaining to applications for high-rise buildings.
The studio is flexible to basic, intermediate & advanced users of computation.
The workshop is curated in the form of a design studio with collective learning than mere software sessions. Software form a part of the tool-set that is inculcated in the 3-day studio sessions.
Technical Sessions
Technical sessions will be provided to give an insight to computation, algorithms and parametric design methodologies to students & professionals. The idea of designing parametrically and use of computational methodologies is new to Indian context and has great potentials across various design disciplines. Digital experimentation using computational techniques (primarily Rhino3D + Grasshopper) will initiate the discourse, followed by technical sessions, theoretical discussions and presentations.
Cities & Dates*
MANIPAL: 19th, 20th, 21st July 2019 (Friday to Sunday)
Manipal School of Architecture
Eshwar Nagar, Manipal,
Karnataka 576104
NEW DELHI: 26th, 27th, 28th July 2019 (Friday to Sunday)
Sushant School of Art & Architecture
Ansal University
Sector 55, Golf Course Road,
Gurugram, Haryana 122003
CHENNAI: 2nd, 3rd, 4th August 2019 (Friday to Sunday)
RVS School of Change
9th Floor, Sapna Trade Centre
135, Poonamallee High Road,
Chennai, Tamil Nadu 600084
KOLKATA: August 2019
Aludecor
Martin Burn Building, Suite No. 52,
1, RN Mukherjee Rd, opp,
Lal Bazar, Kolkata, West Bengal 700001
*Since multiple organizations form a part of Winter School programme (venue partners, media partners, collaborating studio, etc.), there is always a slight possibility in change of dates and venue.
Tutors and Speakers
Sushant Verma – Studio Director (rat[LAB]Studio) (www.rat-lab.org/sushantverma)
Each city may have an additional co-tutor
Eminent experts from architectural design with knowledge in innovative facade and cladding will be invited as guest speakers for studio or online sessions.
Software and Skills
Basic 3D modeling skills in any software are preferred (Previous knowledge of Rhino3D is not obligatory).
Participants should bring their own laptop with pre-installed software.
NOTE: Grasshopper does not fully function on Rhino for MAC. A windows-enabled laptop is necessary.
Software Download
Rhino 5 (90-day evaluation) can be downloaded for free here
Rhino 6 (90-day evaluation) can be downloaded for free here.
Grasshopper free-version can be downloaded here.
Additional software & plug-ins will be provided in the workshop.
Registration Dates
All Registrations end 4 days prior to workshop start date (Or till seats last)
There are limited seats available.
Participation Fee
[SAME AS PREVIOUS SUMMER-WINTER SCHOOLS]
[Note: SMART LABS 3.0 Students can attend any one SS2019 workshops without any fee. Contact your studio co-ordinator of Smart Labs for waiver coupon]
Student and recent graduates *- INR 8250 + 18% GST
Professional – Jr. **- INR 9750 + 18% GST
Professional – Sr. ***- INR 13750 + 18% GST
*(Graduated from B.Arch. or similar programme in 2019 or later)
**( Graduated from B.Arch. or similar programme between 2014 to 2018)
***( Graduated from B.Arch. or similar programme in or before 2013)
Valid ID Proof (for grad year) required STRICTLY.
Early-bird registration (limited seats only) ending on 23rd June 2019: 15% Flat Discount
Group Registrations (Groups of 4 – 7) ending on 23rd June 2019 : 20% Flat Discount
Venue Partners' students : 25% Discount (as per coupon codes provided to school)
Schedule
DAY 01 STUDIO SESSION [SKILL BUILDING]
Presentations / Lectures on Parametric Design & Computational Thinking
Talk/Presentation on facades and cladding systems.
Presentations on Innovative Cladding by Aludecor
Introduction to Rhinoceros 3D – GUI & Basic Use
Grasshopper GUI & Basic Functionality
Points, Lines, Surfaces.
Parameters, Inputs, Numbers.
Simple & Referenced Geometry, Locally Defined Geometry, Baking, etc.
Lists & Data Tree Management
Data Manipulation & Visualization
Surface Tessellations
DAY 02 STUDIO SESSION [IDEATION, SKETCH, COMPUTE]
Patterns & Geometric Explorations
Releasing of pre-designed tools (Grasshopper scripts) to all participants
Functionality of tools for Skyscraper Design
Agenda for competition
Design development (in teams or individual)
Discussions on submission panels & output
Documentation
DAY 03 STUDIO SESSION [DEVELOP, VISUALISE, DOCUMENT]
Group Discussions & Preparation of Panels
3D Visualizations, Diagrams, Drawing Preparations
Discussions on R&D with Aludecor
Presentation of participant works
DAY ++ ONLINE SESSION [2-3 HOURS]*
Collaborating with rat[LAB] Studio & Aludecor
Detailed discussions on Cladding & Facade systems
---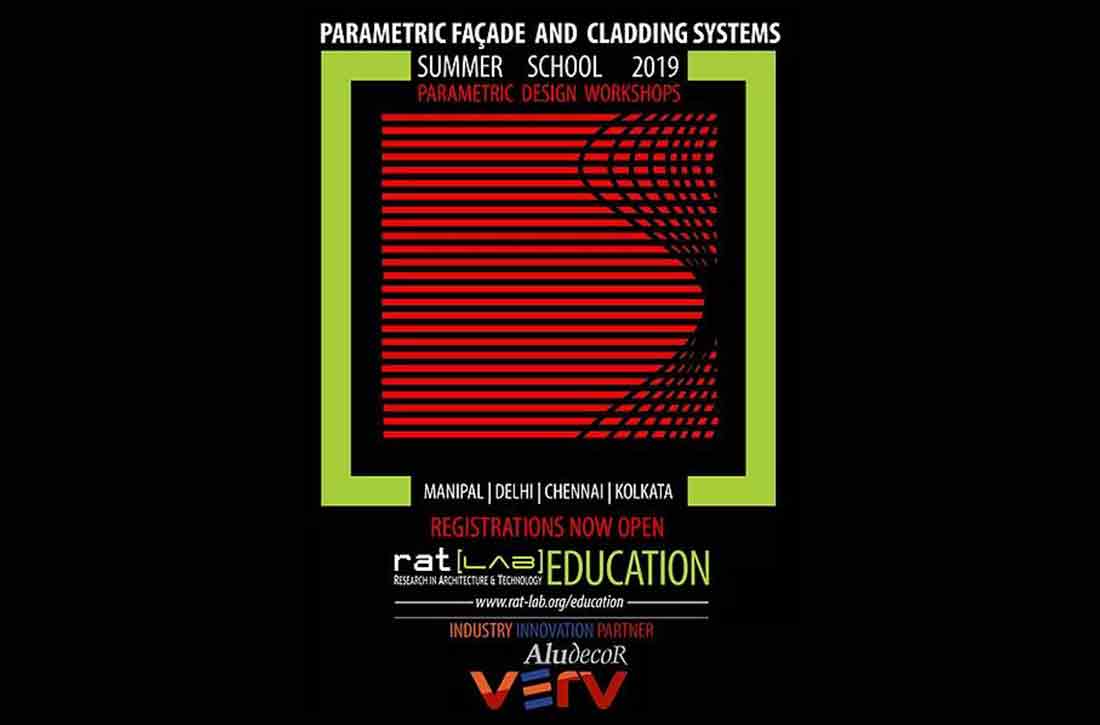 Time: July 19, 2019 to August 11, 2019
Country: India
City/Town: Manipal, New Delhi, Chennai, Kolkata
Location: Manipal School of Architecture, Sushant School of Art & Architecture, RVS School of Change, Aludecor
Website: https://www.rat-lab.org/summerschool2019
Workshop Type: Summer School
Topic: Parametric Facade & Cladding Systems
Organized By: rat[LAB]EDU
[maxbutton id="7″]

[maxbutton id="8″]

[maxbutton id="9″]

[maxbutton id="10″]
---
About rat[LAB] EDUCATION
rat[LAB] EDUCATION is an initiative by rat[LAB]-Research in Architecture & Technology (www.rat-lab.org) to start a new discourse in architecture & parallel design disciplines with the use of 'computational design' & it's various subsets. Spread across various cities / countries, we are establishing a global dialogue in the domain of computational design by actively organizing and participating in workshops, lectures, presentations & symposia. While rat[LAB] has taken a top-down approach of exploring computational design through industry, a parallel, bottom-up approach is also in-line to involve students of all levels, from design & related backgrounds.
About Aludecor – Innovation Partner for Summer School 2019
Since its inception in 2004, Aludecor Lamination Pvt. Ltd. has been commanding an unshaken trust in the industry, by dint of its die-hard commitment towards quality, innovation and customer delight. Aludecor is an end-to-end Indian Aluminium Composite Panel manufacturer, powered by cutting edge production facilities at Haridwar.
About Aludecor – Innovation Partner for Summer School 2019
Since its inception in 2004, Aludecor Lamination Pvt. Ltd. has been commanding an unshaken trust in the industry, by dint of its die-hard commitment towards quality, innovation and customer delight. Aludecor is an end-to-end Indian Aluminium Composite Panel manufacturer, powered by cutting edge production facilities at Haridwar.
Strong Presence
The entire best-in-class Aludecor product range is thus 'Made in India'. Spread over 25000 square meters, the production units together have a production capacity of 4.8 million square meters per annum. Through its pan India presence and a 300 strong retail network covering more than 200 cities, the company caters to top national and international brands like Hyundai, KFC, Toyota, Samsung, Tanishq, Aditya Birla, Amul, Maruti, Jaguar, HDFC and a plethora of big names.
Best Infrastructures
Aludecor arguably has the best infrastructure in the country. It is the only company in India that manufactures the mineral core – including the A2 core – required to produce fire retardant ACPs, in-house.
Aludecor is the first Indian brand to develop and manufacture fire retardant A2 core. It is the first company in India to have received the factory production certificate (FPC) from Exova Warringtonfire of the UK, the premier testing institute in the world. An FPC which underscores the validity of the production process followed in a factory, is considered much more important and relevant compared to a simple test report received from testing organizations. The issue of an FPC involves thorough checking and testing at the factory concerned.
Aludecor has two palletizing units having a total production capacity of 3600MT per annum. The granules from which the mineral core is produced, are manufactured in the palletizing units. Of the 5 lamination lines in Aludecor, 3 are dedicated to the production of fire retardant materials.
It is equipped with a Baby Line, a miniature version of an ACP Lamination Line, where trial production of the mineral core takes place. The mineral core produced in this Baby Line is subjected to rigorous testing. It is only after passing these that the particular batch goes for final production. Aludecor is also equipped with in-house fire testing lab where non-combustibility, ignitability, limiting oxygen index and smoke density are tested. The ISO 1716 test for class A2, through which the total calorific value i.e. the energy or heat released to be combusted, can be measured in the in-house fire testing lab of Aludecor
Aludecor also pioneered the Double Coat Double Bake Line with its own Coil Coating Line in India, which ensures zero elongation cracks on the primer and the paint surfaces, as well as better bonding.
Best Quality
The Steel Applicator Roll in its Coating Line gives its metallic shades unparalleled brilliant effects. ACPs of Aludecor also have the highest gloss retention owing to the usage of high quality resins and they are manufactured with high quality virgin raw materials sourced within the country from the world's best suppliers like Hindalco, Dupont, PPG, AkzoNobel, Berger Becker etc. The company maintains stringent quality checks in its manufacturing processes so that its products can pass any international standards for Coated and Composite Products. Quality Assurance tests take place online as well as in its fully equipped labs where tests of AAMA and ECCA standards can be conducted.
Most Innovative
Today the Company has grown into a name synonymous with innovation, owing to its remarkable ability in churning out the most contemporary digital-technology enabled finishes and offering customized solutions. It has the most number of unique Special Series shades; and the unique Copper and Zinc Composite Panels.
Products
Sand Series
Rustic Series
Cortina – the first 3D finish ACP in India
Antibacterial ACP
Copper Composite Panel
Zinc Composite Panel
Processes

Innovation in Coil Coating technology to achieve rough or grainy feel in Sand Series
Services
Design Assist Department rendering design support to the industry
Specification and Technical support team
Health, Safety & Environment
Health safety and environment are the foremost concerns of Aludecor, which is reflected in its products and processes.