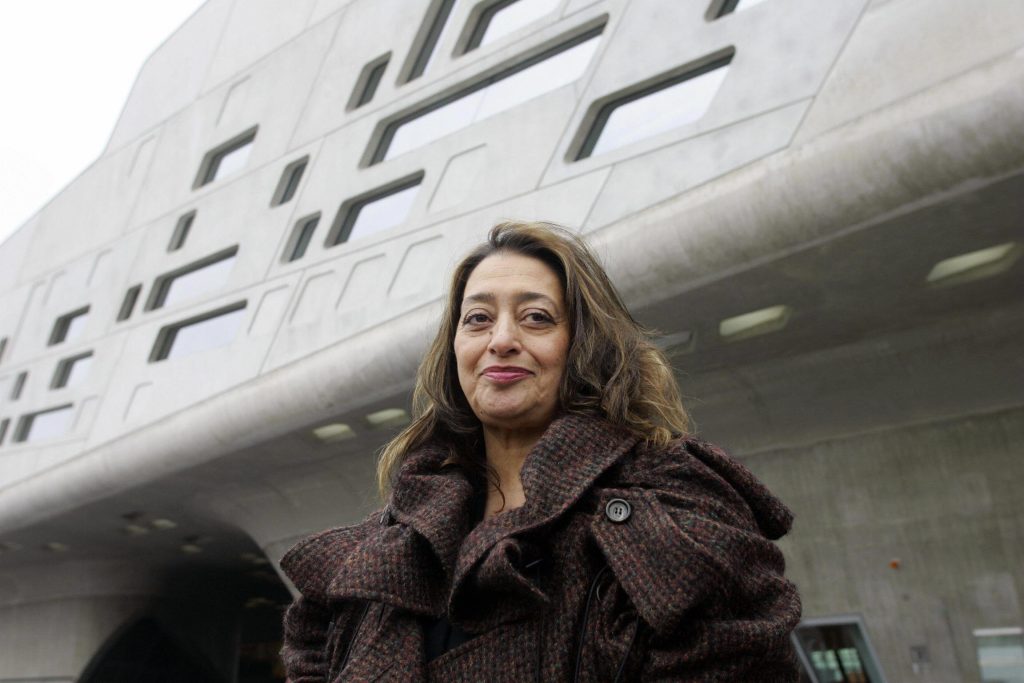 Today is Zaha Hadid's death anniversary. Seven years ago today, Zaha Hadid died at the age of 65. Her designs are still inspiring the world of architecture.
Dame Zaha Mohammad Hadid was an Iraqi-British architect who was recognized as one of the major figures in the architecture of the late-20th and early-21st centuries. She was described by The Guardian as the "Queen of the curve", who "liberated architectural geometry, giving it a whole new expressive identity."
Zaha Hadid studied mathematics at the American University of Beirut before moving to London to study at the Architectural Association School of Architecture. She studied with future iconic architects like her such as Rem Koolhaas, Elia Zenghelis, and Bernard Tschumi. After university, Hadid opened her architectural firm, Zaha Hadid Architects, in London in 1980.
Hadid was the first woman to receive the Pritzker Architecture Prize, in 2004. Also, she became the first woman to be individually awarded the Royal Gold Medal from the Royal Institute of British Architects. Lately, Hadid received the Atlantic Council's Rafik Hariri Centre for the Middle East's Lifetime Achievement award posthumously.
Here are 8 iconic structures around the world designed by Zaha Hadid.
Vitra Fire Station in Weil am Rhein, Germany (1991–93)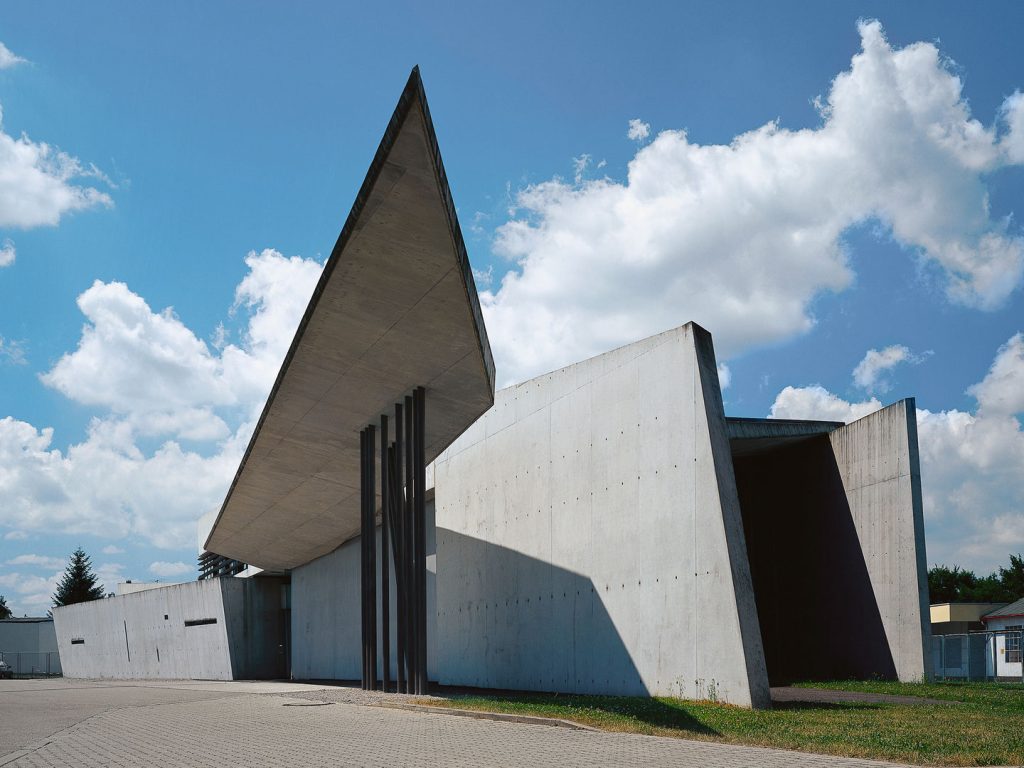 Vitra Fire Station, a sculptural work of raw concrete and glass, was constructed of sharp diagonal forms colliding in the middle. Before construction, the design designs were published in architecture magazines. When it was finished, it only served as a fire station for a brief time before Weil am Rhein built their own. It was converted into an exhibition space instead and is now on show alongside the works of Gehry and other well-known architects. It was the starting point for her architectural work.
Phaeno Science Center, Wolfsburg, Germany (2005)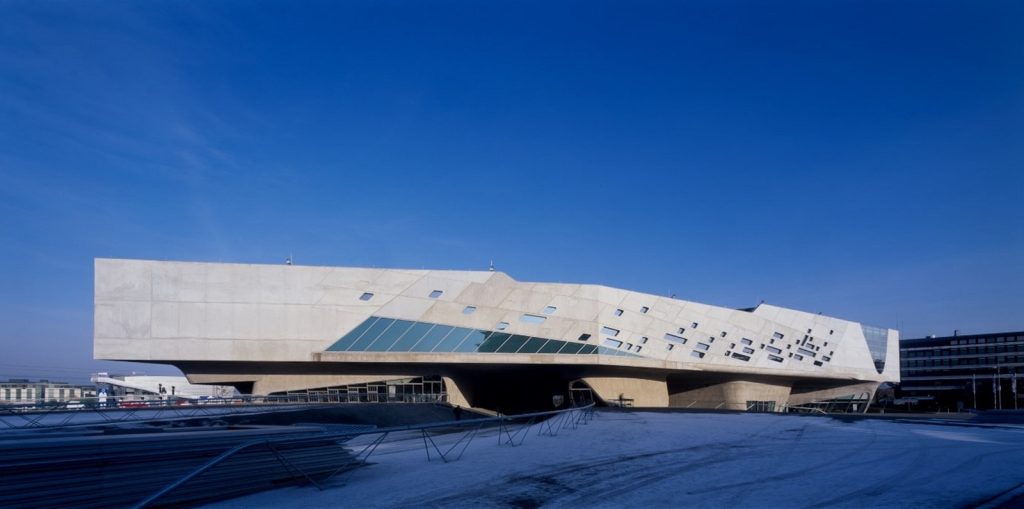 In 2000, Hadid emerged as the winner of a global competition for the Phaeno Science Center located in Wolfsburg, Germany. The museum, which was constructed between 2002 and 2005, spans 9,000 square meters and is slightly smaller than the Cincinnati Museum. However, the design is significantly more daring, featuring sloping walls and irregularly placed windows that evoke the image of a colossal vessel. Inside, visitors are surrounded by angular columns and an exposed steel roof framework, creating the sensation of being within a functional laboratory or ship.
Bridge Pavilion in Zaragoza, Spain (2005–2008)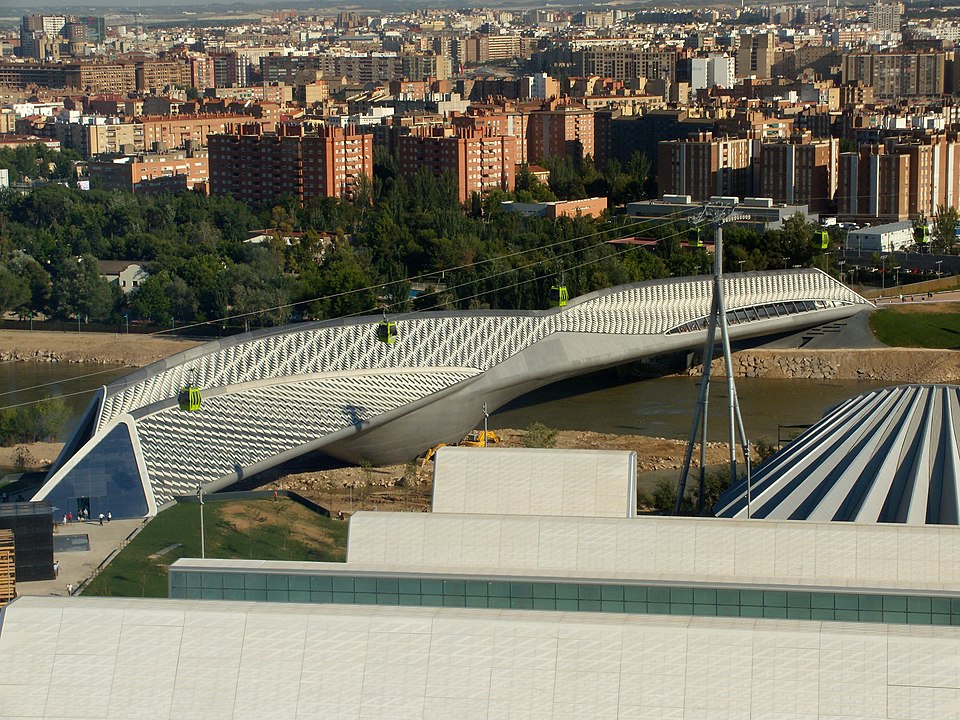 Between 2005 and 2008, she designed and constructed the Zaragoza Bridge Pavilion, which served as both an exhibit hall and a bridge for Expo 2008. The concrete bridge span that supports the pavilion is 85 meters long, measured from the Exposition location to an island in the Ebro River. The bridge transports or connects four tunnel-like exhibition spaces she refers to as "pods," which stretch across the island for a total length of 275 meters. The modules are encased in a skin of 26,000 triangular shingles, many of which are open to allow air and light in. The bridge pavilion, typical of her designs and period buildings, is completely made of diagonal slopes and curves, with no right angles of orthogonal forms.
MAXXI in Rome, Italy (1998–2010)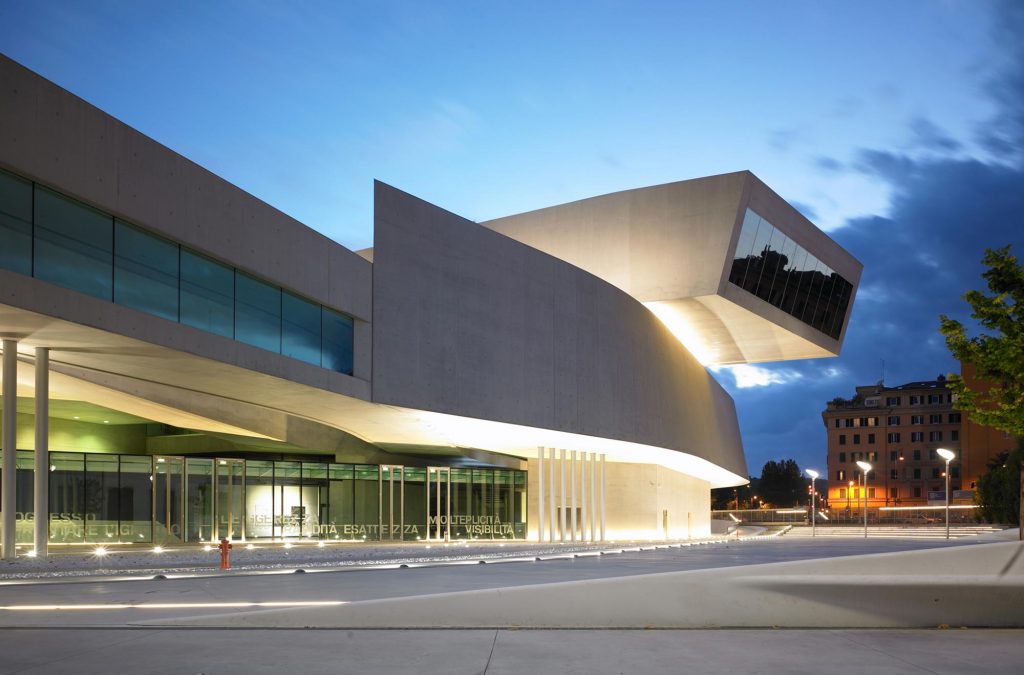 In shaping the MAXXI, Hadid examined the orthogonal site grids surrounding it to determine its overall form. The museum's facade, with its sleek white curving walls and simple black-and-white color palette, reflects her earlier style. The building is held up by five slender pylons, while a gallery with a glass front juts out over the plaza in front of the museum, casting a protective shadow.
Guangzhou Opera House, Guangzhou, China (2003–2010)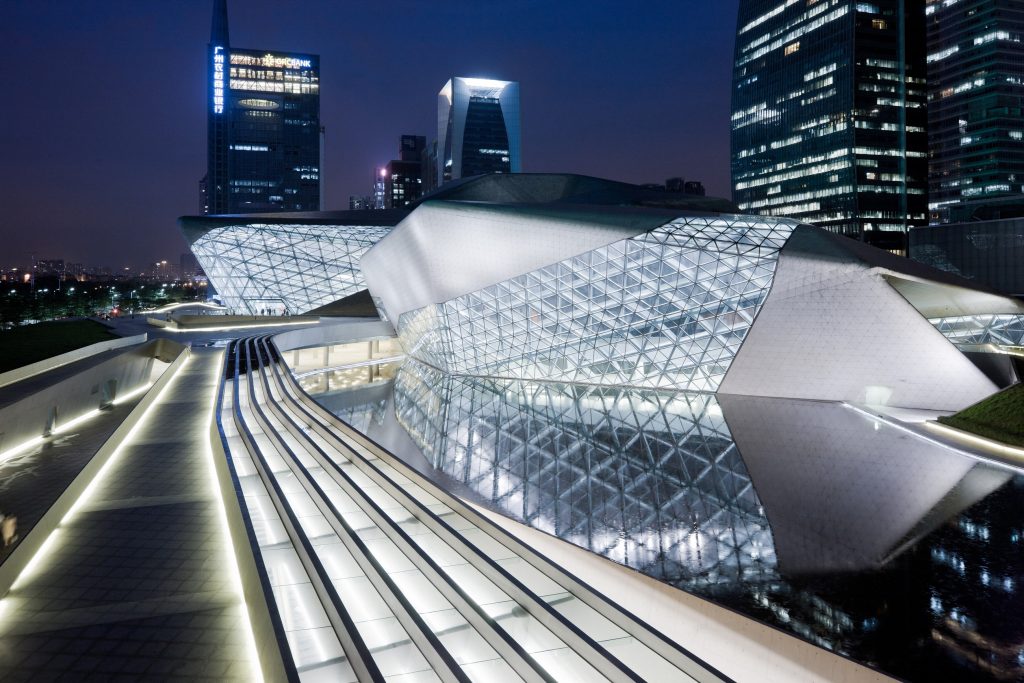 The Guangzhou Opera House is situated in the city's business district, with a new 103-story glass tower behind it. It is 70,000 square meters in size and cost $300 million to build. A 1,800-seat theatre, a multipurpose theatre, an entry hall, and a salon are all part of the compound. The two main structures are separated by a covered walkway lined with restaurants and stores. This building, like several of her later buildings, was inspired by natural earth forms; the architect herself referred to it as the "two pebbles".
Galaxy SOHO in Beijing, China (2008–2012)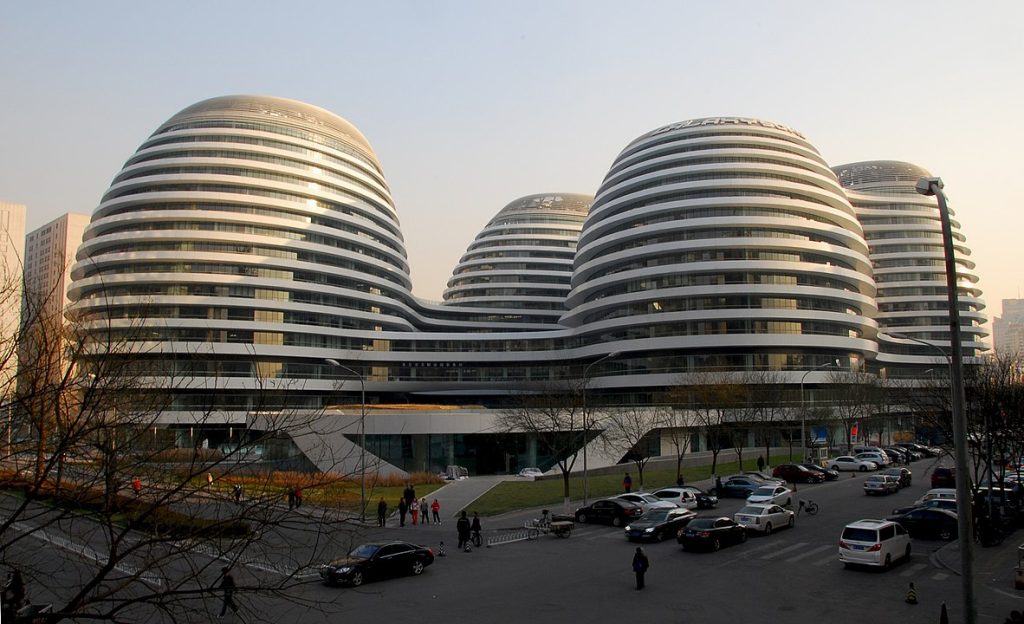 Galaxy SOHO is a 332,857 square-meter combination of offices and a commercial center in the heart of Beijing, composed of four distinct ovoid glass-capped buildings connected by numerous curving passageways on various levels. "The interior spaces follow the same coherent formal logic of continuous curvilinearity," Hadid stated. The complex, like the majority of her structures, provides the impression that everything is in motion.
Heydar Aliyev Center in Baku, Azerbaijan (2007–2013)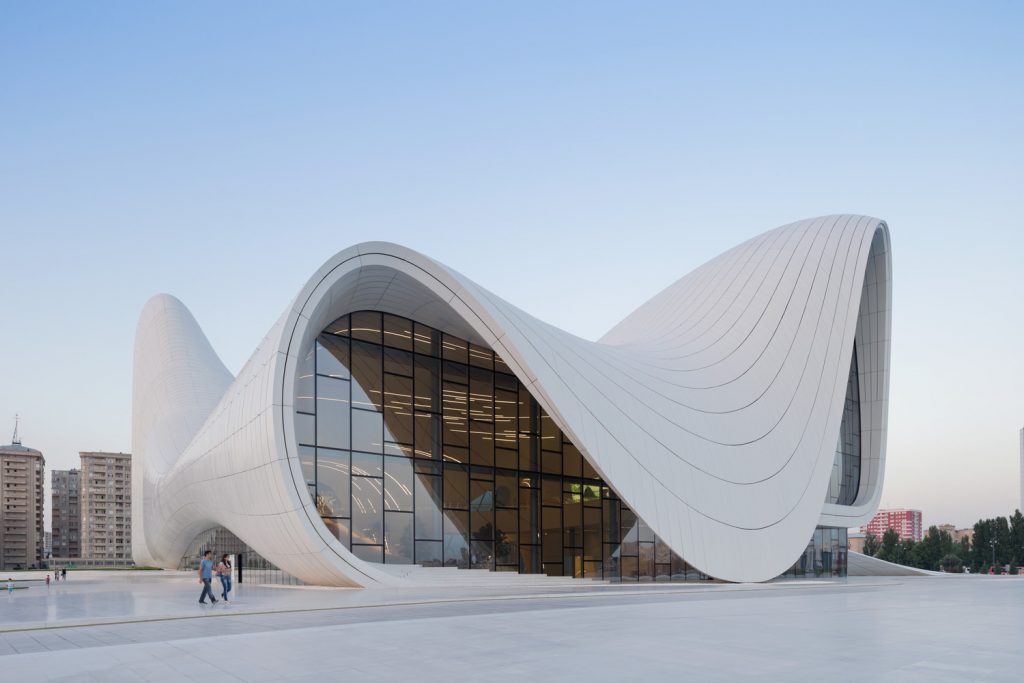 Heydar Aliyev Center, one of the iconic and most influential projects of Zaha Hadid, is a library and exhibition that spans 10,801 square meters on a surface of 15,514 square meters and stands 74 meters tall. The building's shape is wave-like, and the general view is unique and harmonic. This architectural structure represents post-modernist architecture and creates an oceanic sensation. The building's lines represent the fusion of the past and future.
Port Authority Building in Antwerp, Belgium (2016)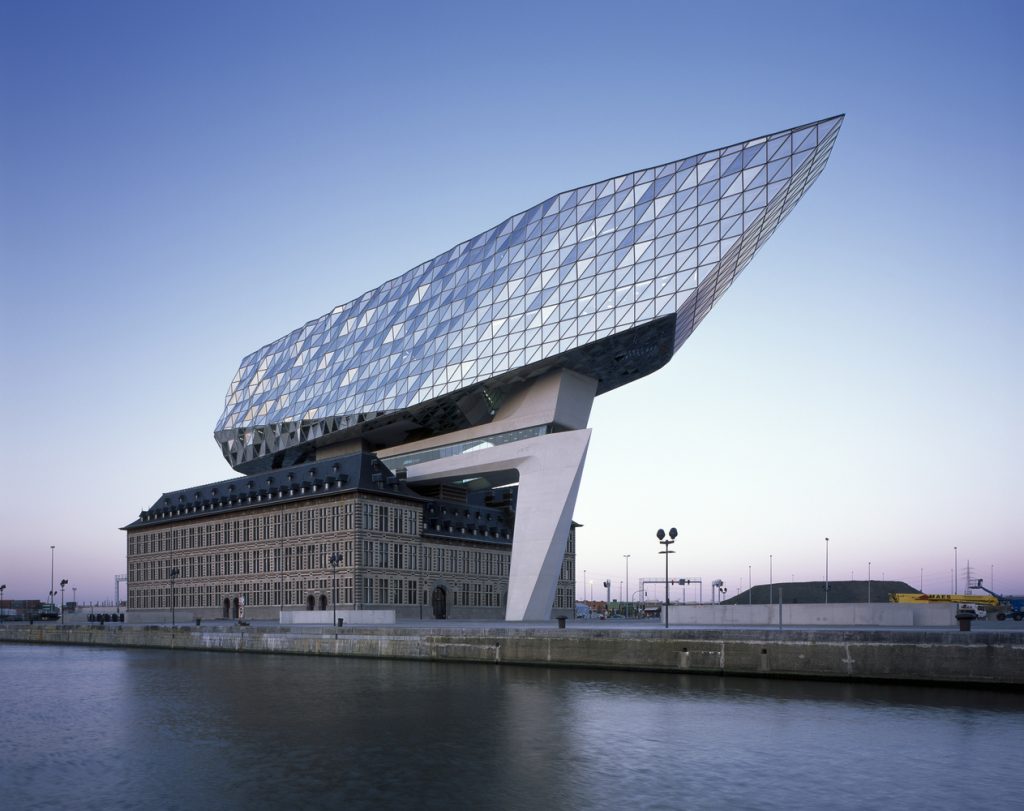 During her life, Zaha Hadid designed only one government structure, the Port Authority in Antwerp, Belgium. Most of the government buildings try to convey solidity and seriousness, but Port Authority, a ship-like structure of glass and steel perched on a white concrete perch, appears to have fallen atop the old port building built in 1922. And probably the most criticized project by Hadid. The faceted glass structure also resembles a diamond, symbolizing Antwerp's position as Europe's leading diamond market. It was one of Hadid's final pieces before she died in 2016.