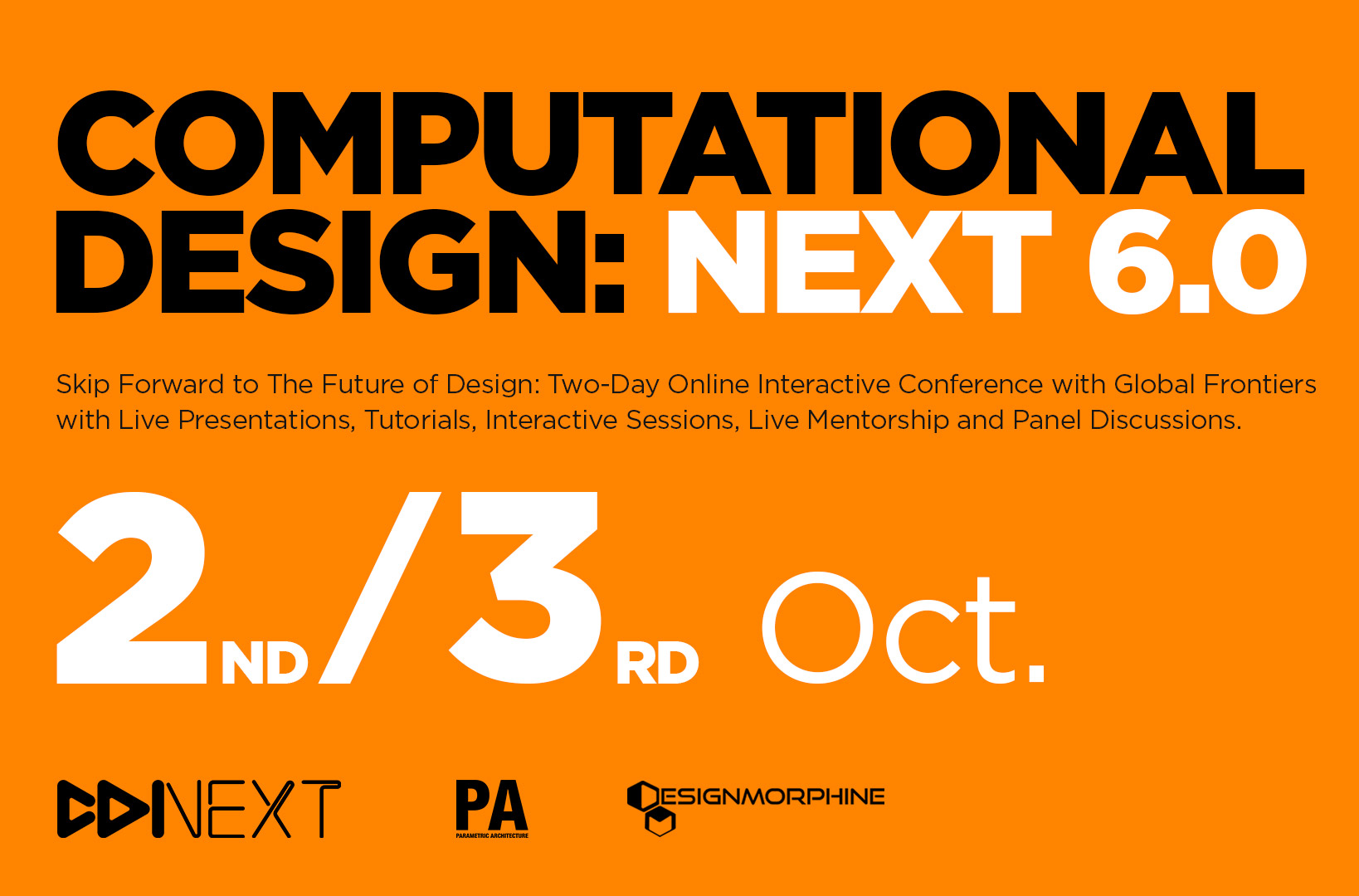 Topic: COMPUTATIONAL DESIGN: NEXT 6.0
Time: 2nd & 3rd October 2021, Saturday and Sunday
Day 1 Starts: 2nd October, 12:00 GMT
Day 1 Ends: 2nd October, 21:00 GMT
Day 2 Starts: 3rd October, 12:00 GMT
Day 2 Ends: 3rd October, 21:00 GMT
Where: Zoom hosted by PA
Duration: Two-Day Conference
Format: Online
Total Hours: 18 Hours
Organizers: Hamid Hassanzadeh, and Michael Pryor
Collaborators: PA, and DesignMorphine
Early-bird Registration: €53 (Till 11:59 PM GMT, 15th August 2021) (Closed)
General Registration: €65 (Till 11:59 PM GMT, 28th September 2021)
THE PAST, PRESENT & FUTURE: An Online Interactive Conference with global frontiers. Two-Day Online Conference with Live Presentations, Tutorials, Interactive Sessions, Live Mentorship & Panel Discussions. A collaborative initiative by ParametricArchitecture (PA) with DesignMorphine. Computational Design: NEXT 6.0 brings together pioneers and professionals from all industries to meet and discuss new emerging technologies in art, architecture, design, and manufacturing.
Computational Design: NEXT is a collaborative initiative by some of the global frontiers of computational design to open up an Online Learning platform as a comprehensive ONLINE CONFERENCE comprising of discussions, dialogues, tutorials, and mentorship to a global audience through thought-provoking and meaningful dialogues curated by ParametricArchitecture (PA), one of the leading media platforms focussing on Computational Design and its various subsets.
After a successful round of CD Next 1-5, Computational Design: NEXT 6.0 takes another step to delve into new-age design technologies by global advocates of technology and is scheduled to take place on 2-3 October 2021 (Saturday & Sunday) as a 2-day conference with workshops, panel discussions, tech demonstrations, and discussions.
The entire conference will be recorded and videos will be available for participants just a day after the conference.

Tickets are non-refundable and non-transferable. Please read before you register.
You can pay the fee in ETH or any other crypto. For more information please contact us at

[email protected]

We will send the ZOOM link just a week before the conference starts.
Guest Speakers:
Andrew Kudless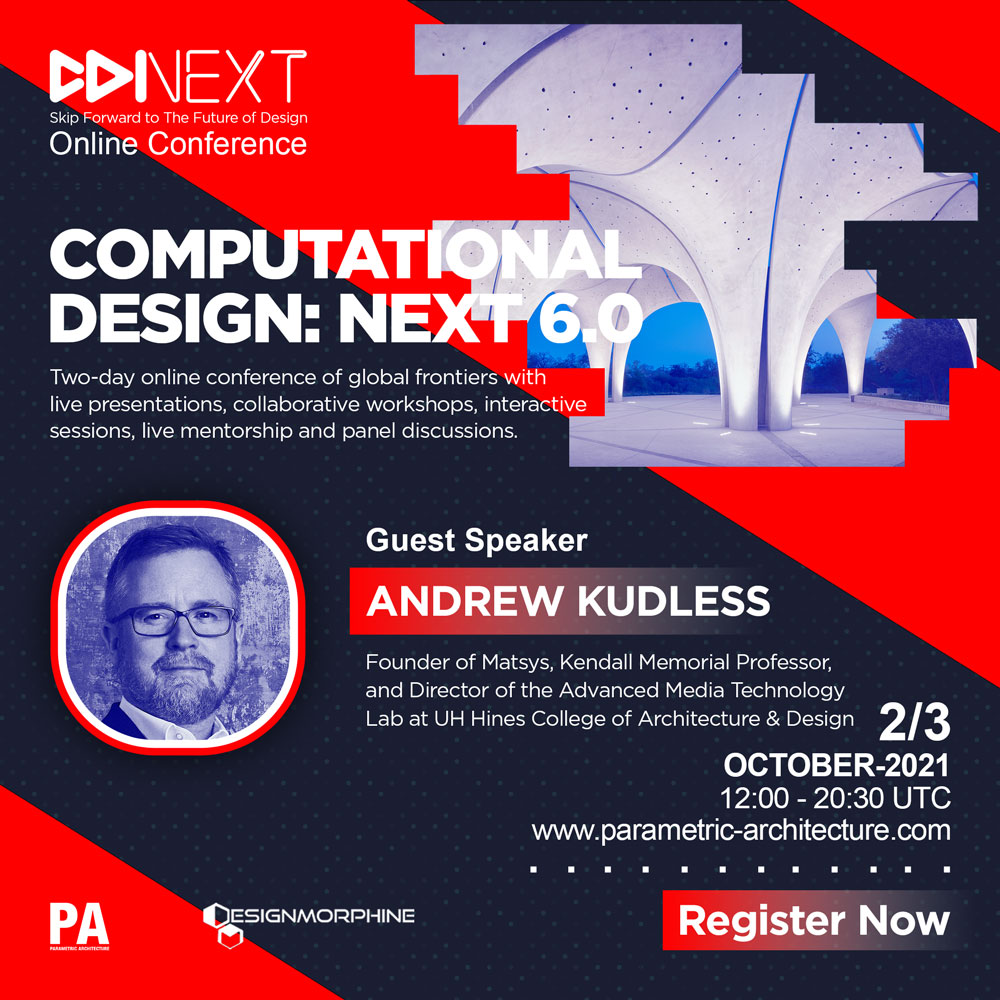 Andrew Kudless, Houston-based designer to give an address at the Computational Design: NEXT 6.0 conference. Andrew is a designer based in Houston, Texas where he is the Bill D. Kendall Professor at the University of Houston's Hines College of Architecture & Design as well as the Director of the Advanced Media Technology Lab. In 2004, he founded Matsys, a design studio exploring the emergent relationships between architecture, engineering, biology, and computation.
Andrew holds a Master of Arts in Emergent Technologies and Design from the Architectural Association and a Master of Architecture from Tulane University. The work of Matsys has been exhibited internationally and is in the permanent collections of the San Francisco Museum of Modern Art, the Centre Pompidou in Paris, and the FRAC Centre in Orleans, France. His work on Confluence Park has won a number of awards including a 2019 AIA National Honor Award.
Jenny Sabin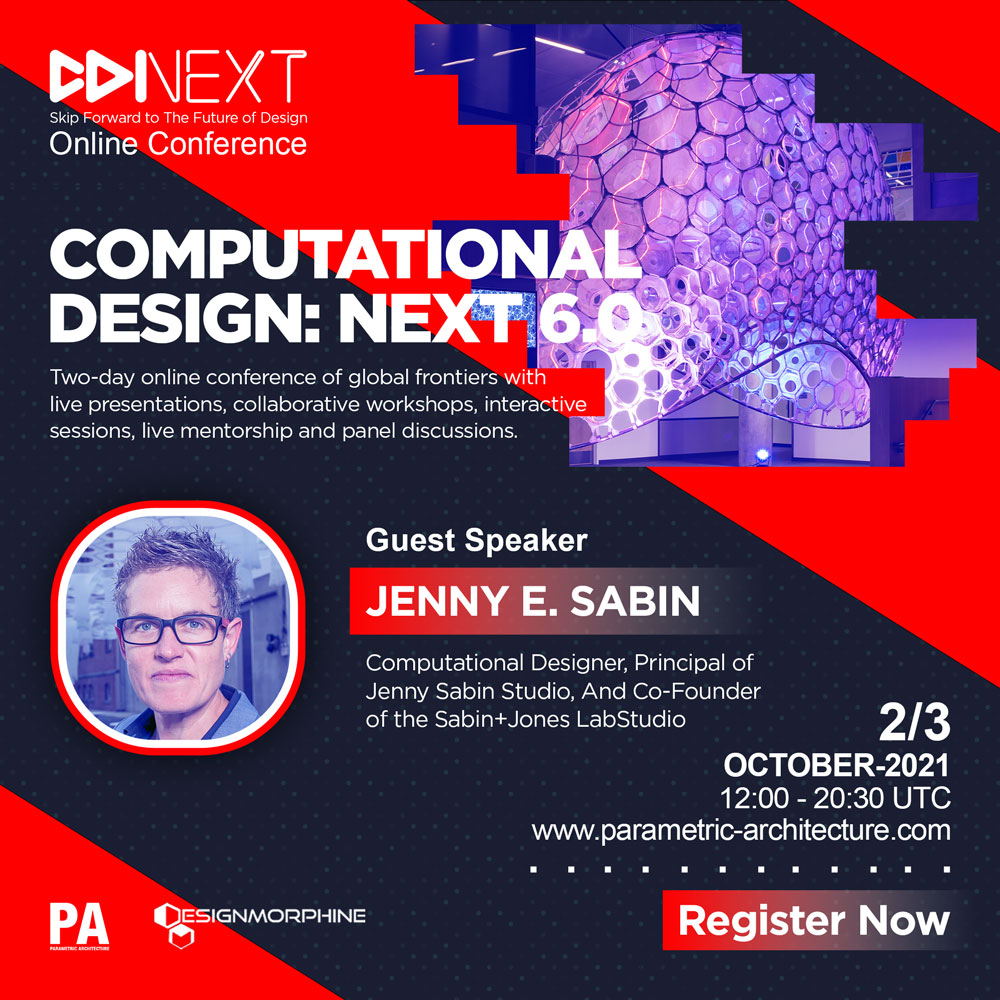 Jenny E. Sabin is an architectural designer whose work is at the forefront of a new direction for 21st-century architectural practice will give an oration to the audience at the Computational Design: NEXT 6.0 conference.
Jenny's work investigates the intersections of architecture and science and applies insights and theories from biology and mathematics to the design of material structures. She is the Arthur L. and Isabel B. Wiesenberger Professor in Architecture and Associate Dean for Design at Cornell College of Architecture, Art, and Planning where she established a new advanced research degree in Matter Design Computation.
Jenny is the principal of Jenny Sabin Studio, an experimental architectural design studio based in Ithaca, and Director of the Sabin Lab at Cornell AAP. In 2006, she co-founded the Sabin+Jones LabStudio, hybrid research, and design unit, together with a biologist, Peter Lloyd Jones. Sabin holds degrees in ceramics and interdisciplinary visual art from the University of Washington and a master of architecture from the University of Pennsylvania. She was awarded a Pew Fellowship in the Arts in 2010 and was named a USA Knight Fellow in Architecture.
In 2014, she was awarded the prestigious Architectural League Prize for Young Architects and Architectural Record's national Women in Architecture Awards selected her for the 2016 Innovator in design award. She has exhibited nationally and internationally including in the acclaimed 9th ArchiLab Naturalizing Architecture at FRAC Centre, Orleans, France, and most recently as part of Beauty, the 5th Cooper Hewitt Design Triennial. Her book, LabStudio: Design Research Between Architecture and Biology, co-authored with Peter Lloyd Jones was published in July 2017. In 2017, Sabin won MoMA & MoMA PS1's Young Architects Program with her submission, Lumen.
David Stasiuk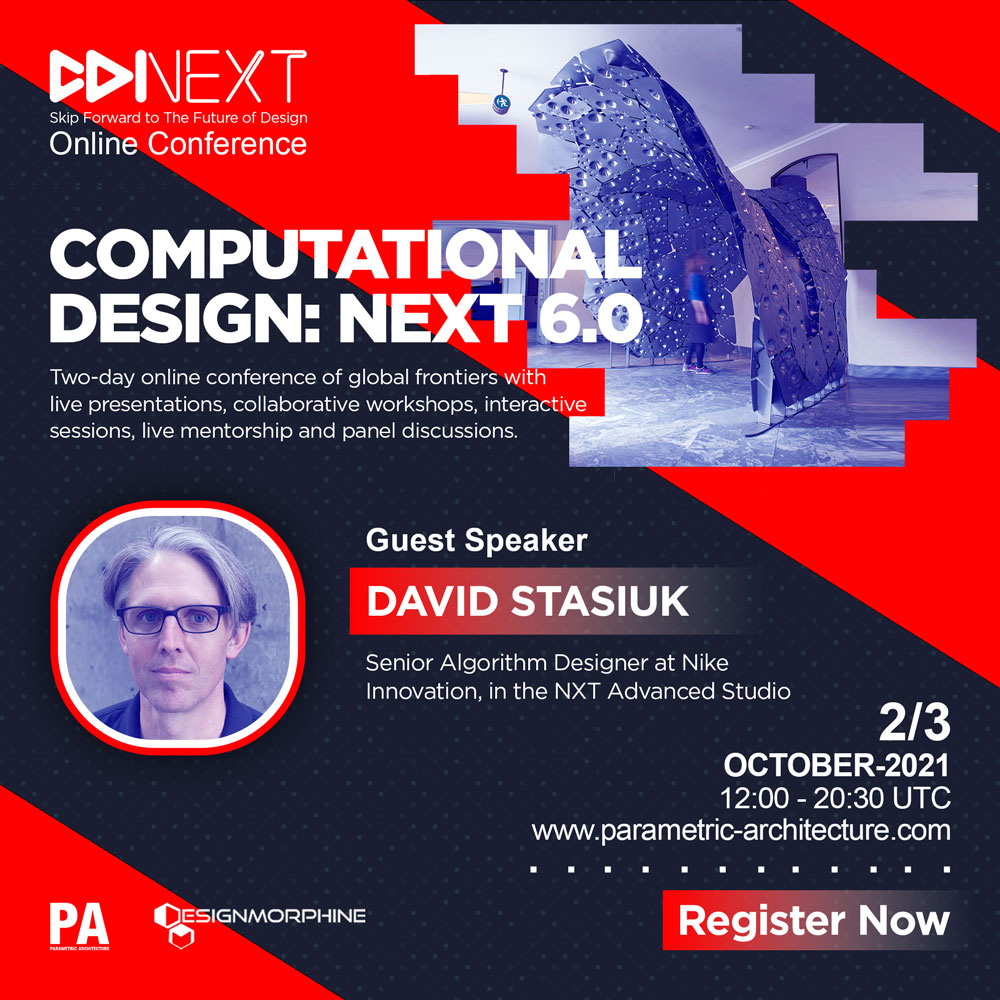 David Stasiuk, senior algorithm designer at Nike Innovation, in the NXT Advanced Studio, will be giving a lecture at the Computational Design: NEXT 6.0 conference. David is a researcher and designer living in Portland, OR. He received his Ph.D. from the Centre for Information Technology and Architecture (CITA), at the Royal Academy of Fine Arts in Copenhagen, where he focused on complex modeling for computational design in architecture.
His research explored the integration of material behaviors into design and CNC fabrication through simulation, embedded data logic, and circular feedback loops. Professionally, he has worked as a consultant in advanced geometry and assembly systems for several architectural projects as a part of Proving Ground, as well as at his own design consultancy, Bespoke Geometry. He is currently working as a Senior Algorithm Designer at Nike Innovation, in the NXT Advanced Studio.
Mariana Popescu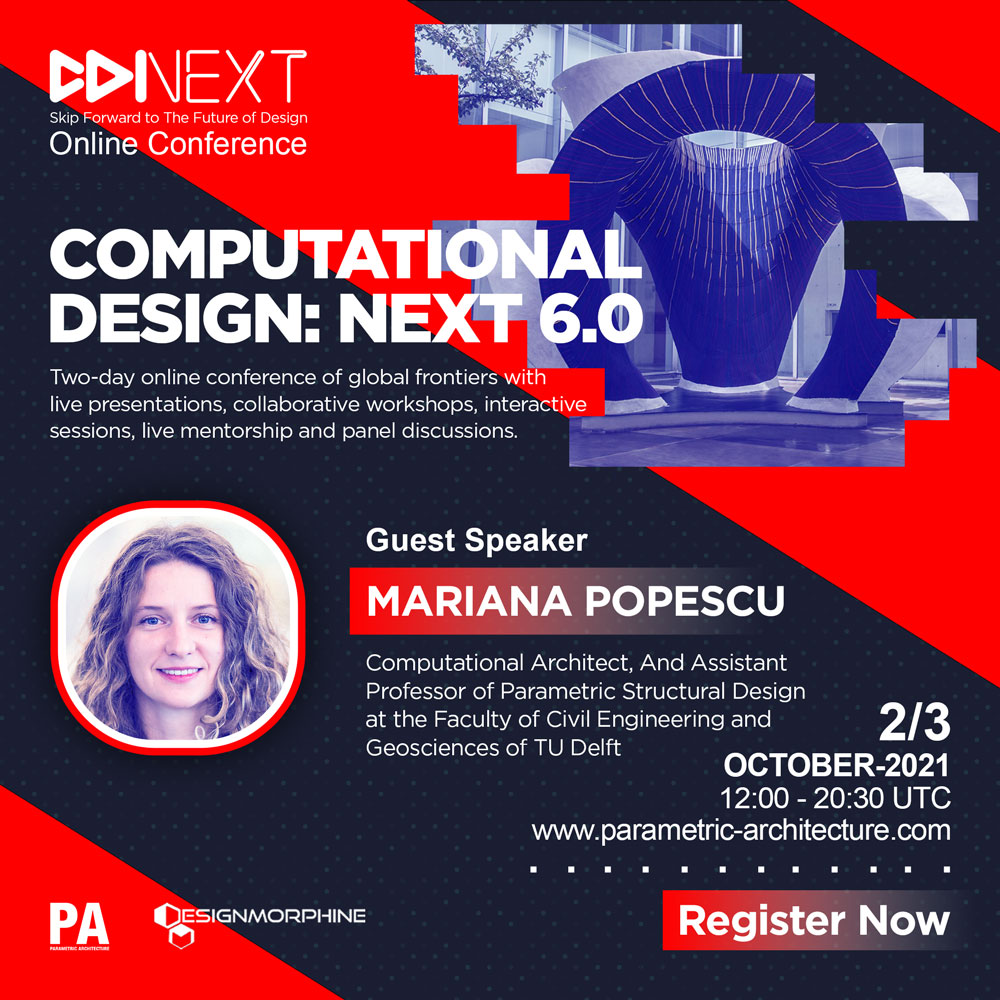 Mariana Popescu, computational architect, and structural designer to give a lecture at the Computational Design: NEXT 6.0 conference. Mariana has a strong interest and experience in innovative ways of approaching the fabrication process and use of materials in construction. Dr. Mariana Popescu is a post-doctoral researcher at the Block Research Group (BRG) at the Institute of Technology in Architecture at ETH Zurich, involved in the NCCR Digital Fabrication. Currently, she is an Assistant Professor of Parametric Structural Design and Digital Fabrication at the Faculty of Civil Engineering and Geosciences of TU Delft in the Netherlands.
Her area of expertise is computational and parametric design with a focus on digital fabrication and sustainable design. Her extensive involvement in projects related to promoting sustainability has led to a multilateral development of skills, which combine the fields of architecture, engineering, computational design, and digital fabrication. In 2019, she successfully defended her Ph.D., which was nominated for the ETH Medal for outstanding dissertation, and was named a "Pioneer" on the MIT Technology review the global list of "35 innovators under 35".
Claudia Pasquero and Marco Poletto
Claudia Pasquero and Marco Poletto, co-founders and directors of ecoLogicStudio to give an address at the Computational Design: NEXT 6.0 conference about photosynthetic architectures and their recent amazing work.
Claudia Pasquero
Claudia Pasquero is an architect, curator, author, and educator; her work and research operate at the intersection of biology, computation, and design. She is the founder and co-director of ecoLogicStudio in London, Associate Professor, and director of the Urban Morphogenesis Lab at the Bartlett UCL, Professor of Landscape Architecture, founder of the Synthetic Landscape Lab, and Head of Institute for IOUD (Institute of Urban Design) at Innsbruck University.
Claudia has been Head Curator of the Tallinn Architectural Biennale 2017, and she has been nominated in the WIRED smart list in the same year. She is co-author of "Systemic Architecture – Operating manual for the self-organizing city"
published by Routledge in 2012. Her work has been published and exhibited internationally: at the FRAC Centre in Orléans, the Venice Architectural Biennale, ZKM Karlsruhe, and the MilanoExpo2015 among others.
ecoLogicStudio has in recent years completed a series of photosynthetic architectures, such as the BioTechHut Pavilion for Expo Astana 2017, HORTUS Astana 2017, Urban Algae Folly Aarhus 2017, PhotoSynthEtica Dublin 2019, HORTUS XL 2020 for the Center Pompidou in Paris, PhotosSynthEtica Helsinki 2020 upon others. Claudia is currently writing a new book with Marco Poletto, titled 'DeepGreen: Biodesign in the Age of Artificial Intelligence' due to be published by Routledge in early 2022, and collecting the last 10 years of work and research.
Marco Poletto
Marco Poletto is an architect, educator, and innovator. He is co-founder and Director of ecoLogicStudio and the Photosynthetica consortium. His practice investigates the dissolving boundaries between city and nature. He has designed and built architectures, installations, and digital protocols testing human interaction with non-human systems. His theory of the Urbansphere argues that the increased spatial articulation and material integration of such systems within architecture are crucial to evolving higher forms of urban ecological intelligence. His body of work proposes a redefinition of the traditional paradigm of sustainability in the age of ubiquitous computing.
Marco has been Unit Master at the Architectural Association in London, Visiting critic at Cornell University and Carnegie Mellon University, a Research Cluster leader at the Bartlett School of Architecture, and a Research Fellow at Aarhus School of Architecture. He holds a Ph.D. Degree from RMIT University, Melbourne. He is currently Visiting Lecturer at the University of Innsbruck and a Senior Tutor at the IAAC in Barcelona.
Marco's work has been published and exhibited throughout the world, more recently in Tokyo (Mori Art Museum, 2020), Paris (Centre Pompidou, 2019 and EDF Foundation, 2013), Dublin (Dublin Castle, 2018), Tallinn (bio.T.A.llinn, 2017), Astana (EXPO 2017), Karlsruhe (Globale Exhibition – ZKM Museum, 2015), Milan (EXPO 2015), in Orleans (Biennale of Architecture #1, 2017 and 9th Archilab – FRAC Collection, 2014), London (Building Centre 2018, Architectural Association, 2011 and London Biennale, 2006 and 2008), at the Venice Art and Architectural Biennales (STEM, 2006; STEMv3.0 the lagoon experiment, 2008; The Ecological Footprint Grotto, 2010; HORTUS.venice, 2015; Solana Open Aviary, 2016).
Marco is co-author of "Systemic Architecture – Operating manual for the self-organizing city" published by Routledge in 2012.
Oliver Thomas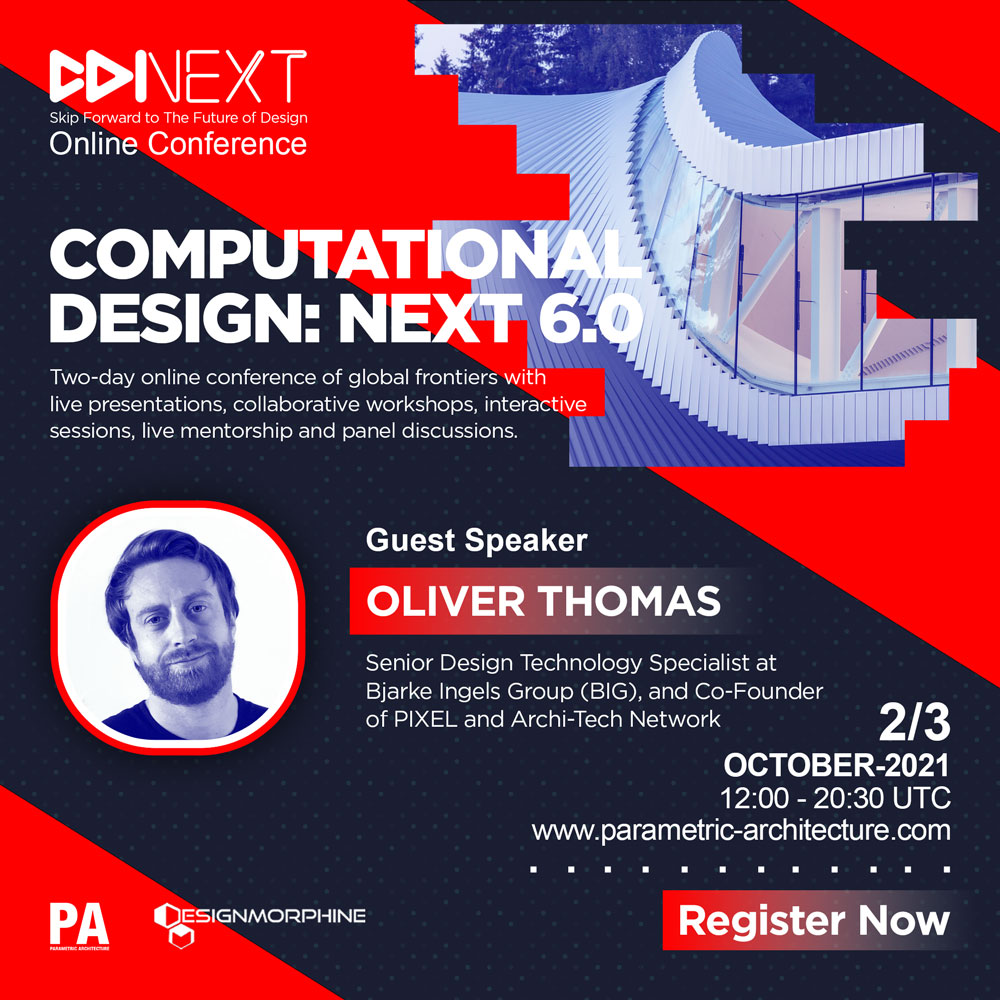 Oliver Thomas, British architect and Senior Design Technology Specialist at Bjarke Ingels Group (BIG) to give a lecture at the Computational Design: NEXT 6.0 conference about BIM and the intersection of architecture and technology. Oliver has 9 years of experience working in various roles as an architect, specializing in design, technology, and fabrication for firms such as Aedas, BIG, and Front. Having studied in the UK and gone on to become a fully qualified British architect, Oliver went on to work in London, Hong Kong, and New York.
Oliver is also the co-founder of PIXEL, an architecture think tank rethinking a sustainable future via the built environment, and Archi-Tech Network….an online platform that aims to foster collaboration, discussion, and education resources around the intersection of Architecture and Technology.
Travis Fitch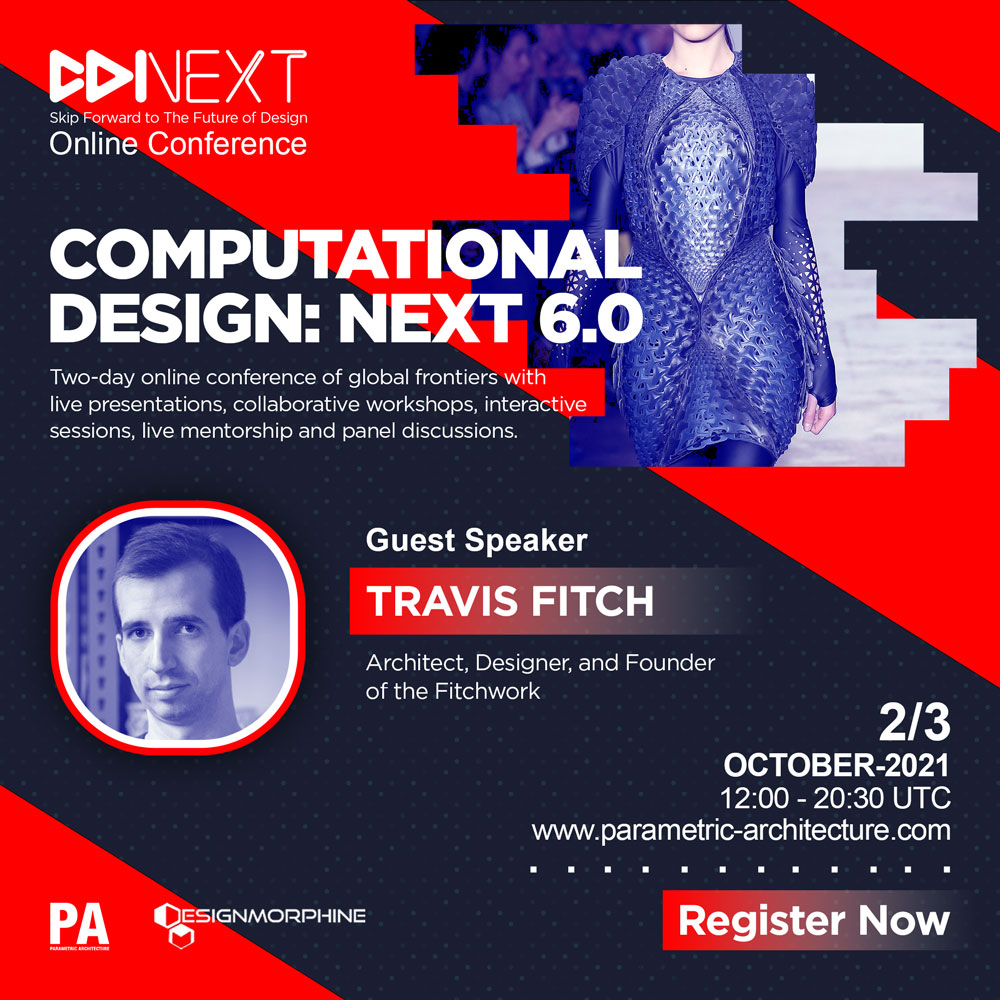 Travis Fitch, the principal of Fitchwork, to give an address at the Computational Design: NEXT 6.0 conference. Fitchwork is a collaborative architecture, fashion, and product design practice founded in 2016. Driven by an obsession with a pattern, Fitch combines geometric research with novel design and fabrication tools to create radical-yet-rational forms. An initial collaboration with fashion house threeAsfour on their collections Biomimicry and Quantum Vibrations included a series of landmark 3D printed dresses.
In 2017, Fitchwork launched Superpattern, a collection of intricately structured, made-to-order lighting and jewelry, with a two-week pop-up in Soho. Fitch's work has been featured in Vogue, the MFA Boston, the Cooper Hewitt Museum, and the Philadelphia Museum of Art. As a part-time faculty member with the Parsons Textiles MFA, Fitch is critically involved in the research, development, and applications of modern textiles. Ongoing projects look to expand on these possibilities and include a latticed shade canopy, a warehouse renovation, and a series of experimental 3D printed textiles.
Leonardo Nuevo Arenas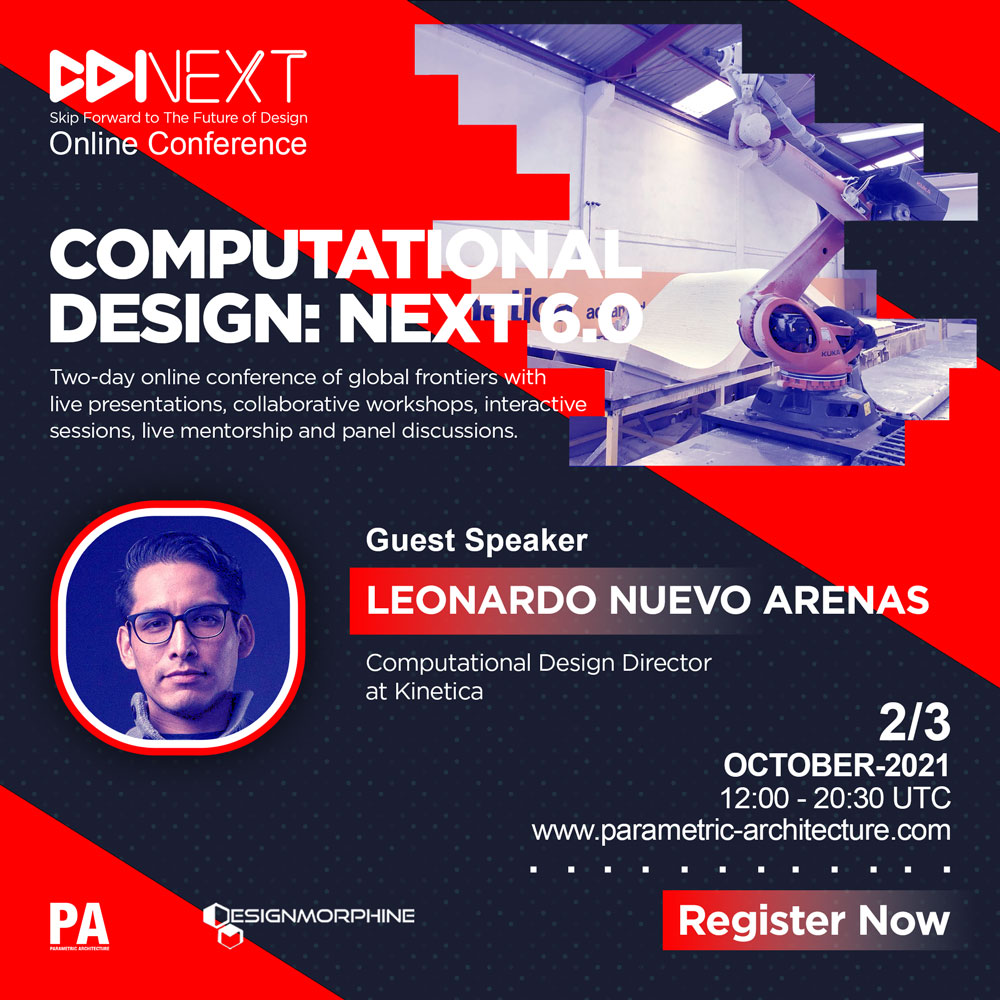 Leonardo Nuevo Arenas, computational design director at Kinetica will make a speech at the Computational Design: NEXT 6.0 conference about the emergent technologies and fabrication process of complex geometries.
He is part of the first generation of Computational Design specialists in Latin America. Leonardo started his career as an educator with the foundation of [Complex Geometry], a platform focused on the dissemination of emergent technologies applied to Architecture, Industrial Design, and Arts, with workshops and lectures in several academic forums in Mexico, Colombia, and Panamá and collaborating as a consultant for the implementation of computational design strategies and digital fabrication schemes in different design firms throughout Latin America before joining Kinetica.
Since 2014 he has been in charge of building and leading Kinetica's Computational Design team where he focuses on research, development, and implementation of algorithmic solutions for analysis, optimization, and automatization for the fabrication of complex, high profile projects for architects such as Foster + Partners, Sasaki Architects, Zaha Hadid Architects, Heatherwick Studio and ASGG.
He is also in charge of Kinetica's Advanced Robotic Manufacturing Site, working with the largest KUKA robot for architectural projects in México and Latin America. Along with his team, he is in charge of the development of hybrid fabrication methods, combining Digital and conventional Fabrication processes.
Guest Tutors:
Emma Sanson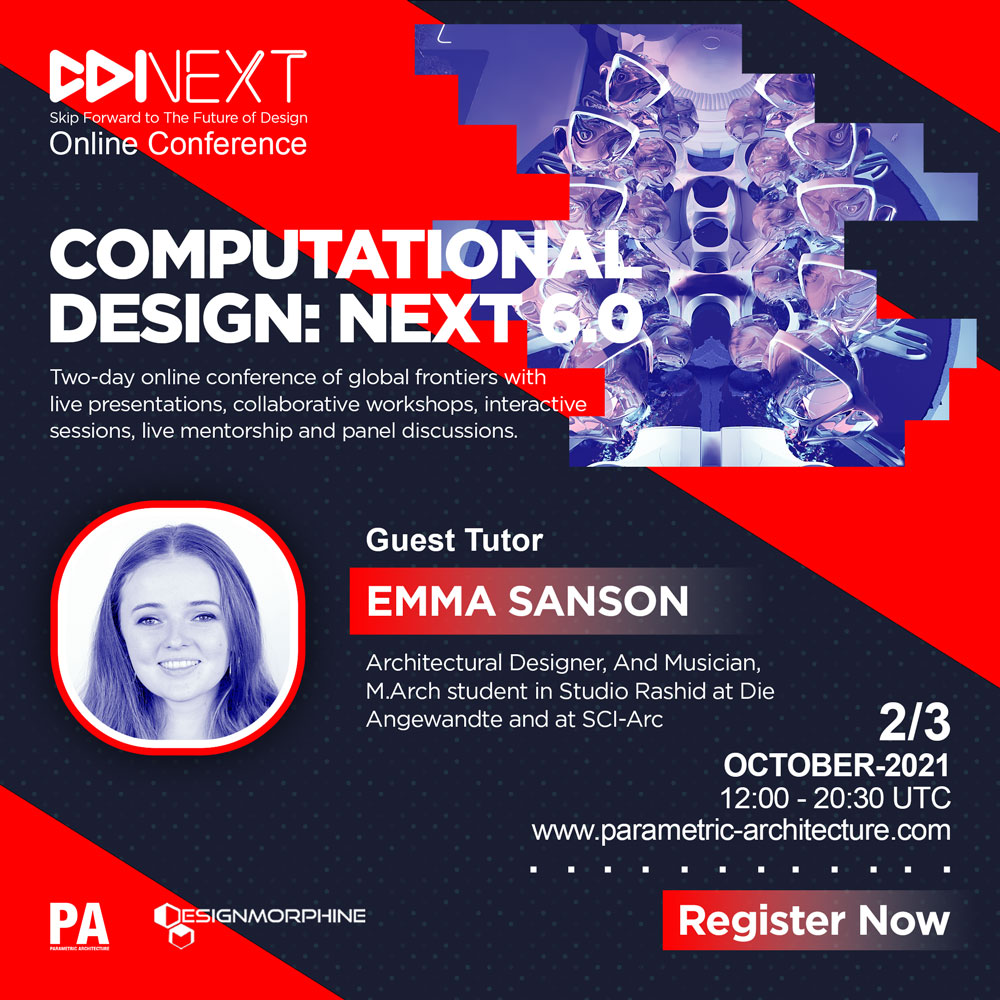 Emma Sanson, Vienna-based architectural designer, and musician to demonstrate a Rhino 3d + Grasshopper 3d workflow for about 90 minutes at the Computational Design: NEXT 6.0 conference. With professional experience from Populous and CoopHimmelb(l)au, Emma, holds a bachelor's from Oxford School of Architecture she is now pursuing her M.Arch degree in Studio Rashid at Die Angewandte and at SCI-Arc.
With a background in music one of her main topics of interest is exploring the relationship between sound and form – ranging from conceptual approaches to building scale proposals. In 2020 she co-founded the architectural magazine and platform Abstrakt, which is a collaborative project between the three master studios at Die Angewandte aiming to expand on research and ideas through conversations with students and professionals.
For the Computational Design: NEXT 6.0 Emma will be giving a brief introduction of 90 minutes to Rhino 3d + Grasshopper 3d tools that can help you develop music into both abstract and more spatial ideas. The aim of this workshop is to inspire people into bringing their musical explorations from an audible to a visual level, which may kickstart a new and more immersive way of experiencing sound."
Settawut Leenavong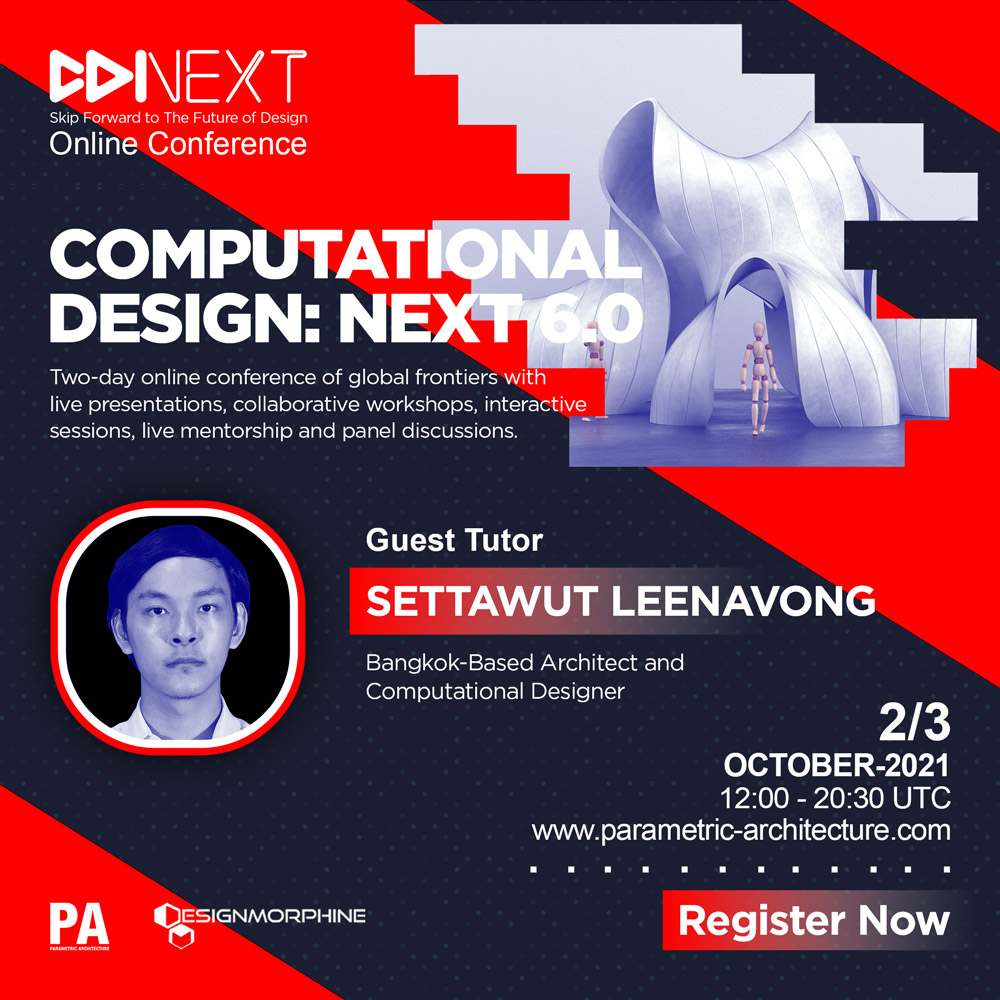 Chokoon (Settawut Leenavong), Bangkok-based architect and computational designer to showcase a Grasshopper 3d workflow for about 90 minutes at the Computational Design: NEXT 6.0 conference. Chokoon's work is an integration of Art, Science, Technology, and Personality. As his interest emerges with new technologies, he enjoys playing and contesting with multiple scales from Art on Canvas, Toys, Jewelry, Furniture, Installation, Pavilion design, to Architecture and Building. He seeks new unconventional ways of thinking and expresses them through production. Successively challenge and design with innovation in aesthetics and harmony with one of the many purposes of bringing art to a new height and pushing Architecture beyond its conventional boundaries. Every piece and project is a joy for him.
Programme Outline for Computational Design: NEXT 6.0
Day 01: Saturday, 2nd October 2021
[Time Zone: GMT]
All sessions/tracks are led by the following panelists unless specified otherwise:
– Hamid Hassanzadeh (Turkey/Iran) – Founder & Editor in Chief, Parametric Architecture)
– Michael Pryor (USA) – Design Director & Computational Designer, DesignMorphine
Welcome Note & Set-up
12:00 – 13:00 UTC
Guest Speaker 1: Jenny Sabin / Jenny Sabin Studio (Lecture + Q&A)
13:00 – 14:00 UTC
Duration – 60 Minutes
Break time for 15 minutes.
Workshop 1: Settawut Leenavong (Grasshopper 3D + Pufferfish)
14:15 – 15:45 UTC
Duration – 90 Minutes
Break time for 15 minutes.
Guest Speaker 2: Travis Fitch / Fitchwork (Lecture + Q&A)
16:00 – 17:00 UTC
Duration – 60 Minutes
Guest Speaker 3: David Stasiuk / NIKE (Lecture + Q&A)
17:00 – 18:00 UTC
Duration – 60 Minutes
Break time for 15 minutes.
Guest Speaker 4: Mariana Popescu / TU Delft (Lecture + Q&A)
18:00 – 19:00 UTC
Duration – 60 Minutes
End of Day 1: Endnote by Hamid Hassanzadeh
19:00 – 19:15 UTC
Duration – 15 Minutes
Day 2: Sunday, 3rd October 2021
Welcome Note & Set-up
12:00 PM – 12:15 PM GMT
Workshop 3: Michael Pryor (Grasshopper 3D + Rhino)
12:15 – 13:45 GMT
Duration – 90 Minutes
Break time for 15 minutes.
Guest Speaker 5: Leonardo Nuevo-Arenas / Kinetica (Lecture + Q&A)
14:00 – 15:00 GMT
Duration – 60 Minutes
Guest Speaker 6: Oliver Thomas / BIG (Lecture + Q&A)
15:00 – 16:00 GMT
Duration – 60 Minutes
Break time for 15 minutes.
Workshop 4: Emma Sanson / Studio Hani Rashid (Rhino + Grasshopper3D)
16:15 – 17:45 UTC
Duration – 90 Minutes
Break time for 15 minutes.
Guest Speaker 7: Claudia Pasquero​ + Marco Poletto​ / ecoLogicStudio (Lecture + Q&A)
18:00 – 19:00 GMT
Duration – 60 Minutes
Guest Speaker 8: Andrew Kudless / Matsys (Lecture + Q&A)
19:00 – 20:00 GMT
Duration – 60 Minutes
End of Day 2: Vote of thanks by organizers & speakers
20:00 – 20:30 GMT
Duration – 30 Minutes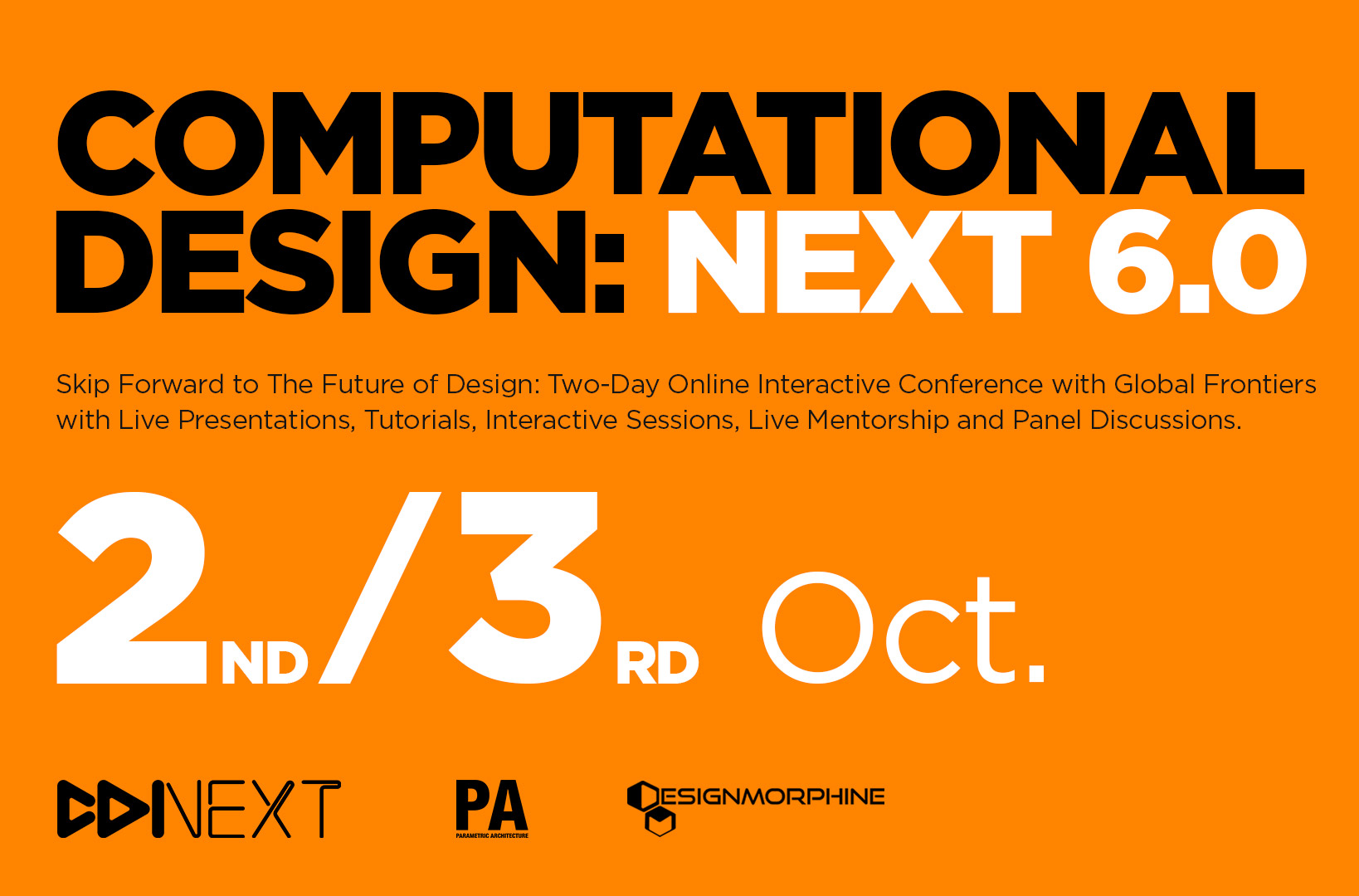 Topic: COMPUTATIONAL DESIGN: NEXT 6.0
Time: 2nd & 3rd October 2021, Saturday and Sunday
Day 1 Starts: 2nd October, 12:00 GMT
Day 1 Ends: 2nd October, 21:00 GMT
Day 2 Starts: 3rd October, 12:00 GMT
Day 2 Ends: 3rd October, 21:00 GMT
Where: Zoom hosted by PA
Duration: Two-Day Conference
Format: Online
Total Hours: 18 Hours
Organizers: Hamid Hassanzadeh, and Michael Pryor
Collaborators: PA, and DesignMorphine
Early-bird Registration: €53 (Till 11:59 PM GMT, 15th August 2021) (Closed)
General Registration: €65
Learn more about parametric and computational design from pioneers at the CD NEXT conference series: