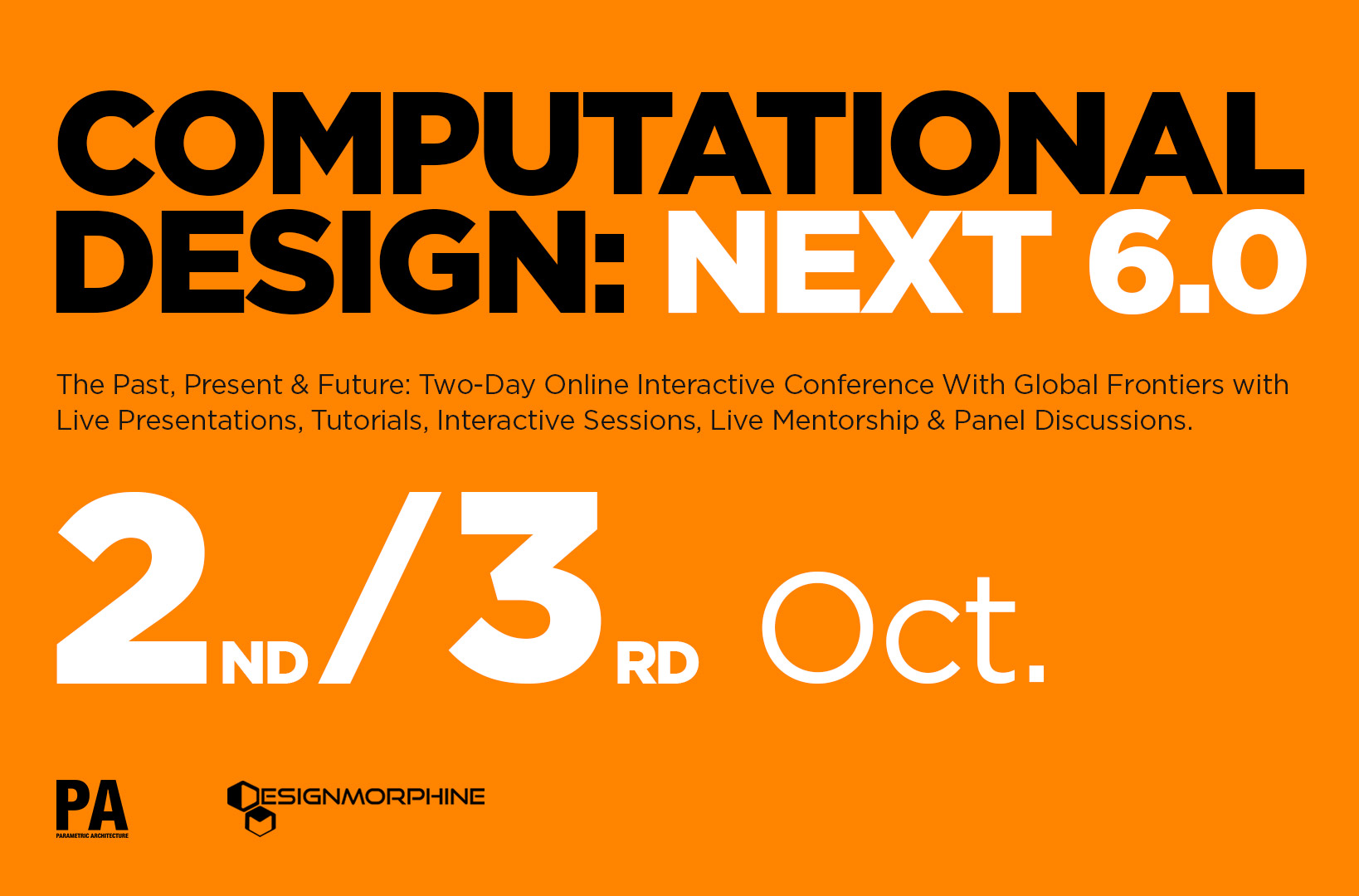 Topic: COMPUTATIONAL DESIGN: NEXT 6.0
Time: 2nd & 3rd October 2021, Saturday and Sunday
Day 1 Starts: 2nd October, 12:00 GMT
Day 1 Ends: 2nd October, 21:00 GMT
Day 2 Starts: 3rd October, 12:00 GMT
Day 2 Ends: 3rd October, 21:00 GMT
Where: Zoom hosted by PA
Duration: Two-Day Conference
Format: Online
Total Hours: 18 Hours
Organizers: Hamid Hassanzadeh, and Michael Pryor
Collaborators: PA, and DesignMorphine
Early-bird Registration: €50 (Till 11:59 PM GMT, 15th August 2021)
General Registration: €60 (Till 11:59 PM GMT, 28th September 2021)
THE PAST, PRESENT & FUTURE: An Online Interactive Conference with global frontiers. Two-Day Online Conference with Live Presentations, Tutorials, Interactive Sessions, Live Mentorship & Panel Discussions. A collaborative initiative by ParametricArchitecture (PA) with DesignMorphine. Computational Design: NEXT 5.0 brings together pioneers and professionals from all industries to meet and discuss new emerging technologies in art, architecture, design, and manufacturing.
Computational Design: NEXT is a collaborative initiative by some of the global frontiers of computational design to open up an Online Learning platform as a comprehensive ONLINE CONFERENCE comprising of discussions, dialogues, tutorials, and mentorship to a global audience through thought-provoking and meaningful dialogues curated by ParametricArchitecture (PA), one of the leading media platforms focussing on Computational Design and its various subsets.
After a successful round of CD Next 1-5, Computational Design: NEXT 6.0 takes another step to delve into new-age design technologies by global advocates of technology and is scheduled to take place on 2-3 October 2021 (Saturday & Sunday) as a 2-day conference with workshops, panel discussions, tech demonstrations, and discussions.
Details about the list of the guests will be published soon.
The entire conference will be recorded and videos will be available for participants just a day after the conference.
Tickets are non-refundable and non-transferable. Please read before you register.
You can pay the fee in ETH or any other crypto. For more information please contact us at next@parametric-architecture.com
We will send the ZOOM link just a week before the conference starts.