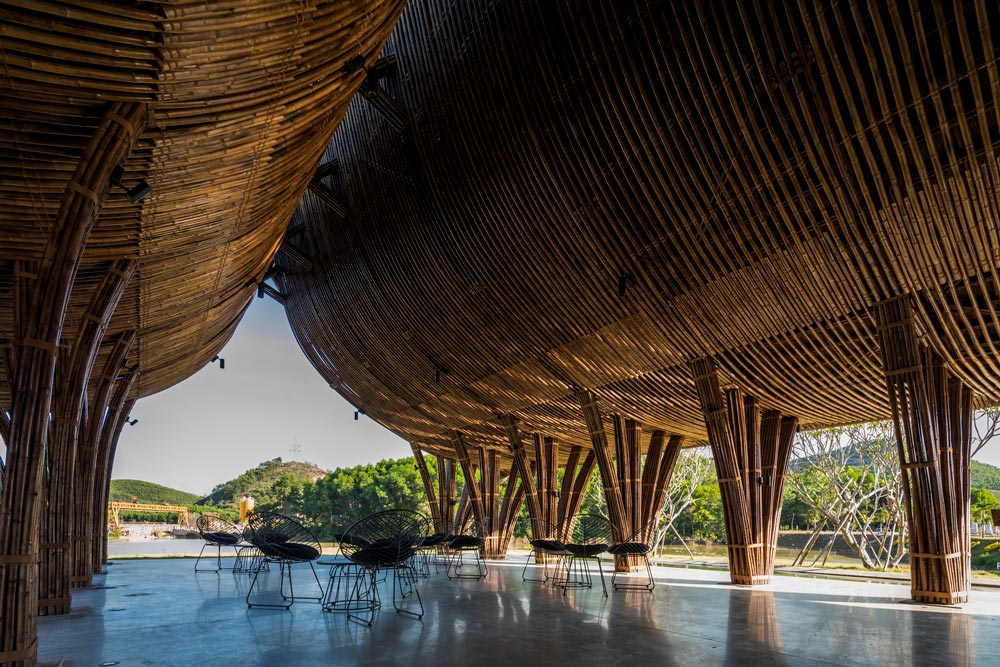 VTN Architects exhibits the Huong An Vien Visiting Center, harmonized within a lush green natural landscape. The pure bamboo structure, as part of a cemetery area, is located about 10 km southwest of Hue, Vietnam. The picturesque setting leaves an indelible sentiment on each one of us who visit this burial ground.
The structure soars in bamboo slats sprouting from the ground to embrace an undulating roof. The cemetery lands usually brew a hefty resonance of death, loss and grief. As they lift and hurtle a sense of melancholy. The client and the architect mutually agreed to recuperate these emotions in the visiting centre's environment and summon peace and tranquillity.
The land is amidst a web of four scintillating lakes and rippling mountains. Curving pathways move you in and out of the setting as feelings flock your senses. Huong An Vien is home to trees, flowers and a variety of other vegetation. The presence of green landscape embosoms an optimistic aura. The modest and artistic bamboo roof sweeps inspiration from the Hue and the Huong River. The soft and tender quality of the river is a common association among the Vietnamese people
The eave of the roof designed in proportion to a low spot, heralding to safeguard the inner structure from direct sun and rain. The structure enables the space to sojourn and imbibes the human emotions at a deeper level. Huong An Vien Visiting Center shows its respect and gratitude to the ones who have passed away, being an element of nature and beyond.
The entire site maintains well with a clean atmosphere. The designers chose natural and affordable local materials such as bamboo, thatch and bricks for the construction. The application of perforated bricks invites airflow and natural light to seep inside. Therefore during the day, the building eliminates to rely on air-conditioning or artificial lighting. Each module has a simple structure that assembled quickly with a low-budget in construction and operation.
The Huong An Vien Visiting Center is a reprise to the loved ones who left us. The roof looms over you, portraying its boldness and heaviness while you sit underneath reminiscing.
Project Name: Huong An Vien Visiting Center
Architecture Firm: VTN Architects (Vo Trong Nghia Architects)
Location: Huong An Vien, Vietnam
Built Area: 588 Square Meters
Completion: September 2020
Photography: Hiroyuki Oki