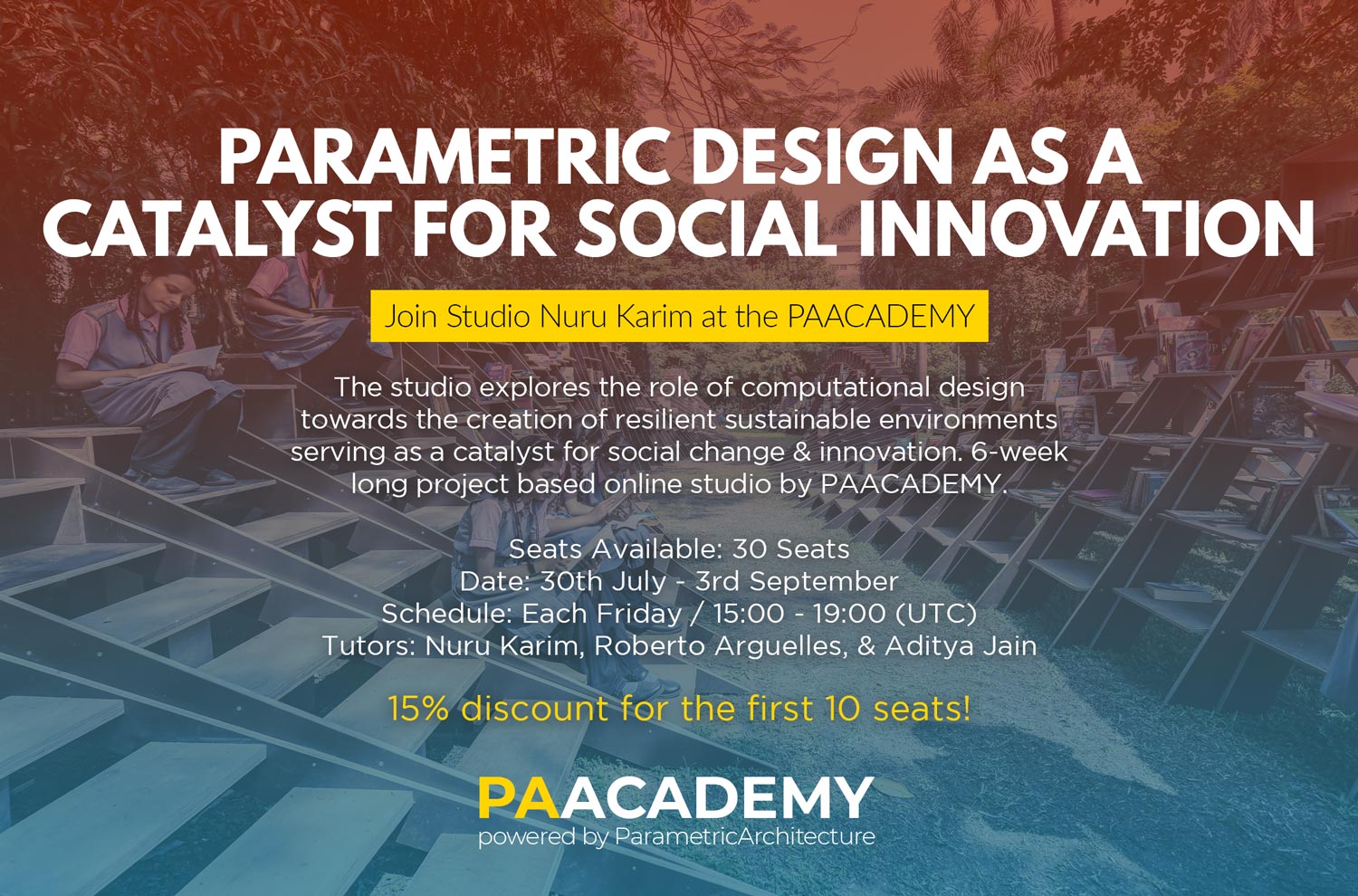 Topic: Parametric Design as a Catalyst for Social Innovation
Time: 30th July – 3rd September 2021
Location: ZOOM hosted by PA
Format: Online
Duration: 6 Sessions
Total Hours: 24 Hours
Workshop Type: Online Workshop
Registration Deadline: 27th July 2021
Seats Available: 30 Seats
Organized By: PAACADEMY
Studio: Studio Nuru Karim
Tutor: Nuru Karim, Roberto Arguelles, and Aditya Jain
Parametric Design as a Catalyst for Social Innovation
About the Studio
The world is currently facing extreme weather conditions. Issues such as climate change and global warming are at the forefront of several discussions, dialogue, and policies involving stakeholders and representations from civil society across the globe. "Parametric Design as a Catalyst for Social Innovation" by PAACADEMY explores the role of computational design towards the creation of resilient sustainable environments serving as a catalyst for social change & innovation.
The Design Studio would include the following verticals:
Vertical 01
Water – Harvest
Vertical 02
Solar – Generate
Vertical 03
Food – Grow
Vertical 04
Education – Learn
Lectures
Tutorials
Research / Studio Work
3D Printing
Final Presentations – Review & Critique
Softwares:
Rhinoceros 3D / Grasshopper 3D / Grasshopper 3D Plugins / CURA
Week 1: 30th July
Welcome and introduction
Lecture : Introduction to Studio Objective and role of computational thinking / parametric design (0.45 Hrs)
Introductory Tutorials – Rhinoceros 3D (1.25 Hr) / Grasshopper 3D (2.0 Hrs)
Week 2: 6th July
Grasshopper Workshop 01
Tutorials 01 (2 Hrs)
Assignment 01 (2 Hrs)
Week 03: 13th August
Introduction : Studio Project (0.45 Hr)
Setting a Design Research Agenda (0.30Hrs)
Grasshopper Workshop 02
Tutorials (2.45 Hrs)
Week 04: 20th August
Studio Lecture : Scales and intent of application wrt to studio verticals ( 0.30 Hrs )
Continued : Grasshopper Workshop ( 3.30Hrs )
Week 05: 27th August
Continued : Preliminary Review / Studio Work (3.25 Hrs)
Tutorials : 3D Printing ( Design optimisation for 3D printing ) ( 0.45 Hrs )
Week 06: 03rd September
Final Presentations & Jury with special guests – 4 Hrs
Important Notes:
Studio Nuru Karim by PAACADEMY will start on 30th July on Friday at 15:00 UTC and will continue each Friday till the last session on 3rd September.
Start date: Friday, 30th July 2021
End date: Friday, 3rd September 2021
Total sessions: 6 Sessions
Daily schedule: 15:00 – 19:00 UTC (4 hours each session)
Tutors: Nuru Karim, Roberto Arguelles, and Aditya Jain
Each session and the entire studio will be recorded and videos will be available for participants just a day after the class.
The studio has limited seats. Tickets are non-transferable & non-refundable. Please read before you register.
You have to develop a project during the studio. This is an applied workshop, we will learn through involvement, so expect homework! You will work by groups of 2-4 to distribute the tasks and produce a more complete project.
Software requirements:

Rhinoceros 3D

+

Grasshopper 3D
PA Talks 42: Nuru Karim
Watch the PA Talks 42 to learn more about the studio workshop.
About Nuru Karim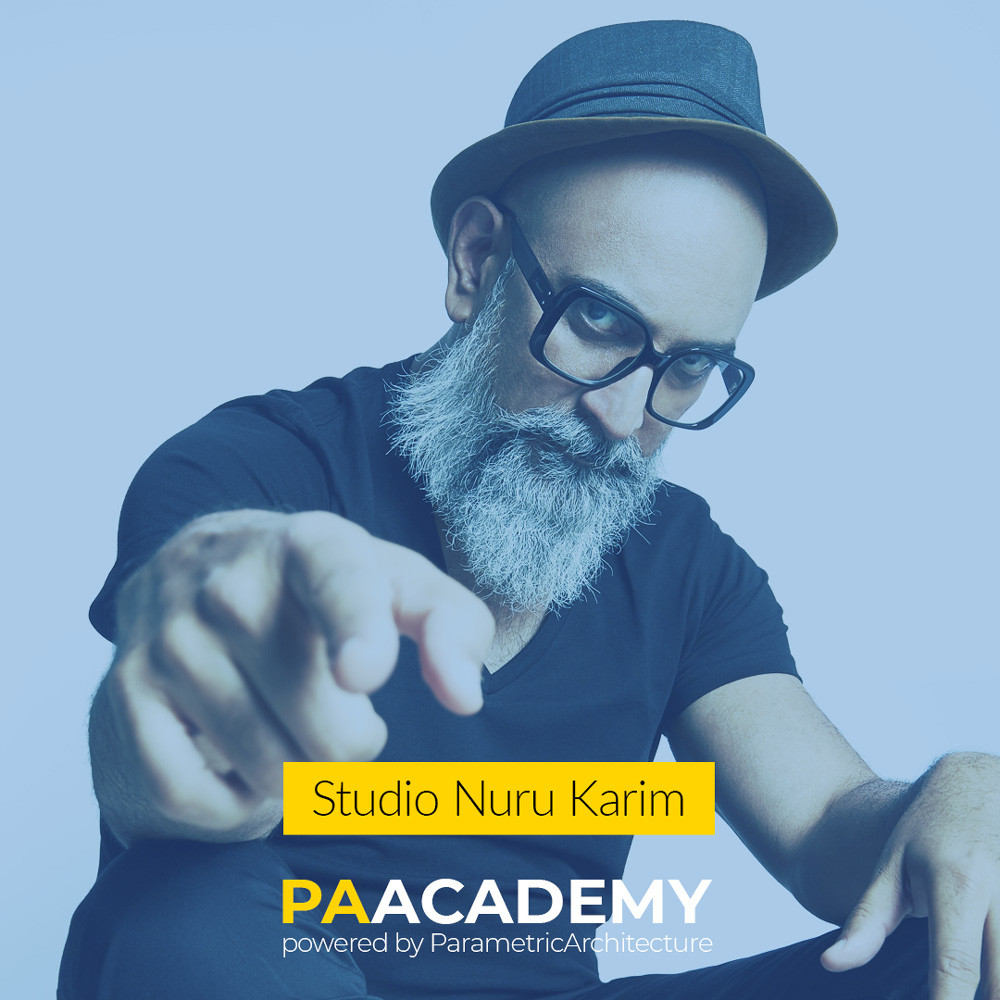 Nuru Karim, Founder & Principal Nudes received his Masters in Architecture and Urban-ism from the Architectural Association [AADRL] London, United Kingdom in 2006. His undergraduate studies include travel and education in the metropolis of Mumbai [KRVIA-gold medallist] and Montreal [McGill University]. He has worked for Zaha Hadid Architects in 2005 on a host of institutional projects both in competition/ schematic design and design development stages.
Nudes operates within the realm of cross-disciplinary cultures of art, architecture and computational design powered by digital "making" tools addressing larger networks of social, cultural and environmental . Nuru Karim has achieved critical recognition both for its built work and in competition in addition to several design awards including a nomination for the Aga Khan Award for Architecture 2013 cycle. He has also recently won the World Architecture Community Awards, designed category. Nuru Karim is also a TEDx speaker 2019 and has presented his work and research on national and international platforms.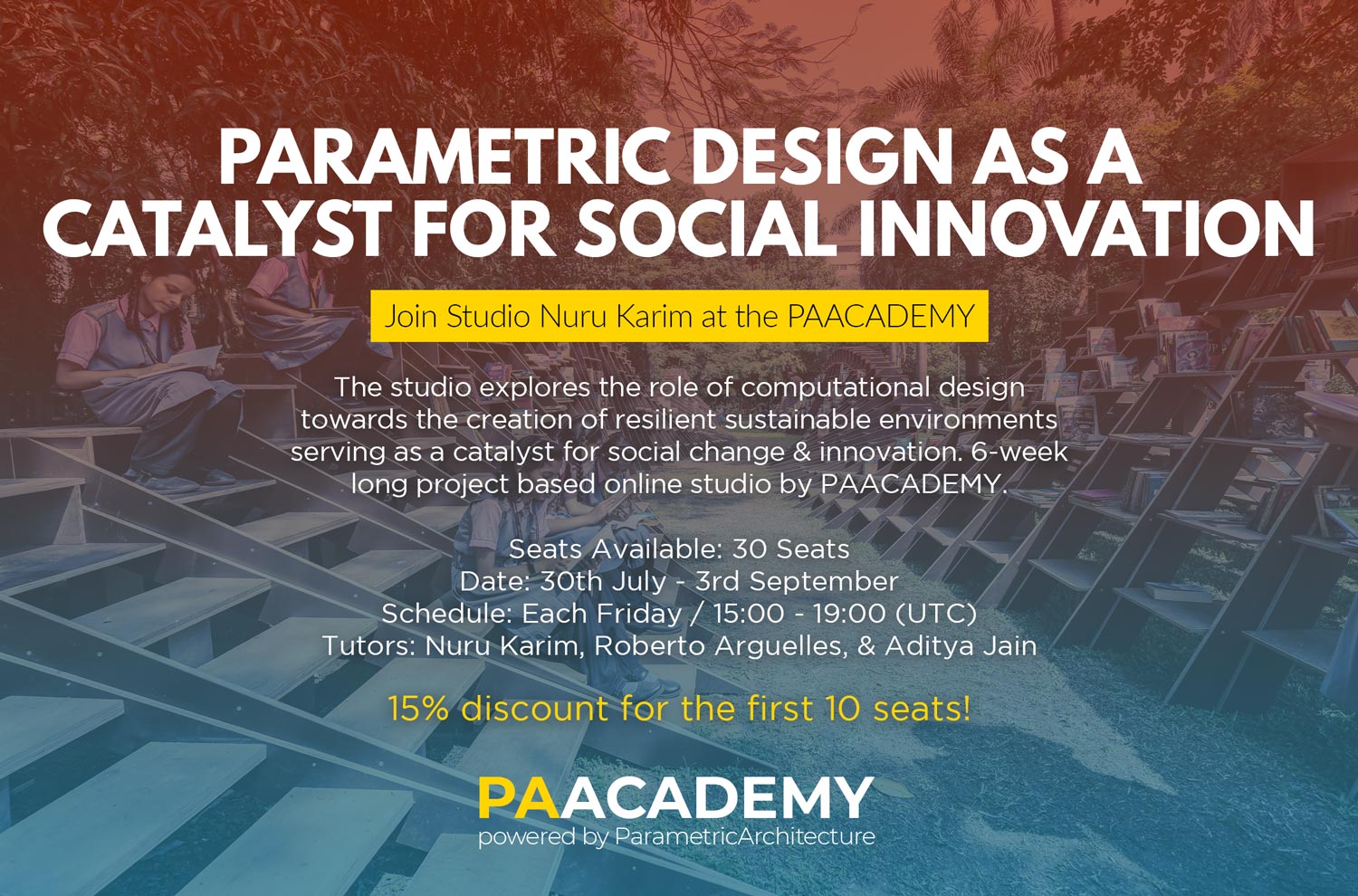 Topic: Parametric Design as a Catalyst for Social Innovation
Time: 30th July – 3rd September 2021
Location: ZOOM hosted by PA
Format: Online
Duration: 6 Sessions
Total Hours: 24 Hours
Workshop Type: Online Workshop
Registration Deadline: 27th July 2021
Seats Available: 30 Seats
Organized By: PAACADEMY
Studio: Studio Nuru Karim
Tutor: Nuru Karim, Roberto Arguelles, and Aditya Jain