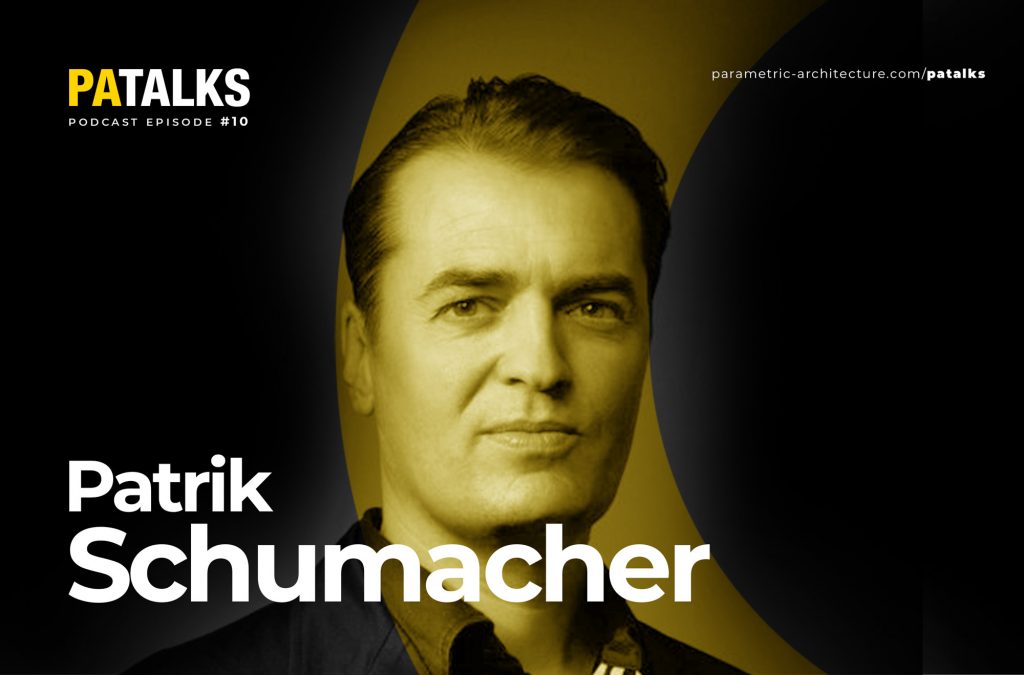 In this episode of PA Talks, Patrik Schumacher, an architect and architectural theorist based in London had a candid conversation with Hamid Hassanzadeh, founder of ParametricArchitecture sharing the challenges and ongoing projects. Patrik Schumacher, is the principal architect of Zaha Hadid Architects. A world-renowned architect; known for working with Dame Zaha Hadid since joining Zaha Hadid Architects practice in 1988. We were delighted to this informal yet informative live session on Instagram. When parametric or computational design is the topic, Zaha Hadid comes to the mind immediately. Known for her breath-taking parametrical designs; Zaha eradicated the norm in architecture.
After the sudden passing of Zaha Hadid in 2016, Patrik Schumacher took the lead of the practice. He has shared the challenges he has faced after Zaha Hadid's passing as a sole remaining partner and leading the practice, his early life as a student, his source of inspiration for ongoing projects, resolving issues in their designs, and how his interest emerged for parametricism and tectonism.
Furthermore, he has discussed the main principles for creating parametric design and what could be the firm's next step after producing works in the fields of fashion, furniture, and jewelry. Last but not least; Schumacher has given insights on artificial intelligence and the future of AI combined with architecture.
About Patrik Schumacher:
Profile:
Patrik has been with our practice since 1988. He is a company directorand our Senior Designer, involved alongside Zaha Hadid herself in allprojects we undertake. He maintains an active role in the developmentthroughout the design phases.
Education:
Patrik studied architecture at the University of Stuttgart and at theSouthbank University in London. He completed his architecturaldiploma and received his degree Dipl Ing from Stuttgart University in1990. He also studied philosophy at Bonn and London Universities. In1999, he received his PhD at the Institute for Cultural Sciences at theUniversity of Klagenfurt.
Teaching:
Patrik Schumacher has been teaching at various architectural schoolsin Britain, Continental Europe and the USA since 1992 and a co-director of the Design Research Laboratory at the ArchitecturalAssociation School of Architecture since 1996. He has co-taught aseries of post-graduate option studios with Zaha Hadid at the Universityof Illinois at Chicago, Columbia University and at the Graduate Schoolof Design at Harvard University. Currently he is tenured Professor atInnsbruck University and his contribution to the discourse ofcontemporary architecture is also evident in his published works.
ZHA projects:
His completed projects include the MAXXI Center of Contemporary Artand Architecture, Rome, which won the Stirling prize in 2010 and oneof the practice's first completed constructions, the Vitra Fire Station(1992). He is currently involved in several master plan projects,including Kartal Pendik in Istanbul and Singapore One North.
We hope you enjoy the interview!
In the PATalks interview series, PA's founder and creative director, Hamid Hassanzadeh, sits down with leading architects and designers to discuss their lives, careers, and visions for the future. Watch/Listen to the episode or subscribe on YouTube, Apple Podcasts, Spotify, and Google Podcasts to catch the whole series.
I hope you enjoy this discussion. Don't forget to subscribe to our YouTube Channel. Please give us your idea about the podcast. Make sure to follow the platform on Instagram, Youtube, and Twitter, and support us on Patreon. Also, you can listen to our podcasts on Spotify, Apple Podcasts, and Google Podcasts. Also, you can use #patalks on Twitter, Instagram, and Facebook to give us feedback about the podcasts. Thank you!