"We are at the beginning of the robotic era in construction" says Joseph Sarafian of Form Found Design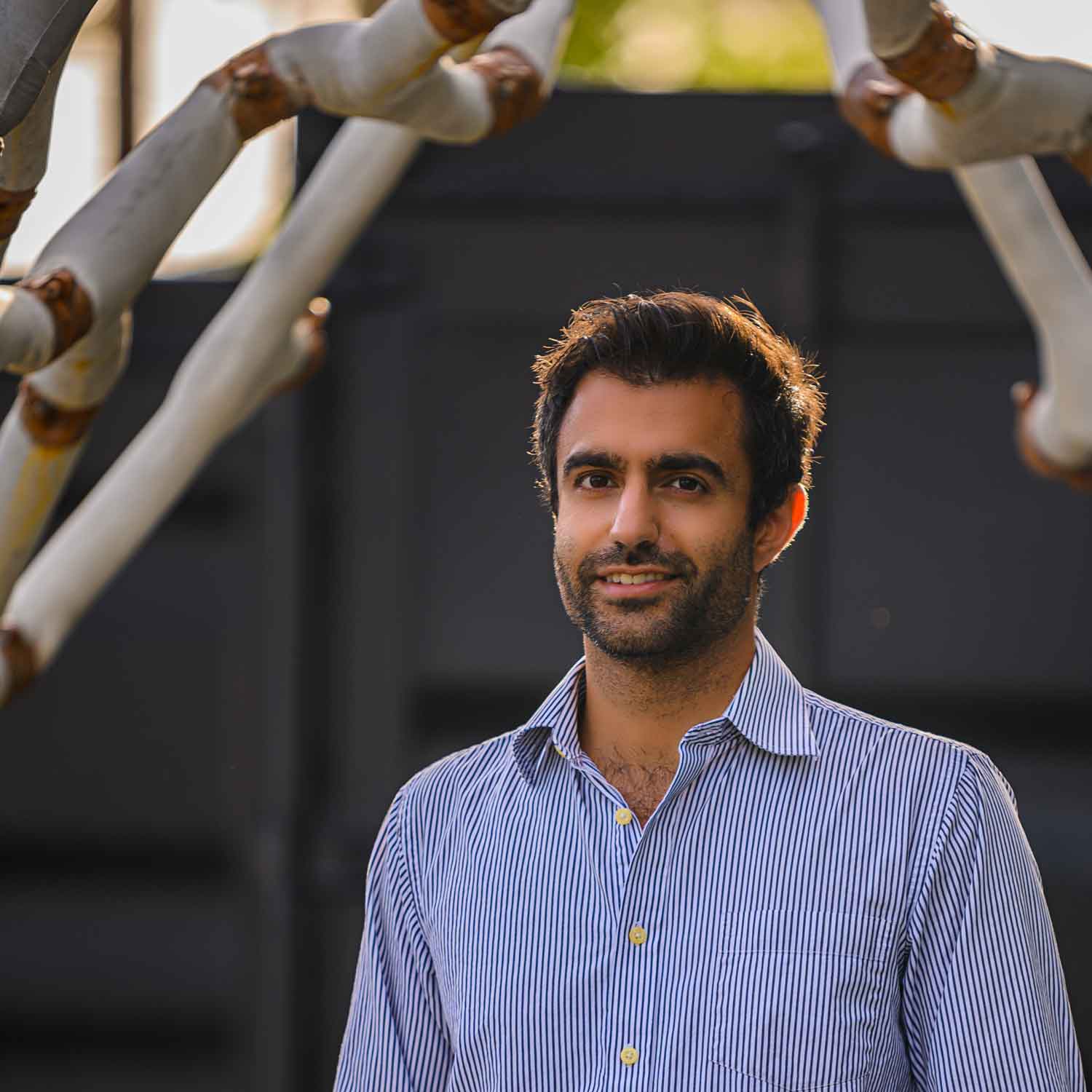 Architect Joseph Sarafian, CEO, and co-founder of Form Found Design discussed the advantages of new design tools and robotic construction in an exclusive interview with Hamid Hassanzadeh of PA.
Form Found Design is an LA-based studio that uses industrial robots to cast previously impossible concrete structures. Sarafian's work has been featured in Time Magazine, Business Insider, Designboom, Dezeen, and in multiple conference journals. Along with partner Ron Culver, Form Found Design has completed the MARS Pavilion in Palm Springs.
Joseph also designed the City of Rayong's first built, parametrically modeled façade (Central Plaza Rayong) among its other built work. Joseph received his Bachelors of Architecture Degree from the University of Southern California earning the Raymond S. Kennedy award for creative innovation and being distinguished as a University-wide "Global Scholar" for his study abroad work in Italy.
​PA Interviews Joseph Sarafian in a candid conversation on parametric architecture and robotics.
Hamid Hassanzadeh: How did your architecture career start?
Joseph Sarafian: My career in architecture began at the University of Southern California. I worked every summer at architecture firms, and was able to study abroad in Italy, which shaped my knowledge of architecture tremendously. After graduating, I worked at Synthesis Design + Architecture, with Alvin Huang when he was growing his office in Los Angeles at a really exciting time. We had built projects in China and Thailand that allowed me to travel to support SDA's growing international portfolio.
I would later attend UCLA's Master of Architecture program, studying under Greg Lynn. This was a fantastic introduction into robotics and was significant because I met Ron Culver, who would later become my business partner at Form Found Design. Ron had over thirty years of experience in architecture and construction and was brilliant in a lot of ways that allowed us to feed off each other.
Following grad school, I worked at Perkins+Will, where I gained valuable experience working on some very programmatically complex buildings. Once we got the Amazon commission for the MARS Pavilion, Ron and I realized that FFD was worth investing in.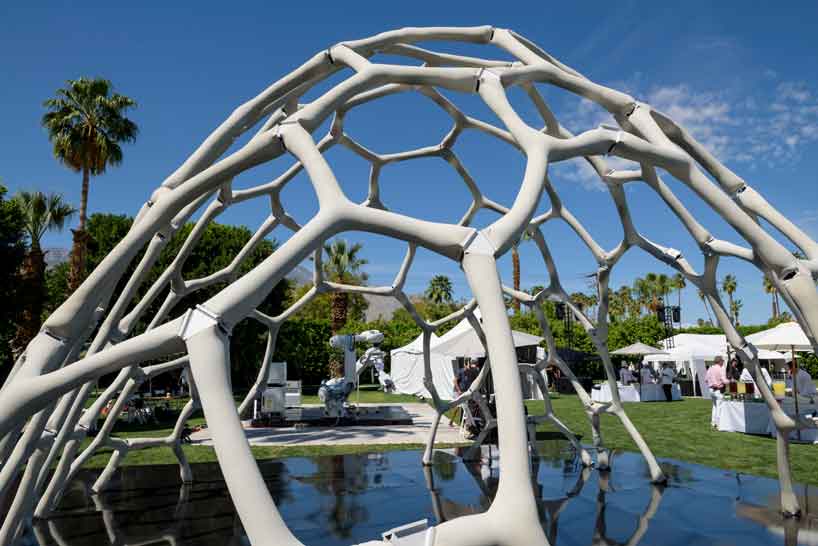 Hamid Hassanzadeh: How would you describe your work as an architect?
Joseph Sarafian: My work is rooted in nature's dialogue with technology. I've always been intrigued by the relationship between robotics and natural systems, how they can inform each other. The name "Form Found Design" comes from this desire to use form finding as a digital technique to harness natural systems. Our approach to design uses computation to generate geometry rather than simply model what we dictate. This workflow is more fluid and can allow us to achieve geometry that surprises us. Ron and I challenge each other at each step of the process, from the robotics, to fabricating the technical aspects of the project, to the overall impact it has on the community.
We each bring different, but complimentary skillsets to the table, and it forms a very balanced partnership. I truly believe that neither of us could have gotten where we are without the other.
Hamid Hassanzadeh: Could you please talk about your design approach?
Joseph Sarafian: We enjoy design research so we will have a continuous strain of design exploration happening well before we receive a commission. This is advice we've received from Greg Lynn while at UCLA. The best architects always have something to bring to the table that their studio is interested in or research that they have been developing well before the client approached them.
Once the project starts, we start by interrogating the problem and then reframing it. This gives us a higher level of appreciation for understanding the client and the project itself.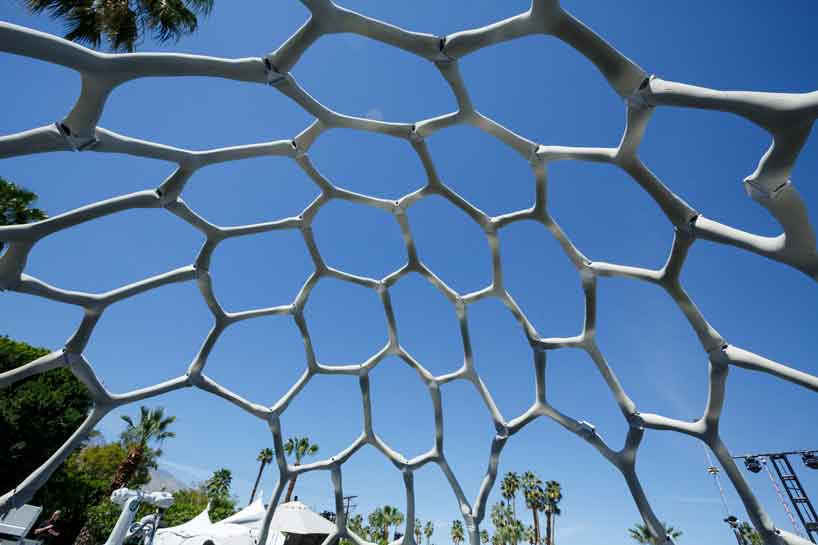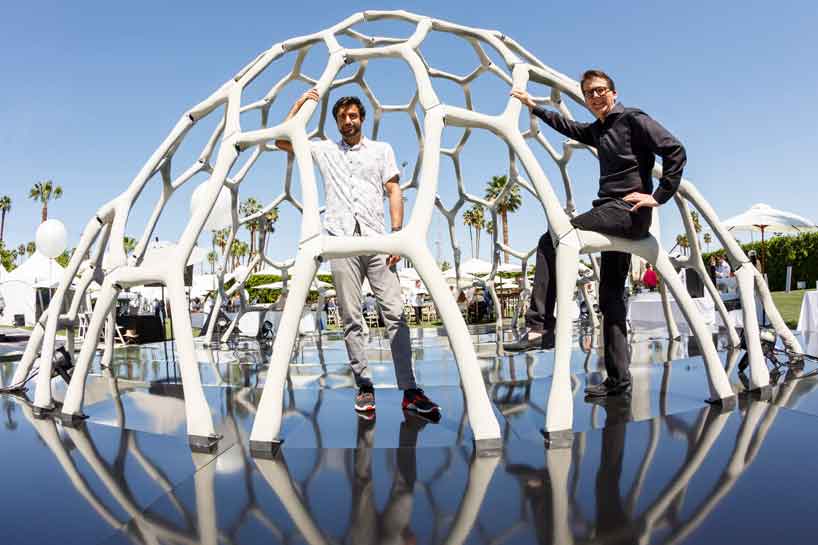 Hamid Hassanzadeh: Could you please talk about Mars Pavilion?
Joseph Sarafian: The MARS Pavilion came about when Amazon commissioned a building-sized structure that built on past research of robotically-cast concrete. MARS is the name of Amazon's conference and is an acronym for Machine Learning, Automation, Robotics, and Space exploration. It's hosted by Jeff Bezos who brings together thought leaders, Nobel Prize winners, and CEOs for an impressive weekend of demos and talks.
We had never built anything that size with our workflow, so it was a challenge that required us to pull in many collaborators very quickly. We were fortunate to connect with Walter P. Moore Engineering who performed the structural analysis, ABB donated two large IRB 6700 robots, and we found some great fabricators in LA. The digital design process featured a feedback loop in which we would iterate in Rhino and Grasshopper, simulate in Kangaroo 3D, send it to the Engineers to test, and they would give us the ok. We developed a robotic workflow using Multi-Move, which linked the two ABB robots together so that instead of two 6-axis robots, they were synchronized as one 12-axis assembly. We used a grasshopper plugin called Taco by Blickfeld to send code to the Robots.
The second task was creating a concrete recipe that would withstand the loading scenarios our engineers specified. We used the CTS Rapid Set product and combined it with Helix Steel Twisted Micro-Rebar to create a high-strength "wishbone" of concrete that can be bolted to its neighbors with identical connections, even though no two concrete members were the same.
Assembly took two days once all of the wishbones were cast. The tolerance of the pavilion was 1/16" due to the precision of the robots and low-shrinkage concrete.
Mars pavilion is world's first robotically built concrete pavilion by Form Found Design in California , United States . Almost very industry is taking manufacturing processes and retrofitting them with automated, robotic workflows. When Amazon reached out to Form Found Design to build a pavilion for their robotics conference, FFD proposed a new collaboration between robot and builder that allows for the rapid prototyping of concrete.
Hamid Hassanzadeh: By exploring the field of robotics, you are developing a self-supporting façade shading system. What is the purpose of this project?
Joseph Sarafian: We're pursuing a number of different outcomes, but we want to create a conduit for more form-found geometry to be built. We are interested in furniture, facades, wall systems, and other applications.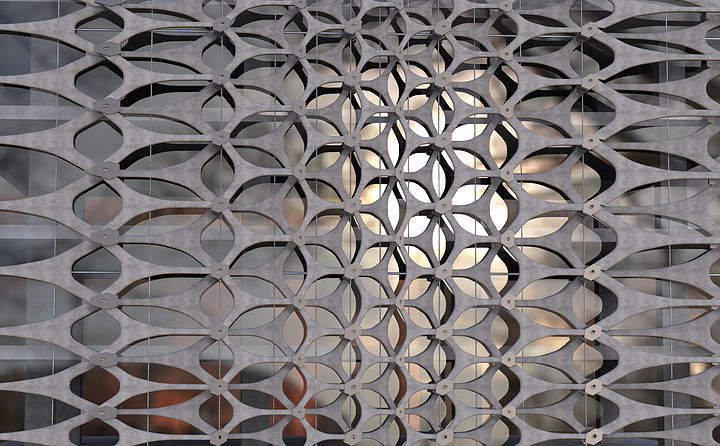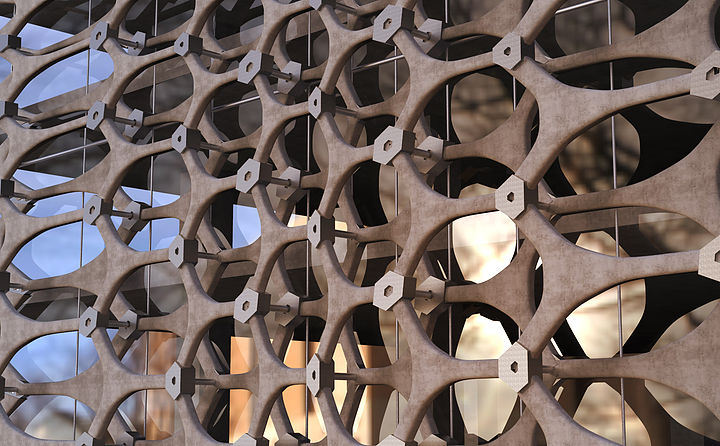 Hamid Hassanzadeh: What inspires you?
Joseph Sarafian: We find inspiration in the dialogue between nature and the machine. We're fascinated by mass-customization and ways of bringing robotics into architecture.
Hamid Hassanzadeh: How do you see the impact of technology and design tools in architecture?
Joseph Sarafian: Design tools always leave their imprint on the product they create. We are at a point in architecture where we are not only creating our own custom software through parametric design, we're creating custom robotic protocols to realize those designs.
This has been facilitated by the six-axis robot which has been around for almost a century but is still relatively new to designs that can treat it as a tool not only for production but experimentation.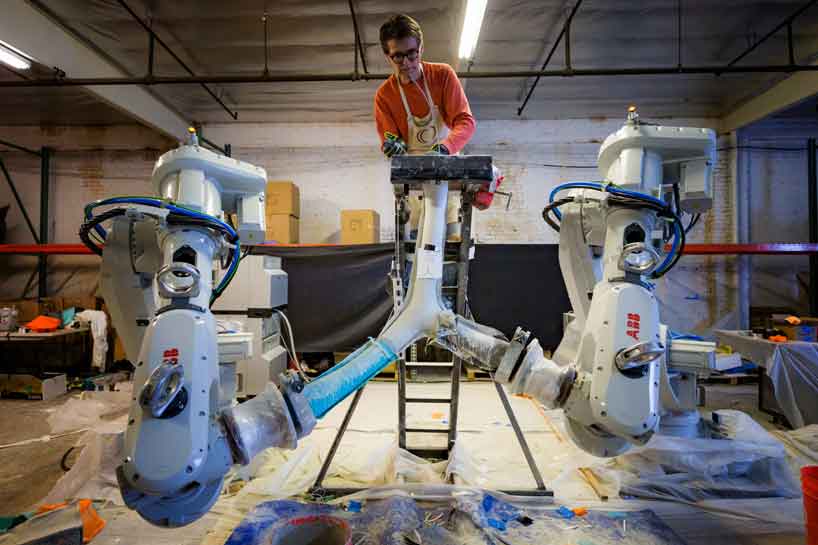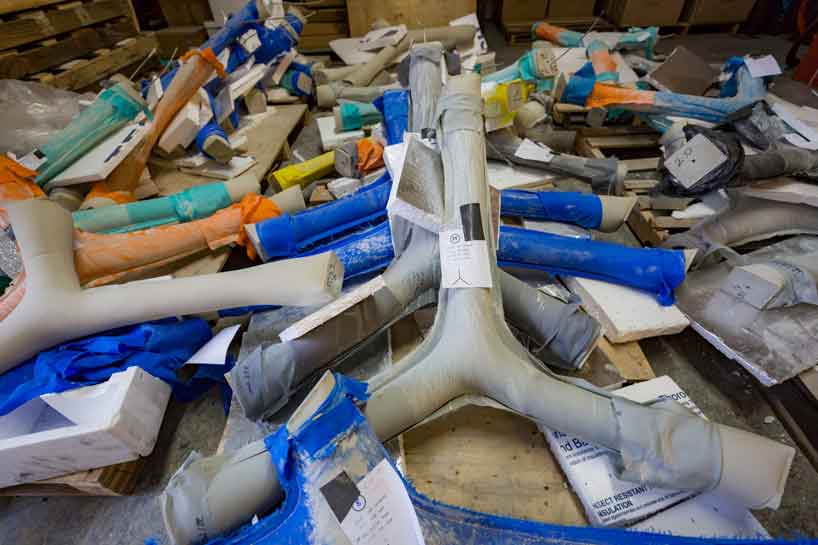 Hamid Hassanzadeh: How do you describe parametric design?
Joseph Sarafian: I think the parametric design is our generation's new tool for architects, but it's not a movement the way modernism was. It doesn't reflect a societal shift in thinking. It's closer to the CAD revolution than Corbusier's prophecy, "Architecture or revolution".
Those commentaries on society that Corb made are mysteriously lacking in contemporary architecture. It could be that architects today are occupied with keeping up with the instantaneous stream of information, or that there is an arms race for simply exploring what can be done with the new tools, that few have harnessed them into a theory. Either way, the prophecies into the future have been replaced with an examination of the present and the trending topics of the instantaneous news cycle.
I think the next movement in architecture won't be new software or digital technique, it will be a revolution in construction. We are at the beginning of the robotic era in construction that finally has the capability of liberating the worker from strenuous trades on the job site.
I think Corbusier would be very interested in robotics if he was around today. Robotics is also allowing us to achieve higher precision levels and control over both the part and the whole, allowing architects to look beyond the rigid, utilitarian forms of architecture, but create something uplifting and what Corbusier calls "Plastic". I think the revolution of today will start with the societal dialogue of man and machine. "Parametric design" will become as ubiquitous as "Digital design".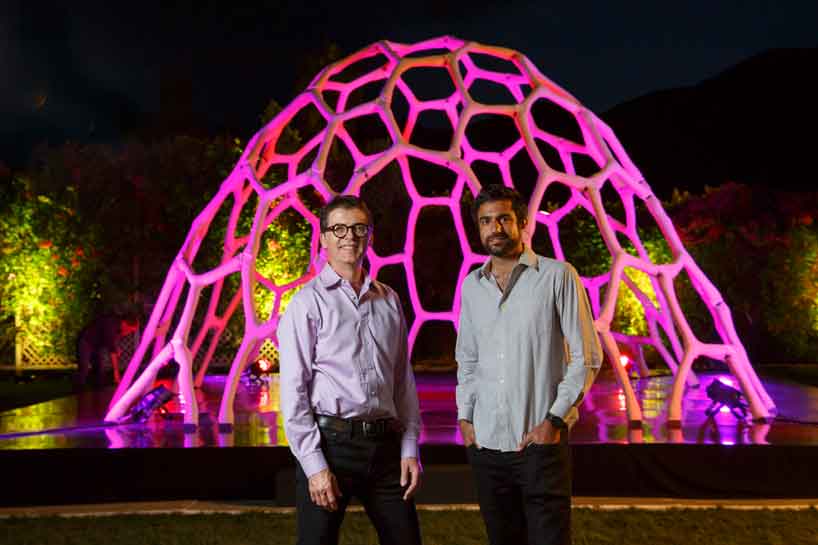 Hamid Hassanzadeh: What do you think about Parametric Architecture page/website/community?
Joseph Sarafian: I think it's a great community for innovation. Keep it going.
Hamid Hassanzadeh: What is your advice for architecture students and young professionals?
Joseph Sarafian: Pursue the thing that separates you from the crowd. If you're passionate about something, nobody will stand in your way.
PA Talks 003 | Ferda Kolatan – Hybridity in Architecture | at GAD Foundation This article is the written format of our interview with Ferda Kolatan as PA Talks 003 which has been released recently. This interview is sponsored by GAD Foundation. Hamid Hassanzadeh: Dear Ferda, Thanks for being at the GAD Foundation for an …
Mario Carpo – The Second Digital Turn In this episode of the PA Talks we interviewed with Mario Carpo about his latest book The Second Digital Turn which was realesd on October 13, 2017. In this book Mario Carpo has talked about Voxelation or Voxelization style in Design.